Have you ever wanted to start a membership blog and unable to find a decent plugin to use or which one to choose? There are many plugins out there to accomplish this, but one such plugin as Magic Members is something to consider really. In this blog post, I am going to share with you how this plugin works and why you should consider it.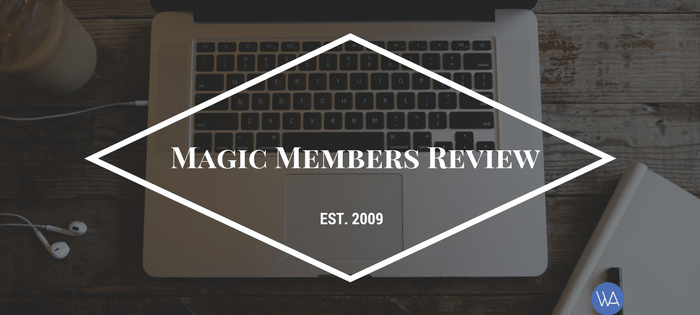 Magic Members was created in 2009 and has come a long way since it's conception. Here are some facts about their transition to an excellent plugin.
The first membership plugin to integrate with the CCBill payment gateway.
Over 400 versions released.
Over 90,000 support questions resolved. You can assure that support is top-notch. Check out their Support Center.
Magic Members has been activated on more than 50,000+ WordPress blogs.
Compatible with most plugins. Get in touch with support if you have any conflicting issues so they can address it.
Magic Members offers a 7-day free trial. That's enough time to go through all the features that will be provided with this plugin. The features that this plugin offers is what got my attention.
Notable Features For Magic Members
Payment Module Integrations – A lot of payment gateways available: 1ShoppingCart, PayPal Standard, PayPal Website Payments Pro, PayPal Express Checkout, 2CheckOut, Stripe, CCBill, Authorize.net, ClickBank, WorldPay, MoneyBookers, iDeal, Epoch, Payza, Ogone, SagePay, eWay and PagSeguro.
Autoresponder Integrations – Building an email list is vital in blogging. You can easily integrate AWeber, InfusionSoft, GetResponse, Constant Contact, iContact, AutoResponse Plus, Sendy, GVO and MailChimp.
Flexible Membership Options – Multiple ways to create a Membership site. Set up multiple subscription options, charge daily, weekly, monthly or even annually.
Unlimited Coupon Creation – Everyone loves discounts, with this plugin you can create any amount of coupons. Offer a fixed price or for a subscription.
Controlled Content Access – Enable access to particular area's per membership level
Partial Content Display – Tease your audience with a certain amount of content and have them purchase a membership package for full access. This is great if you provide detailed tutorials or fixes for certain things. Get creative in how you use this feature.
More features….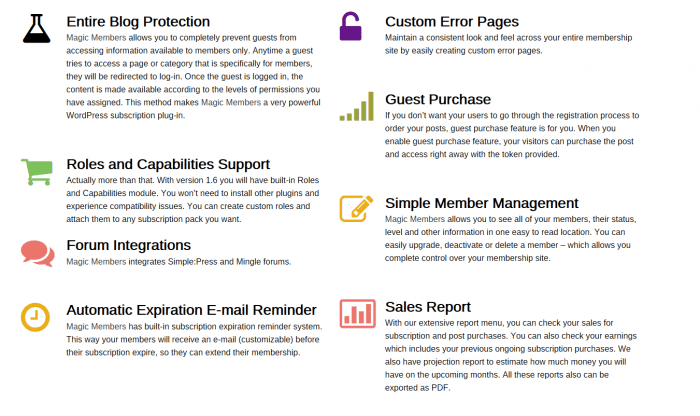 If you are not familiar with installing WordPress plugins, this tutorial on How To Install a WordPress Plugin will show you how easy it is. Getting back to the Magic Members plugin, here is a guide on setting it up. Keep in mind; you can choose your own settings.
Preview Of The Settings
After installing the plugin, you will see a menu link to begin setting up your membership site.

Click on the menu link, and you should now be on this page below to begin the process of creating your membership site. (Note, use the email address you signed up with to activate the plugin)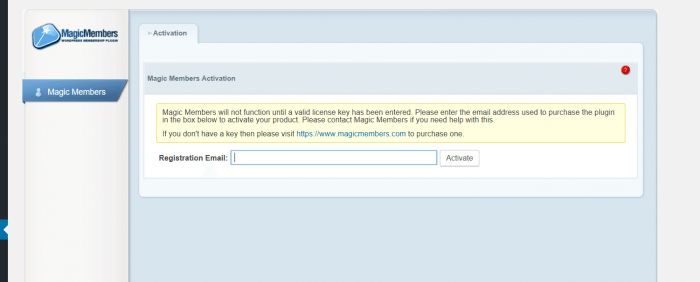 After you enter your email address and save it. Click on the "Magic Members" menu tab again to refresh the page, and you will see the settings shown below.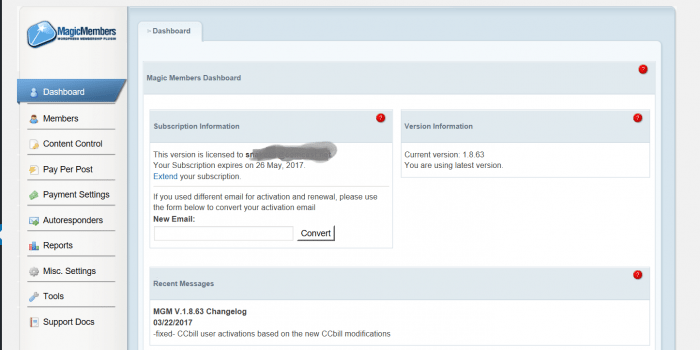 From the Members tab, you can create the membership packages, create custom coupons and edit user group roles. If you have staff, you can assign them certain features regarding this plugin.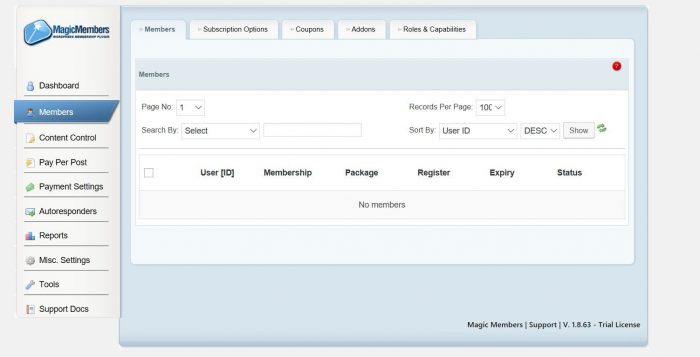 The next feature is the control panel where there are numerous settings to customize the membership access. Here are three images of what you can do. This plugin is very easy to set up.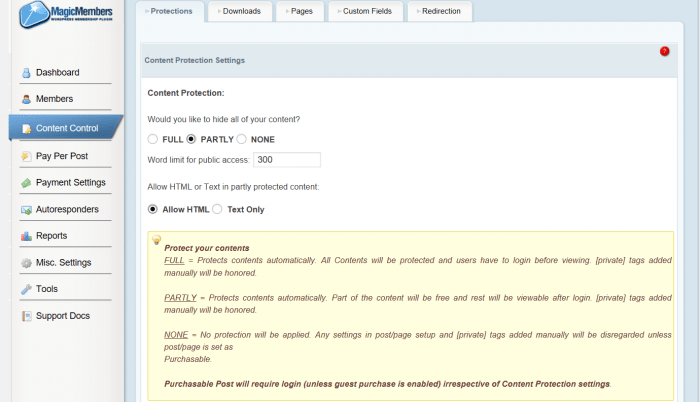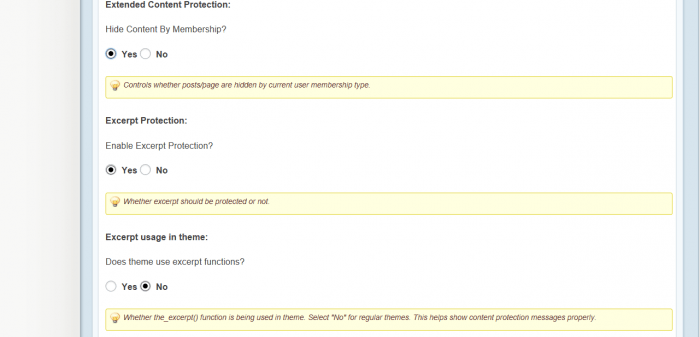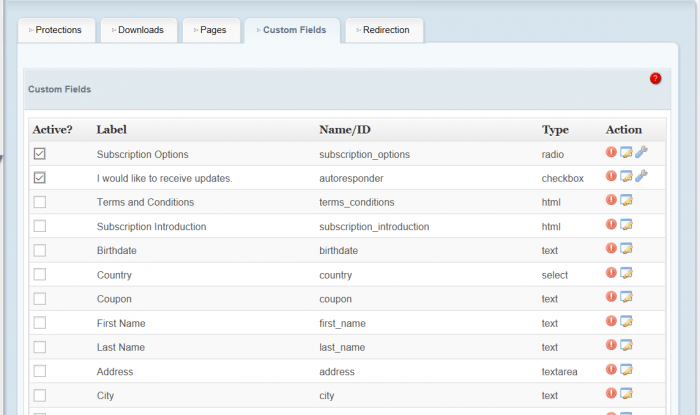 Let's skip to the payments section. Early I mention all the payment gateways you have to use to accept payments. The more options you provide for visitors, the better the chance they will purchase a package. In particular countries, some payment gateways may be banned or have limits. PayPal is known to give people many issues in certain countries thus offering more options is the best choice to make. Below you can enable which ones.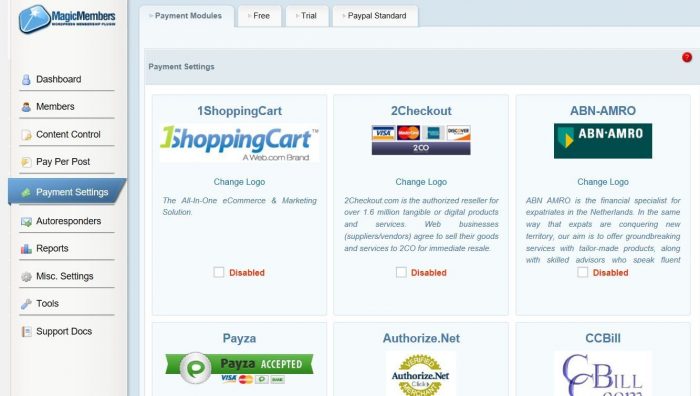 One of my favorite sections is the autoresponder section. You may have heard this mentioned a million times, "The money is in the list". For more information on implementing an email management system, have a look at our guide on Integrating An Email Management System on WordPress.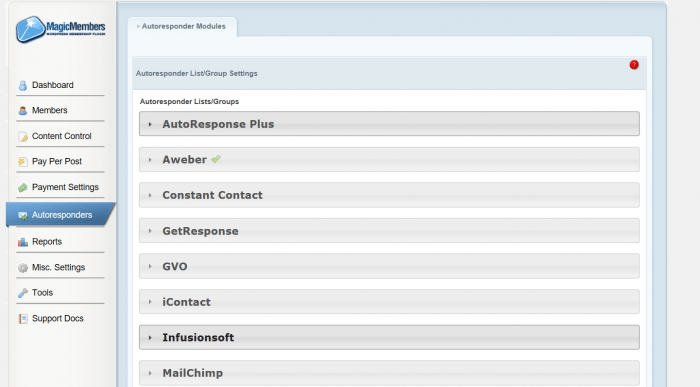 Since Magic Members offers so many autoresponder websites, you will certainly be able to use this feature. My suggestion would be to use MailChimp. I have used this service for a few years and had zero problems. Mailchimp offers a free version provides up to 2,000 subscribers and 12,000 emails per month with some limitations.
With any business, looking at reports can help you decide on what needs to be improved regarding the business. The reports with Magic Members will help you look at current stats and even projections that will give you an idea where to make improvements. Here is a preview of some of the different types of reports available.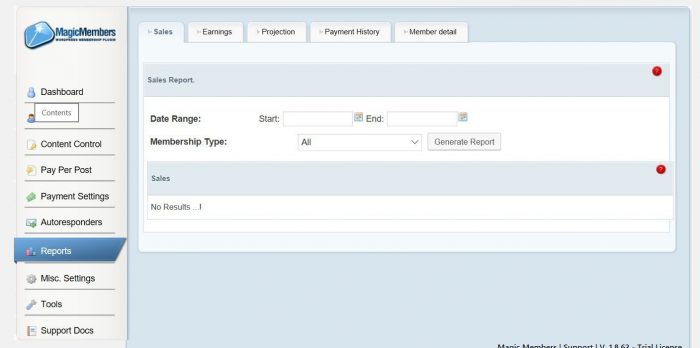 Magic Members Review: Summary
It's not complicated to set up the plugin. Just a 1-time payment which is a great deal. Provided are a few tutorials for helping you understand how to use this plugin. I am the type of person who will read the details of anything I purchase because I want to be well informed. Check out the tutorials below.
For more information, see the video below.
Go check out Magic Members and let me know your thoughts in the comment section.