Every website owner want to speed up their website load time. Even the search engines like Googl love the website load time when considering for indexing and page ranking means Web search ranking also depends on site speed . As well all Internet users like fast loading website and spend more time on surfing. On top of that Site owners can reduces operating costs, increasing and improving the performance of website, means  increasing revenue while driving down operating costs. (video,slides).
We are going to look up how to optimize website to increase the load time and before taking steps you should analyse your site speed, to obtain a better picture of site speed issues. so first we look at Online Tools for Website speed testing for all kind of website than there are tips and ticks to improve the site load time along with a list of WordPress Plugins to speed up WordPress site.
Free Online Tools for Website Speed Testing
There are lots of source which help to determine the speed of a website relative to other sites and web masters and authors  can take proper measure to  making your site faster. Following are the Free Tools to to evaluate the speed of any website:
An open source Firefox/Firebug add-on that evaluates the performance of web pages and gives suggestions for improvement. An open source Firefox/Firebug add-on that evaluates the performance of web pages and gives suggestions for improvement.
Pingdom Tools
Pingdom has a very strong and narrow focus. That focus lies on covering the uptime monitoring needs of 90% of the companies in the world. Instead of branching out into other areas, we will instead place all our efforts into maintaining the best uptime monitoring service available.
Free Website Performance Test
Try free instant website performance test. Test your site from around the globe. See how fast your pages load from San Francisco to Ireland; from Singapore.
Which loads faster?
This can be a simple tool for comparing whether your website performs better or worse than competing sites. This open source tool (view the source on GitHub) was originally created to promote the importance of web performance.
WebPagetest is an open source project that is primarily being developed and supported by Google as part of our efforts to make the web faster.
WebPagetest is a tool that was originally developed by AOL for use internally and was open-sourced in 2008 under a BSD license. The platform is under active development on Google code and is also packaged up periodically and available for download if you would like to run your own instance.
WSO employs experts in most aspects of web site optimization, including front-end speed optimization using the latest web standards and techniques, back-end optimization using server tuning, SQL query optimization, refactoring, and middleware tuning, search engine marketing, web design, and optimized marketing campaigns.
Show Slow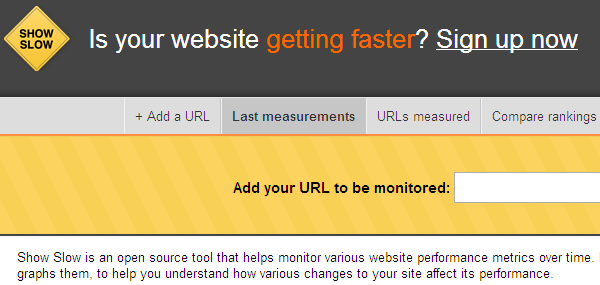 Show Slow is an open source tool that helps monitor various website performance metrics over time. It captures the results of YSlow, Page Speed, WebPageTest and dynaTrace AJAX Edition rankings and graphs them, to help you understand how various changes to your site affect its performance.
With Site-Perf.com, you get an accurate, realistic, and helpful estimation of your site's loading speed. The script fully emulates natural browser behaviour downloading your page with all the images, CSS, JS and other files – just like a regular user. Spot bottlenecks, reach perfect performance and balance your site load with Site-Perf.com, a smart and flexible testing tool. Focus on important things while Site-Perf.com delivers the speed facts straight to your screen.
This online web performance evaluation tool has the ability to show graphed data such as user load time (simulated by an automated virtual machine) and requests per second (helpful for seeing how durable your web server is and how fast it can handle web page requests).
Web Monitor allows you to monitor how long it takes for a user to download one or more of your web site pages. It visits the page that your request and downloads all content that's directly linked from that page;
Images
Frames
IFrames
Script files
It follows redirects
A free tool from Yahoo! that suggests ways to improve website speed.
Site Performance shows the speed of your website as experienced by users around the world as in the chart below. We've also blogged about site performance.
A real-time site performance tool displaying information on things such as DNS lookup time and connection time.
Webslug
This web tool will compare the site performance of two websites.
WebWait
A basic website speed timer with options for specifying the number of requests to make and the interval between requests (e.g. 5 requests in 10 seconds).
Provides plenty of data on page speed, including estimated load times for various types of Internet connections.
GTmetrix
An online tool that uses YSlow and PageSpeed to evaluate your website's front-end performance, giving you easy-to-understand information.
A rather basic online tool that provides data such as page size, load time, download speed and average speed in tabular format.
Tips and Tutorials to Speed Up WordPress site
Best Results for Your Time – Speed Optimization for WordPress
Website speed has been a concern for me since the end of 2010. I can't remember exactly when but at some point Google said that website speed is now a ranking factor and ever since everytime I would get some sort of ranking decrease I would often believe it was my website's slow loading speed that was the reason. WordPress blogs usually start at a disadvantage on this compared to normal html blogs or websites that simply have less lines for a web browser to load.
Speeding up your WordPress blog is one of the most important steps in getting on Google's good side…it's also one of the most frustrating. You can spend hours and hours researching and performing step after step to get the sought after green rating from PageSpeed Insights and GTMetrix.
Hopefully this 25 point guide will put an end to some of that frustration and be your one stop source to better improving your website's speed.
Best way to Speed up your WordPress Blog
WordPress is one of the most widely used blogging platforms in which number of plugins and themes exist to create a highly specific equipment for their audience. Are you suffered or permanently suffering from the slow down page load in your WordPress blog ?. There are as many as reasons to slow down of your blog load time like broken themes, broken plugin, Previous Version of WordPress, Themes, Plugins, Large images files etc.
Minify is a PHP 5 app that "combines multiple CSS or Javascript files, removes unnecessary whitespace and comments, and serves them with gzip encoding and optimal client-side cache headers." The WP Minify pluginmakes it easy to integrate Minify into your WordPress / BuddyPress site and in most cases will work right out of the box without any adjustments.
Optimizing your WordPress blog for speed is a serious matter of competition for the attention of your user. The faster you can serve your pages, the better chance you have of lowering your bounce rate. This small piece of code will take you less than a minute to paste into your site and can instantly have your site running approximately 3-4 times faster than before. It's called zlib compression.
Fast websites less irritate your visitors which increases the chance that they would click your ads, purchase product or just stay longer at your website enjoying tremendous content that you've featured there. Also fast websites use less bandwidth and according to SEO specialists major search engines count sites' speed while creating rankings for them.
How To Speed Up Your WordPress Blog
There is a popular expression that you have no doubt heard – "Time is money". The biggest cliches are often the most valid, and we are not looking at an exception to that rule here. When it comes to websites and page load speed, time truly is money. (site speed)
Speed Up Your Blog – Loading Times Are More Important Than You Think
Is your blog or website a big clunky mess that always seems to load slowly? It's not just you, the load time on your blog can absolutely destroy your "curb appeal" and bring down your blog's value. After experiencing outages here at theNetFool.com, I've decided to switch web hosts. However, there are plenty of tricks you can apply to get some oil back in your site's gears, and start seeing more traffic.
Speeding up websites is important — not just to site owners, but to all Internet users. Faster sites create happy users and we've seen in our internal studies that when a site responds slowly, visitors spend less time there.
Most of the bloggers use images to improve the search engine optimization and to enhance the website content. And this is fact that photos and graphics bring more organic traffic to their site, specially if we are thinking about Google Image Search.
If you are using WordPress as your blog platform and want to increase its performance, The Lazy Widget Loader plugin provides lazy loading for widgets to improve page loading. Use it on slow widgets, especially those where external data is loaded, like widgets from Facebook, Twitter, AdSense and others.
Loading time of web site directly impact users and ranking position. As compare to text, images take more time to load and search engines indexed those web pages which have less load time and user spend time that give good impression to search engines.
The Ultimate Quickstart Guide to Speeding Up Your WordPress Site
Give your site a boost! Implement crucial optimization techniques that will improve not only your ySlowscore, but your Google rank too. In this tutorial we will cover all aspects of W3 caching, ySlow, Google page speed, CSS sprites & htaccess rules, to achieve a high ySlow score like i have done on my blog.
10 Quick Tips: Optimizing & Speeding Up Your WordPress Site
Optimize your site to run as fast as it possibly can. So, without further adieu, here are 10 quick tips for optimizing your WordPress site!
The load speed of your website is essential, you need a fast site because slow sites annoy users, meaning less visitors to your site. Secondly, search engines also consider the speed of your site when generating their rankings. There are a number of factors influencing the load speed of a WordPress site.
WordPress Caching and Speed Optimization for Advanced Cloud Setup
WordPress Caching and Speed Optimization for Advanced Cloud Setup is hard as most Cloud providers keeps combination hidden. Here is master guide of the rules. This article on WordPress Caching and Speed Optimization for Advanced Cloud Setup is not for WordPress users using a single Cloud Server or VPS or dedicated server or the worst – a shared server.
Continuing from part 1 (falling in love with your blog again), part 2 (widgetizing & thumbnailing) and part 3 (search engine optimization), in this part I share the steps I've taken to enhance the speed and performance of my blog.
WordPress Plugins to Speed Up WordPress Site
Yahoo's excellent Exceptional Performance series recommends optimizing images in several lossless ways:
stripping meta data from JPEGs
optimizing JPEG compression
converting certain GIFs to indexed PNGs
stripping the un-used colours from indexed images
Smush.it offers an API that performs these optimizations (except for stripping JPEG meta data) automatically, and this plugin seamlessly integrates Smush.it with WordPress.
W3 Total Cache improves the user experience of your site by improving your server performance, caching every aspect of your site, reducing the download times and providing transparent content delivery network (CDN) integration.
This plugin allows you to do the following: 1. Change the order that your plugins are loaded. 2. Selectively disable plugins by any post type or WordPress managed URL. 3. Adds grouping to the plugin admin age.
Web pages are becoming increasingly complex with more scripts, style sheets, images, and Flash on them. A first-time visit to a page may require several HTTP requests to load all the components. By using Expires headers these components become cacheable, which avoids unnecessary HTTP requests on subsequent page views. Expires headers are most often associated with images, but they can and should be used on all page components including scripts, style sheets, and Flash.
Features
Combine several scripts into the single file (to minimize http requests)
Pack scripts using Dean Edwards's JavaScript Packer
You can move all JavaScripts to the bottom
Combine all CSS scripts into the single files (with grouping by "media")
Pack CSS files (remove comments, tabs, spaces, newlines)
Ability to include JavaScript and CSS files (new)
If any script fails and shows error you can add it to exclude list
Clean Options finds orphaned options (unused options) and allows you to remove them from the wp_options table. This can save you several KBs or MBs, helping to speed up your site load time.
Optimize DB
For some People running WordPress, the use of phpMyAdmin appears to be a risky thing. There's just too many options. This plugin lets you do just one simple task: optimize the tables of your database, to reduce their overhead.
The Digg Protector will protect your blog from suffering from the Digg effect. When writing a post, give the HTML image tags a "protect" attribute to protect them. This means that when visitors from Digg come, they will be shown the image in the "protect" attribute. Otherwise, if they are not from Digg, they will be shown the image given in the "src" attribute. A basic HTML knowledge is recommended to use this plugin.
This plugin allows your WordPress blog to output pages compressed in gzip format if a browser supports compression.