The MapPress plugin makes it easy to add Google Maps and driving directions to your blog.  Just type some addresses in the post edit screen and click the 'insert' button.  The plugin will insert a great-looking map with markers and directions right into your post.  MapPress was specifically developed to be easy to use.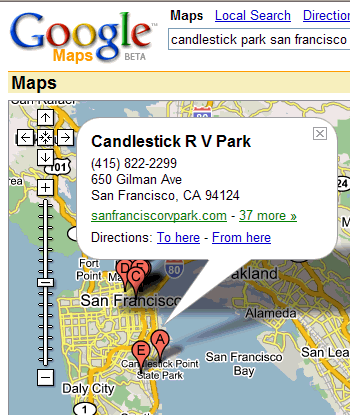 MapPress makes it easy to insert custom Google Maps into your blog. Once installed, you will have the option to add multiple locations by address. You will need a Google Maps API-key, which can be obtained from Google Maps API. Google requires users who customize maps to have an API key. This allows them to track usage and ensure that people are not using Google Maps outside the 'Terms and Conditions'. If you do not have a need for customizing the content on the map, then you could always bypass installing this plugin and use the embed code directly from Google Maps.
Adding a map to a post or page
The plugin will automatically insert a great-looking interactive map into your blog. Your readers can get directions right in your blog and you can even create custom HTML for the map markers (including pictures, links, etc.)!
You will now have a new panel titled MapPress during the editing or creation of a post/page. The MapPress panel is where you define the size of your map, and the specific points of interest.
Options screen
Visual map editor in posts and pages
Edit map markers in the post editor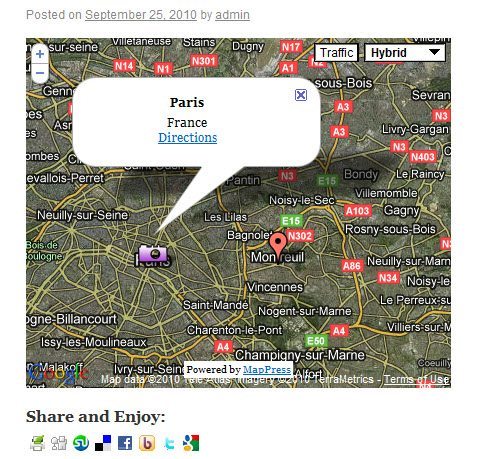 Get directions from any map marker
Other Plug-ins, References and Resources:
Post Google Map
wordpress-geo-mashup
Add google maps in WordPress post
Add a Google Map to your Blog or Web Site
How To inserting Google Maps into WordPress
How to Add Google Maps in a WordPress Site?
WordPress Top Plugins