It isn't very unusual to see developers having sorts of debates and discussions on the emerging tech topics, but the moment things go beyond developer discussion and dive into the mainstream where you and I hear them, they quickly get listed in controversial issues. Well, today's topic is how the dawn of WordPress 5.0 featuring Gutenberg can replace page builders like Elementor, Divi or Beaver Builder in a single go.
Gutenberg, as we all know, is the new talk of the town these days. Developers are found diving back into the WordPress realm like never before. While on the other hand Elementor seems to have absorbed other cool plugin features over the years/builds, and now Gutenberg is heading on the same path. Now let me show you what I like the most about Gutenberg.
Comfort– When it comes to comfortability, Gutenberg aces the game. It offers you the ultimate look and feels as if you are writing. The beefed-up TinyMCE environment has the potential to make things comfortable and intuitive for you. For example, imagine TinyMCE as Microsoft and Gutenberg as Apple- I am sure they will gel well with each other making us feel good.
Well organized– WordPress 5.0 is all about blocks. And I believe that blocks are something that keeps the content well organized. Besides, it is designed for writing a strong lean towards SEO. For instance, the upper right corner of writing canvas is a small grey circle with the letter "i" in the middle. Just click on this, and I am sure you will get a quick rundown of your posts. Right from word count to the number of blocks, heading count, etc. are featured by Gutenberg.

Work Flow– The work panel situated on the right has all the information that is required to track your work on a daily basis. Right from tabs to Document and Block, each comprising of a wide range of sections.
Metadata– Whether you wish to check your status, visibility or make revisions, check categories, featured images, excerpts, discussion, page attributes, document outline, and extended setting.
Familiarity– Under the section of extended settings lives the pages/post attributes, sidebar layout, footer widgets, and page builder container and disable elements can be found.
Design and formatting– The blocking tab comprises of sections for text settings, background color text color, and block alignment. And it's not over yet! More text settings options, margin and padding settings and maybe media settings will arrive soon!
Time to focus on Elementor Page Builder
I don't see anything different from Gutenberg and Elementor. Now tell me something why do you buy a Mercedes especially if everyone is hyping about Tesla? I mean what if there were only one type of product available in the market. It would be a monopoly that might hinder the global economy. Today's world is brimmed with the competition, everyone does their best to improve their own product, and customers get stuff of higher quality. Speaking about the page builders' niche- a similar scenario is found there as well.
Now the question is which page builder is better: Gutenberg or Elementor? Each page builder comprises of drag-and-drop functionality, convenient blocks, real-time customization. Launched in 2016, Elementor expects to grow at a rapid pace. Today, it has more than 80000 downloads and the highest rating on WordPress.org. The community of users is huge, active and passionate.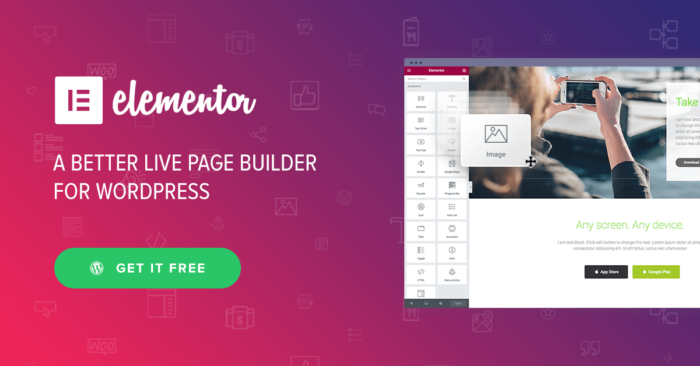 Its benefits include:
Revision history functionality- One wrong mistake could be so nasty, that you won't be able to delete it somehow. Here is the point when revision history will help you out. Changes made in a select list, with the help of Elementor you can turn back to every stage in case of some troubles.
Open source origin- This point means that users and everyone can propose an improvement, fix bugs and add new functionality all they require is the code of the program. With the involvement of Elementor, a team of WordPress developers works on it, but a bunch of enthusiasts too.
Active community- A vast community of users is pleased to help you. It may quite interest you to know that there are about 5000 of passionate participants. There might be some case; when your question hasn't been raised or discussed before, so what you can do is ask it out and get your answer in about an hour.
Helpful video tutorials- Do you what the most crucial aspect of the website creation process is? Videos! They are detailed enough and have the potential to provide significant help all the time. For every action you do or every issue you may meet, Elementor creators can shoot a video for you. It is not compulsory to find the answers by talking to people because videos are there for you.