WordPress users will understand and signify the importance of high performing plugins. If you fancy having a catchy and user-friendly website, you will have to integrate a couple of these because WordPress decor is based on installing the right plugins at the right time. Those petty tasks that were to be carried out by multiple tools and websites are now possible to do in one platform. Plugins are amazing, no wonder, and even amazing is the fact that if you know the right plugin for your website you can easily save on cost, hassle, and a lot more.
Plugin recipes keep cooking in the minds of our great WordPress developers and every now and then we hear about the release of a new plugin. Some may not be as beneficial as others but decide what to integrate into your web portal is determined by your know-how of WordPress, your budget, and the efficiency and multi-tasking of the plugins you are trying to integrate. Cooked Pro Plugin is one such invention that is specific in use but can cover the whole model of the user's idea. As the name suggests, the plugin has something to do with food ideas and shelving recipes.
The Cooked Pro Plugin for WordPress is even better than the Cooked Classic, with its more advanced features and modern layout. Now all the food bloggers out there can take their recipes one step further with added style! The user-friendly design is not just an advantage to publishers, but also for viewers as they enjoy a more aesthetic end-product.
Features of Cooked Pro Plugin
Let us take a look at some of the key features of this influential WordPress Plugin:
You can use a different template for each of your recipes
Nutritional facts are displayed which change according to the visitor's selected serving size
With Cooked Pro Plugin viewers can use one or more cooking timers that can be paused or reset as per convenience
You can go full-screen mode for a bigger picture and better experience
Each recipe can have its personal photo gallery. Furthermore, each picture can be captioned uniquely and the slider makes it ideal to view on your mobile phone as well.
Adding a Youtube/Vimeo video to your recipe is another cool option
Drag and Drop anything, from ingredients and directions to a variety of images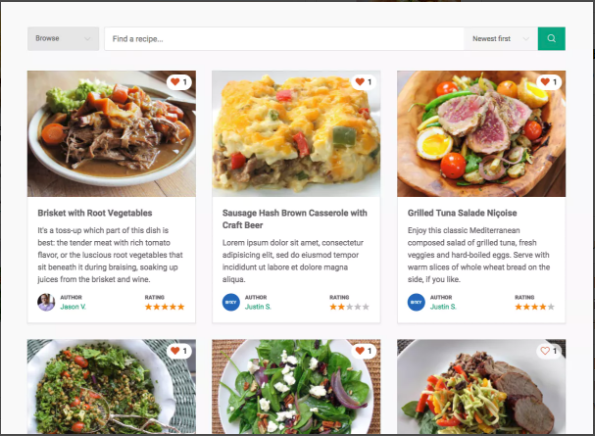 This Free Recipe Plugin has everything you need to share your food with the world. Unlike Cooked Classic, Cooked Pro has much efficient user support in case you encounter any issues. This plugin is especially popular among developers because it offers a wide range of customization.
Why choose Cooked Pro?
As the name suggests, this WordPress Plugin was made for professionals. Authors can mention difficulty levels, preparation time or substitute ingredients in order to target the right audience and assist them as far as possible. Displaying your recipe's nutritional value is another plus because lifestyles are changing and people want to know what they are eating. If your dish has a low-calorie count and looks good, you are likely to attract many weight watchers and fitness enthusiasts.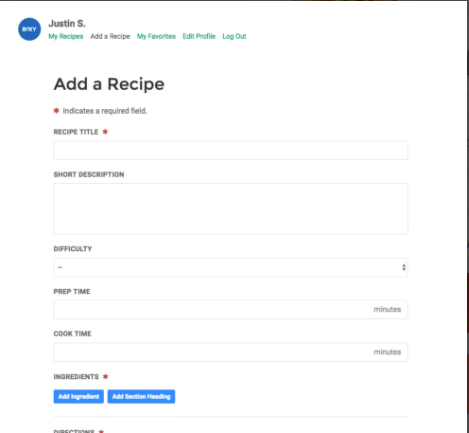 Cooked Pro is easy to install and will simply help you manage recipes quicker and make them look extremely organized – a task that takes hours can be dealt within minutes. A simple recipe can be disguised as something high-end, which is exactly what you need. The presentation is a key element of food and this Free Recipe Plugin can do wonders. You can watch a couple of review videos as well to get an idea of its functionality and design abilities.
The ease of accessibility provided to visitors increases your chances for better ratings and reviews. Sometimes the tiny details make all the difference. The Cooked Pro Plugin provides a simple yet elegant layout to your recipes; the compact strategy is well suited for every blogger. So, you can look forward to more thumbs up and stars from viewers.
The Most Beautiful and Prevailing Recipe Plugin for WordPress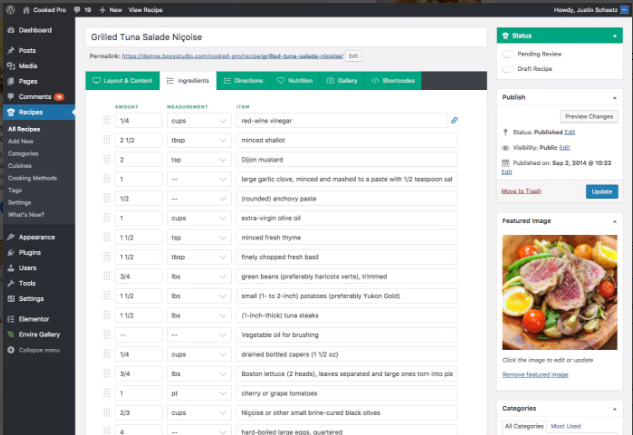 We've looked at how nicely Cooked Pro meets the demands of those bloggers who are cooking fans and wish the world to explore their fine cooking. Doubtlessly, the plugin has everything you need on one platform. An overview of the features include:
Recipe Template System
Ingredients & Directions
Cooking Timers
Nutrition Facts
Printable Recipes
Full-Screen Mode
Photo Galleries
The list has every single tool one will want to run a successful cooking blog. The Pro version enables you to activate social sharing along with posting the content on your blog. That's a plus to what you already have in the plugin. You can easily enable user ratings and interactive timers. If you wish to keep improving your blog with the Cooked Pro, you just need to stay tuned to the updates that keep expanding the features.
Another worthy feature of the plugin is its ability to build an interactive recipe community. The community can evolve by sharing nutrition plans, ingredients and directions and a true blogger won't deny the importance of active community for a high-rated blog. In short, the plugin is worth giving a try. You never know where it takes your small cooking initiative in the future!
Compatibility
This WordPress Plugin is compatible with all browsers including Chrome, Safari, Opera, Firefox, Microsoft Edge and so on. You have the choice to integrate it into one browser and use it at multiple places. Currently, it is available in 2 languages: English and Romanian. However, we expect it to be upgraded to multiple languages in the future so that the reach of the website can be increased to multiple regions of the globe. You must have WordPress version 4.7 or higher and PHP version 5.6. Below this, the integration won't work but you can look for any other plugin that can do the same job for you. That may not be as good and comprehensive as the Cooked Pro though. Once installed, you are good to go to explore a completely new arena for your cooking blog and we do hope your fans will love the overview and architecture as much as you do!
Price
The plugin is offered in two plans Free and Pro. Free Cooked Plugin does have some limitations in its features but can help you to setup a basic Food blog. You can try the Free Cooked plugin before moving to Cooked Pro. The Pro version comes with a lot of more features and is priced at $49.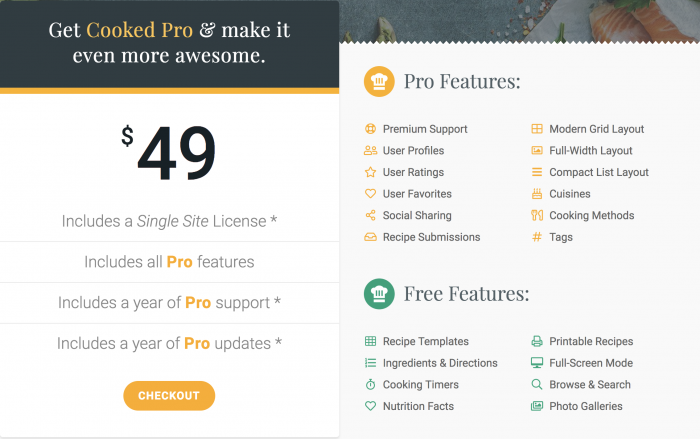 Support & Documentation
Cooked Pro plugin comes with in-depth documentation and world-class support from the team of Boxy Studio.
Conclusion
After trying a couple of solutions, we can easily say that the Cooked Pro plugin is only the best solution available in the market for Foodie bloggers and one can easily rely on it. The best part is the team behind it, they provide on-time support, full-documentation and above all a free version of the plugin to try as well.