With more than 50 thousand plugins, WordPress is the most colorful content management system. It allows you to design beautiful websites and adapt them so as to fit the preferences and branding style of your company.
This is very important because a website is the mirror of the business. A well-designed platform should lift customer experience to the brand new level, but you might find so many options to be confusing if you are not a WordPress expert.
This is exactly the reason why WordPress developers are looking for a plugin that ensures easy and effortless webpage creation. There are dozens of interesting tools to help you here, but you should narrow down the options and find the one that suits your needs.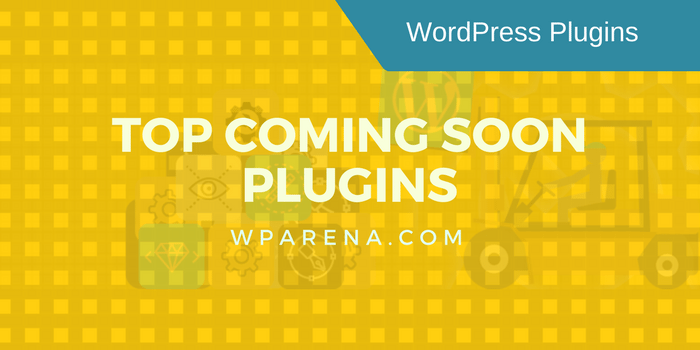 In this post, we will show you top 5 coming soon plugins for WordPress.
1. UnderConstructionPage
UnderConstructionPage is the website builder that enables users to "create pixel perfect coming soon, under construction, sales or landing pages with zero effort and maximum results". It offers more than 100-page templates and the registration-free demo to help you navigate through the plugin. Here are the most useful features of the UnderConstructionPage plugin for WordPress:
Drag & Drop Builder: You don't have to worry about choosing options and finding action buttons. Eric Sanders, a WordPress developer at Resumes Planet, tested this feature and stated: "Everything in UCP is based on a drag and drop system, which makes the whole process beginner-friendly and easy to follow even if you've never designed a webpage before".
More than 400 thousand images: Image gallery will satisfy the needs of the most demanding users. You can search photos by keywords to find the perfect match quickly.
Affiliate & Traffic Tracking: Measuring traffic, on-page time, conversions and bounce rates are crucial for website improvement. With this plugin, website analytics is only a few clicks away from you.

The best thing about UnderConstructionPage is that you can create and manage pages without any coding knowledge. The plugin comes with two license options – PRO and Agency – that require only a one-time payment.
2. Coming Soon
Coming Soon is one of the most efficient and all-encompassing WordPress plugins. It offers more than 50 themes, over 400 thousand searchable images, and even awesome content animations, but 2 features take it head and shoulders above competitors:
Easy Access for Clients: If you are building a website for clients, you can allow them to see it during construction instead of the standard Coming Soon page. All you have to do is share the Secret Access Link to preview webpage or add clients' IP addresses to the user whitelist.
Easy SEO Setup: SEO will determine the future success of your online business, so you need to pay special attention to this element of design. Using Coming Soon, you can test more than 20 SEO features to make sure that your website is perfectly optimized.

You can purchase the plugin in PRO Yearly, PRO Lifetime, and Agency Lifetime mode.
3. Easy Coming Soon
Easy Coming Soon is a good option for entrepreneurs who want to set up websites quickly. With its real-time page customizer, you can create simple but attractive landing pages. The benefits of Easy Coming Soon include:
Mobile Friendliness: All templates are responsive out of the box, so the landing pages display perfectly on mobile and tablet devices.
Newsletter Integration: Easy Coming Soon is integrated with the majority of big platforms such as Mailchimp, Campaign Monitor, and Aweber.
Countdown Timer: The plugin allows you to set up a countdown timer and keep users informed about the launch date.
Just like other plugins on this list, Easy Coming Soon requires no coding skills. You can buy it in Personal or Developer Plan form, depending on whether you need a single or unlimited site license.
4. SeedProd
SeedProd is one of the most popular coming soon WordPress plugins, with over 2.5 million users in the last 5 years. Besides various themes that you can develop in real-time page builder, there are other interesting possibilities:
Backgrounds: Seed Prod lets you choose between numerous background images, but you can also find beautiful videos and slideshow effects.
User-friendly interface: Websites based on SeedProd look good on every computer screen or mobile device, making the overall user experience smooth and simple.
Social Sharing: The plugin allows users to share content across social networks, which is perfect for marketing campaigns and cross-promote Do not forget to spring clean your social media channels before setting up a new project.
Seed Prod has several pricing categories. In one-year pricing, you can go for Personal, Business, or Developer licenses. On the other hand, lifetime pricing costs $499 but it offers you priority support and many other useful features. Regardless of the option you choose, you get a 14-day money back guarantee.
5. Coming Soon Page Elite
Snap Creek's Coming Soon Page Elite is the last but certainly not the least important plugin on our list. It's a simple WordPress design tool with a long track record of successful products. CSPE offers superb Google font effects, fullscreen video and professional backgrounds. Besides the common coming soon features, you can benefit from:
Social Support: The plugin integrates with Facebook, Twitter, Google+, Instagram, LinkedIn, Pinterest, YouTube and other networks.
Notifications: You can receive subscription alerts to know when someone subscribes to your distribution list.
Customer Support: CSPE provides users with the best customer support.
This plugin comes in the Business, Freelancer, or Personal mode and offers a 30-day money back guarantee.
CONCLUSION
Building a website in WordPress is not difficult if you use the right tool for this job. However, there are dozens of interesting plugins and you could waste a lot of time searching for the right one.
In this post, we showed you top 5 coming soon plugins for WordPress. Don't hesitate to give them a try and let us know in comments which tool proved to be the best for your business.