RSS feeds (the RSS stands for Really Simple Syndication) are an easy way to get content from a variety of blogs all assembled in one place. The one place is an RSS feed reader. Using RSS feed readers are an important way for blogs to get loyal visitors and engage them to read more and easily. Every blogger should try to increase Feed subscribers because that is the way to inform them about your blog latest and greatest postings available to read them.
You should also subscribe to your RSS feed because it is a great source of input for your own blog.
Here are several top tools for managing RSS feeds:
1. Internet Explorer browser:

In order to receive RSS feeds, you need an RSS reader (The new Internet Explorer 7 has an RSS reader built-in to the browser and is available via free download from here). You then subscribe to the Web site from which you want to receive content, and the information will be delivered automatically to your RSS reader.

Google Reader is a free reader with no extra software needed, just a Google
account. Google Reader is a Web-based aggregator, capable of reading Atom and RSS feeds online or offline.
3. Bloglines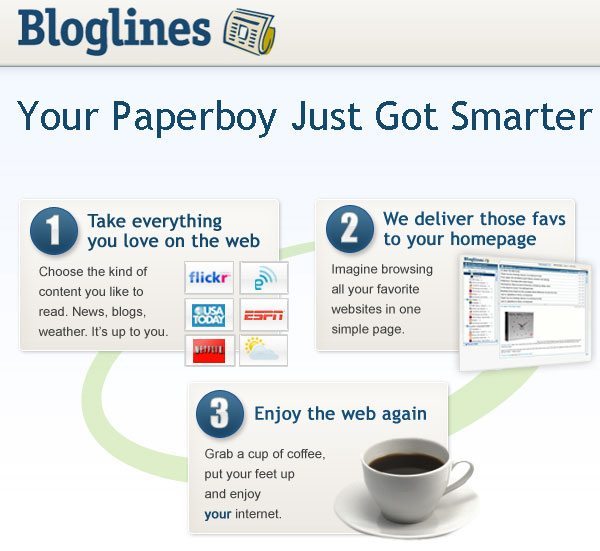 Bloglines is a FREE online service that helps you subscribe to and manage lots of web information, such as news feeds, weblogs and audio. Bloglines tracks the information you're interested in, retrieves new stuff as it happens, and organizes everything for you on your own personal web news page. Bloglines is quite popular
with old-school bloggers.
This service, like many of the early feed readers, requires you to download a tool
to run on your computer. Once you do that, it's powerful, fast, and easy to use.
FeedDemon 3 – Free RSS Reader for Windows

RSSOwl is another downloadable tool, which is open source, cross-platform (Windows, Mac, Linux), and free.
RSSOwl is a free and powerful news feed reader. RSSOwl lets you gather, organize and search news in a convenient, easy to use interface with endless flexibility.