Testing out WordPress version 2.8 beta what I liked so far is the new functionality for sidebar widgets. Some may remember the drag and drop function of previous versions of WordPress and now it seems as if the best of old and new will be in WordPress version 2.8.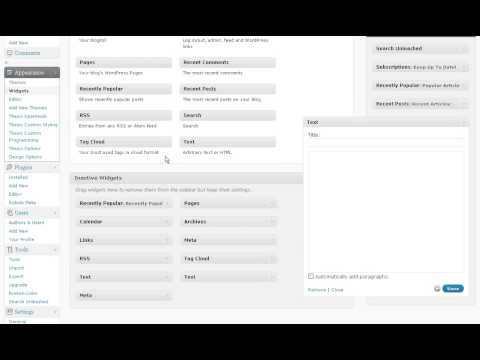 What I really like about this version of widgets is actually something that was lost several versions back and that is the ability to save the content on inactive widgets. In WordPress version 2.7 if you remove a text widget the content in it will be lost forever. It looks like that has been addressed in version 2.8 with the new Inactive Widgets section. Now you can remove any widget by dragging it into the Inactive section, maintaining the content in a text widget or any settings on other widgets. I must say it took long enough for this to come back and I am glad to see it.
It seems like some of the more popular plugins eventually find their way into the core code of WordPress and in version 2.8 it seems like another has been added. Another nice addition is the ability to add new themes from within the WordPress dashboard. You can search the official WordPress theme directory for new themes based on terms, author or tag and can also apply filters to your search. There is even an option to upload your own theme in a .zip format.
Highlights of Version 2.8
Here are the highlights of version 2.8 from the Codex:
New drag-and-drop widgets admin interface and new widgets API
Syntax highlighting and function lookup built into plugin and theme editors
Browse the theme directory and install themes from the admin
Allow the dashboard widgets to be arranged in up to four columns
Allow configuring the number of items to show on management pages with an option in Screen Options
Support time zones and automatic daylight savings time adjustment
Support IIS 7.0 URL Rewrite Module
Faster loading of admin pages via script compression and concatenation
There is also some rumors of WordPress and WordPress MU to merge, I don't think that is going to be in version 2.8. For those who don't know what MU is, it's used to host multiple blogs on one single install.