Facebook is currently the largest social networking website of the world, and creating a strong presence on it is definitely something to be aware of. Keeping an updated facebook page with a lot of likes is highly likely to generate a lot of active and targeted traffic for your website. There are a lot of ways in which facebook likes could be increased, some includes paying facebook to advertise your page to its users but right now we're not talking about that. We are going to tell you some useful tips which could help you in increasing your likes, and that too free of cost.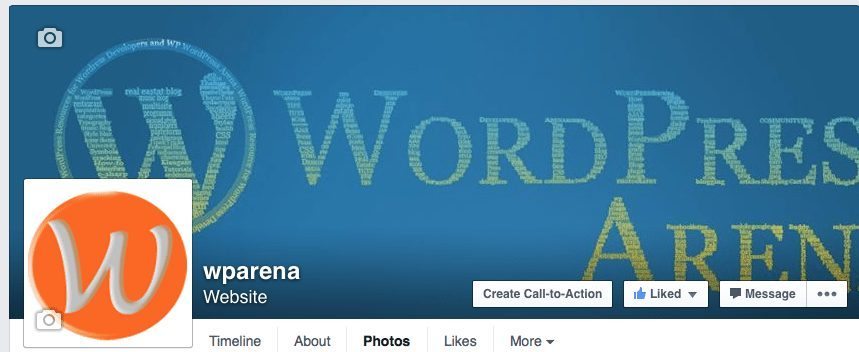 Simple yet attractive social sharing buttons:
The saying "simplicity is the best policy" is also applicable in this case. Offering your users simple social sharing buttons is probably going to get you more likes than offering them a lot of buttons with complicated design. Some of the top websites are also aware of this fact and use simple social sharing buttons.
It should be kept in mind that the buttons should be placed on locations where it is obvious that the user will expect your buttons to be after reading a quality article. Many themes comes with inbuilt social sharing buttons but if you theme doesn't have it then you can install the following buttons:
Digg Digg floating social bar
Monarch by Elegant themes
Ultimate social deluxe
Share buttons by AddtoAny
DC simple share buttons plugin
[divider]Facebook like box and status bar:
Facebook like box and status bar are some of the most common ways to get likes directly from your blog/website. It is very easy to embed a facebook like box on to your WordPress site as facebook gives you the code for the box and you simply have to put the the code where you want to place the box on your site. A popular area to place the facebook like box is the right panel of your site. Same is the way to setup facebook statuses on your site.
Another effective way to put a like box is to put it in a lightbox pop up. Whenever a visitor arrives on your website, a lightbox containing facebook like box appears, increasing the probability of getting likes as the attention of the users is towards the likebox only at that moment.
Facebook Lightbox – Boost Your Facebook Likes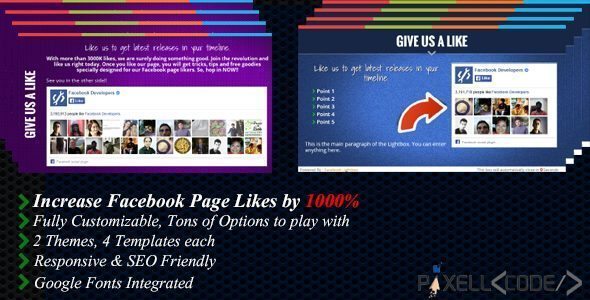 A Complex yet super simple WordPress Plugin to add Facebook Likebox PopUpusing Lightbox effect.
Facebook Like Locker Pro for WordPress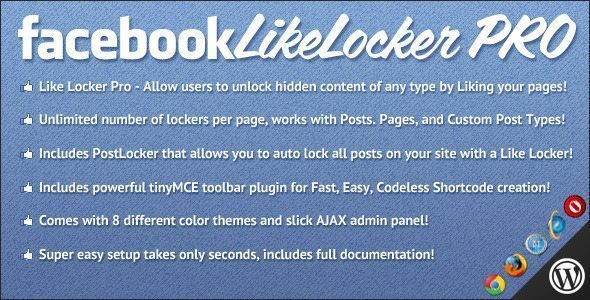 Tap into Facebook's 700 million+ users with Like Locker Pro. Like Locker PRO adds tons of powerful features that blow the original Like Locker out of the water allowing you to add thousands of fans, likes, and social traffic with almost no work. More likes = More Traffic = More $$$$! Build a social media super presence over night by locking all, or just parts of your posts! Facebook is a proven traffic source and can create long term growth for your websites.
Live Preview | Detail
Exit Through Facebook Like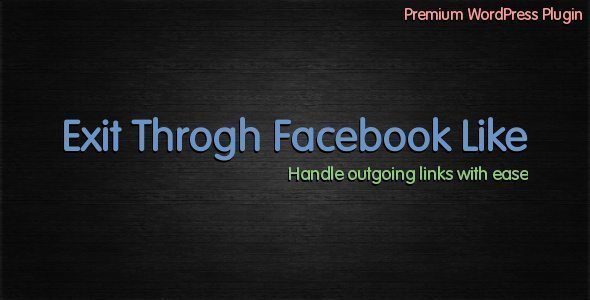 Exit Through Facebook Like is a WordPress plugin that raises popup box once user clicked any outgoing links on you website. Popup box suggests user either to Like your webpage on Facebook for immediate redirection to target webpage or to wait some time to be redirected. Delay period, content and popup box parameters are configured through settings page. Settings page also has an option to exclude some outgoing links from consideration.
CevherLink FaceBook Like Increasing WP Plugin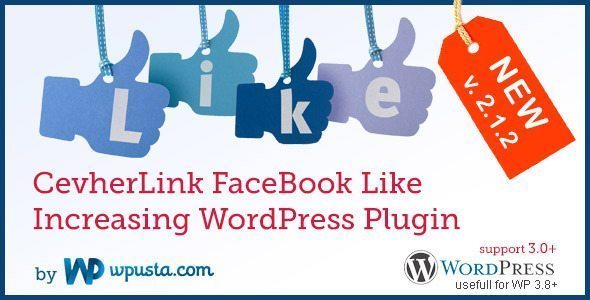 Easy to install, 3 click configuration and mobile support. CevherLink is powerful WordPress Plugin to help you increase your Facebook likes and promoting your products!
Don't forget: More Likes = More Exposure = More Traffic = More Money!
Facebook Viral Content Locker for WordPress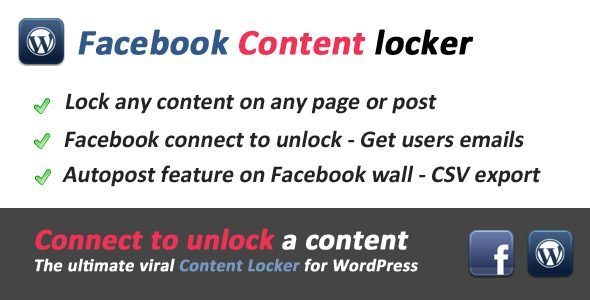 This plugin enables you to lock a content (text, video, images, etc…) inside your WordPress posts or pages, and let your users only access it after connecting with their Facebook account.
Your users will need to authorize your app to access your content, and you can define a message that will automatically get posted on your visitors Facebook wall. You also get your visitors emails stored in your database, and you can export your users data as a CSV format from this plugin settings page.
Facebook Like to Download for WordPress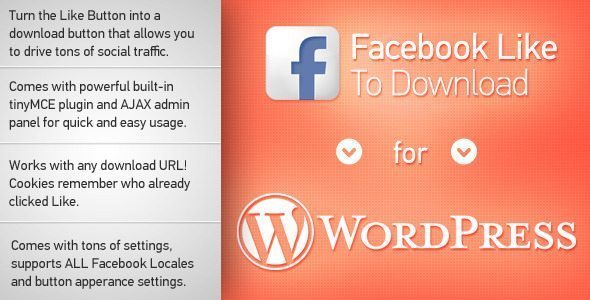 Facebook Like to Download for WordPress allows you to turn the Like Button into a social media traffic blasting download button. This unique plugin and idea is an all new way to give your users their content, and increase your social traffic ten fold.
WordPress Like Locker – Like to Read Plugin
The first plugin of its kind it allows you to wrap your post content in a "Like Locker" that will require the user to like the post to view the content. Build a social media super presence over night by locking all, or just parts of your posts! Facebook is a proven traffic source and can create long term growth for your websites.
[divider]Running Giveaways and Contest:
This is one of the best ways to get facebook likes instantly. Offer your users something eye-catching and worthwhile and ask them in return to like or share your post/page. This method can also let your page become viral within days, and will attract a lot of traffic to your site.
Easy Facebook Contest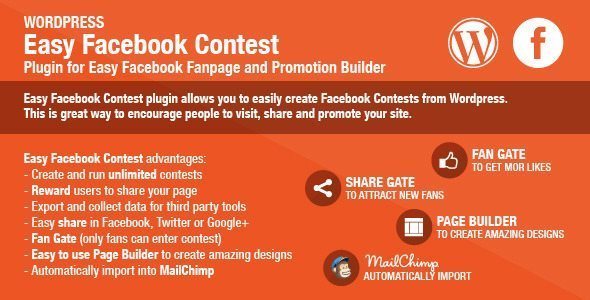 Easy Facebook Contest is Easy Facebook Fanpage and Promotion Builder plugin which allows you to run unlimited Facebook contests. Please ensure you have purchased and installed the latest version of Easy Facebook Fanpage and Promotion Builder before using this plugin.
 Easy Facebook Fanpage and Promotion Builder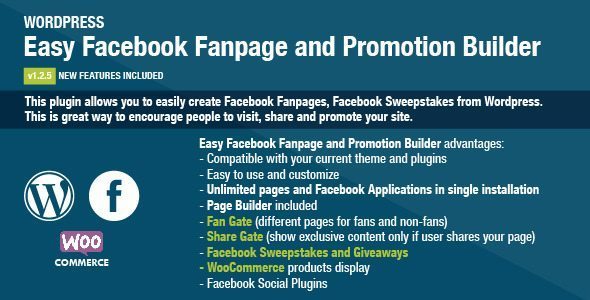 Easy Facebook Fanpage Builder gives you the ability easy and fast to create custom Facebook Fan Page Tabs linked directly to your current WordPress site. If you can create something in WordPress, you can now do it in Facebook with Easy Facebook Fanpage Builder for WordPress.
Facebook Connect and Viral tool for WordPress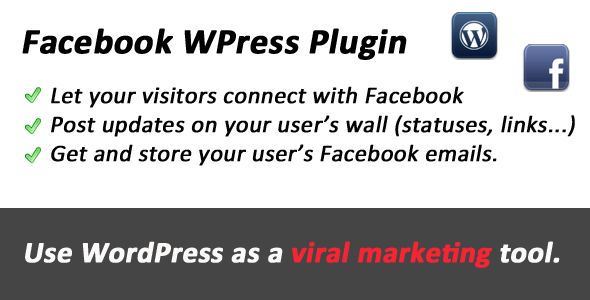 This Facebook plugin for WordPress enables you to add some Facebook functionalities to your WordPress blog or website, including the Facebook connect functionalities (connecting with Facebook, creating a WordPress account using Facebook… ). This plugin also provides a way for blog owners to post updates to their user's wall, and store their user's emails for marketing or newsletter uses.