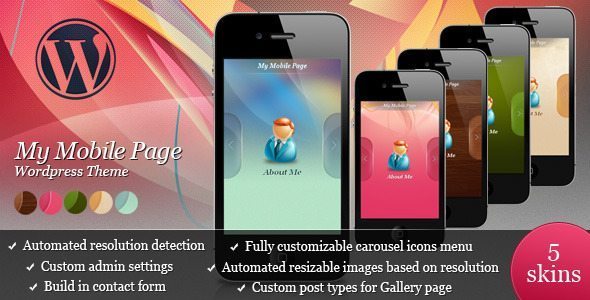 The Internet is being accessed more by smart mobile handsets than through computers, and the number of Mobile internet subscribers are increasing rapidly. So those who are running a website must understand to have a mobile version of their websites to get more traffic and to become more popular in the online world.
Wireless Markup Language(WML) is the coding language to develop a mobile version of you site, which is little difficult for site owners if he is not a programmer. But if you are using WordPress than it is very easy for you to have a mobile version of your site by using Plugins and themes.  Appnx is an engine that allows you to create an iPhone app using a web CMS. In this write up, we are compiling a list of WordPress themes for mobile apps and show casing some creative website desing for ipad Apps. If you want to know how to create mobile version of a WordPress website and tools to monitor your mobile Website through mobile than read these articles:
How to make Mobile Friendly WordPress Blog
How to setup an Appnx Web CMS for creating iPhone App
How to Transforms WordPress blog into an iPhone application-style theme
Create stunning mobile + iPad versions of your website. Easily setup a rich mobile theme for iPhone, iPad, Android, Blackberry, Palm OS and Samsung touch mobile visitors, completely independent of your desktop theme.
Following are the most outstanding iPad app websites, they all have well presented content, have a look on these creative websites and get inspiration for your creativity.

How to Transforms WordPress blog into an iPhone application-style theme
Mobile Friendly Premium WordPress Themes
---
Now you have an idea and inspiration from the above list, look at these premium themes for your mobile website.
WP Mobile: A Premium WordPress 3.2.1 Ready, eCommerce / Free Downloads Theme that looks the same across all browsers & mobile devices!
Short list of features:
WordPress 3.2.1 Ready
Mobile Version looks the same! (Built & tested on the new Sprint HTC Evo 4G)
Auto Post to FaceBook, Twitter, Blogger, LinkedIn, MySpace & more…
Digital Delivery (Tested up to 30Mb)
SEO Friendly URLs
Social Sharing for each post item on RollOver (Awesome Effect)
Who's Online Widget
Modal Contact Form
Newsletter
Temporary Download links
Download Counts for Free downloads.
Auto adds new posts/download/product to the homepage blog style.
Comment Validation
Custom 404 Area
Pagination
iWorld is a wp theme designed exlusive for iPod Touch and iPhone, Can be use for corporative site, portfolio, blog.
Sofa iBloggr is the very first WordPress theme made exclusively for iPhone and iPod touch devices. It perfectly fits to 320px wide screen without the need for screen orientation switch. All other desktop computer Browsers are capable to run this theme with no issues as well!
Simple Mobile is a WordPress theme designed for mobile devices, especially iPhone.
dotMobi is a mobile theme for WordPress. It can be used either as a standalone blog OR in conjuction with one of the many plugins that offer theme switching according to the users platform.
My Mobile Page WordPress Theme is a minimal mobile wordpress theme. With a modern look and a lot of cool features this can be the perfect pesonal mobile website for you. This theme can be used for personal mobile pages, web designers mobile pages, artists mobile pages and many other.
The theme use automatic resolution detection so you can use for small screen resolutions and bigger resolutions.
1stGiantLeap Mobile Template WordPress Edition
1stGiantLeap Mobile is a HTML5 /CSS3 template tuned to look perfect in mobile browsers. The markup is device orientation (landscape/portrait) sensitive, so when you change device orientation by rotating it 90 degrees CW or CCW this template will look nice.
My Mobile Page V2 WordPress Theme is a unique wordpress mobile theme with some amazing new features, 100 % customizable, fluid layout, automatically resized to every mobile resolution, auto device orientation resizable, custom admin panel.
MobilePRO is a beautiful professional WordPress theme for mobile devices. However, it looks great on any computer screen.
My App is a Premium WordPress Theme, developed by Elegant Themes that is ideal for creating an online store to sell your mobile (iphone) applications. This theme will make it easy to publish and promote your app and it is very clean and elegant.
 
With the iPhone APP WordPress Theme you can quickly and easily turn you wordpress installation into a professional and elegant website for showcasing your iPhone application(s).
Silicon App is a really clean and modern WordPress theme that is perfect for selling your Application products online. The theme was built with software apps in mind (such as mobile apps) but could also be used for a standard desktop product.
Obox Mobile is a new WordPress Mobile Theme Framework that will convert your website into a layout that is compatible for mobile devices. As we all know people are starting to use their mobile devices (blackberries, iPads and iPhones) to browse the web and catch up with their favorite blogs. By not providing people with a mobile version of your website/blog you could potentially miss out on a lot of traffic.
MobilityAPP by Themefuse is a WordPress theme created specifically for smartphone developers who want to promote their products online using WordPress for their CMS.  The theme was created for promoting your iphone, ipad or Android mobile apps, however, it could be used to promote virtually any product or business online. The design is fantastic and it's a feature-rich theme.