Coming up with a fantastic app idea is hard, but it's not as hard as finding the right mobile app development company that delivers to your expectations. According to research by Evans Data Corporation, there were about 23 million developers worldwide in 2018, working in different industry niches, such as web and mobile. Moreover, this number is estimated to reach 27.7 million within the next five years.
It can be a challenge to pick your app developer or a company that develops apps without going through certain steps that enough, you make a well-informed decision.
Hence, if you are thinking about building your mobile app and looking for your ideal app development company, then you have come to the right place. Here are a few questions that you need to ask yourself and seek answers to them, to find an app development company that best suits your needs.
Why do you need a mobile app for your business?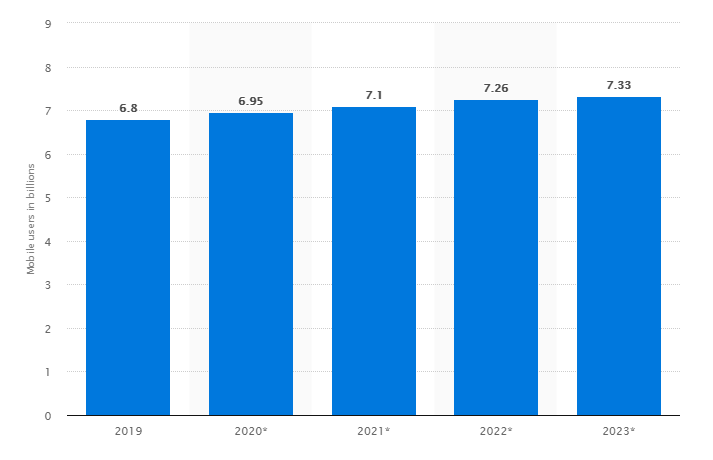 According to a study by Statista, by the year 2021, there will an estimate of over 7 billion mobile users across the globe.
(Source: Statista)
Mobile apps have become one of the most effective channels to engage with customers and provide those services or content. If you want to create a positive brand image and ensure your customers have a good experience, you need to have a robust mobile presence.
Your mobile app gives you direct access to existing and potential customers increasing chances of quality engagements and higher online revenue or fulfillment of any other business goals.
Check out some tips on how to improve your digital presence.
What features and functionalities does your app idea need?
Before you start looking for your mobile app development company, you need to be very clear about what kind of app you want to build. Having a good starting point for your project will help to communicate your ideas and plans with other people who'll be working on it. It will also minimize
You can only find the right mobile app development team and specialists if you know about the features and functionalities that need to be incorporated into the app. You want to hire an application development firm that offers the right expertise and technology skills, required to develop your app from scratch and help achieve your goals.
How much does it cost to develop your mobile app?
One of the most common mistakes startups and small businesses make is choosing an app development company with the lowest rates. They don't consider why the top app development companies would sell quality services, for less than competitive prices.
Professional app development companies have the experience of building brands from scratch and successfully launching them into the market. Building a mobile app involves a lot of people – it's a collective effort of a team of experts, including software architects, graphic artists, UX designers, developers, and testers. Companies with better resources and a greater amount of experience in the industry are likely to charge more, willing to accommodate frequent changes, and be relatively more accessible than others.
That said, an essential app can cost anywhere between $5,000 to tens of thousands of dollars, depending on its features and functions. A simple app could take any time between 6 weeks and three months to complete.
In comparison, a server-based app with databases and users can cost hundreds of thousands, and take months to build.
Make sure you go into the market looking for your firm with a reasonable budget.
Where to find the best mobile app developer?
According to a study by ComScore, mobile apps account for 57% of all digital media usage. This means making an app that's not good enough in comparison with competitors, equals missing out on this market space.
Using social networks, job boards, and freelancing platforms, you can find freelance app developers for your mobile app. Even though working with a freelancer may be the cheaper option, it also means running the risk of working with an individual who may be dishonest about his expertise, or someone who could have a non-professional attitude that makes collaborating with them a difficult experience.
The other option is to go for an app development firm. From visiting their website to checking out their portfolio and clientele, an app development company can offer you more professional, client-oriented, and quality experience than freelancers.
How to find the best mobile app development company for your requirements?
You cannot find the right company for your mobile app development unless you talk to them. Yes, it's this simple.
You are putting the future of your business in their hands, make sure they understand your expectations and business goals, and find compatibility with their development process, expertise, company values, and how they perceive your project.
You can learn a lot about the company by going through their website, specifically the portfolio section. Also, check out the reviews of the apps they have built on app stores. Look how much experience they have of working in the same industry as yours. Find out if their design and development styles complement your brand's look and feel.
Read the article to find out if you really understand the needs of your business.
How tech-savvy is the company?
According to Research and Markets, the global Augmented Reality (AR) and Virtual Reality (VR) market is predicted to reach $94.4 billion by the year 2023, with increasing demand for the technology in the retail and e-commerce sectors. Mobile gaming is another industry that's highly influenced by emerging technology.
This is the age of technology, and if you want to make an impact and impress your audience, you need to incorporate advanced technology into your app in a way that it takes the user experience up a notch.
Hence, make sure your app development company is an expert and has experience in cutting-edge technology that you are planning to incorporate within your app.
How to get your mobile app developed?
Once you have considered all the aspects mentioned above of a mobile app development company, it is essential to get close and personal with the process of developing a mobile app.
According to research by Google, only 9 percent of users will continue using a mobile site or app if it doesn't satisfy their needs. Whereas 40 percent will be less likely to come back to the app, 28 percent will be less likely to purchase from the brand in the future, and 29 percent will immediately go to a competitor's app.
Do your homework; make sure your development company follows all the best industry practices, and in collaboration, you launch an app that offers something of value. Look for a company that cares about software architecture, design patterns, code quality, and user experience.
How to communicate with your mobile app development company?
Now that you have found your mobile app development company and your app is being developed, your job isn't done yet.
Communicate with your company, see what level of collaboration and feedback they are expecting from you. Every company has a different infrastructure and reporting system to keep the client posted. Whether it is daily conference calls, weekly email updates, or detailed monthly reports, work out a system with your project manager that suits both of your needs.
Furthermore, app testing and quality assurance is part of the app development process. Besides, with increasing competition, it's essential to take a more extended period for QA and detailed testing using the help of professionals.
Read 'Steps of Mobile Application Testing' to better plan and execute your QA stage.
Conclusion
Finding the right mobile app development company may require some time and effort from your side, but it is not a very tough task if your follow-through the factors mentioned above. It is one of the most critical business decisions that's going to impact the future of your business, up to a certain extent. Hence, make sure you take your time but find the company that collaborates with you and who considers your app more than another project.