There are lots of premium WordPress themes for e-commerce shopping cart . One of the best WordPres eCommerce theme and top out of them is WPA Storefront, about this theme you can find detail on this page – WPA Storefront – The Ultimate WP-E-Commerce Theme.
Before selecting a WordPress as an  E-Commerce platform, read the reasons on following page – Why choose WordPress as an E-Commerce platform. As well get the more  information on – How to use WordPress as an E-Commerce Store.
Following are the Best WordPress Themes for eCommerce Shopping Cart:
1. Viroshop – Best WordPres eCommerce Theme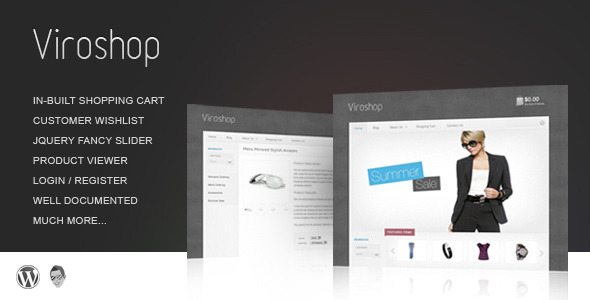 Viroshop turns your default WordPress installation into a fully functional online store. Viroshop can be run entirely in your WordPress admin, so whether you're a WordPress Pro or just starting out anyone can use this theme and you don't have to touch a single line of code.
2. The Jewelry Shop – WordPress eCommerce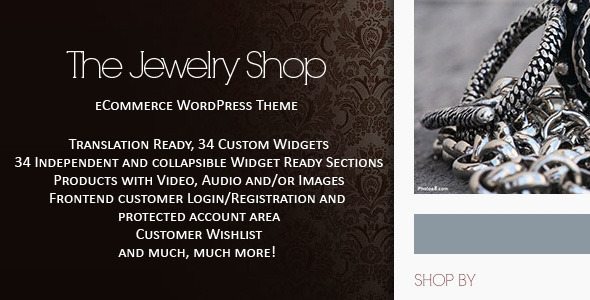 A Flexible, Plugin Free and Localized (Translation-Ready) eCommerce theme!
3. The Furniture Store – WordPress eCommerce Shop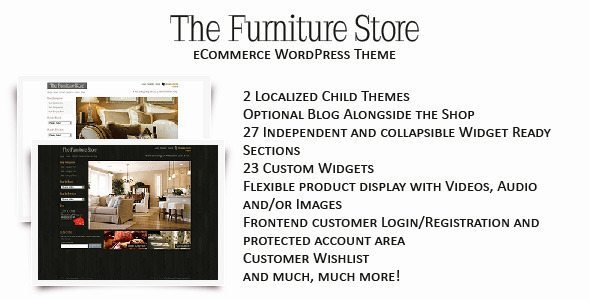 4. EStore – Online Store WordPress Theme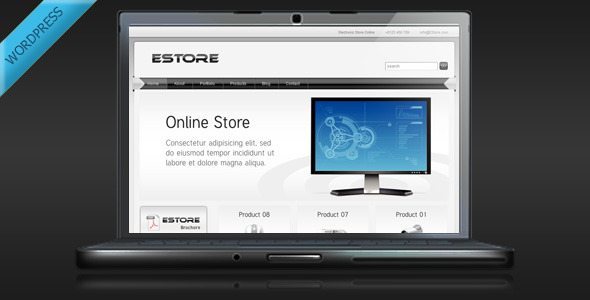 EStore is a clean, modern, web 2.0 style WordPress theme suitable for online store, shopping cart and business sites.
This theme is fully compatible with WP Ecommerce plugin.
5. enVirashop – eCommerce WordPress Theme
enVirashop is a WordPress eCommerce theme that has an in-built shopping cart feature that requires no plugins.
The theme comes with plenty of options so you can personalize your store to suit your needs. Please check the screenshots to see the design variations and the options available.
6. WPA Storefront – The Ultimate WP-E-Commerce Theme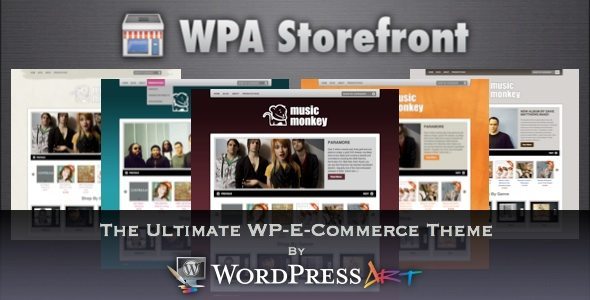 If you've ever used the WP-E-Commerce plugin, you probably noticed the same thing I did…the plugin has a lot of potential and power, but no themes are available that really harness it's power to show products. This theme solves that problem by using the existing WP-E-Commerce code combined with some new custom coding to display your products and product groups like never before! We've created new custom styles for the product page and shopping cart without touching the plugin files. Then, our custom homepage options gives you a myriad of options for displaying your products.
7. WPC – WordPress Commerce
WPC – WordPress Commerce requires the WP eCommerce plugin for store functionality.
WPC is a fully featured WordPress shopping cart template!
Utilizing the powerful WP eCommerce template, WPC features support for multiple payment methods, user accounts with billing and shipping details, past order descriptions, and even an area to acquire purchases with downloadable content! WPC also features extensive styling options through a theme options panel in the WordPress dashboard.
8. Vintage Kicks – OpenCart Theme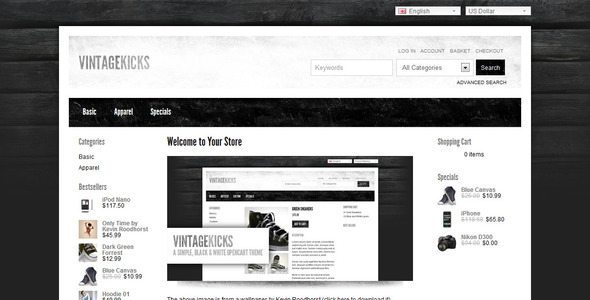 Vintage Kicks is a 3 column, simple theme for OpenCart. It breaks away from the usual default-looking Opencart theme, and much of the code has been reorganized and cleaned up for better, easier editing.
9. Sofa Stockphoto – WP shop with Deposit system
SOFA Stockphoto theme is definitely not made for one purpose only – as you can read in title. It has been made to enable users to sell any type of intangible (digital) goods. Stockphoto sale is only one practical example of its usage. Just imagine what else you could sell…logos, website templates, WordPress themes, illustrations, code, audio files, applications, images, fonts, 3D models, etc., etc. Possibilities are endless!
This theme is your own, private marketplace! It has built-in Deposit system and works with any PayPal business account. Deposit system enable users to purchase certain amount of credits which can be used on your site to buy digital goods.
10. Synthetik WordPress Theme
Synthetik is a theme for WordPress. The theme design was developed for users who appreciate visual browsing and a minimal layout. The theme can been used to create everything from e-commerce sites, portfolio sites, and everything in between.
11. Sofa Shoppr – WP3.0+ Webshop Theme
Sofa Shoppr is WordPress based webshop (e-commerce) theme. It works in conjunction with PayPal payment gateway which means that users can safely checkout either by using their own PayPal account or a credit card. Beside the fact that this theme is extremely easy to setup and maintain, it does include all of WP 3 .0+ features, built-in widgets, advanced layout control, user reviews and an ample Options page through which all the crucial sections of your future webshop are settable.