Validating a website is the process of ensuring that the pages on the website conform to the norms or standards defined by various organizations. Validation is important and will ensure that your web pages are interpreted in the same way (the way you want it) by various machines, such as search engines, as well as users and visitors to your web page.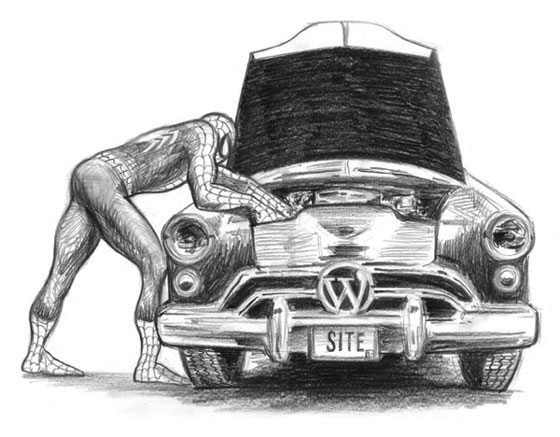 After installing WordPress on your domain you must ensure that your new website or existing one is free from errors. To do this several quality-control measures will need to be taken. WordPress also provides a lot of details on quality control and validation methods . With the help of the following tools, you can virtually guarantee that your website will run smoothly.
Validation Checklist
To help you validate your WordPress site, here is a quick checklist:
Validate HTML/XHTML
Validate CSS
Validate Links (check for dead links)
Validate Feeds
Check across different browsers (include handheld computers, Mac, PC, and cell phones, too)
Re-validate HTML and CSS
Have friends, relatives, co-workers check your site
When ready, you can post your site on the WordPress Forum's for review
Much of your quality-control checking will be done on the W3C website. At this site, you can check the markup, links, and CSS of your WordPress website.
1. Link checking
This utility crawls your WordPress installation to test your links so that you can be sure that they all function properly. If you find that linking errors do exist, correct the error links and then run the utility again until your website receives good results.
2. MarkUp Validator
After Link checking and correcting all your website errors, go to MarkUp Validator and Enter the URL for your home page into the Address text box and then click Check.
If you discover that your theme contains markup errors, you will need to fix these problems, and then run the validator again until your website is found to be error-free.
Other HTML – Validation Resources
Windows GUI Interface for TIDY
Site Report Card Validator
The W3C's HTML Validation Service (URL and upload)
Alpine Internet HTML Validator
AnyBrowser's HTML Validation
Cynthia Says Validator
HTMLvalidator.com's Validator
Software QA and Testing Resource Center
W3.org Tidy Validator
Validated WordPress Plugin
3. CSS Validator
The last of the WC3 validators that you will need to run is the CSS Validator, this utility will check your site and stylesheet for possible errors.
If problems were found, you will be shown these errors and warnings along with a section containing valid CSS information that you can use to help you correct these issues. After correcting these problems, run the utility again until no errors are found.
Other CSS – Validation Resources:
Style-Sheets.com Validator (browser specific)
4. Cross-browser compatibility(Adobe BrowserLab)
A website isn't good if it doesn't display properly in all the major browsers. That's why cross-browser compatibility is so important. A visit to the Adobe BrowserLab will provide you with an exact rendering of your website as it appears on all major browsers.
Feeds Validation
Feedvalidator.org – for Atom and RSS feeds.
Wrap up
To be very honest, a site with errors face a lot of trouble nowadays. It's not all about Search Engines but users also don't like sites that are throwing errors. The competition is tough in the World Wide Web of 2017 and to compete it we must ensure that our WordPress sites are running smoothly on all devices and across all browsers. If you think I missed up anything important in this article, please let me know in the comments section below.