Almost every blogger using  Mobile technology to viewing the websites from their smart phones or iPhones.  Now it is possible for bloggers to make their blog post from their mobile sets, because WordPress with its progressive nature presents itself as an ideal platform for creating blog posts from mobiles.
If you do a WordPress publication or if you are a web developer providing WordPress solutions to your clients; I have compiled a list of best mobile applications that will help you and your clients to manage WordPress publications from anywhere anytime.
As well You can  find few Mobile Apps at WordPress.org which included: WordPress for iOS, WordPress for Windows Phone 7, WordPress for Android, WordPress for BlackBerry, and WordPress for Nokia.
iPhone & iPod Touch
---

WordPress for iOS
WordPress for iOS is the app that lets you write posts, upload photos, edit pages, and manage comments on your blog from your iPhone, iPad, or iPod touch. With support for both WordPress.com and self-hosted WordPress (2.92 or higher), users of all experience levels can get going in seconds.
iBlogger
You can use iBlogger to manage most popular blog softwares including WordPress; it works great with iPhone, iPhone 3G, and iPod Touch.iBlogger allows you easily manage your blog including ability to add pictures, categories and tags.
BlogPress
Support most of the mainstream blog platforms including WordPress; Support full options of blog: Labels/tags, categories, publish date and online draft(private post). You can easily write, edit and delete your posts and drafts for multiple blogs.
BlackBerry
---

WordPress for BlackBerry
Post to your WordPress blog from your BlackBerry. Manage comments and media, upload videos and more with this BlackBerry native app.
Android
---

WordPress for Android
Write new posts for your WordPress blog, edit content, and manage comments with built-in notifications, all on your Android device.
wpToGo
Allows you to manage your WordPress blog from your Android device. Features: upload new post including title, content, tags and multiple categories with multiple WordPress accounts, upload a full size image and thumbnail, customizable thumbnail sizing, option to publish instantly or save as a draft.
Learn more
PostBot
PostBot  is an Android application that allows posting to WordPress publications, both WordPress.com and self-hosted.
Microsoft Windows Mobile
---

WordPress for Windows Phone 7
WordPress for Windows Phone 7 makes it easy to manage your blog or website while on the move. Writing and editing Posts and Pages is a breeze, as well as being able to quickly moderate comments and check statistics. And it's all made to get you in and out quickly.
Writer for Windows Mobile
This is mobile version of one the best desktop client for bloggers, Windows Live Writer. Currently in beta it supports Windows Mobile 6 and newer.
moBlog
moBlog is a mobile blogging application for Windows Mobile 2003 and later. moBlog currently supports WordPress.com, Blogger and Live Spaces. moBlog is optimized to run on WM devices using minimum resources. It is an application that you can use in off-line mode, where you can do your writing and editing disconnected to the net. A connection is only required when you initially setup your blogging accounts and when you want to update your blog with the new content.
Nokia Phones (Symbian S60 Based)
---
WordPress for Nokia
WordPress for Nokia allows you to edit your existing blog content, add new posts and pages, manage comments, and more — directly from your S60 or Maemo-powered Nokia.
Wordmobi
Wordmobi is S60 client for WordPress written in Python for Nokia mobile phones. It allows you to manage your blog with common operations like posting, approve comment, post delete, and comments visualization.
Scribe
Scribe allows you to create, edit, and publish entries on your WordPress-powered blog from anywhere, using just your mobile handset. Scribe is in early stage of development and not completely stable. it uses Python for S60, so you will need install Pythod for S60 before installing Scribe.
Wavelog
Wavelog is a blogging client application developed for S60 mobile phones with following main features: Post text, image, audio or video to a blog directly from the mobile phone using any type of available network (mobile phone or Wi-Fi network); Save draft for later posting, add hyperlinks, tags and external tags to your posts; Select blog category when posting, edit previously published posts and configure multiple blog profiles for simple publishing to several blogs. Wavelog has been developed for and tested on Nokia N95 mobile phones. There are many other S60 R3 based mobile phones on which the same software applications may be installed and used.
Mobile Phones With J2ME Support
---
MoPress
MoPress  is a blogging client application developed for mobile phones.It allows a mobile phone to post a content (text, image, audio, video) to a Blog, using any type of available network (mobile phone network or Wi-Fi network). MoPress has been tested with WordPress (v2.3.1 or higher) and uses XML-RPC protocol for communication with blog.
Other ways to create a mobile friendly version of WordPress Site
---
1. WPTouch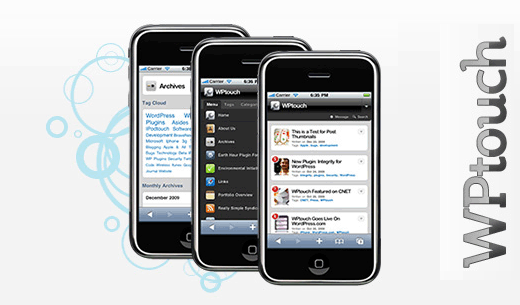 WPTouch is a mobile plugin/theme for your WordPress website. It automatically transforms your WordPress blog into a web-application experience when viewed from an iPhoneTM, iPod touchTM, AndroidTM, or BlackBerry StormTM touch mobile device. WPTouch has a very good admin options panel. Make sure you check out their gallery for screenshots.
WordPress Moblie Themes:
---
Fast Blog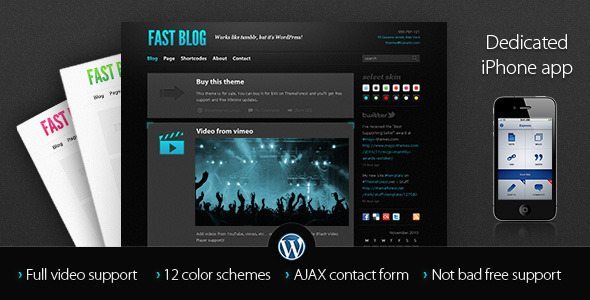 Fast Blog is a WordPress theme with some extra tumblr-like features. It's perfect for easy blogging and thanks to the WooTumblog plugin (included) you can add posts quickly even from a mobile phone.
My Mobile Page WordPress Theme
My Mobile Page WordPress Theme is a minimal mobile WordPress theme. With a modern look and a lot of cool features this can be the perfect pesonal mobile website for you. This theme can be used for personal mobile pages, web designers mobile pages, artists mobile pages and many other.
iWorld – Mobile WP Theme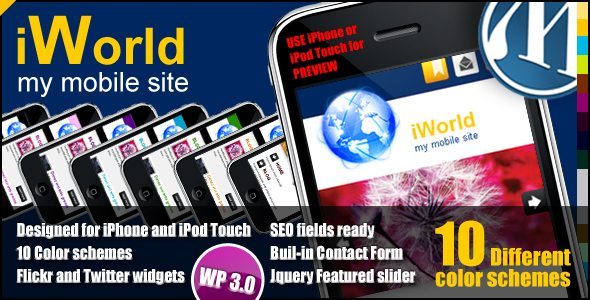 My Journey WP – Personal Blog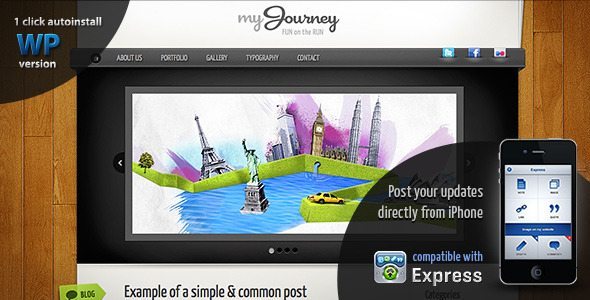 WP Mobile Detector – WordPress Plugin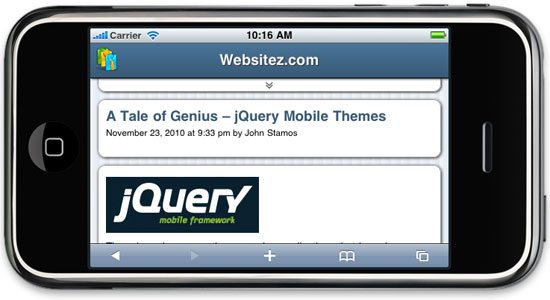 The WP Mobile Detector allows you to display a mobile theme on WordPress sites to mobile devices in minutes. Simply install the WordPress plugin and activate it. WP Mobile Detector is a WordPress plugin that detects mobile devices and displays a mobile optimized theme specifically for each mobile device.
Stereotype One Page – WordPress Theme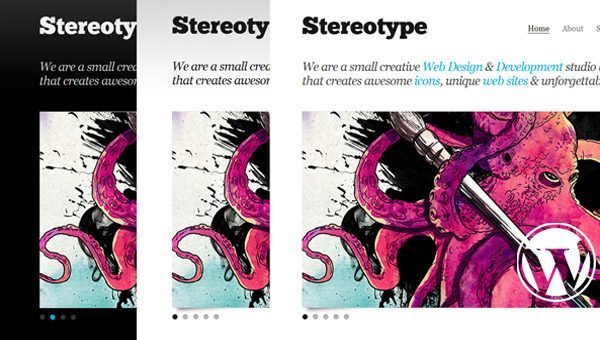 Stereotype is a clean and simple one page portfolio built on the 960 Grid System, HTML5 DOCTYPE and CSS3.
Useful Links:
How to Transforms WordPress blog into an iPhone application-style theme
WordPress for iPhone/iPad v2.6 Finally Released