According to Search Engine Optimization (SEO) rules, broken links are vital, because search engines do not like landing pages with 404 errors. Search engines treat them as a dead end. Just like a human, search engines don't like to waste time on broken links.
There are different online tools available to check broken links, after detection you can manage those broken links manually and if you are using WordPress, then there are plugins which can help you to manage those broken error pages. This tutorial is divided into four sections. Here they are for easy navigation
There are many broken link checkers available online, here we are compiling few of them and a list of WordPress plugins to manage broken links which can make your life easy to handle them.
What are broken links?
Broken links are like stop signs to search engine robots. They use the links on the pages of your site to follow to other pages at your site. The more pages they crawl, the more content they gather. The more content they gather, the more valuable your site appears to them, and your ranking will be higher! (Not to mention how irritating broken links are to your visitors.) – Broken Link checker
Online Broken Link Checkers
---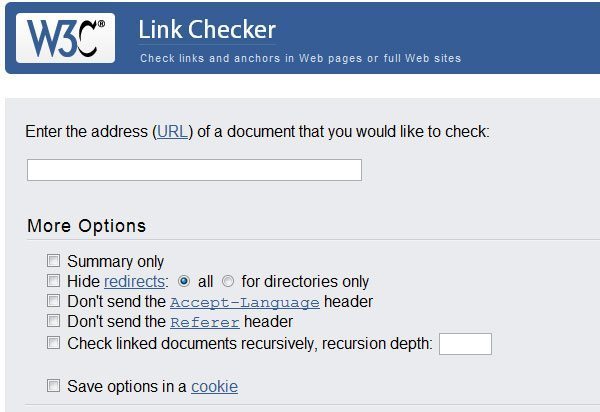 This Link Checker looks for issues in links, anchors and referenced objects in a Web page, CSS style sheet, or recursively on a whole Web site. For best results, it is recommended to first ensure that the documents checked use Valid (X)HTML Markup and CSS. The Link Checker is part of the W3C's validators and Quality Web tools.
2. Broken Link checker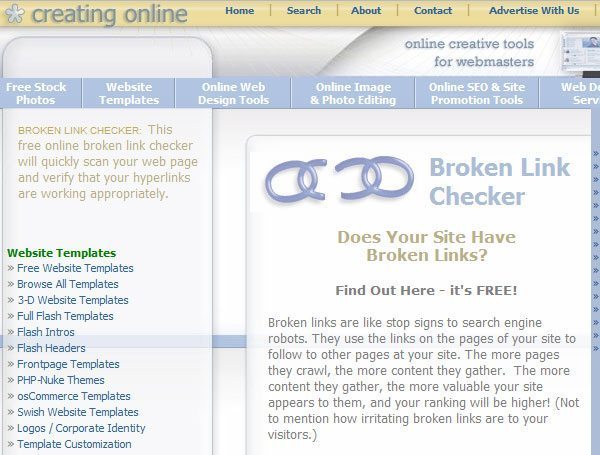 This free online broken link checker will quickly scan your web page and verify that your hyperlinks are working appropriately.
3. Link tiger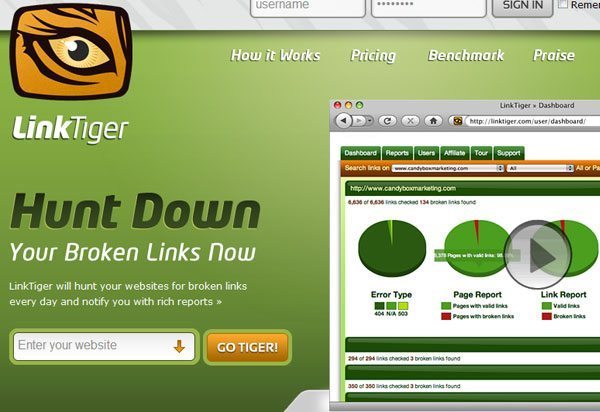 LinkTiger will hunt your websites for broken links every day and notify you with rich reports.
This tool isn't for finding reciprocal links or making sure your reciprocal links partners are still linking back to you (Although I guess you could use it for that) it's just going to make sure all the links on your web page are linking to something that exists.
WordPress Plugins To Fix Broken Links
---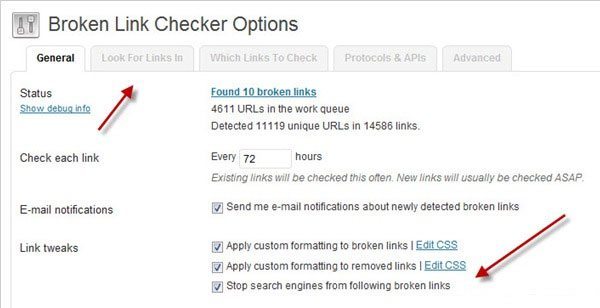 This plugin will monitor your blog looking for broken links and let you know if any are found. 404 is a code name for a missing web page that no longer exists. Over the years, I am sure you have linked to tons of websites that are either dead in the water or have changed their website's URL structure. Broken Link Checker will try to go through all of your previous posts and find any links to sites that are no longer reachable. Along with the 404 Notify plugin mentioned earlier in this chapter, you will never have another missing page or link on your blog. Unlike 404 Notify, Broken Link Checker covers external websites as well as internal pages.
Features
Monitors links in your posts, pages, comments, the blogroll, and custom fields (optional).
Detects links that don't work, missing images and redirects.
Notifies you either via the Dashboard or by email.
Makes broken links display differently in posts (optional).
Prevents search engines from following broken links (optional).
You can search and filter links by URL, anchor text and so on.
Links can be edited directly from the plugin's page, without manually updating each post.
Highly configurable.
Basic Usage
Once installed, the plugin will begin parsing your posts, bookmarks (AKA blogroll) and other content and looking for links. Depending on the size of your site this can take from a few minutes up to an hour or more. When parsing is complete, the plugin will start checking each link to see if it works. Again, how long this takes depends on how big your site is and how many links there are. You can monitor the progress and tweak various link checking options in Settings -> Link Checker.
The broken links, if any are found, will show up in a new tab of the WP admin panel – Tools -> Broken Links. A notification will also appear in the "Broken Link Checker" widget on the Dashboard. To save display space, you can keep the widget closed and configure it to expand automatically when problematic links are detected. E-mail notifications need to be enabled separately (in Settings -> Link Checker).
The "Broken Links" tab will by default display a list of broken links that have been detected so far. However, you can use the links on that page to view redirects or see a listing of all links – working or not – instead. You can also create new link filters by performing a search and clicking the "Create Custom Filter" button. For example, this can be used to create a filter that only shows comment links.
There are several actions associated with each link. They show up when you move your mouse over to one of the links listed the tab above –
"Edit URL" lets you change the URL of that link. If the link is present in more than one place (e.g. both in a post and in the blogroll), all occurrences of that URL will be changed.
"Unlink" removes the link but leaves the link text intact.
"Not broken" lets you manually mark a "broken" link as working. This is useful if you know it was incorrectly detected as broken due to a network glitch or a bug. The marked link will still be checked periodically, but the plugin won't consider it broken unless it gets a new result.
You can also click on the contents of the "Status" or "Link Text" columns to get more info about the status of each link.
Broken links found, What next?
After getting all broken links you can redirect visitors to a specific page by using the following plugin.
5sec Proper 404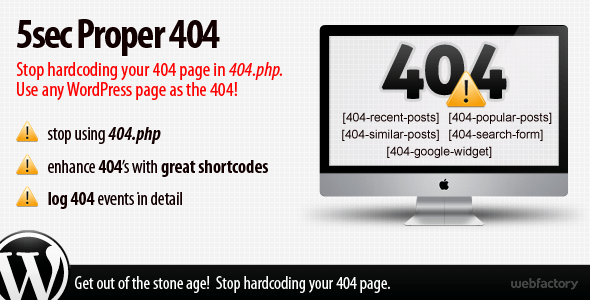 stop hardcoding your 404 page in 404.php
select any page to be used as the 404 page
use 5 provided shortcodes (recent, popular, similar posts; search form, Google search widget) to make better, more useful 404 pages
eliminate broken links and backlinks with a detailed 404 log
Wrap up
In short, we can say that a site with a lot of broken links can not perform well in search engines as well as for its users. So, the first task is to fix all of your site's broken links to get the most out of it.