Modern life brings people both convenient and inconvenient things and also pushes people to move and drive. I can not imagine how our life and society will be without moving and driving. Might we come back to the Ancient time? Making money with driving and fields related is not a bad idea. If you are planning to operate car dealer business, car rental, car service or garage, open the internet and you will see thousands of way to boost your business. One of those effective ways is buying a best Best Car Automotive WordPress Theme to make an advertisement.
My topic today is presenting you a WordPress Car Automotive Theme list based on their features and review. Before stepping into the content, make sure that you have already understood about WordPress and known How to build a website with WordPress.
And here are some topics related to car from our WP Arena website which you might want to visit for more information:
And now, it is high time for us to start with Best Car Automotive WordPress Themes in 2017!
WordPress Car Dealer Business Theme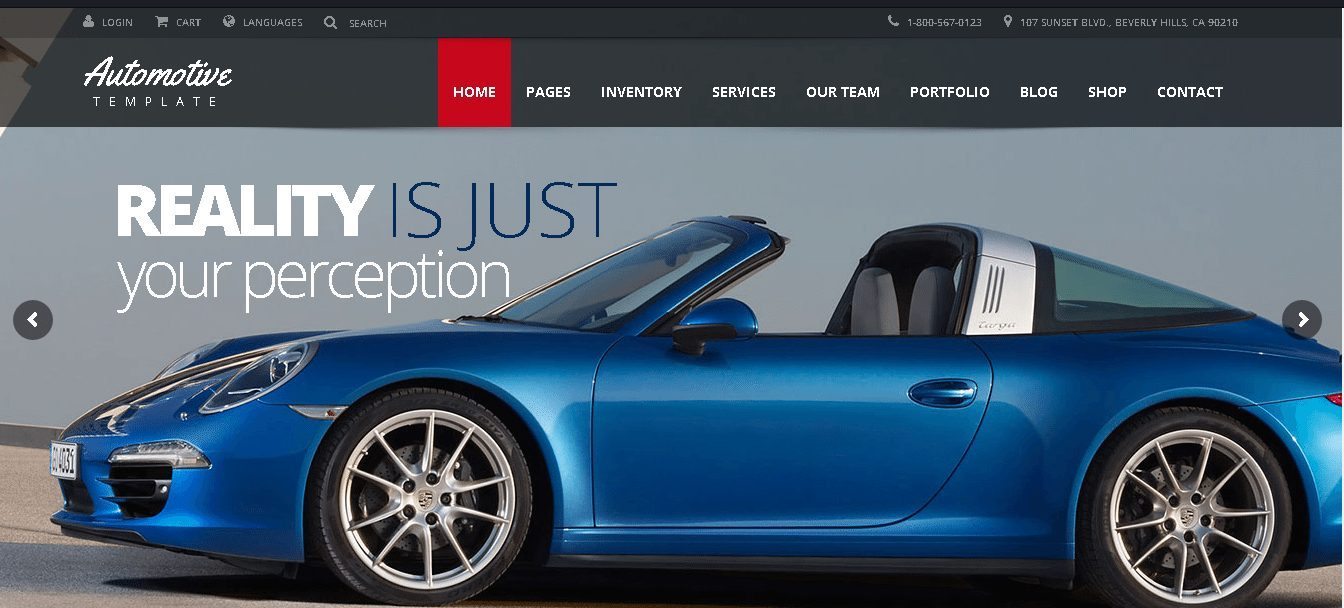 Developed by Themesuite, the Automotive Car Dealership Business WordPress Theme is the first one in this Automotive WordPress Theme collection.  Reaching 3000 sales just in 9 months thanks to its rich features and easy to use functionality. The most outstanding thing of this Car Automotive WordPress Theme is the well-designed inventory management system in which a completely customizable, filterable, and sortable Inventory Search to search your Vehicle Listings, as well as a complete Inventory Management System and Loan Calculator are available. This system also allows customers to quickly filter out vehicles that do not match their search criteria, displaying only perfectly fitted vehicles. It also includes a layout for 2, 3, and 4 Vehicle Listing Comparisons, full Blog and tons of other pages and 32-page layouts.
Coming with the powerful PHP Contact Form, this automotive WordPress theme lets you create and customize 6 different functionalities: Request more information, Schedule a test drive, Make an offer, Trade-in appraisal, Email to a friend and General contact form. Besides that, this WordPress Automotive Theme includes both the WordPress and PSD versions of the theme. The 32 pixel-perfect fully layered Photoshop files are extremely well-organized with color-coding, guides, grid help lines using the latest Bootstrap 3 responsive column layout. Check out other features of the Car Dealership Business Automotive WordPress Theme via below links.
Auto Car Repair Mechanic Shop Responsive Theme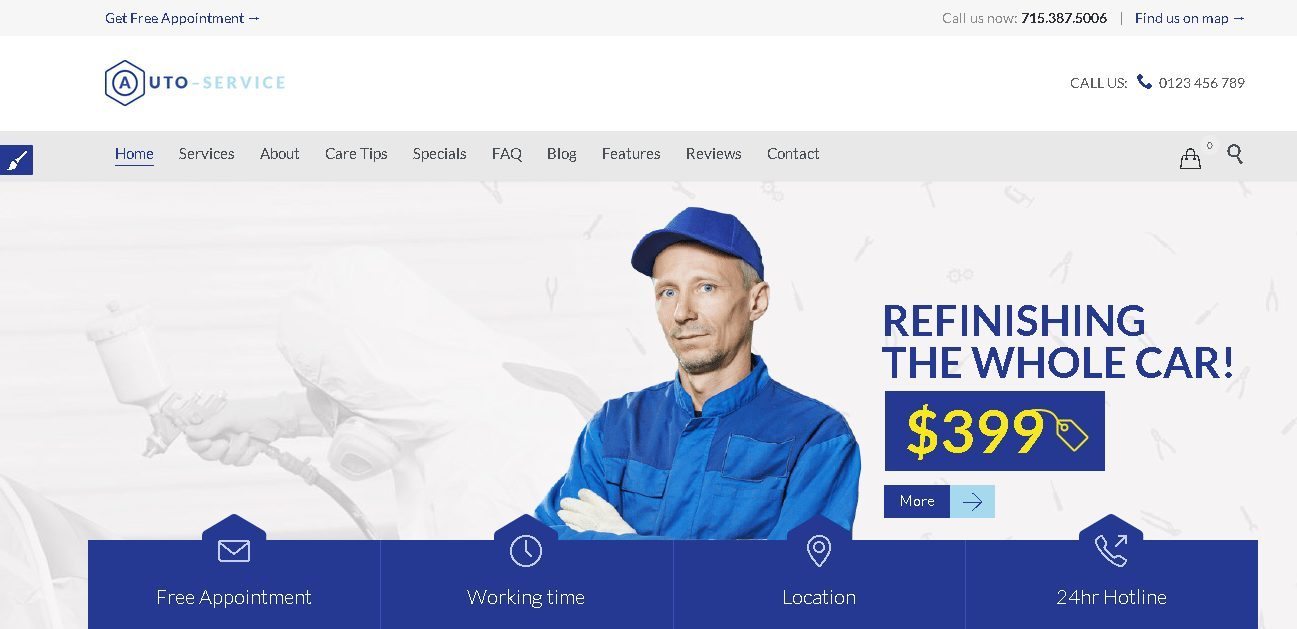 The second Car Automotive WordPress Theme in my collection is Auto Car Repair Mechanic Shop Responsive Theme which is built for auto car repair, mechanic shop, garages, automobile mechanical, auto centers…
Based on Visual Composer, VamTam vendor created by their own the drag & drop page builder with a simple interface for building any page or post layout. No need for you to touch one line of code for creating your page layout and elements. The VamTam drag & drop page builder is tightly integrated with TinyMCE editor and you can switch to visual or text editor at any time without losing any changes. Especially, this Car Automotive WordPress Theme also comes with Revolution Slider with 18$ value, 23 meticulously scripted and professionally produced HD video tutorials for beginners with 79$ value and 1200 Premium Icon Set with 39$ value. Furthermore, the Auto Car Repair Mechanic Shop Responsive Theme also integrates with WooCommerce for shopping, bbPress – community forum, WPML – translation ready, SEO by Yoast, Total Cache – easy web performance optimization, Contact Form 7, Wordfence – WordPress security and Gravity Form – contact form builder.
CarPress – Car Dealer WordPress Theme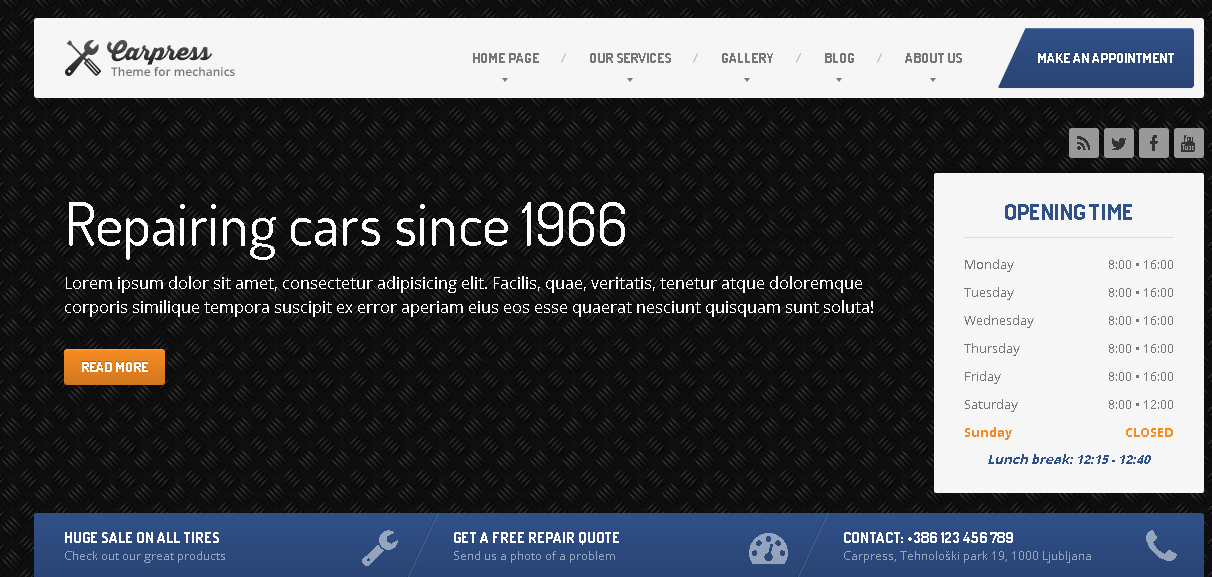 AutoDealer – Car Dealer Automotive WordPress Theme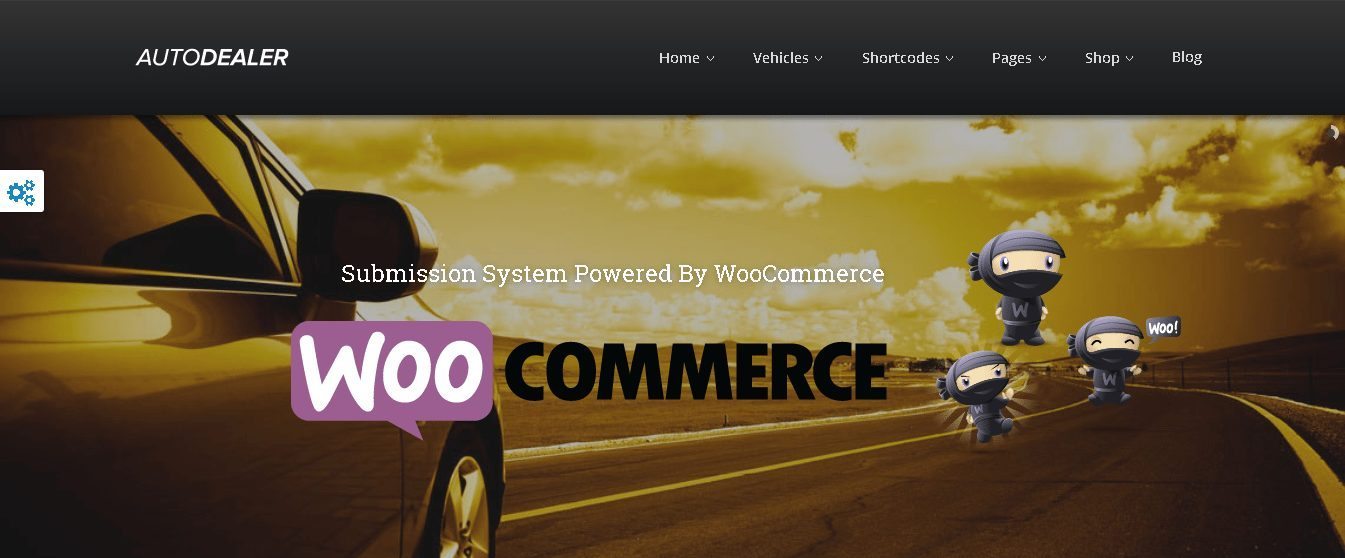 The next guy on my list is AutoDealer – a professional Automotive WordPress Theme for car dealers and vehicle marketplace. Bringing along a unique front-end submission system with built-in payment packages powered by WooCommerce as well as LayerSlider Plugin (15$ Value), submission packages to submit vehicles for sale on your website can be done. Especially, the front-end allows your users to register, login, edit their profile, submit listings, manage the existing lists…without going inside the WordPress dashboard.
This AutoDealer Automotive WordPress Theme supports the automatic installer plugin which shows you an overview of your current setup. Besides that demo pages, posts, vehicles, homepage, WooCommerce pages, and widgets can be imported by the automatic installation process.
In addition to that, the Ajax registration allows users to become either dealers or regular users. Dealers will have the power to customize their business details, contact details, and social profiles. More than that, every dealer has their own custom profile page so that users can browse the vehicles on sale from that specific dealer.
Coming with email notifications, this AutoDealer Automotive WordPress Theme allows you to be notified of activities which help site admin have full control over the website. You can turn off this function from the administration panel if you do not need.
Car Dealer – Responsive WordPress Car Dealer Theme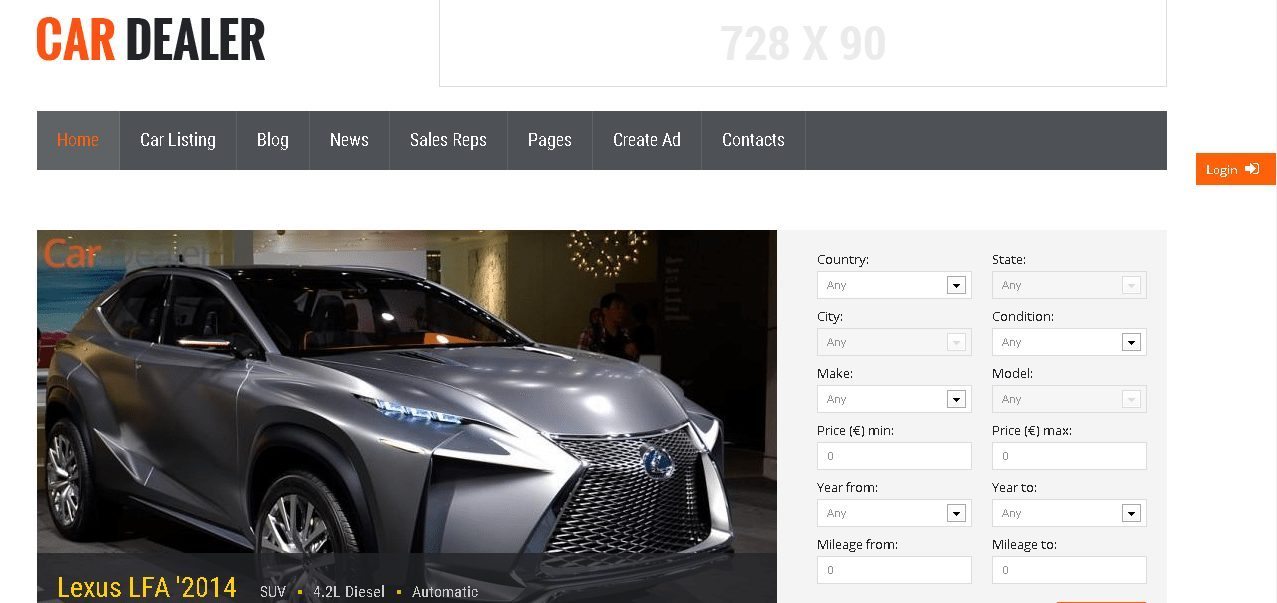 Another recommended Automotive WordPress Theme for all sized car dealers who want to make online business is Car Dealer. Coming with an easy to use profile system, every user will have right to own one profile which they just simply fill in their username and password from the front end and edit their personal information as they want. This Car Dealer Automotive WordPress Theme also offers you the opportunity to make branding for each image with logo watermark to identify copyright. In order to serve car loan purpose, Car Dealer provides the Loan Calculator feature – an intelligent solution to calculate estimate cost for cars you want to loan. With this function, you just need to insert car loan amount, annual interest rate and loan term, then a detailed calculation will be showed for your information.
In addition to that, the Cars Compare Option allows you to make a comparison page with all detailed information of compared car. This is a very convenient function of this automotive WordPress theme, which saves your time and helps you have a better overview to make a good choice. Besides that, the visitors also can follow cars which they are paying attention by putting those cars into the Wash List.  And in order to view different additional options of identical cars, this Car Dealer Automotive WordPress Theme comes along with the Car Option Editor. More than that the Car Dealer allows random visitors to create an account on your website and manage it and you can also create different account plans to allow these visitors to upgrade their accounts for posting more cars by purchasing the account upgrade on your website and in addition you can sell them featured car bundles for setting vehicles as featured to push their cars to the top in the search results.
Which one is the best Car Automotive WordPress Theme?
You might be wondering why there are not many recommended themes in my collection? Normally, I will only showcase from 5 to 10 themes which I really think they are best and worthy for you to purchase. I do not want to introduce you too many options and then you become confused about your selection. Come back to our topic about Best Car Automotive WordPress Themes in 2017, I hope that it will help you narrow the selection. You can pick up any of them and add to your cart without any doubt. If you want to run car dealership business or car rental, Automotive Car Dealership Business WordPress Theme, AutoDealer – Car Dealer Automotive WordPress Theme or Car Dealer – Responsive Dealer Automotive WordPress Theme would be an ideal. For the garage, car service, mechanic workshop or reparation, you can choose Auto Car Repair Mechanic Shop Responsive Theme or CarPress Automotive WordPress Theme. Anyway, this collection is only my personal opinion, it does mean that you will have same thought with me. If you have any different opinion about other best Car Automotive WordPress Themes, kindly contribute it and I am willing to hear from you.