Sharing knowledge it's a great way to help others, this great job you can find on Project Gutenberg which is the first producer of free ebooks. If you are a Designer or Developer than this list bring to you best free ebooks about CSS, HTML, Ajax, web programming, javascript, web design and more topics about web development and designing. As well best books you can buy from tutsplus ebooks. All eBooks are available in PDF , ePUB, Mobipocket formats,  or viewed as a web page (HTML).
Head first HTML with CSS & XHTML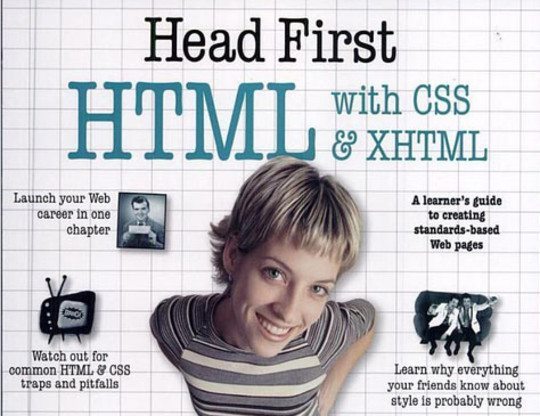 A learner's guide to creating standards-based Web pages.
How To Be Creative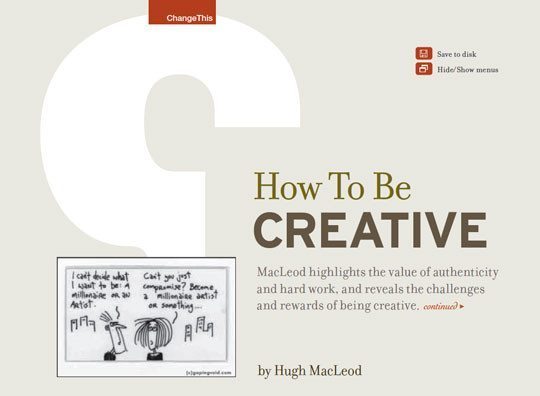 MacLeod, an advertising executive and popular blogger with a flair for the creative, gives his 26 tried-and-true tips for being truly creative. Each point illustrated by a cartoon drawn by the author himself.
If you've ever felt the draw to do something creative but just haven't been able to pull it together, you'll love this manifesto.
Web Designers Success Guide (PDF)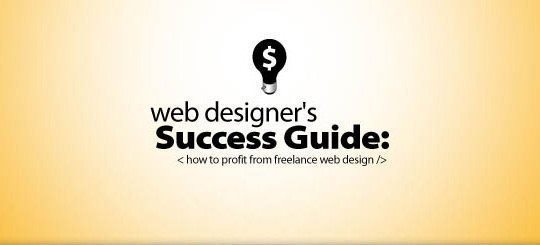 Web Designer's Success Guide is the definitive guide to starting your own freelance Web design business. In this book he gives designers step-by-step instructions on how to achieve the following:
Transition from full-time to self-employment
Freelance on the side to make additional income
Find new clients and keep them coming back for more
Market your freelance business
Manage your projects professionally
Price your services appropriately
Design Your Imagination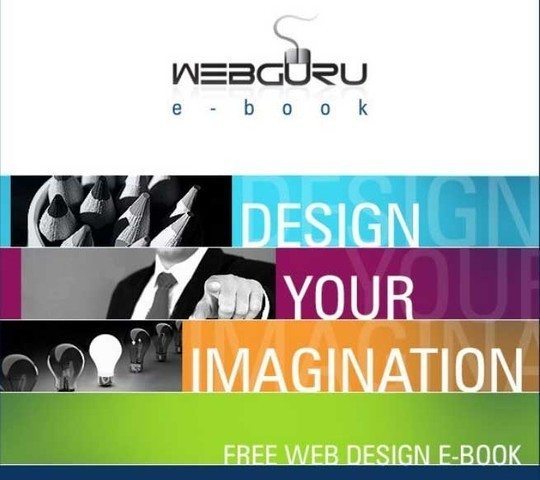 WebGuru is glad to offer an ebook named "Design Your Imagination"; a one-stop resource for the beginners and learners of website design. Though this e-book is mainly targeted for the beginners of website design, it might prove helpful for the experienced web designers as well.
HTML5 WTF?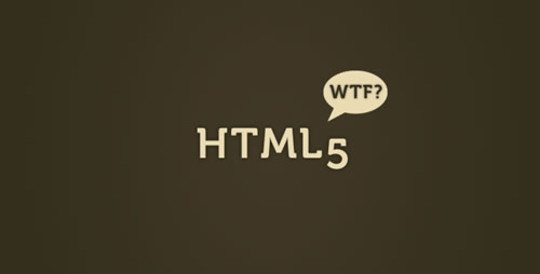 From Simon Schoeters, the author: Yet another overview of the changes introduced by HTML5. How does it look like? What is sexy? What is sexy? This presentation, that's what.
HTML & XHTML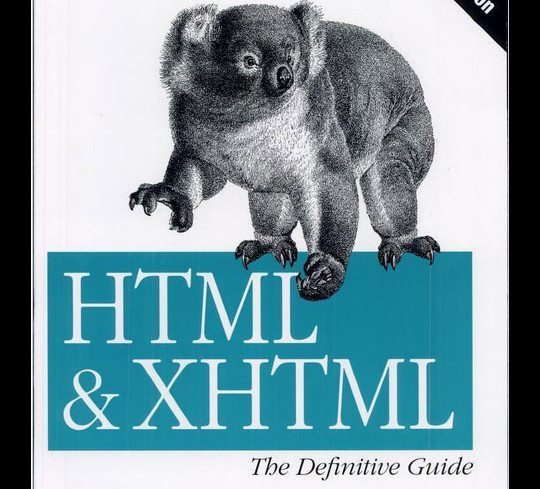 The definitive guide to HTML & XHTML.
JavaScript Programming for the Absolute Beginner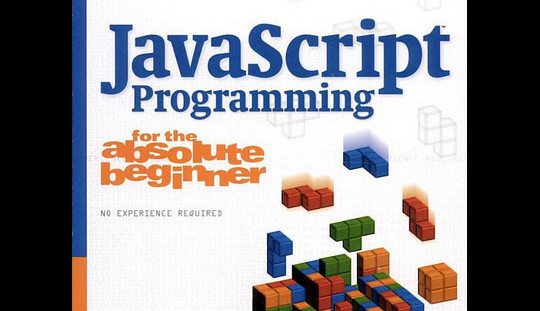 For the Absolute Beginner, No Experience Required
Pro Drupal Development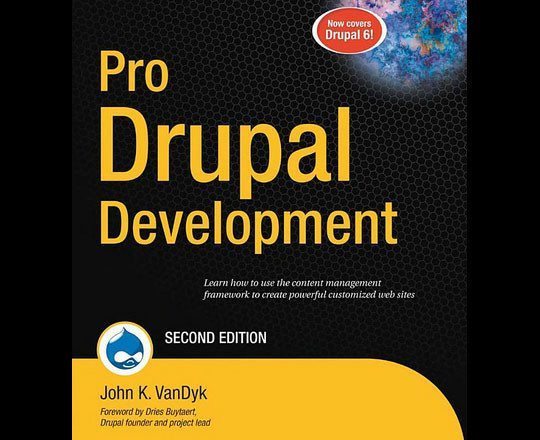 Learn how to use the content management framework to create powerful customized web sites.
Web design in a Nutshell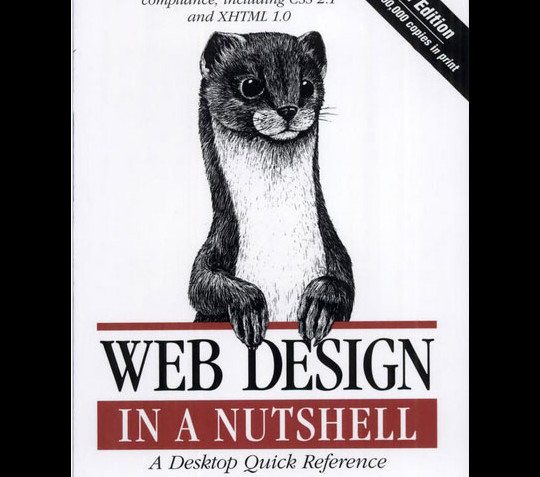 Completely revised for standards compliance, including CSS 2.1 and XHTML 1.0.
Using XHTML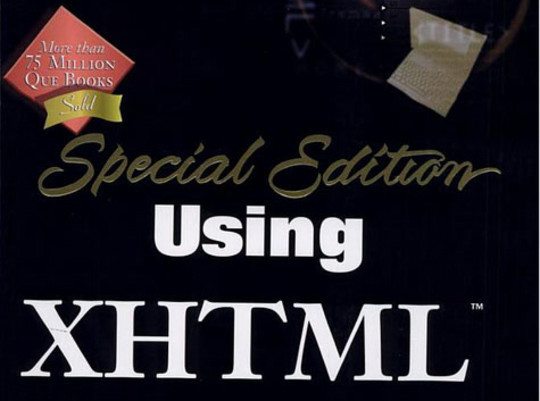 Molly Holzschlag has her finger on the pulse of what web developers need to know. And small wonder, she has been working in the trenches herself for years.
Joomla!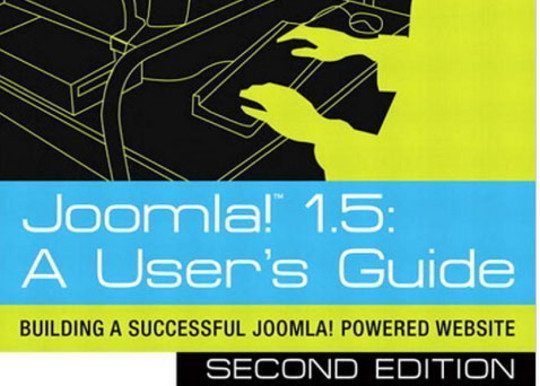 The Best Easy-to-Use Guide to Joomla!TM–The World's #1 Open Source Content Management System If you want to build sophisticated websites that can be easily edited and updated, you need to master Joomla. Now there's an easy-to-read, easy-to-use guide to Joomla! for every site manager, administrator, and developer. Leading Joomla! consultant Barrie North covers all you need to get results: installation, administration, site organization, template development, content updates, and a whole lot more. You'll find tips, tricks, and troubleshooting solutions, as well as three start-to-finish case studies. New to Joomla? No problem! This book starts with the simplest design and system concepts and builds your expertise step-by-step. You'll rapidly master Joomla!'s power, even if you have no content management, scripting, or CSS expertise. Experienced with Joomla!? You'll turn to this book constantly for its authoritative, plain-English, example-rich Joomla! 1.5 reference content. Understand content management, what Joomla! does, and how its components fit together Build Joomla! sites from scratch and systematically customize them to your needs Organize content with sections, categories, blogs, and tables Create dynamic pages and effective navigation Work with Joomla! modules and components Learn how to optimize your Joomla! sites for search engines Follow three start-to-finish case studies: building a school website, a small business site, and a blog Identify the most valuable Joomla! extensions and add-ons: find them and use them About the Website The accompanying site, www.joomlabook.com, provides five fully functional Joomla! sites with live follow-along examples from the book and up-to-date information on Joomla!.
Up to Speed on HTML 5 and CSS 3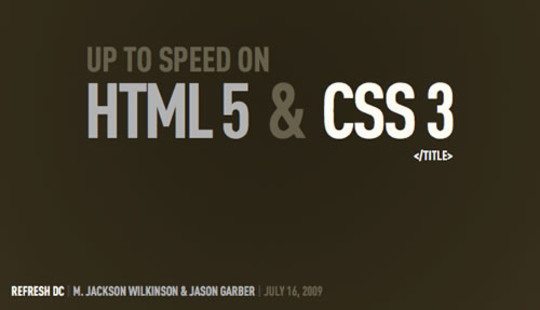 A presentation to Refresh DC about the emerging HTML 5 and CSS 3 standards, namely about aspects that are beginning to become applicable to web design and development.
Faster, and More Secure Webfonts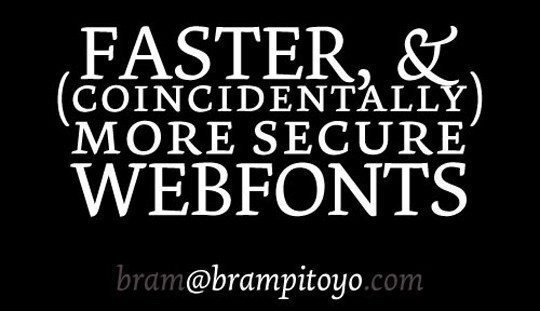 Font embedding for the web is a great step in making the web look better and become more functional, but what about security and load times?
Bram Pitoyo's slide deck takes the top layer off font embedding and shows us how things work, and ultimately how to improve performance and make it more secure.
20 Things I learned about Browsers and the Web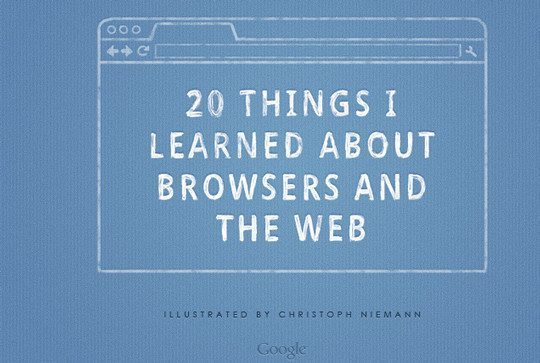 What's a cookie? How do I protect myself on the web? And most importantly: What happens if a truck runs over my laptop?
For things you've always wanted to know about the web but were afraid to ask, read on.
Integrating Accessibility Throughout Design (HTML)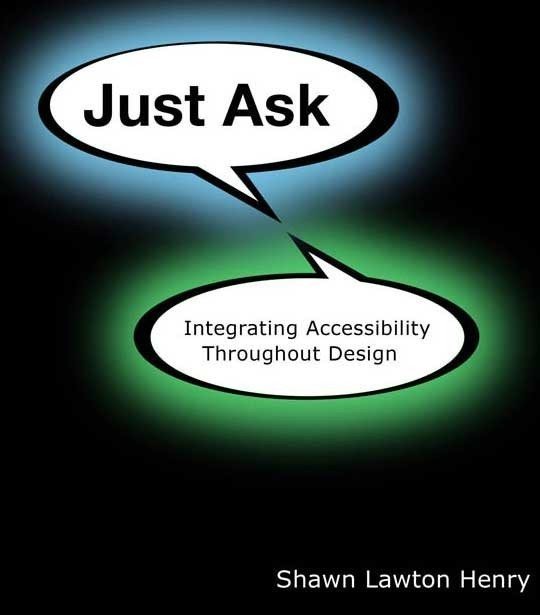 Accessibility is designing products so that people with disabilities can use them. Accessibility makes user interfaces perceivable, operable, and understandable by people with a wide range of abilities, and people in a wide range of circumstances, environments, and conditions. Thus accessibility also benefits people without disabilities, and organizations that develop accessible products.
Web Style Guide: 3rd Edition (HTML)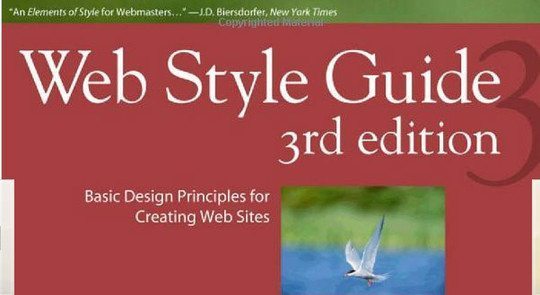 Basic Design Principles for Creating Web Sites
Type Classification eBook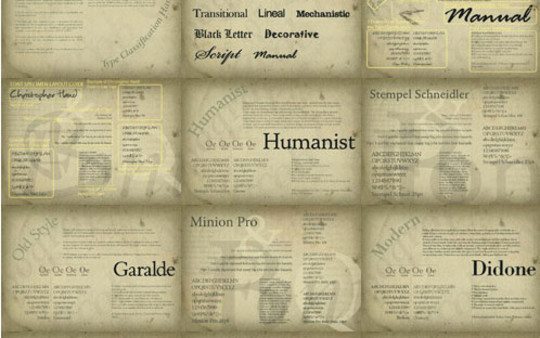 This book has been made to help you learn the 10 broad classifications of type. These are the basic foundations of what you need to learn to learn typography and it is essential for any designer to know how to classify type.
Time Management for Creative People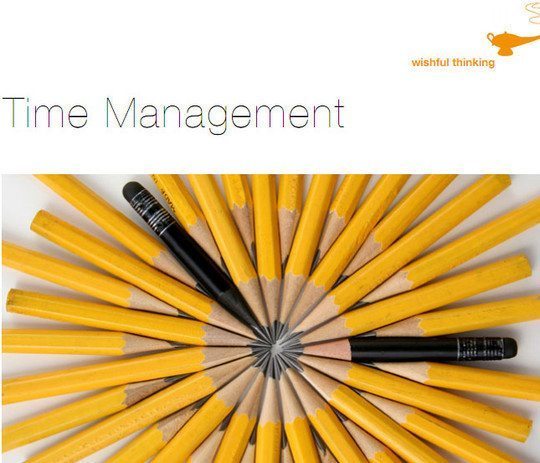 It's subtitled 'Manage the Mundane – Create the Extraordinary' as it's designed to help you maintain your creative focus while dealing with your other commitments.
Forty's Pocket Guide to SEO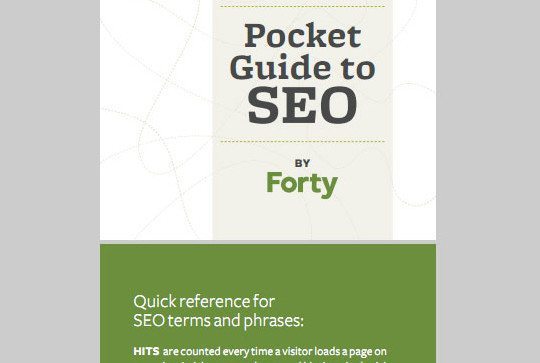 Quick reference for SEO terms and phrases.
Taking Your Talent to the Web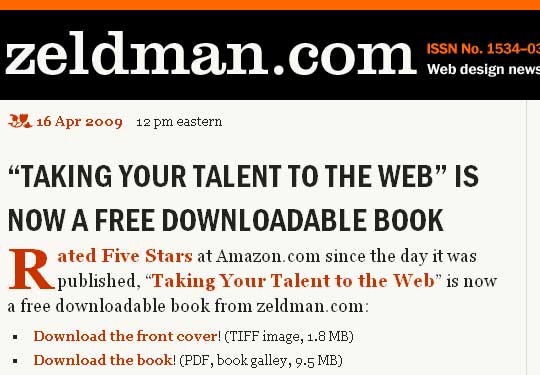 Rated Five Stars at Amazon.com since the day it was published, "Taking Your Talent to the Web" is now a free downloadable book from zeldman.com
The Design Funnel: A Manifesto for Meaningful Design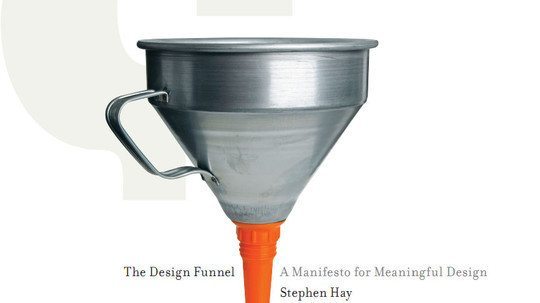 Are you a professional designer? Would you like a process to create more consistently creative work which distinguishes itself from the work of your peers?
Would you like a process which would help translate the often vague, unclear wishes of your clients (and yourself, for that matter) into a clear and solid basis for your design? This manifesto will show you how.
The Elements of Typographic Style Applied to the Web (HTML)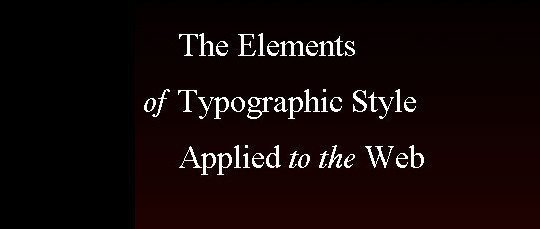 A practical guide to web typography.
Design Patterns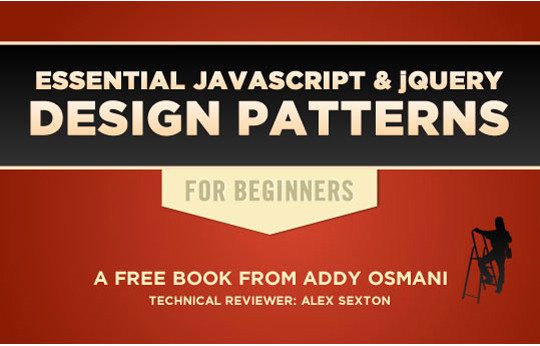 Essential JavaScript And jQuery Design Patterns – A Free New Book
Why design?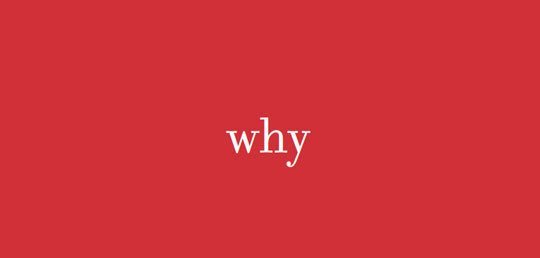 The booklet is written to provide some core messages for which we can create a common chorus. It defines the power of Designing, a larger concept that includes strategy as well as artifacts across a variety of disciplines.
The Woork Handbook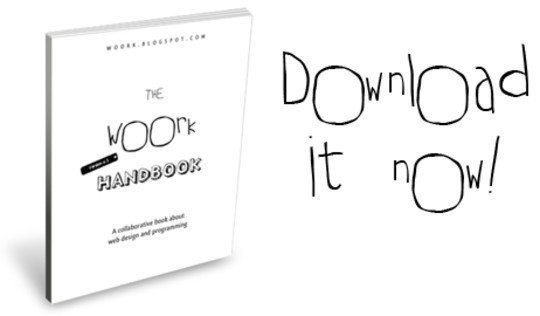 The Woork Handbook is a free eBook about CSS, HTML, Ajax, web programming, Mootools, Scriptaculous and other topics about web design… directly from Woork.
A Concise Guide to Archiving for Designers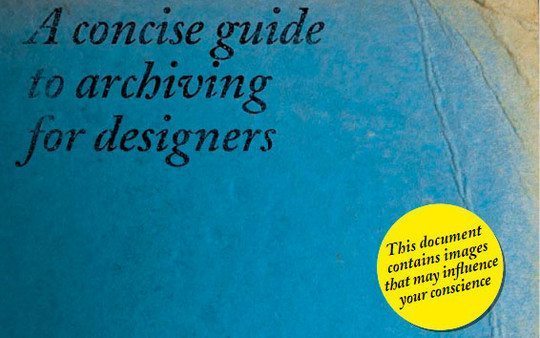 In 10 short chapters the guide provides designers with the proper ways to store and describe their collections.
Getting Real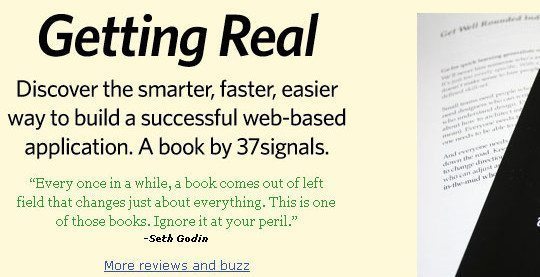 Discover the smarter, faster, easier way to build a successful web-based application. A book by 37 signals.
Lateral Action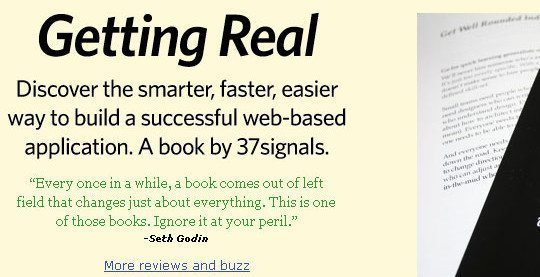 Freedom, Money, Time,Key to Creative Success
Scribd in HTML5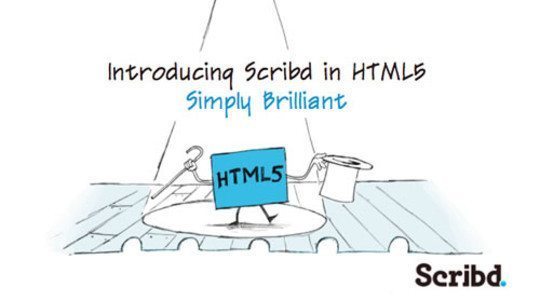 As fans of HTML5 and its possibilities for the web, it's nice to see major sites like Scribd jump on board the train and push it forward. Your move, Slideshare.
Learning PHP 5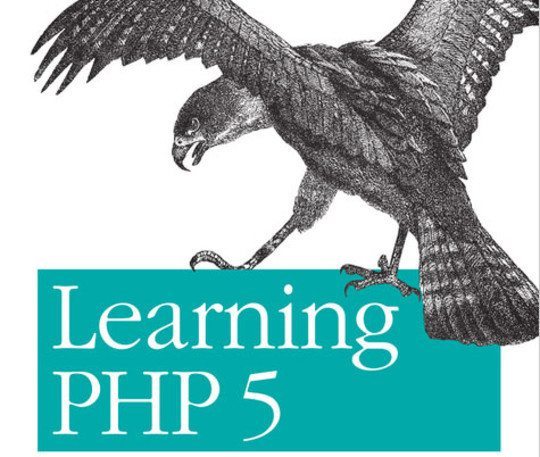 A pain free introduction to Building Interactive Web Sites.
HTML for Beginners
This guide introduces you to all information related to HTML, from the definition to elements, tag, attributes. This guide is for beginners who want to get the basics figured out first, and worry about the finer details later on.
Eloquent JavaScript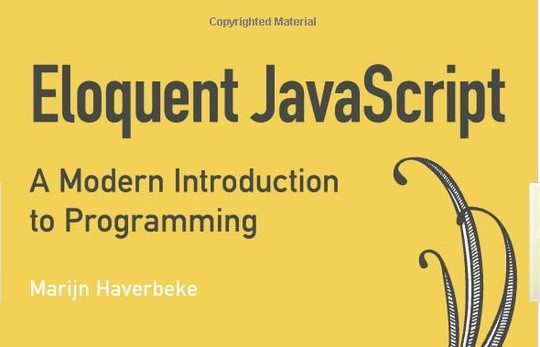 Eloquent JavaScript is a book providing an introduction to the JavaScript programming language and programming in general.
Search User Interfaces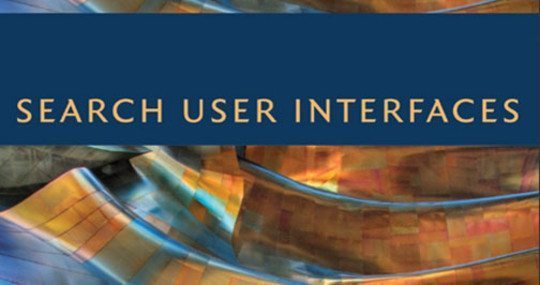 This book presents the state of the art of search interface design, based on both academic research and deployment in commercial systems.
Access by Design Online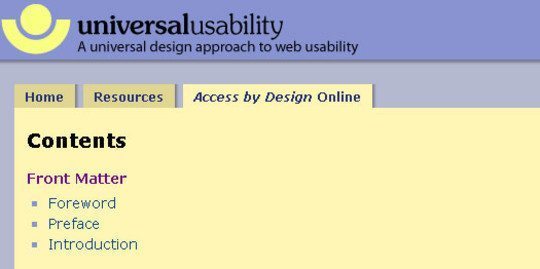 A universal design approach to web usability.
Research-Based Web Design & Usability Guidelines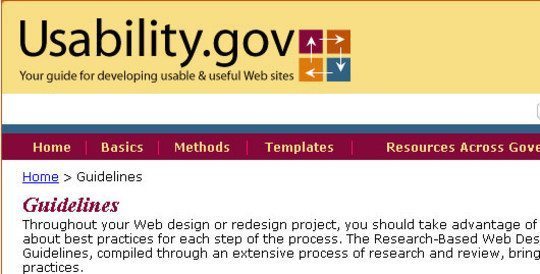 Throughout your Web design or redesign project, you should take advantage of what is already known about best practices for each step of the process. The Research-Based Web Design and Usability Guidelines, compiled through an extensive process of research and review, bring you those best practices.
Practical PHP Programming
Welcome to t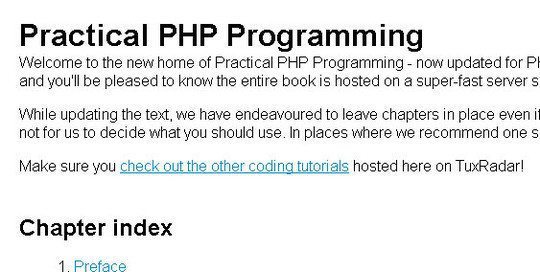 he new home of Practical PHP Programming – now updated for PHP 5.2. This is the definitive source for the book from now on, and you'll be pleased to know the entire book is hosted on a super-fast server so you should never have access troubles again.
HTML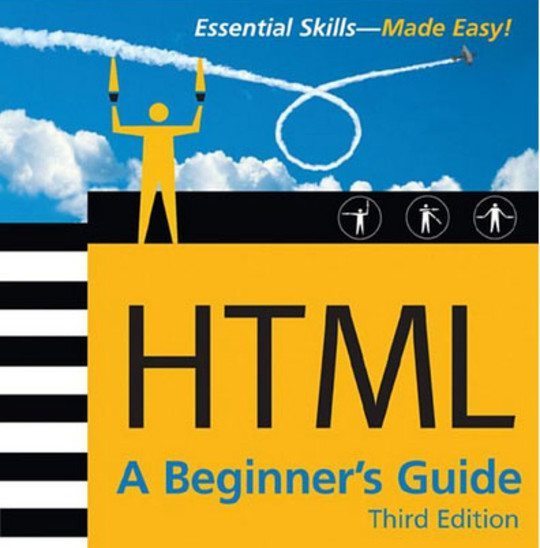 A Beginner's Guide to HTML.
Knock Knock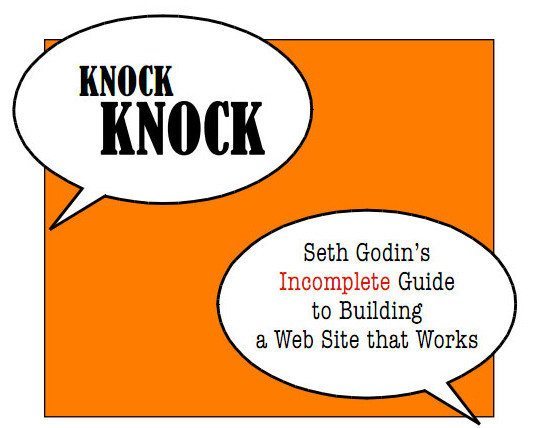 Knock Knock is now available for you to read for free. It's a short take on how to use the new online marketing tools to make any website work more effectively.
CSS Cookbook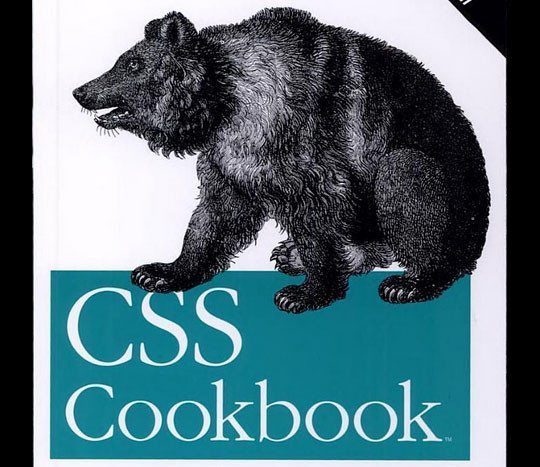 Quick Solutions to Common CSS Problems.
Beginning CSS: Cascading Style Sheets for Web Design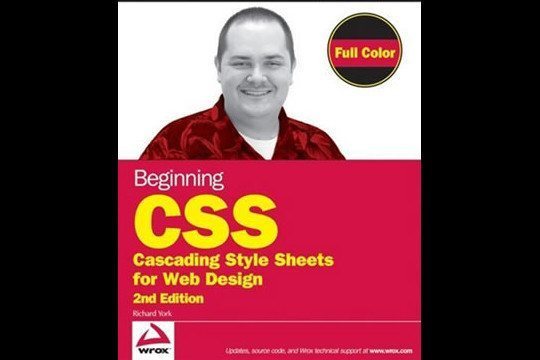 Cascading style sheets (CSS) are the modern standard for website presentation. When combined with a structural markup language such as HTML, XHTML, or XML (though not limited to these), cascading style sheets provide Internet browsers with the information that enables them to present all the visual aspects of a web document.
Ajax Design Patterns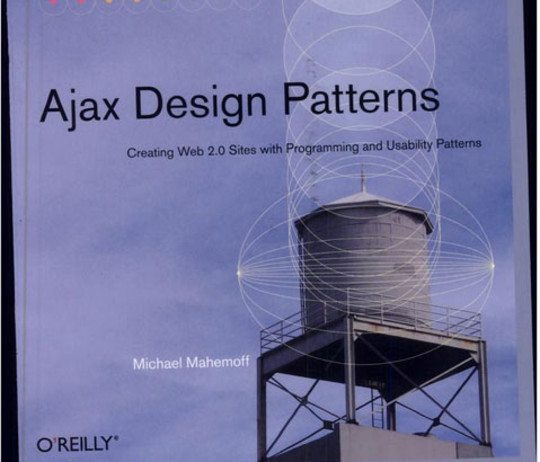 Creating Web 2.0 Sites with Programming and Usability Patterns.
Flash 8: Projects for Learning Animation and Interactivity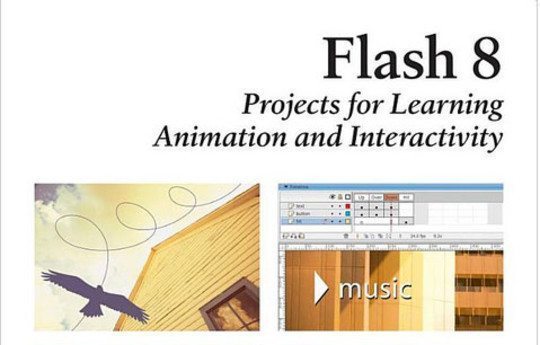 Projects for Learning Animation and Interactivity.
Ruby on Rails: Up and Running
Lighting Fast Web Development.
Essential ActionScript 3.0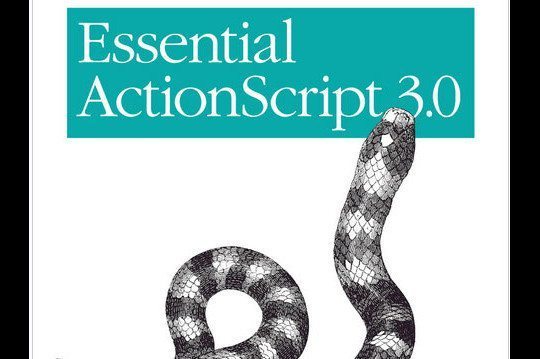 Action Script 3.0 Programming Fundamentals.
Foundations of Ajax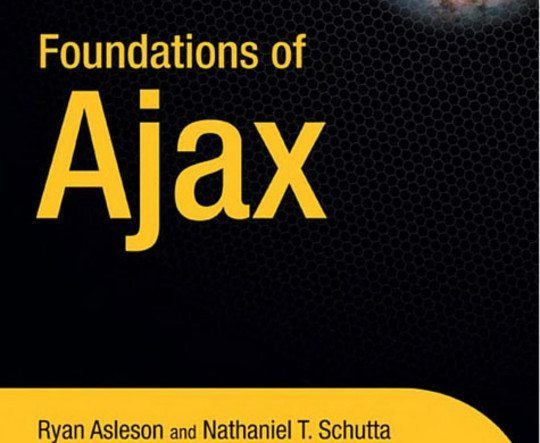 The expert's Voice in Web Development.
Building iPhone Apps with HTML, CSS, and JavaScript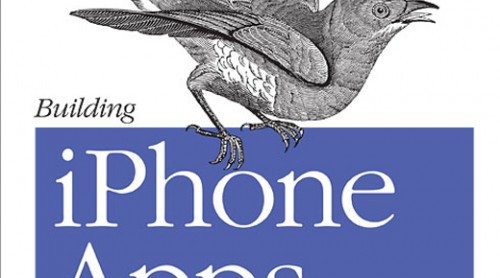 If you know HTML, CSS, and JavaScript, you already have what you need to develop your own iPhone apps. With this book, you'll learn how to use these open source web technologies to design and build apps for both the iPhone and iPod Touch.
UX Storytellers – Connecting the Dots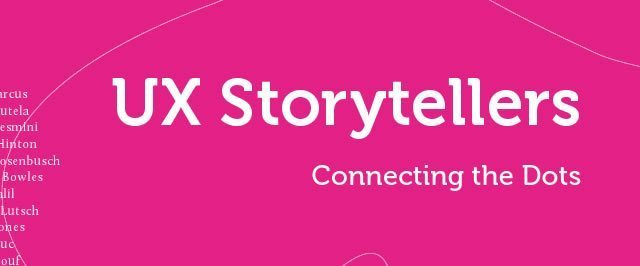 You can download several book formats from a public dropbox  folder:UX_Storytellers_v1.1.pdf and UX_Storytellers.epub and for our beloved Kindle:U.mobi plus U.jpg plus U.opf (remember: Kindle is the name of a hardware device you have to buy from Amazon but there are free Kindle reader apps foriPhone, iPad, Android or even Blackberry).
Data Structures and Algorithms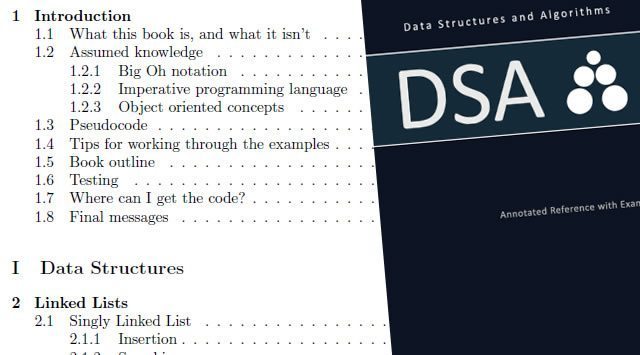 This book written by Granville Barnett and Luca Del Tongo is part of an effort to provide all developers with a core understanding of algorithms that operate on various common, and uncommon data structures.
Building Android Apps with HTML, CSS, and JavaScript

Device-agnostic mobile apps are the wave of the future, and this book shows you how to create one product that can be used on several mobile operating systems. You'll find guidelines for using the free PhoneGap framework to converty our product into a native Android app. And you'll learn why releasing your product as a web app first helps you find, fix, and test bugs much faster than if you went straight to the Android Market with a product built with the official Android SDK.
Guerrilla Freelancing by Mike Smith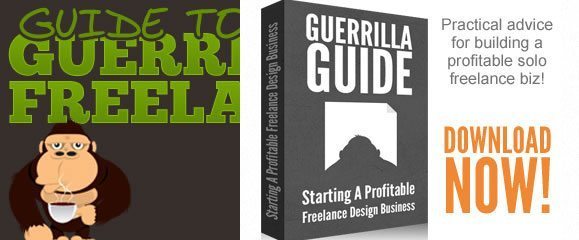 Premium Books for Web Designers and Developers
---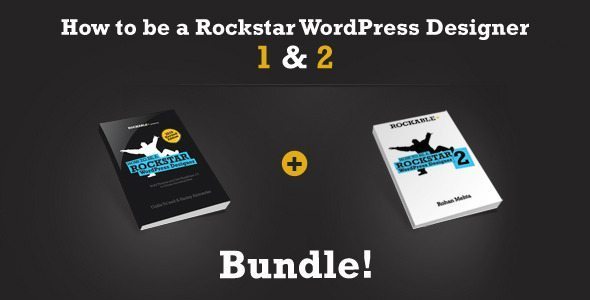 Want to take your WordPress theme designs to the next level? Rockstar WordPress Designer 2 picks up where the original Rockstar WordPress Designer left off and teaches you the advanced tools for WordPress mastery! Rohan Mehta translates his extensive experience as a WordPress developer into a straight-forward, practical guide to advanced WordPress features like custom post types, widgets, and more.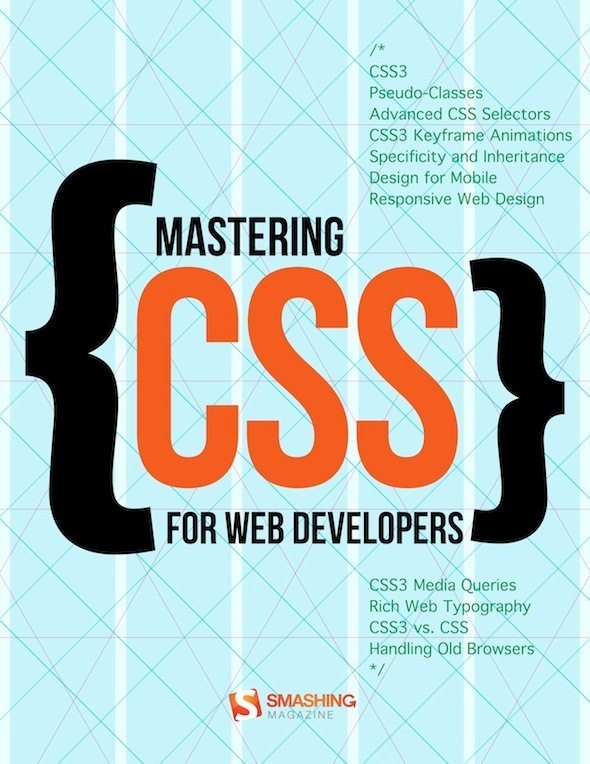 Many Web designers are reluctant to embrace the new technologies such as CSS3 or HTML5 because of the lack of full cross-browser support for these technologies. Many designers are complaining how this situation is holding them back and tying their hands.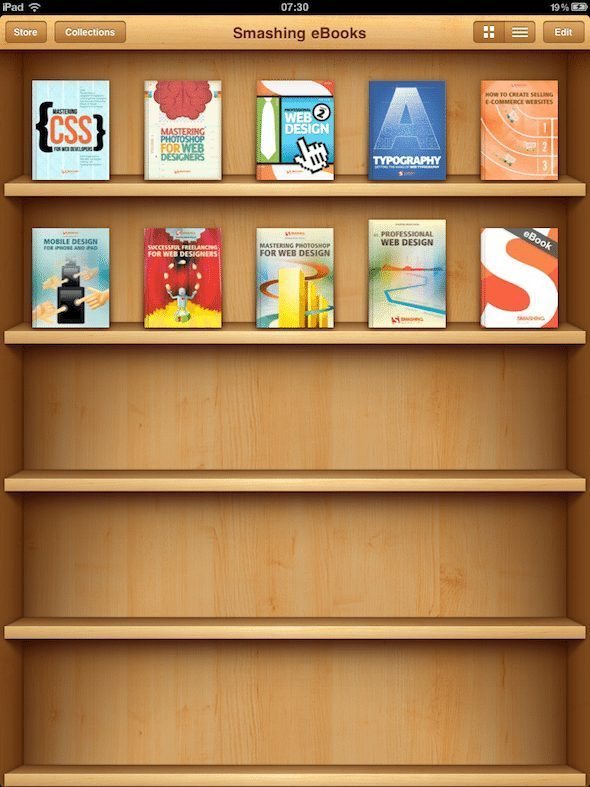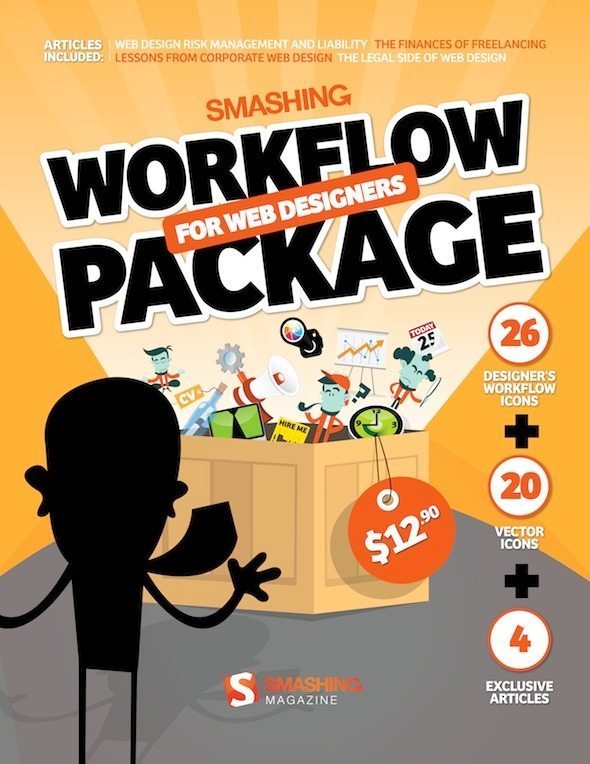 Being a great Web designer or developer is one thing; running a successful freelance business is another. Whether you already have experience working for a company or have just graduated from design school, being self-employed entails a number of tasks that you most likely haven't had to deal with so far. As a freelance Web designer, you'll often have to do it all yourself, and sometimes all alone.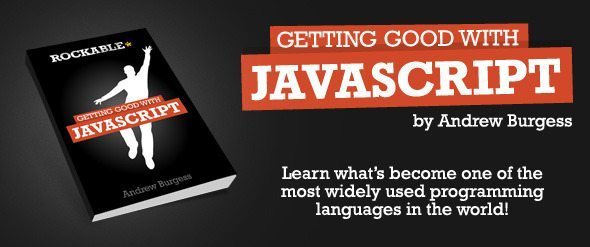 Includes source files plus over 6 hours of screencasts!
JavaScript has become one of the most widely used programming languages in the world. This book will get acquainted with what JavaScript; what it is, where it came from, and most importantly – how to code it!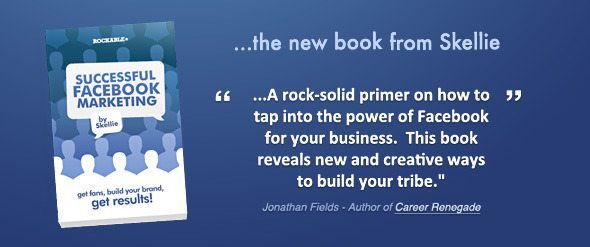 This is information that Fortune 500 companies are paying social media consulting firms tens of thousands of dollars to share. You'll learn all the strategies I used to co-ordinate a team to build and direct a network of 11 Facebook Pages with over 100,000 fans.
This eBook describes existing and upcoming trends and explains how the Web design might evolve in the coming months and years. It also touches on what Web designers should be ready for to keep abreast of new challenges and opportunities.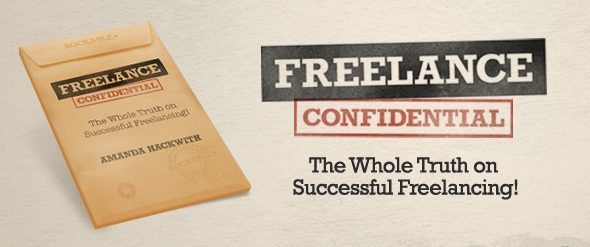 It also COMES IN ALL 3 DIGITAL FORMATS! Buy the eBook and you get the PDF, ePub, and MOBI (Kindle) versions as well!
• Full-color charts with survey statistics from over 3200 participants of the 2010 Global Freelancers Survey, compared to the ground-breaking 2007 survey. Which means you will know trends before they affect your bottom line!
• Expert advice from seasoned entrepreneurs like James Chartrand, Ed Gandia, Linda Formichelli, Chris McConnell, Travis King, and more!
• Exclusive interview with Collis Ta'eed, co-founder of Envato, on the state of freelancing today and where things are headed. Hear how Collis would get started if he had to do it all over again!
• Rare advice and next steps: The realities of freelancing, debunking the biggest freelancing myths, advice for marketing, diversifying income, even getting support from friends and family!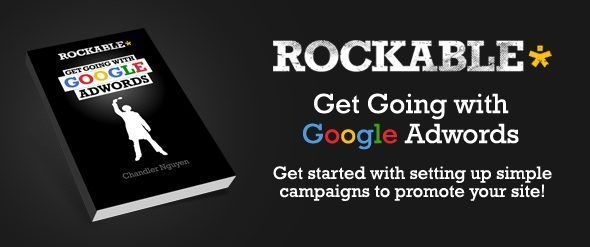 In Get Going with Google AdWords, author Chandler Nguyen introduces you to the AdWords phenomenon, where you can bypass weeks or months of attempts to get your site to the top of Google search queries by bidding for keywords.
Learn the fundamental skills of what it takes to take great photos with whatever camera you got!
Whether you've got a simple point-and-shoot, or a professional camera, you'll learn the basics of what every photographer needs to know to make their shots count!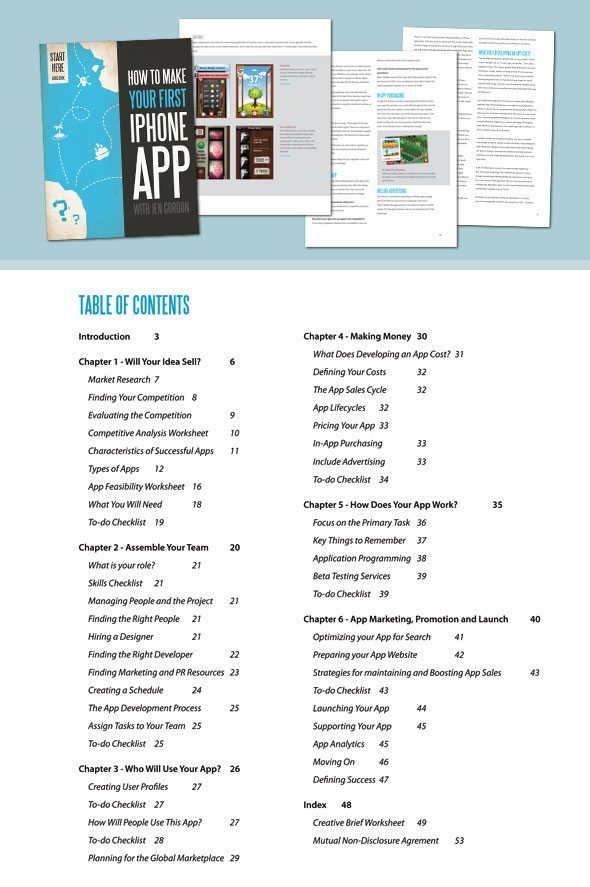 If you've ever thought about developing an iPhone app (or even if you already have), this book will be a fascinating read. It will provide you with all the knowledge and technique you need to spot a great opportunity, get the most from the App Store, make smart decisions about development, craft a stunning interface, and promote your app successfully.
In Theme Tumblr Like a Pro, Nettuts+ manager Jeffrey Way shows you just how much you can do with Tumblr, while still maintaining its core principle: simplicity.
Tumblr's ease-of-use and streamlined approach has allowed its popularity to skyrocket, becoming one of the top blogging platforms around!
This book includes a completed Tumblr theme and all its asset files, so you can learn how to build the theme as you work your way through the book.
In "Photoshop to HTML ", Nettuts+ editor Jeffrey Way takes you through the entire process of converting a design from Photoshop into a complete HTML /CSS website! But this is NOT just an eBook. It also comes packed with extras! You also get a directory of Photoshop, HTML and CSS files for you to use as you work through the book AND a series of 14 screencasts covering the whole project from beginning to end.