Sometimes you need a cheap WordPress theme that you can get online and you do not have time to design. What do you when you want it all cheap WordPress themes and they are semi-Premium Design for business Websites … and your budget is low?
Semi-premium themes may not have everything as the expensive, bells-and-whistles-included brand of premium themes but still you can buy Extended Licence. However, in most areas a good semi-premium theme has everything you need to build a quality website, quick and easy.
ThemeForest is an Envato Marketplace. At ThemeForest you can buy and sell HTML templates as well as themes for popular CMS products like WordPress, Joomla and Drupal with prices ranging from just $5 up to $40. Items are priced on the complexity, quality and use of the file.
Here I am compiling the best, cheap and Semi-Premium Themes for Business Websites.
1. Sansation – Business & Portfolio Premium WordPress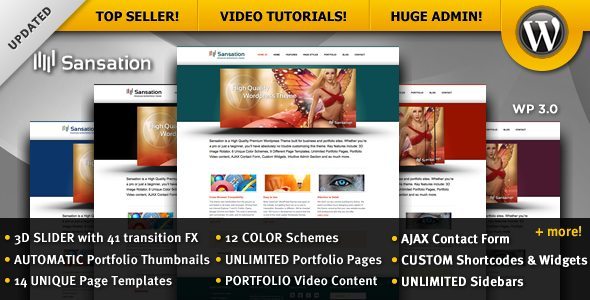 Sansation is a professionally-designed Premium WordPress Theme. This theme is perfect for all businesses, corporations and creative portfolio sites. It has powerful CMS functionality and a long list of premium features. Whether you're a pro or just a beginner, you'll have absolutely no trouble customizing this theme.
2. Prosto – Business & Portfolio, CMS WordPress theme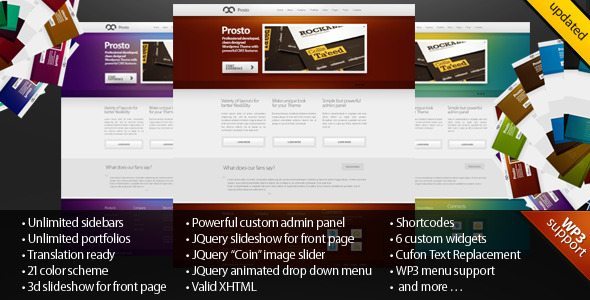 Prosto is a professional developed, clean designed WordPress Theme with powerful CMS features. That is well suited for personal portfolio, blog, or any kind of business website. Easy to customize with extended admin panel for any kind of users. You can simply control your theme look and content without any special knowledge. Setup layout and choose custom sidebar for each page. Make unlimited portfolios in 3 different layouts that is give you a great flexibility and much more.
3. Avisio – Business and Portfolio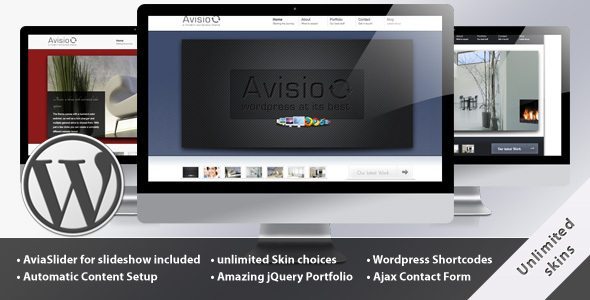 Avisio is a WordPress Theme that takes advantage with all the amazing new WordPress 3 features and is best suited for Portfolio and Business Websites. It has the ability to create unique skins right from your backend without the need to edit anything within your css files whith just a few mouse clicks and also offers the option to install content automatically when setting up the theme
4. Enterprise – Clean Business WordPress Theme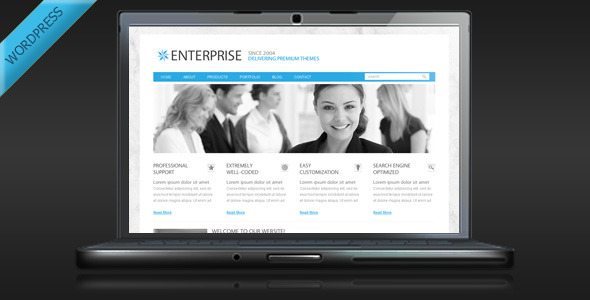 Enterprise is a simple, clean and minimalist WordPress theme suitable for corporate, business, portfolio and company sites.
5. Narm – Super Flexible Business, Corporate Template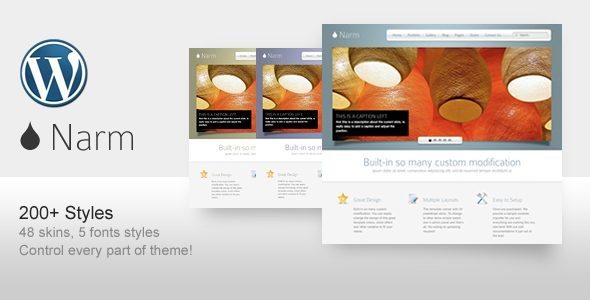 Narm is the super flexible business, corporate or portfolio template (WordPress version). With 200+ possible style variations and 5 header fonts. Built-in with so many custom modification.
6. Amplify – Premium Business, Blogging & Portfolio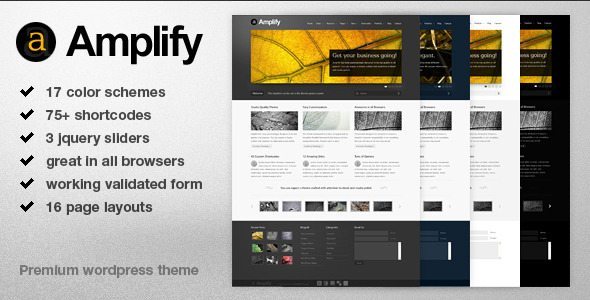 Amplify is a feature packed, multipurpose WordPress theme that that is perfect for business, blogs, and portfolios among other things. It contains 17 color schemes, valid xhtml that looks virtually identical in all modern browsers, and a sleek professional design. Amplify is completely customizable using the theme options page. Take a look at the list of features below to see everything included in this theme.
7. Pleng – Premium Theme for Corporate Business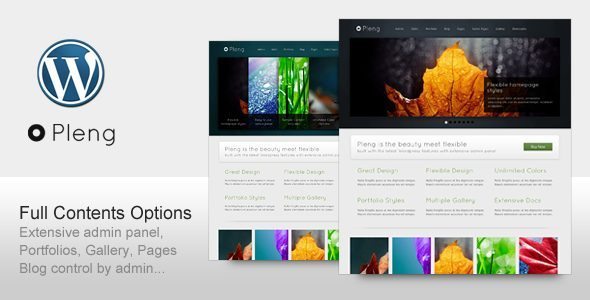 Pleng is the beauty meet flexible for Business, Corporate Template built with latest WordPress features. Custom Post Type, Unlimited Colors, Extensive admin panel etc.
8. Pai – Simple and Clean Business Corporate Template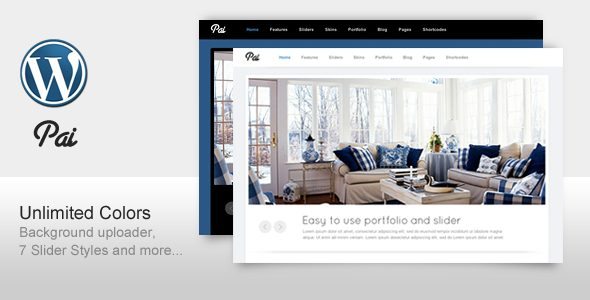 Pai is The Simple and Clean Business, Corporate Template built with latest WordPress features. Custom Post Type, Unlimited Colors and Background Uploader etc.
9. MiniBuzz – Minimalist Business WordPress Theme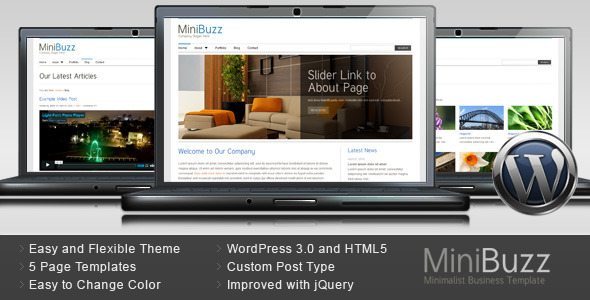 MiniBuzz is a simple, clean and minimalist business WordPress theme suitable for business, portfolio, company and corporate. This theme can also be used for personal or blog site.
This theme is easy to use and flexible, easy to change color scheme in the theme options.
10. Display 3 in 1 – Business & Portfolio WordPress
DISPLAY is a WordPress Theme, best suited for Business and Portfolio sites. It comes with a fantastic 3D Image slideshow that can be controlled from your backend with a custom tool. The Theme has a huge WordPress custom backend (8 additional Admin Pages) that make customization of the Theme easy for those who dont know much about coding or wordpress.
11. Showtime – Business and Portfolio WordPress Theme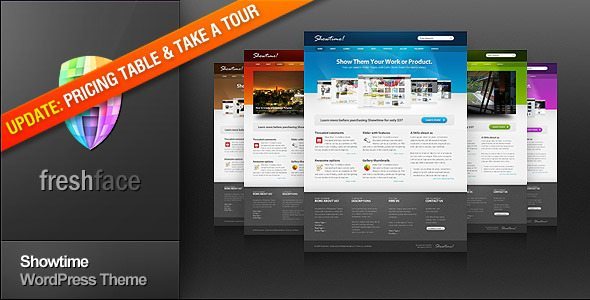 Showtime is a powerful WordPress theme made for your Business, Portfolio or almost any other kind of website. Showtime offers you a good amount of options. Front Page can be customized via unlimited widget areas, both body and footer. Sliders and Colors can be easily switched via my custom built FreshPanel. And much much more
12. Levitation WordPress Business & Portfolio – 4 in 1
Levitation is a WordPress Template , best suited for Business and Portfolio sites. It comes with 5 sleek skins and 2 different front page designs (if the WordPress Live Preview is not enough for you, please check out the html templates that are already available, the look stays the same in the WordPress version)
MOJO Premium WordPress Themes
MOJO Themes offers a wide variety of flexible WP theme styles including magazine WordPress themes, portfolio WordPress themes and business WordPress themes. And, each premium WordPress template features detailed set up instructions, rich documentation, 24/7 support and more!
Choose from the following Premium WordPressThemes:
Elegant Themes is a WordPressThemeClub that specializes in semi-premium themes. Buy in for $20 a year, and you'll get full access to all their themes and support.
StudioPress Premium WordPress Theme