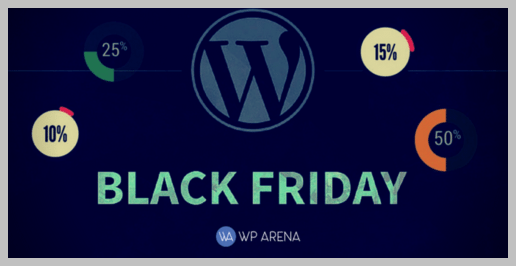 Black Friday is coming soon and savvy WordPress users wait for it all over the year to get discounted items. This year, WPArena is going to cover all the Black Friday WordPress Deals in detail under 5 different subcategories.
If you are a product developer and want to list your Black Friday deals here, please use the deal submission page.
Featured Deals
Featured deals' are the most attractive Black Friday deals. Let's have a look at them.
For featured deals placements, the booking will start on 1st November. To book, your place, visit the deal submission page and submit the form.
WordPress Black Friday Deals 2022 – Quick Info
| Deal Provider | Offered Deal | Starting Date | Ending Date | What's hot | Coupon Code/ More Info |
| --- | --- | --- | --- | --- | --- |
| Beaver Builder | 25% OFF | Nov 27, 20 | Nov 30, 20 | 25% OFF on all plans | N/A |
| Cloudways | 40% OFF | Nov 14, 20 | Dec 04, 20 | 40% OFF for 3 months on all plans | BFCM40 |
| wpxpo | 50% OFF | Oct 23, 20 | Dec 02, 20 | 50% Discount | BF50 |
| Termageddon | 80% OFF | Nov 06, 20 | Dec 06, 20 | Auto-updating Privacy Policies | N/A |
| JoomUnited | 40% OFF | Nov 26, 20 | Nov 30, 20 | Get a special 40% OFF on all our memberships, including bundles and renewals! | Apply on all memberships |
| The Events Calendar | 40% off sitewide | Nov 23, 20 | Nov 30, 20 | Virtual Events integration | N/A |
| SnapOrbital | 50% | Nov 21, 20 | Nov 30, 20 | Visually stunning project management | N/A |
| The Plus Addons for Elementor | 30% OFF | Nov 24, 20 | Dec 04, 20 | Supercharge your Elementor Pagebuilder | THANKYOU |
| BuildWooFunnels | Upto 30% Off | Nov 25, 20 | Dec 01, 20 | The All-New Funnel Builder | N/A |
| Hostinger | Up to 91% OFF | Nov 17, 20 | Dec 06, 20 | Hostinger Black Friday Sale | BlackFriday |
| Event Espresso | 25% OFF | Nov 24, 21 | Dec 01, 21 | Sell event registrations from your WordPress website without being a tech expert. | N/A |
Black Friday WordPress Deals 2022
1. WordPress Themes Deals
2. WordPress Plugins Deals
3. WordPress Hosting Deals
Cloudways: Cloudways is a managed cloud hosting platform that specialized in hosting WordPress websites on industry-leading cloud providers that includes DigitalOcean, Vultr, Linode, Google Compute Engine, and Amazon Web Services. You can launch, deploy, or migrate your websites to Cloudways using Cloudways WordPress Migrator plugin. It's as simple as 1-2-3!

 

Discount: 40% OFF

Start Date: Nov 14, 20

End Date: Dec 04, 20

Hostinger: A web hosting company.

 

Discount: Up to 91% OFF

Start Date: Nov 17, 20

End Date: Dec 06, 20
4. WordPress tools and Services Deals
Termageddon: Termageddon is a Privacy Policy and Terms of Service generator that automatically updates your policies when the laws change. They also provide web agencies the ability to resell their $99/year license to their clients to generate a new recurring revenue stream. With this special, you receive 15 Termageddon licenses for $299/year, paying for itself with three client signups. This special promotion includes additional free assets, including a Website Policies Waiver and a pre-written email sequence that takes the guesswork out of how to have the "Privacy Policy" conversation with your clients. Offer expires 12/06!

 

Discount: 80% OFF

Start Date: Nov 06, 20

End Date: Dec 06, 20