As the number of websites powered by WordPress grows steadily, the demand for high quality, modern, functional, and easy to use products increases accordingly. Though there is hardly any shortage of themes and plugins in the WordPress directory, anyways it gets updated with new products every day. It grows so fast that catching up with all the updates and new product placements seem to be impossible even for WordPress enthusiasts.
In this post, I would like to share with you a short list of WordPress themes which are "fresh from the oven". They have been released during the first three months of 2017 and offer a bunch of cool features and functionalities every modern website will need. I bet you haven't heard about most of these new WordPress themes yet, so let's get to know them.
Business Elite Theme
Business Elite is a new one page, responsive, Retina-ready and SEO-friendly business theme. It's a great choice for corporate websites, but it can also be used for any purpose, as its awesome design and powerful features allow you to build and manage any kind of website.
This one page WordPress theme features a fixed menu at the top, a full-width slider on the homepage, and includes different sections smoothly following one another, to show up your business info in the best way.
The slider includes cool transition effects of having your slides look even better.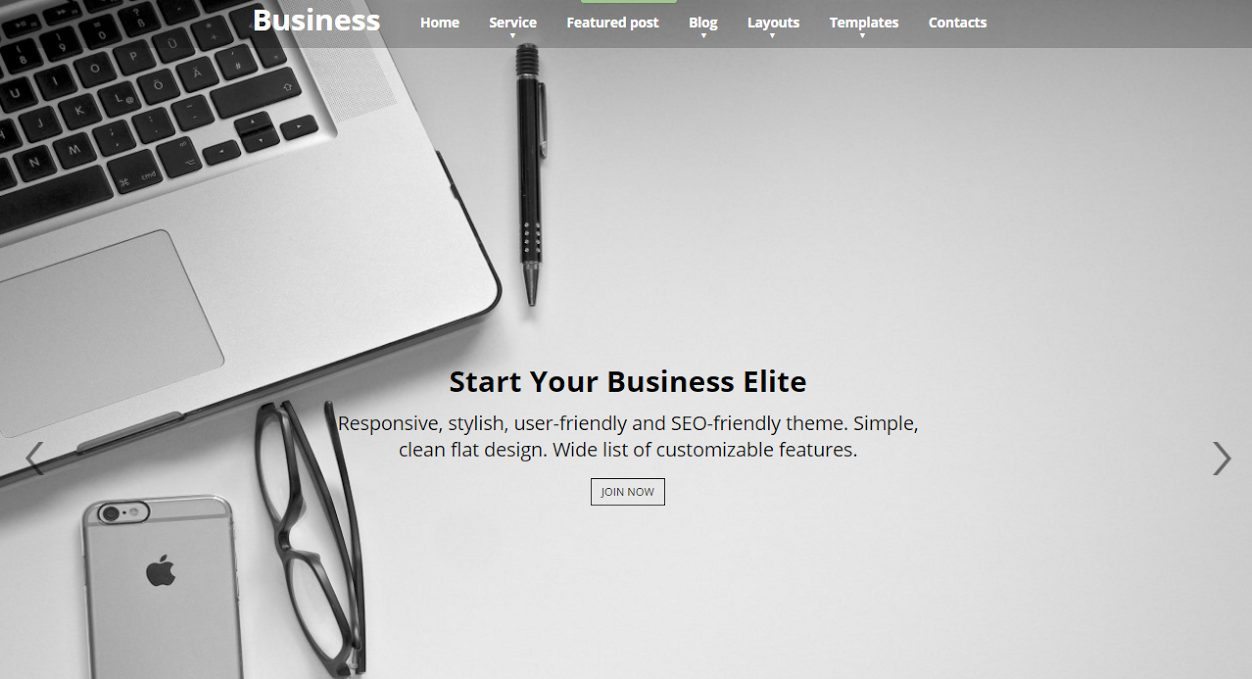 It has six built-in and fully customizable layouts and comes with 30 pre-installed font styles to choose the most suitable one. At the bottom of the page, you'll find a built-in contact form, which makes it easy to get in touch with your customers. The theme provides 9-page templates to help you build your website in a matter of a few clicks.
Business Elite is also widget ready, enabling you to add advertisement widgets to your website including AdSense. Check out the Business Elite's demo to get a full understanding of its overall capabilities.
Flat White
Great news for all the bloggers out there! Meet Flat White – modern, responsive, and elegant WordPress theme, targeting blogging. It's so versatile that you can use it for any purpose and create your blog around topics from culinary to traveling, from fashion to health and fitness.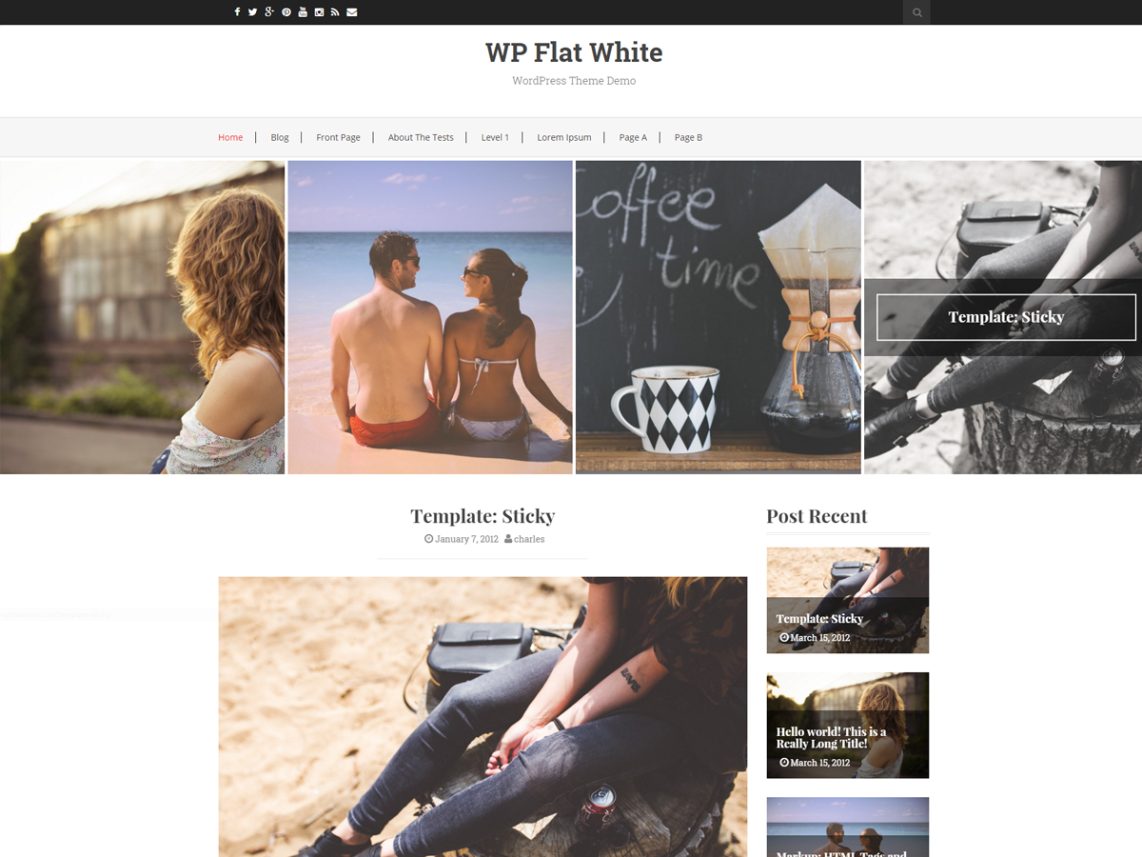 The theme features an optional slider on the homepage to highlight your most important content and comes with customization options enabling you to adjust and specify the colors and other attributes throughout your blog. At the very top of the blog page, you'll find the sticky post's section, which makes your selected posts look distinctly recognizable.
Flat White is also social media integrated. If you're down to start blogging, check out the Flat White's demo for more info.
News Mix Lite
Developed primarily for news magazines, information sites, News Mix Lite is a clean, responsive, flexible and fast-loading WordPress theme. It provides out-of the box customization options to best fit your needs and requirements.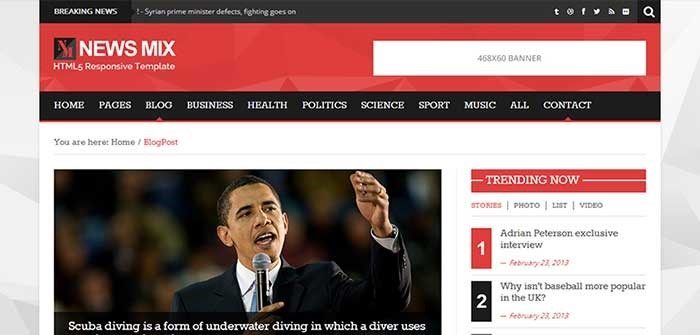 The theme comes with highly customizable built-in layout options, which allow you to easily manage the sidebar sections of your website with the Visual Layout Manager. It comes with a great set of available widgets, which you can place anywhere on your blog with the drag and drop functionality.
The theme is compatible with all the major browsers and works perfectly with any of them, providing great user experience for all your visitors. Check out News Mix Lite's demo to see how it actually works.
Activello
Activello is yet another great blogging theme. Released in early March, this awesome looking theme has already earned a widespread popularity. With its simple yet stunning interface, it's a great fit for any type of blog.
Featuring "Mobile first" approach it perfectly adapts to all sized screens and provides a great user experience for your visitors surfing your blog with various devices. It's Retina ready and combines all the necessary color and graphic features for a perfect visualization of the content on your blog.
With the WordPress theme customizer, you can fully modify its every setting and have your blog look exactly the way you want. The theme comes with a full-width slider featuring a number of transition effects, and with an infinite scrolling feature, which is a great way to keep your visitors focused on your content.
Actually, the theme offers much more cool features which you can find out by checking the Activello's demo.
Poseidon
With its elegant design and spacious white layout Poseidon is a great candidate for a blog or news website. It's responsive and comes with a full-screen slider to showcase your most important posts and with a myriad of typography options to choose from. The drop-down menu keeps your blog clean and organized.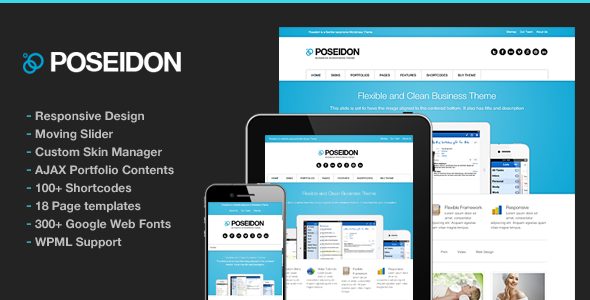 You can adjust every setting of the theme within the WordPress customizer, such as post, slider, colors, and theme's footer area settings.
If you are going to use the theme for a news magazine website, then you'll definitely like its magazine style page template. It comes with three built-in box-, column- and grid-style widgets but you can also use custom Magazine post widgets to display your posts from specific categories.
Poseidon is a great choice for any type of blog. If you want to find out more about the theme, just make sure to check the Poseidon's demo.
I've compiled a short list of new WordPress themes which have been added to the directory not so long ago within the first three months of the year. I'm sure they come thoroughly developed and will ensure a seamless performance of your website. If you have already tried any of them, or currently using them as your theme, let me know about your experience. I'm looking forward to hearing from you.