Running a WordPress website involves both content organization and WordPress file download management. If you care about your site and digital products, you should be aware of the importance of file download management and protection.
There are numerous plugins allowing you to provide the file downloads for users without much hassle. Download Monitor, WordPress Download Manager, and Prevent Direct Access plugins turn out to be the most efficient solutions to restrict access and organize media files.
There should be WordPress plugins for everything. However, the above plugins offer better ways to manage your WordPress files. You can keep track of how many times each file has been downloaded. On top of that, you can also stop unauthorized users from downloading them. It's possible for you to sell digital downloads.
In this post, we will show a detailed comparison between Download Monitor, WordPress Download Manager, and Prevent Direct Access so that you can choose the best option for downloadable file administration and security.
An Overview of WordPress File Download Plugins
Download Monitor proves powerful when it comes to files organization and tracking. It enables you to upload, manage media files, and insert download links into posts and pages with an intuitive UI.
WordPress Download Manager lets you manage, track, and control file downloads from your WordPress site. The plugin brings many outstanding features, from organizing files to protecting them against bots and unwanted users.
Though Prevent Direct Access has joined the market later, it still stays competitive with the other two. This plugin focuses on securing WordPress files from unauthorized users and search engines. You can decide how many times an image, PDF, or video can be downloaded using the plugin.
Without further ado, let's dig deep into the differences between these 3 plugins based on the following elements:
Features
Ease of Use
Extensions & Integrations
Documentation
Updates & Support
Price
1. Features
Download Monitor and WordPress Download Manager plugins are designed to manage and sell WordPress digital downloads. On the other hand, Prevent Direct Access aims to protect uploaded files from unwanted users and search engines like Google.
Download Monitor
Download Monitor allows you to upload, edit, categorize and remove downloadable files from a section called Downloads on your WordPress admin dashboard. All of the uploaded files are also included in your Media Library. However, they have different URLs.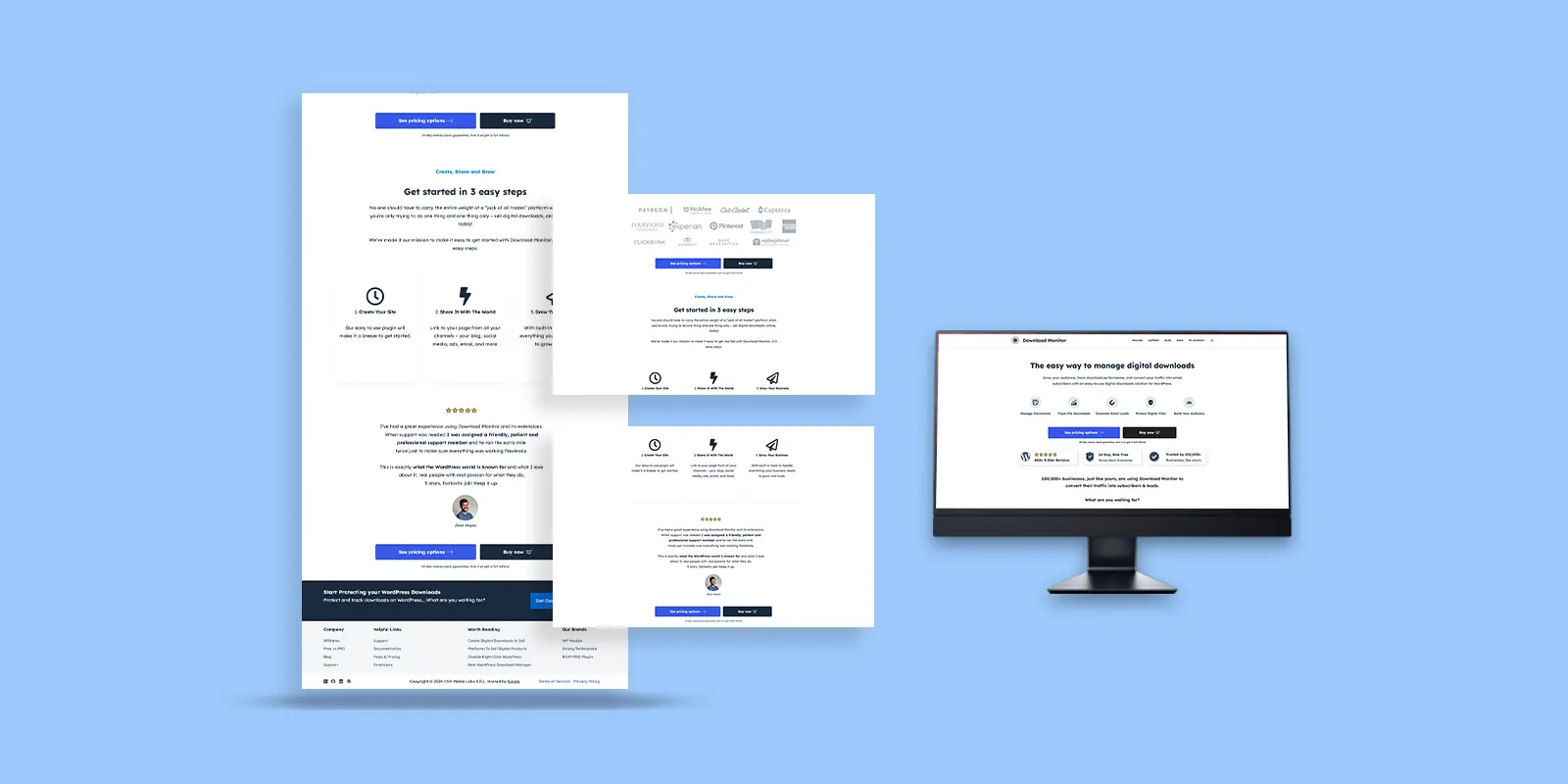 What's more, you can track WordPress file download counts and download attempts. The plugin lets no one but members download the files. Each download is assigned its own shortcode which can be used to display the download detail in the content area or can be inserted into your posts and pages.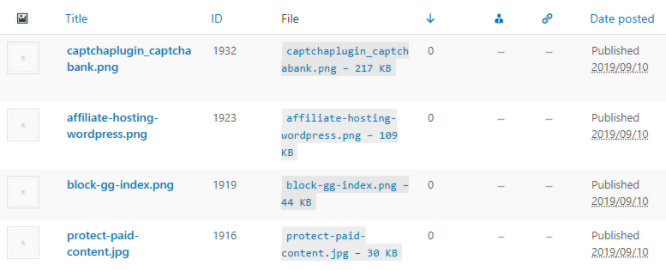 WP Download Manager
After installing WP Download Manager, you can handle your own file uploads on a download page in the same way as the Download Monitor plugin.
There are security layers such as using passwords or user roles to control access to your files, setting up speed, and a limit on download count per user to control downloads. Applying Captcha to block bots or unauthorized users is supported as well.

Prevent Direct Access
Different from Download Monitor and WP Download Manager plugins allowing you to manage files in the Download page, Prevent Direct Access enables you to protect your media files directly in your Media Library.
The plugin offers a higher level of protection by preventing a file from direct URL access and stopping search engines like Google from indexing your files. As a result, unwanted users won't be able to find your files via direct links or on Google search results.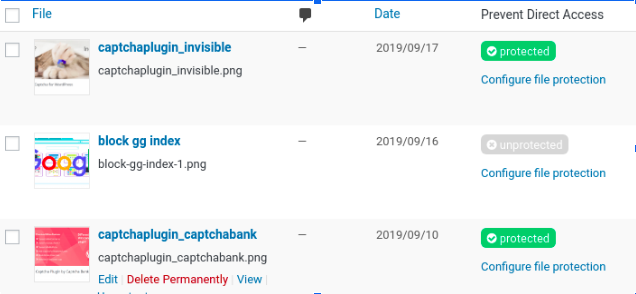 Prevent Direct Access helps you control access through user roles, download clicks, and time expiry. The plugin additionally strengthens the security of your files with other outstanding features such as "prevent image hotlinking" and "block access to WordPress sensitive files."
Summary of feature differentiation
Here's a summary of how well these plugins are doing:
Features

Download Monitor
WP Download Manager 

PDA

Display individually or on posts/pages

Shortcodes

Shortcodes

Upload files

Set file access permissions

✖

Custom roles

Custom roles

Prevent images hotlinking

Yes

✖

Yes

Track download clicks of all files at the same time

Yes

Yes

✖

Block search indexing of protected files

✖

✖

Yes

Organize and protect files under…

Download page

Download page

Media Library

Sort files via categories and tags

Yes

Yes

✖

Support selling digital products

Yes

Yes

✖

Protect & unprotect

multiple files at once

✖

✖

Yes

Add multiple file versions

Yes

✖

✖

Add files while editing a post

Quick-add panel using shortcode of each file

Quick-add panel with TinyMCE editor button

"Add Media" as usual

Create unlimited private download Links

✖

✖

Yes

Captcha lock

✖

Yes

✖
2. Ease of Use
Besides remarkable features, a user-friendly interface is an important factor in deciding your ideal plugin. Let's take a closer look at how easy-to-use Download Monitor, WordPress Download Manager, and Prevent Direct Access are.
Installation and Set up
All 3 plugins Download Monitor, WordPress Download Manager, and Prevent Direct Access are free, they can be directly installed in your site from the WordPress repository. Alternatively, you can use the manual installation method involving uploading the plugin's installation zip file to the /wp-content/plugins/ directory.
If you want to upgrade to the Pro versions, you need to make purchases on their sites. An email including a download URL and the license to install and activate the paid version will be sent to your email after paying.
User Interface
Upon installation and successful activation, Download Monitor or WordPress Download Manager plugins add a new section called Downloads to your WordPress navigation menu. You can insert and edit files or set up features there.
Download Monitor
With Download Monitor, the Downloads section has specific items that help you upload, edit, and manage media files easily. It turns out that your downloads function like posts. You can assign categories and tags to each file via Categories or Tags.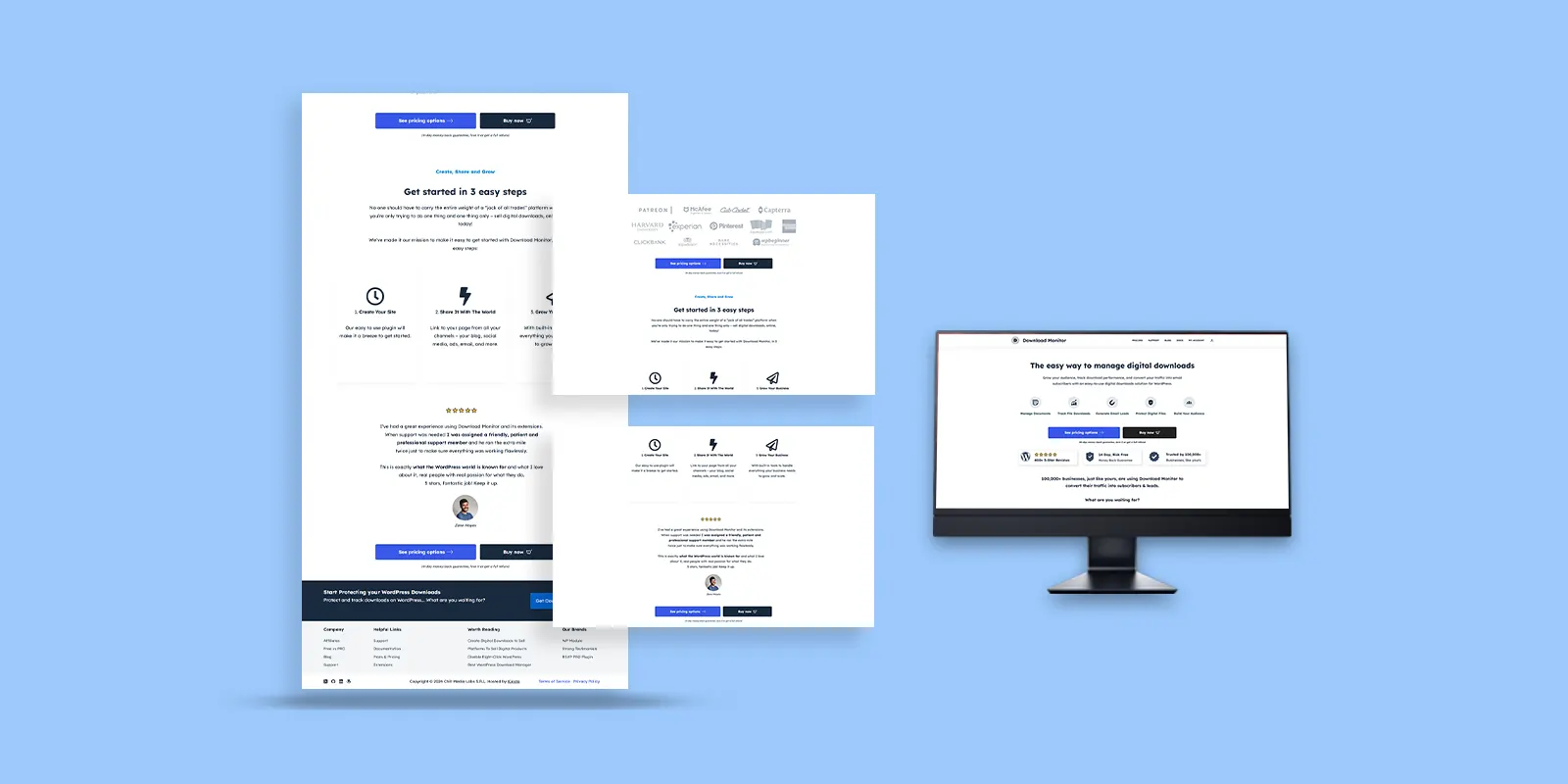 WP Download Manager
Apart from the main features of adding new files and assigning categories to downloads, WP Download Manager's Downloads page allows you to control download counts, access, page templates, as well as password locking and captcha locking.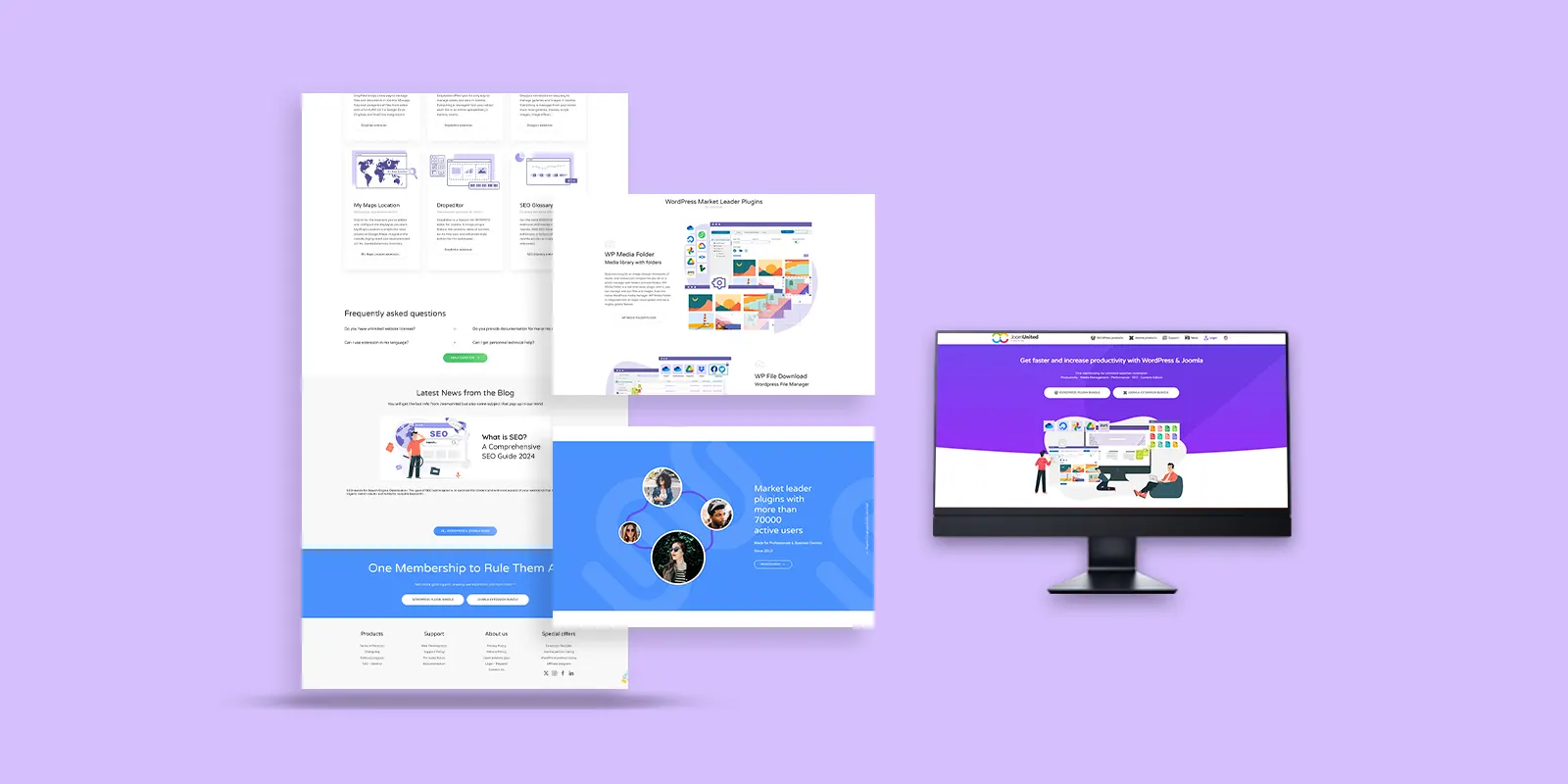 Prevent Direct Access
Prevent Direct Access Settings page stands right under the WordPress sidebar menu. On top of that, you can protect and manage your media right in your WordPress Media list view. Each file has a file management popup enabling you to control downloads by setting the download limit and expiry, file access permissions, and creating new download links.
The protected file has the blue protected mark in the Media Library or red shadow in the Media Library grid view.
Since the 2 former plugins aim to manage files more effectively, you must upload files to the Downloads sections. In contrast, Prevent Direct Access works directly in the Media Library so that you can easily protect files.
3. Extensions & Integrations
Download Monitor
Download Monitor plugin has powerful premium extensions that cover functionalities and more advanced features such as email locking of files, form-locking, or support for Amazon S3 hosting of downloads. These add-ons might include Page Addon, Email Lock, CSV Importer, and Gravity Forms Lock.
WP Download Manager
Not only does the WP Download Manager offer you a variety of features-related add-ons but it also provides access to payment gateways and upcoming themes. You can install some free and premium add-ons such as Gutenberg Blocks, Advanced Tiny-Mce Button, Extended Short-codes, WPDM Image Button to extend the plugin features.
Prevent Direct Access
This plugin comes with plenty of extensions and integration. There are more than 15 extensions built to expand the plugin's functionality. Prevent Direct Access is compatible with many top WordPress plugins such as WooCommerce, Contact Form 7, Ninja Forms.
In case you want to secure your WordPress site in general and both media files and content, installing an additional plugin called Protect WordPress Pages & Posts would be a great solution. Once protected, your content is not accessible through its original URL anymore.
4. Documentation
Download Monitor plugin provides extensive documentation guiding you on how to set up and use the plugin as well as how to sell digital products. However, it covers limited basic information. Most of the docs are written to solve advanced and technical problems.
WordPress Download Manager describes its features, add-ons, solutions in detail on the WordPress repository. However, there is no FAQ section. You have to visit its website to get more information about how to set up or use the plugin. The good news is that it has invested time and effort to produce documents about many useful topics.
Prevent Direct Access, meanwhile, provides both basic and extensive documentation for the plugin and its extensions. Average users, even amateurs, would be able to, would be able to understand and get started using the provided features with ease. In addition, their troubleshooting section and FAQs are straightforward and helpful.
5. Updates & Support
Download Monitor actively supports its users with frequent plugin updates. Most of the users' issues are solved quickly.
The support team from the WordPress Download Manager proves effective in solving compatibility issues and unworking problems. Most of the issues reported by users are fixed in less than 5 days. However, there have been no new releases of the plugin for 7 months.
Prevent Direct Access has gained a lot of positive customer reviews based on its active and friendly support. It typically answers customers' requests within one day. Premium users with higher plans will get faster responses and the ability to request new features.
6. Price
While Download Monitor offers a free core plugin with premium extensions, WP Download Manager provides both free and pro versions. Since their free plugins have limited features and support, it's necessary to pay for extensions or upgrade the plugin for better file management.
Most users upgrade to Prevent Direct Access for more advanced features as well as integrations with multiple platforms. You will get frequent updates and outstanding support when becoming its premium user.
Prices shouldn't be a deciding factor when selecting a plugin. You should also look at how the plugin solves your problems and the value it brings to your business.
Which Is Your Ideal WordPress Files Download Manager and Protector Plugin?
While the WordPress media library provides a basic file download management system, installing a specialized plugin will help you control, protect, and track your file downloads.
Depending on your specific circumstances, you can choose one of three plugins to organize and protect your media files. If you need a free plugin to manage, track the download of each file, and sell digital products, then go for Download Monitor.
WP Download Manager is an ideal option when you intend to organize files and protect them by password or Captcha lock. On the contrary, if you lay emphasis on protecting your downloadable files and blocking direct access to private file uploads, Prevent Direct Access is the better solution.
We would love to hear your experiences about the plugin that fits your website best. Share your thoughts in the comment box below.