Typography is becoming the Foundation Of Web Design for those designers and developers who love Fonts. You can read Oliver Reichenstein's research article Web Design is 95% Typography, explaining about typography usage, its  optimizing readability, and accessibility techniques, presented its usability and how to give overall graphic balance with typography.
WordPress themes focused on Typography look very beautiful, specially for bloggers and writes who just want to display their content in a transparent way, but not limited to writes only, for all those who love typography can showcase their content, as well Typography themes are good for Search Engine Optimization, present easy to read content to visitors and support all browsers like IE, Safari, Firefox, Opera , etc. In the following list you will find Free and premium themes based on Typography, you can use these themes on private and Commercial projects. There are WordPress Typography Plugin which  enables you manage entire typography of your WordPress website. You can modify ANY part of your WordPress website on ANY WordPress theme.
 Create WordPress themes Focused on  Typography
---
If you love Typography and a theme developer, you must understand the elements of typography to develop beautiful and attractive WordPress theme. By using the services like Typekit, Webtype, Fontdeck, and Google Web fonts, you can understand the impportance of @font-face and can improve your skill in typography. Although you can create WordPress theme or any design with one font but if you want to give creativity and beauty to your design than these techniques with font utilization will produce attractive and sticking design.
This tutorial will walk you through templating stage to finish off the Typo design as a fully working WordPress theme. So let's jump into this awesome tutorial and get benefited!  The writer have gone through the Photoshop design stage, the HTML5 and CSS3 coding stage and in the following tutorial he is giving the step by step guide to finish off the Typo design as a fully working WordPress theme.
Other Typography Resources: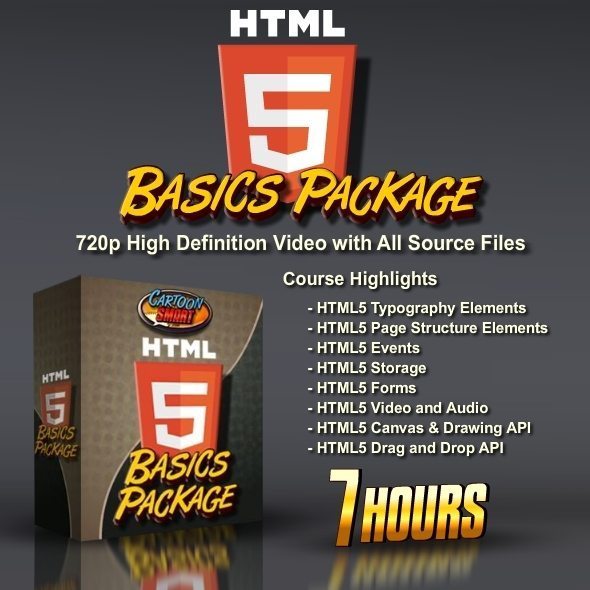 Tuck in for an amazing seven hour journey as Lawrence Turton guides you through all the new features of HTML5 . Consider this course a book on video. Time-stamped index cards for the topics below are included and like all CartoonSmart tutorials, source code is packaged up with the movies.
Course Topics
HTML5 Removed Elements
HTML5 Changed Elements
HTML5 Typography Elements
New HTML5 Page Structure Elements
New HTML5 Events
HTML5 Storage
HTML5 Forms
HTML5 Video and Audio
HTML5 Canvas & Drawing API
HTML5 Drag and Drop API
Detail
Typography Flyer Bundle – 4 in 1
Typography Powerpoint Template
Typography Keynote Template v2
Swiss Style PowerPoint Template
CSS Typography: The Basics
The World of Typography
11 jQuery Plugins That Can Enhance Your Typography
How to Create Inset Typography with CSS3
Creating a Typographic Portrait in Pixelmator
30 Worth Learning Text Effect Tutorials in Photoshop
An Awesome Collection Of 80 Photoshop Typography Tutorials
One More Time: Typography Is The Foundation Of Web Design
Beautiful & Creative Use Of Typography In Print Ads
Premium WordPress Theme with Focus on Typography
---
Daisho is a portfolio solution for creative professionals and companies looking for a minimal and professional look. Flexible and responsive presentation, smooth navigational flow and clutter-free approach. Put your works in focus. Powerful Typography Plugin included. The definitive portfolio solution for creative professionals available now.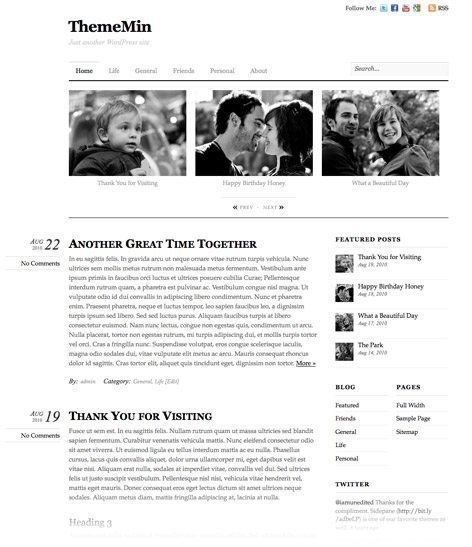 ThemeMin is a minimal, light-weight and typography-focused theme. It promises to provide comfort reading and fast loading. There is no images used in the theme (except the RSS icon). Regardless of the font size, ThemeMin still looks elegant and readable. ThemeMin is a true beauty of CSS and typography.
Function is a professional, business WordPress theme. Focused on content, you can use this theme to showcase your products, services and all your company has to offer. A portfolio page template, blog page template, custom typography are among the features this theme offers.
Duotive Three – Complete WordPress Template
Majestics – Premium WordPress Theme
Temptation – Single Page WordPress Theme
Aspire – Ultimate WordPress Theme
Duotive 5ive for WordPress
Konzept – Fullscreen Portfolio WordPress Theme
Identity – One Page Blog/Portfolio Theme
Era WP – Visual Performance
HyperMind: Clear and Subtle WP Portfolio Theme
Prolio, a Powerful Portfolio WordPress Theme
Creative – Clean & Modern WordPress Theme
BigFeature – WordPress Theme
RT-Theme 15 Premium WordPress Theme
E-Style is an elegant WordPress magazine theme geared towards fashion and photography blogging but is suitable for almost any niche. The theme comes easy to use and set-up out of the gate with custom widgets and more.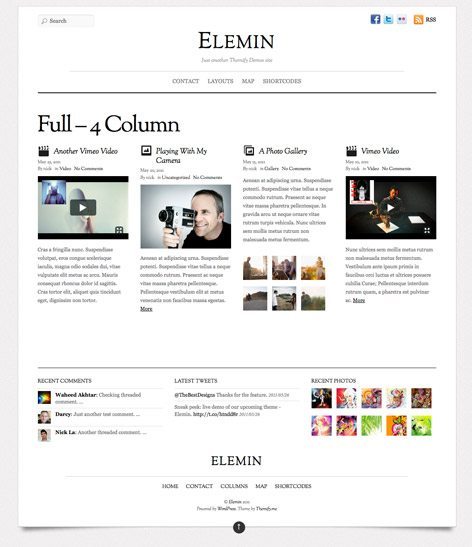 Elemin has great sense of typography, good white space balance, and minimal graphics. It is a piece of art crafted with modern technology — Google font, CSS3, Javascript and HTML5. WordPress post formats was incorporated which allows you to write about various post types such as photo, gallery, video, quote, etc. (very much like Tumblr). The design is completely fluid and responsive. This means the layout automatically adapts based on the user's viewport. The layout never breaks no matter of what screen resolution it is being viewed on. It works on all desktop and most mobile devices such as iPhone, iPad, Android, and Blackberry. To see this in action, visit our demo site and resize your browser window or check it with a mobile phone.
If you or your company provide any form of news service, a local newspaper, newsletter, or even a blog and you're seeking a truly professional way to present your content, then Bulldog is the solution for you.
Frusion admin panel gives you full control over every major design element throughout your site. Frusion admin panel come's with the color and font options like you can change elements such as links, text, titles, headings, logo text and much more. where you can customize you website more than you could ever imagine. Take a look at the list of features below to see everything included in this theme or just visit live preview.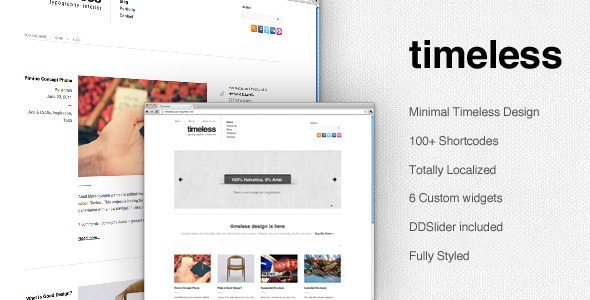 Timeless is a minimalist WordPress theme from ThemeForest with meticulously designed, based on swiss design, the use of grids and the ever so used Helvetica font. This theme focused on typography, and not cute shiny images that will need to be changed in 6 months.
Grido is a powerful responsive business/corporate/portfolio & blog premium WordPress theme. Grido has been coded in HTML5 & CSS3 and jQuery. Grido will fit your large desktop screen, all the way down to your iPhone – and of course any Tablet or iPad.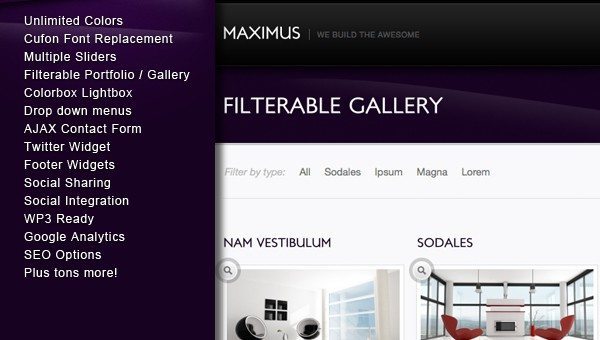 Maximus is a beautiful, pixel perfect WordPress theme suitable for business, corporate or portfolio type websites.Maximus comes packed with an intuitive, un-branded Options Panel and extensive documentation.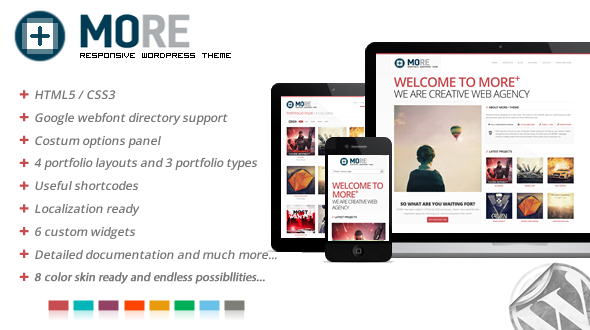 MORE+ is a powerful responsive business/corporate/portfolio & blog premium WordPress theme. MORE+ has been coded in HTML5 & CSS3, jQuery and built with Bootstrap Framework.
Free WordPress Theme with Focus on Typography
---
The theme is released under GPL. You can use it for all your projects for free and without any restrictions. Please link to this article if you want to spread the word. You may modify the theme as you wish.
Live preview | Download | Detail | Theme's Developer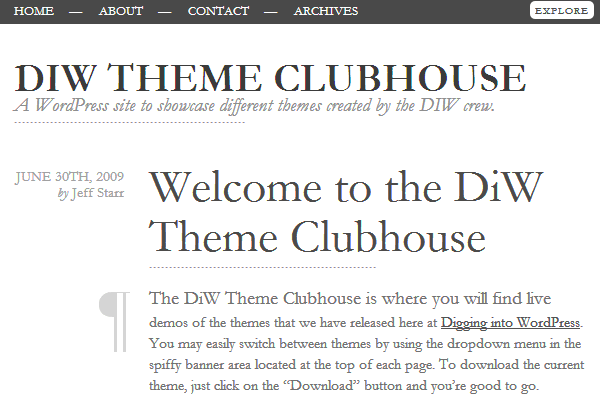 A brand new free WordPress theme for you to download. It's called WP Typo. It was designed by one of the author from
Digging Into WordPress, then coded through WP Coder (as part of this review), and a little additional coding again my myself.
Here is the scoop:
It is 100% typographic; there are no images used at all.
It includes the PSD in case you want to make modifications and want to feel it out graphically first.
You can do whatever the heck you want with it. No attribution required.
Live preview | Download | Detail
Featuring a two column fixed layout, enabled with flickr support, pagenavi support, custom field options, related posts and recent comments with gravatars are built into the theme (requires NO plugin),
as well as a comment subscription options panel, a brandnew CSS drop down menu in the header section and a header background image changer. Theme configuration is easy made via the themes option panel with Flickr and comment subscription.
Live preview | Detail | Other Theme: Clear Cut
A clean and streamlined theme that focused on the content and not the distractions. It utilizes a single column, 500 pixel wide layout. No sidebars. No widgets.
Boumatic is a three column WordPress child theme for the Thematic theme framework by Ian Stewart. Child themes are much better explained here but essentially they allow you to create theme layouts and designs without editing the source theme's template files. Makes things really easy when it's time to upgrade your theme files. The name, Boumatic comes from the concept of Boumas in typography.
Live preview | Detail | Download Boumatic | Download Thematic
Wu Wei is a WordPress theme that was cre­ated with clean, mod­ern, min­i­mal­ism in mind. Information is pre­sented in a log­i­cal man­ner, with­out any super­flu­ous ele­ments get­ting in the way. Just like the Taoist con­cept of wu wei, it's know­ing when to act, and know­ing when not to act.
This theme is based on prin­ci­ples of a grid sys­tem. You can break out of the grid with css dec­la­ra­tions, as seen in this entry.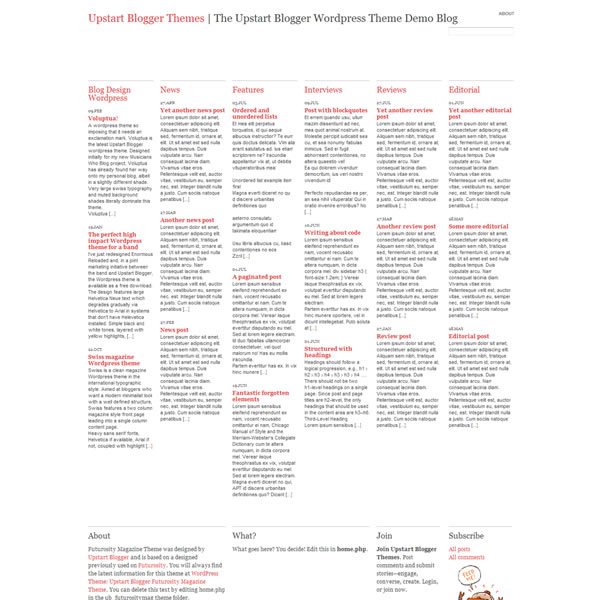 It is a true power Theme, going beyond being a simple premium theme, this WordPress skin not only incorporates a 'click to follow me on twitter' it goes a step
This theme is totally widget ready, completely cross browser tested. A two column theme in a Black Wood effect and pastel colours on a translucent background.
Their is a particularly good use of typography with this theme with nice, clear easy to read text blocks.
Demo | Download theme | Detail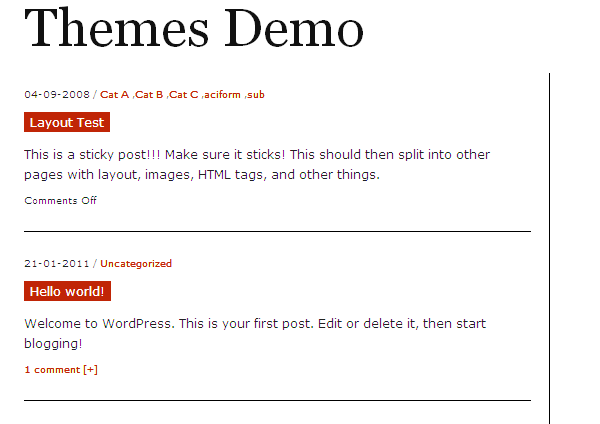 You can use the theme for all your projects for free and without any restrictions. However, it's forbidden to sell or redistribute the theme without both designer's and Smashing Magazine's permission.
Live preview | Detail | BizzThemes
MagZine is a magazine styled WordPress theme that so easy to use and configure.
The purpose of this theme is to enable writers and publisher to express themselves online in a clean and beautiful environment. You can check out the theme features and also a series of posts containing sample styling for the most common elements you'll need on your blog before you download Typominima.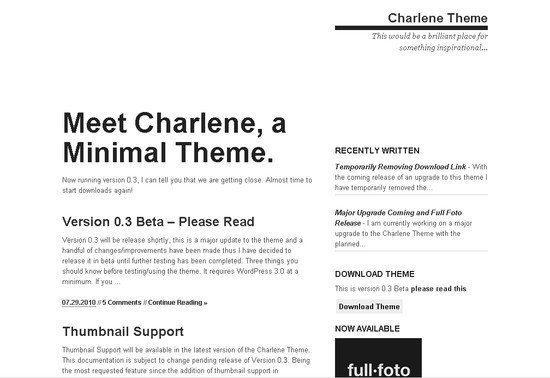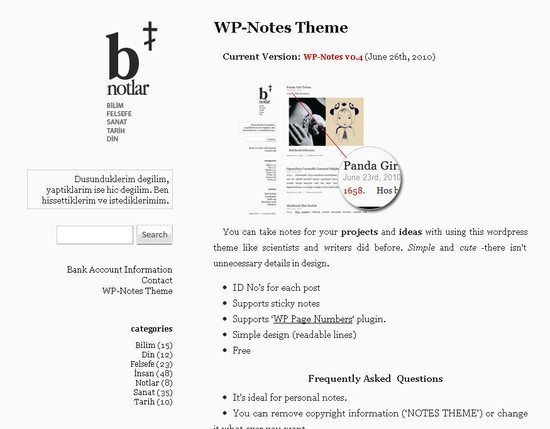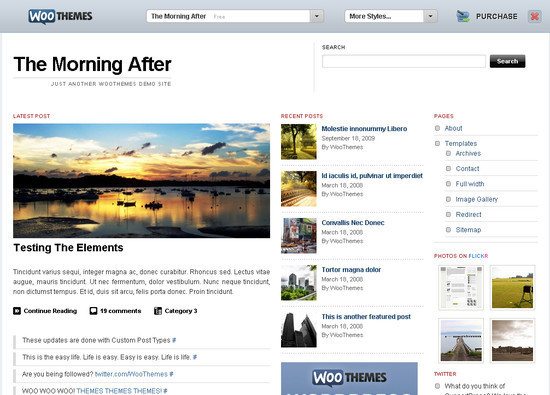 The Morning After was the original magazine theme  from WooCommerce Themes WordPress community and after more than a 100 000 downloads, it now has a place in our themes collection. It may be "old", but this amazing theme is not yet dated! A definite download and one that you will thoroughly enjoy!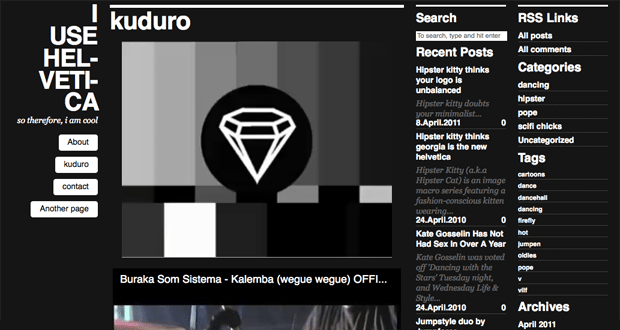 WordPress Plugins for  WordPress Typography
---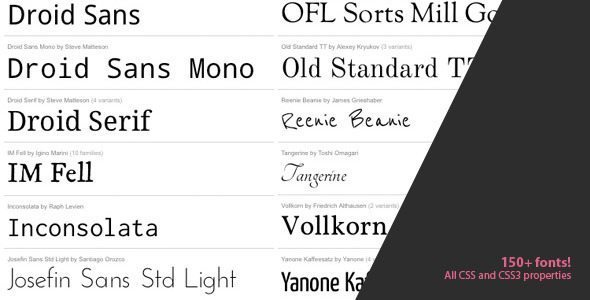 WordPress Typography Plugin enables you manage entire typography of your WordPress website. You can modify ANY part of your WordPress website on ANY WordPress theme.
Font-Resizer is premium WordPress plug-in that gives your visitors the ability to resize font size in your blog. Font-Resizer can remember your font settings and is fully customizable. It can integrate in any part/place in your WordPress blog.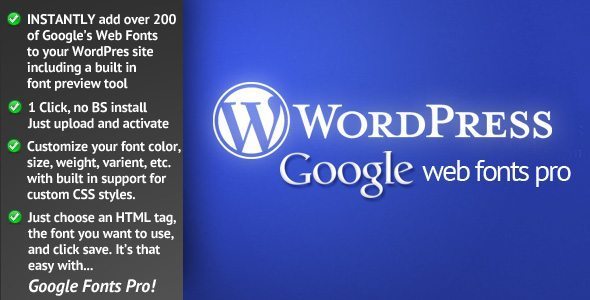 Google Fonts Pro is a premium WordPress plugin that allows you to instantly access over 200 of Google's Web Fonts with power and ease. You can take full control over the font and typography used on your site in a matter of minuets!
Personalize your WordPress website with customized fonts. With FontPress you can do that without put your hands on any file or writing any line of code. Forget wasting time in editing your CSS or JS files to test a single font, with FontPress it's all simple and funny.
Detail
20 Best WordPress Typography Plugins To Enhance Readability