If you are reading this blog post, it means you are serious about moving your website to the cloud.
Congratulations! You are doing the right thing.
You must have heard that your website will run faster and do better on the cloud, but no one would have told you that when you host on the cloud, you need a team of experts who'll do everything from setup to optimization to maintenance. Now, you will think "that's expensive". Yes, it is.
So, what can you do?
Nowadays, there are many third-party providers who can handle servers and its nitty-gritty for you. Such providers are called Platform-as-a-Service or Cloud Platform. When it comes to WordPress Cloud Platform, I think no one's better than Cloudways.
Why is The Cloudways WordPress Hosting Best?
Handling cloud servers is a tedious job. Couple that with managing your own WordPress website and you are simply asking for trouble. The reason why I love Cloudways is the ease of hosting WordPress websites on the Platform.
"We want everyone to forget about the cloud setup and management," answered Mustaasam Saleem, the WordPress Community Manager for Cloudways, when I asked about the service's unique selling proposition.
"Cloudways is a great medium to host your WordPress web apps as the platform is built on the latest web server and cache technologies. In our tests, we have noticed websites perform 300% faster on Cloudways when compared to other cloud solutions," he continued.

Mustaasam Saleem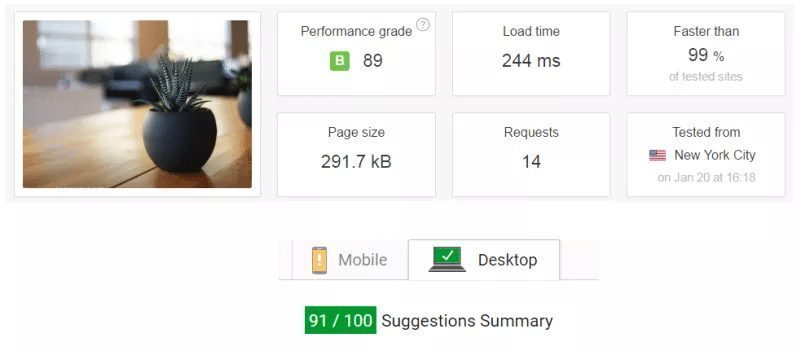 Why is Cloudways faster?
It's all in the recipe, I mean, the WordPress hosting stack recipe. Cloudways has a powerful stack-based on Nginx, Apache, and PHP-FPM with Memcached and Varnish cache mechanisms. Optionally, you could use Redis too.
But that's not the only place Cloudways is swift.
The signup process is a breeze. You only need a valid email address to create your account. In rare cases, the service will ask for further verification. Once you have created an account, you will see the Launch Server screen.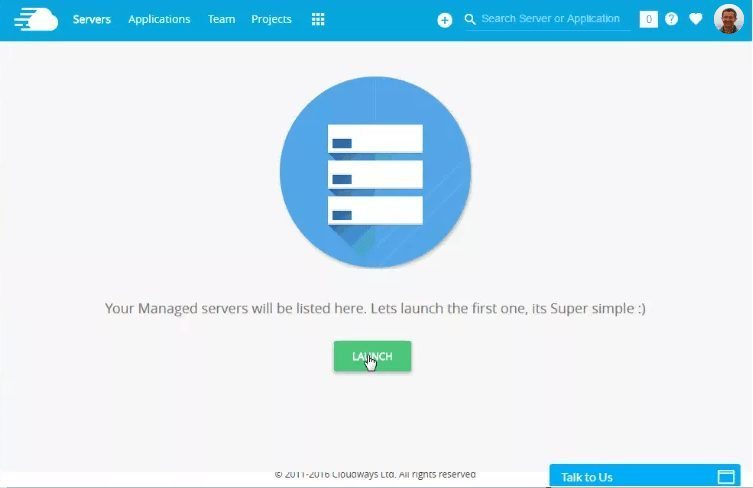 Here you'll notice that Cloudways provides a lot of choices. For WordPress installations, there are four packages:
WordPress for speed-optimized WordPress deployments
WordPress with WooCommerce for making online stores
WordPress Multisite for creating multiple websites under a single network
Clean WordPress for "default" WordPress website deployment

I have chosen WordPress for this review. After that, you are provided the option to pick one of the five cloud providers:
DigitalOcean for an affordable hosting with high-quality results
Vultr for budget-friendly, high-speed hosting
Amazon Web Services for high-quality hosting with 99.999% uptime
Google Cloud for reliable hosting with virtually no downtime
Kyup for container-based hosting for elasticity and constant availability

For this review, I have chosen DigitalOcean, a provider that is suitable for small-scale websites and blogs.
Next, you will be asked to pick a server size. You will notice that you do not have many options at this stage. It's because you are signing up for a trial period. That's good because you will know if you want to use Cloudways or not.

Once you have picked your server size, you'll be asked your server location. I think this is a great option. If your website is made for the European market, then hosting it in the US is a bad idea. You should host it on a European location, as it helps in reducing the latency that results in better page load time.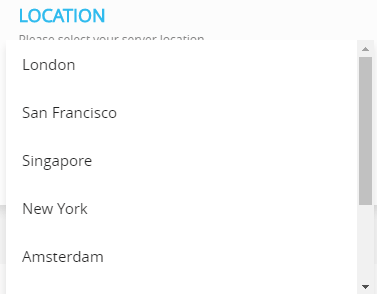 Now, press the "Launch Server" button to create your instance with a WordPress-optimized stack. The platform will ask you to wait for few minutes.

Once it's ready, you will see the management area of Cloudways. By default, it shows the Server Management screen with a number of options.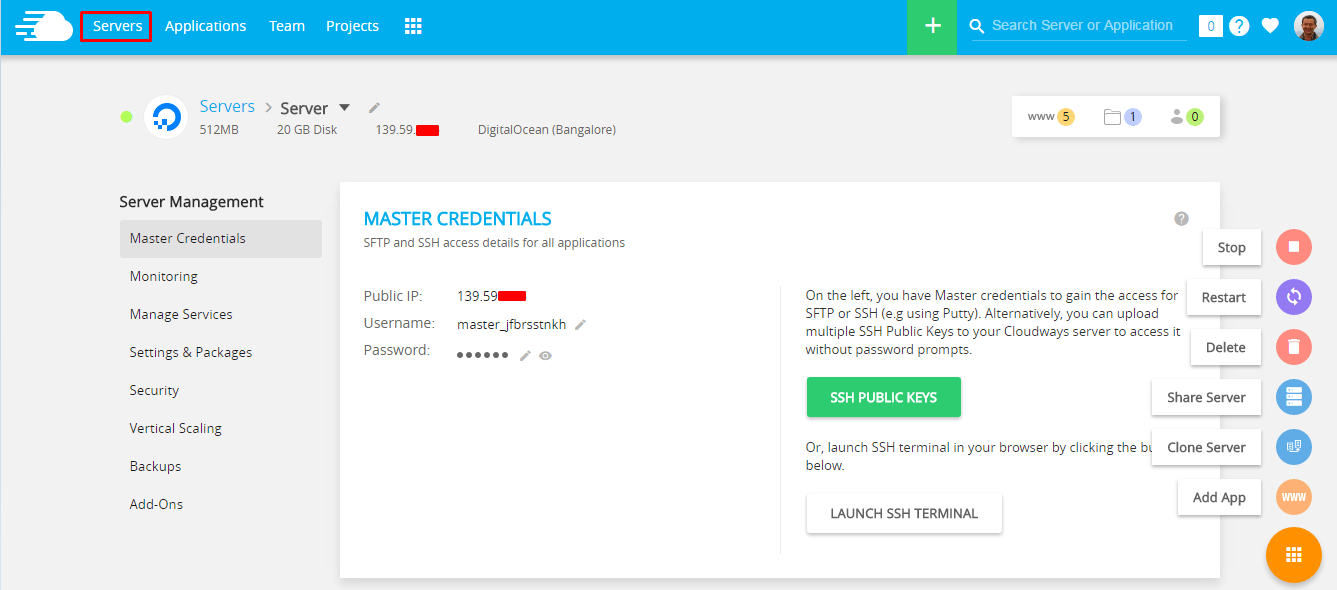 Let's move on to the Application Management screen. Select "Applications" from the top navigation bar. You will see your first installation there. Click the link.

The first screen you will see contains the Access Details to the Admin Panel of your website. It also shows the credentials you need for database management.
Log in to your WP admin panel and search for Cloudways WordPress Migrator plugin by navigating to Plugins -> Add Plugins.
By using this plugin, you can import a website easily from the previous host. Here's a short guide about the plugin.
This plugin is really handy if you want to move a small testing website to the Platform as the migration takes less than an hour. It also helps when you have to move several websites to the Platform.
Once migrated, you can point your domain from the Application Management and it's all done.
What else is good about Cloudways?
Cloudways is all about providing choices. The Platform is robust enough to handle all complex hosting related scenarios.
PHP and Database Options
The platform provides PHP 5.6 and 7.x versions along with three different choices of the database: MySQL 5.5, MySQL 5.6, and MariaDB 10. Apart from WordPress, the platform provides plain PHP stack for any development related needs. It also has different installers, but the default WordPress one is ample enough.
SSL Management
Here's the best thing about Cloudways. It has built-in support for Let's Encrypt SSL certificates. These certificates are installed for free at the touch of a button. If you want, you can bring your own certificates too. The amazing thing about Cloudways is that it lets you deploy multiple SSL-protected websites on the same server.
Built-in Tools
Cloudways has included all the required tools in the platform and most work directly from within the browser. For instance, you can use SSH directly from the browser. The platform has its own Database Manager. You can work on a WordPress project through WP-CLI. You can manage your code by creating Git workflows.
Is Cloudways expensive?
Not exactly, In my experience, it's a pretty good deal. If you compare Cloudways pricing with other WordPress Hosting Platform, you will be amazed at the value you get. I would prefer to use 1 GB server (or larger) to create my WordPress projects on Cloudways.
That will cost you around $17 each month. However, you need to know that you will get surcharged if you exceed your bandwidth usage allowance of 1TB. Plus, you will be asked to pay a minute amount (sometimes, in cents) for backup storage. So, keep a dollar or two extra for the invoice at the end of the month. By the way, Cloudways charges your usage at the end of the month. That means you do not have to pay anything upfront. You are not locked into advance payments and you can cut the expenses in the middle of the month.
What's not so great about Cloudways?
You do not get free domains, DNS hosting, and email inboxes. You will have to buy them from third-party vendors through Cloudways.
Concluding Thoughts
There is no question that Cloudways is a great Platform for your website. While they take care of all the server related hassles, you could focus on running your business. If you wish to check out the Cloudways backend before starting your trail, check out this great video.