The new Twenty Thirteen WordPress theme is now in WordPress Core, Mark Jaquith posted on WordPress Core about this default theme for WordPress 3.6, The Twenty Thirteen team has completed the design and development phase and  handed over the theme for testing, for more detail See: r23452, and If you are curious about Twenty Thirteen project update visit Make WordPress Core. There are two place where you can see the live demo if you're interested in taking a closer look: demo twenty thirteen | joanartes.com, Christopher Finke already already implemented this theme on his blog at welcome to twenty thirteen.
Twenty Thirteen WordPress 3.6 Default Theme
---

As we know that Twenty Thirteen will come with upcoming WordPress 3.6  as a Default theme, the new version of WordPress specially focusing on editorial workflows, revisions, autosave, editing, post formats along with few other areas that need improvement. You can read about upcoming WordPress 3.6 on What's Coming Up With WordPress 3.6.
The aims of the Twenty Thirteen WordPress theme are to provide and focus on blogging as well as great support for post formats because blogging is the important part of almost all online business websites and post formats getting attention on the backend in WordPress 3.6 which is  boasting  bright, bold and beautiful colors, perfect for a personal blogging site. If you like Genesis Framework and its  child theme then this Twenty Thirteen theme look similar because it uses post formats and a full width layout by default.
The Home Page
Although Color is a personal choice and I think  WordPress core developers design this theme to keep in mind that  many users will want to customize the home page, blog page and different colors for each post format selected. You can customized the post format by changing the background, font size, and style.
Header Images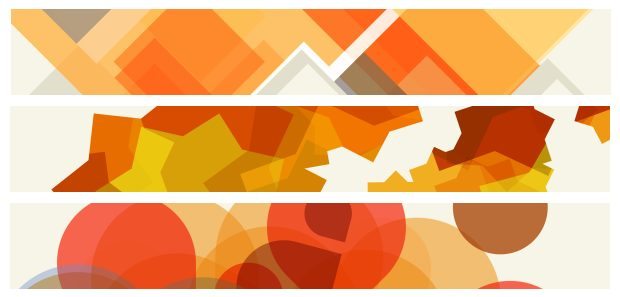 Header is the most prominent part of all blog and websites, there is choice of three default header images (Diamonds, Star and Circle) to present this part with fixed width.
Default Widget Area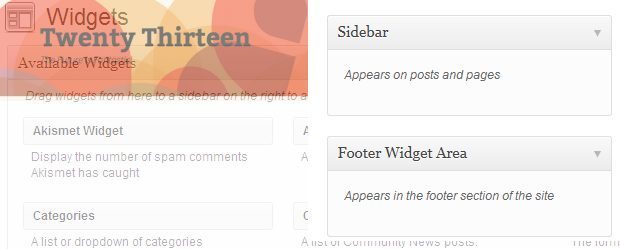 In this most important part, there are two default widget areas as Widget area for Sidebar and Footer Widget Area.
Page Navigation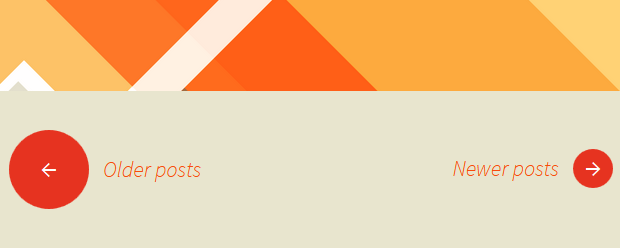 The default pagination is really improved in this theme and it looks pretty cool with customizable colors.
A Cross-browser Responsive Design
Why 2013 Is the Year of Responsive Web Design [quote]Given the rapid adoption of tablets and smartphones — and the fact that users currently seem to prefer reading their news on the mobile web rather than in apps — I think it's inevitable that 2013 will be the year that responsive design takes off.[/quote]
The Twenty Thirteen WordPress theme is a Responsive theme with cross browser consistency and change the images for posts, comments, and widgets are according to the mobile and Browser, because of Responsive design the style sheet contain the heap of CSS code for mobile responsiveness and cross browser usage.
Post Formats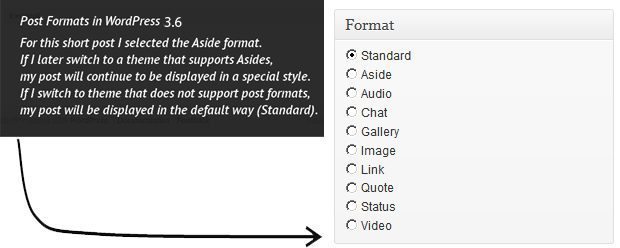 With a Twenty Thirteen theme that supports Post Formats, a blogger can change how each post looks by choosing a Post Format from a radio-button list. More about Post Formats.
Expanding search box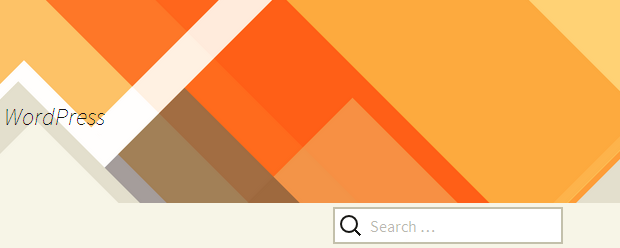 Search Box is very nice look with expandable box and you can customize Search Box with Google custom search for higher accuracy.
Twenty Thirteen: Title overlaps expanded Search Box
 Error 404 page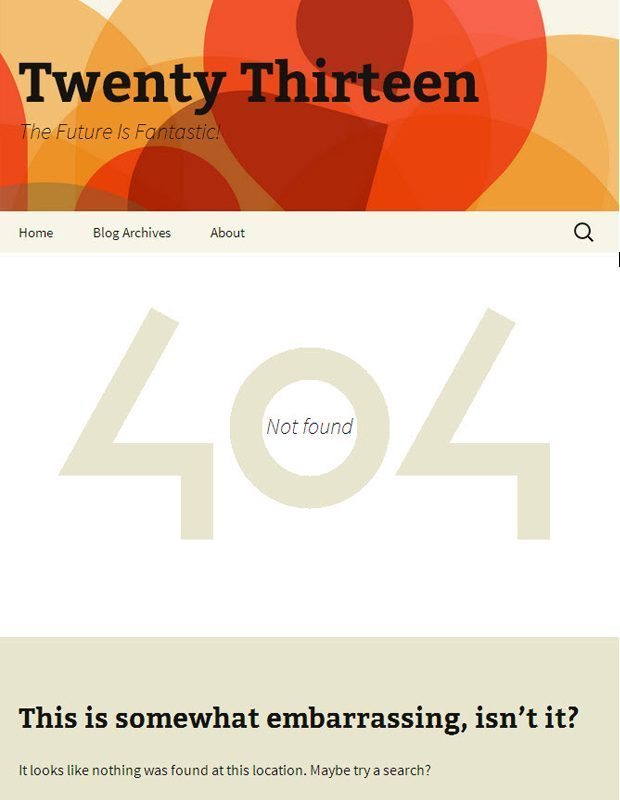 Twenty Thirteen WordPress theme have a good Error 404 page because it is perhaps as important as having great contents.
While you work hard to make sure that every link actually goes to a specific web page on your site, there is always a chance that a link clicked will slam dunk and become a famous 404 ERROR PAGE NOT FOUND.

All is not lost. If your visitors encounter an error, why not be a helpful WordPress site administrator and present them with a message more useful than "NOT FOUND".
Creating an Error 404 Page
How to Set Up A Custom 404 File Not Found Page
50 Creative and Inspiring 404 Pages
35 Entertaining 404 Error Pages
60 Really Cool and Creative Error 404 Pages
How to Install Twenty Thirteen on Your WordPress Site
Twenty Thirteen is not yet released on WordPress.org but it is available on the SVN of WordPress.com. You can download the theme from there by using any SVN client.
Windows user:  Download Twenty Thirteen WordPress Theme before official release
For Mac user: Quick Tip: How to Install Twenty Thirteen on Your WordPress Site
If you like Twenty Thirteen WordPress theme and already have customized it for your blog or website mention it in comment.