Your website or blog probably has a regular stream of visitors who like the information that you post and therefore regularly trawl through your posts. How can you be sure that the information that you post continues to be relevant to your audience? Polls are a great way to capture feedback from people who visit your blog.
There are a number of different plugins that you can use to include polls on your WordPress site. Here are a few of popular plugins.
Adds an ajax poll to your blog. It can be customized to a great degree.
WP-Polls is extremely customizable via templates and css styles and there are tons of options for you to choose to ensure that WP-Polls runs the way you wanted. It now supports multiple selection of answers.
Connects social networks to polling. This plugin is designed to drive additional traffic from social sites to your blog or WordPress site.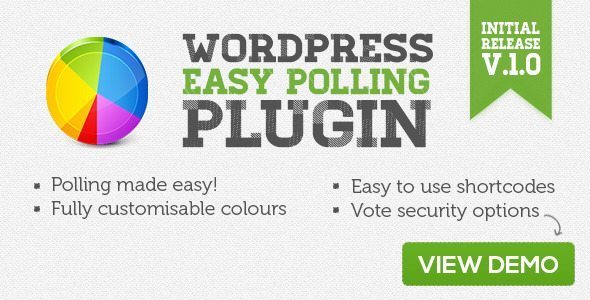 The plugin allows you to add as many options as you'd like for each poll that you create. You can also style these in any way that you'd like – just pick your favourite colours on the Add New Poll page. If you don't have enough options, just add a new one by pressing the button.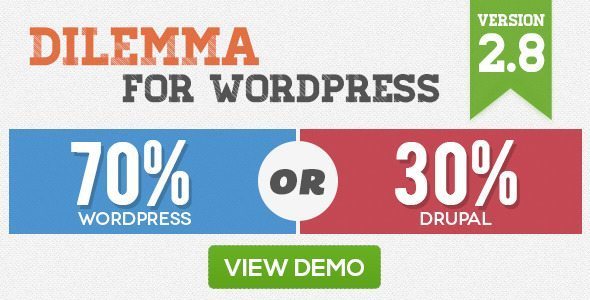 The plugin gives your website visitors and area of your site they can become involved and addicted to. You can run "Would you rather" type polling games, and even allow your website visitors to contribute to the polling.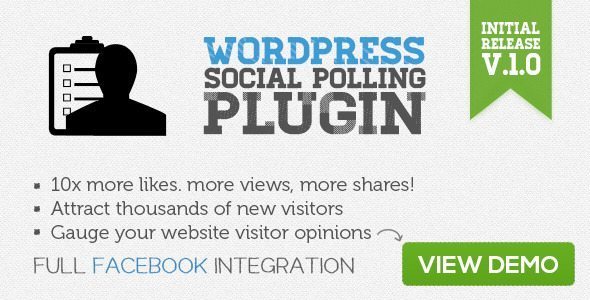 The WordPress Social Polling Plugin is an additional plugin to work in conjunction with the popular WordPress Easy Polling Plugin. This plugin requires the purchase of the WordPress Easy Polling Plugin. Without the latest version of WordPress Easy Polling Plugin this plugin will not work.
Features
Easy to install.
Powered by AJAX .
Prevents multiple votes with the use of a cookie.
Real-time display of the information.
Pollify is a simple WordPress poll widget comes with 3 layers of security, 5 languages with RTL support, easy to use and setup and Google analytics integration.
But the one plugin that we want to talk in this post is the Polldaddy Polls and Ratings.
If you use WordPress.com, then Polldaddy is already part of your site and all you need to do is go ahead and use it. However if you have a self-hosted WordPress site, then you have two options. Both require that you have a WordPress.com ID.
The first option, is to use the Polldaddy website without linking your Polldaddy and WordPress sites. Access the Polldaddy website. You will need to create an account. The basic account (free forever) should be adequate if you plan to poll your readers occasionally. You will then be required to sign in with your wordpress.com ID. And that's it.
You can now begin to create your polls. Polldaddy enables you to create a survey, a poll, a quiz or a rating.
Creating the poll is simply a matter of following instructions. There are many options as Polldaddy polls are quite customizable. Once done, you will be able to share the polls via javascript to embed on any site, via a direct link, on Facebook, Twitter, email, or your WordPress site. Select WordPress and copy the short code is displayed. In your WordPress site, create a new blogpost and enter your short code there. You will need to access the Polldaddy site to run reports and check responses to your poll.
The second option is to use the Polldaddy Polls and Ratings plugin. The plugin allows you to create and manage polls and ratings from within your WordPress dashboard.
Once you have inserted the plugin, you will need to ensure that your WordPress.com ID is linked with your site. Only then will the Polldaddy option appear on your menu. It actually appears under the title 'Feedbacks'. From here you can create new polls or ratings. The Polldaddy options are numerous, you can choose between 20 different, or choose to have a custom CSS. You can set a close date for your poll, or collect unlimited or limited votes. You can also create unlimited polls. You can choose to either display the results or keep them private. You can also choose where to have your poll appear (for example you could choose that you want the poll to be displayed on the left / right banner). It is simply a matter of deciding where to put your short code. Your poll will appear wherever you place the short code.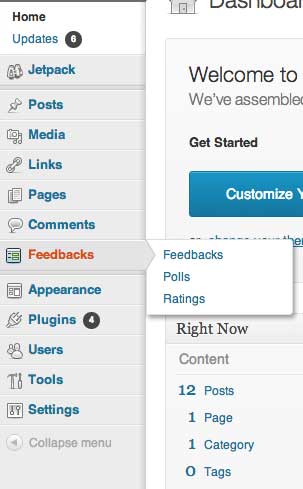 The Ratings option will allow your readers to rate your posts, pages or comments. This is an easy to use plugin with some great features. Have fun exploring and using it!  Sponsored by blogVault: a Premium WordPress Backup Service provider.