If you're thinking of using WordPress to build a website for a restaurant and Cafeteria, then you need to check out these Best  Themes. These themes will give you a perfect chance to represent your cafe or restaurant. Using an appropriate WordPress Theme from this collection you can build an outstanding web site and make your Restaurant business even more successful and profitable. So, if you have intended to introduce any kind of cafe or restaurant on the web look though this wide collection. These are ready made themes to build an Irish pub, cocktail club, pizzeria, continental food, sushi bar, Japanese cafe, Mexican Food, Chinese Cuisine or any other cuisine.
By running on-line website for Cafe or restaurant, that's mean you are giving information about service your offer to your visitors. For example you can show the best  pictures of dishes that you offered. The design of your web site can also reflect the interior design of your cafe or restaurant. In fact These WordPress themes are useful not only for those who wish to create a new web site but also for anyone who plans to improve already existing cafe- or restaurant-related web site.
First of all get free WordPress software from WordPress.org that has the  functionality to run on line  Restaurant Website.  Than select any WordPress theme from the following list,  you can  easily customize and operate theme. Just some basic skills required to use WordPress as a back end.
Taking into account if you want complex or simple  customization of WordPress theme,  for that you can contact us [info @ wparena . com]. We are professional web developers who specialize in making any big changes for  your Restaurant Website. As well, we offer free installation of WordPress. Following Web hosting do offer free and easy installation of WordPress:
Your One-Stop WordPress Hosting Solution. WPWebHost specializes in hosting WordPress powered websites. With our WordPress hosting optimized server & WordPress-savvy team, you have all the reasons to host your WordPress blog with our WordPress hosting solution.
Power house web hosting company on the web that has earned a good reputation on the web.
Host Gator : Host your very own WordPress blog
Finding a WordPress Theme for Restaurant or Cafe
MyCuisine is delicious, offering up some eye-catching visuals wrapped in a Tuscan shell. It is a small-business theme built with Restaurants in mind, however, the theme can easily be adapted for any business that desires a cool, vintage aesthetic for the website.
ElegantThemes delivered an excellent restaurant WordPress theme with MyCuisine. With MyCuisine theme you get a preformatted "menu" page. This isn't any ordinary menu website page. The theme is set up so visitors click into an item and it brings them to a full web page giving more information.
MyCuisine includes a preformatted map/location page. This makes it very easy for you to display a Google Map of your restaurant location along with your pertinent contact and location information. This theme is purely subjective, it has a distinct style, very impressive design, and  beautiful font, textures, gradients, all these style elements are making it best well-designed WordPress theme for Restaurant and Cafeteria.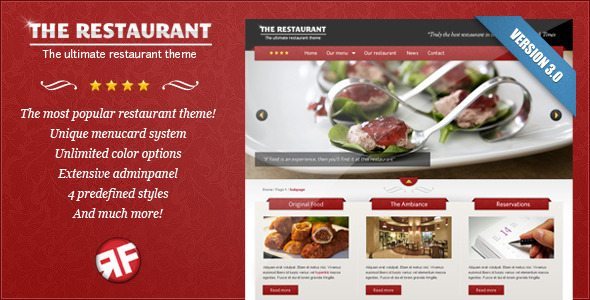 This WordPress theme is a slick and highly customizable theme for restaurants and anything alike. Change colors with a colorpicker, simply switch the layout and add your own sliding menucard to impress your customers!
Out of the box WordPress website for cafe & Gourmet business. This strategic, professional theme includes everything a gourmet website will need! Multiple menu pages, cafe directions, featured items, blog, and so on. Use this theme to quickly create a professional presence for your culinary business.
Create a professional website for your Restaurant / Cafe business easily with this theme. Advanced way to showcase your menu items. Google Map and Directions, Restaurant hours, Auto content sliders, Gallery/list view of your menu items. This theme includes everything.
For all of you that bought Restaurant Design HTML version and asked us for the wordpress, here it is. You can now handle your online restaurant even easier.
Aroi is a restaurant WordPress theme built specifically for cafe & restaurant business. With 2 style variations, reservation, contact form and many more.
Aim is the WordPress template build specifically for cafe & restaurant business. Built-in background uploader, 30 Cufon fonts and more.
Chow is a delicious WordPress theme perfectly suited toward restaurant owners who want an easy, versatile and appealing way to engage customers and promote their business!
It allows you to showcase every part of your restaurant, from staff to menus. It also comes with a comprehensive reservations module to enable your customers to book seat online.
The perfect WP theme for restaurant/bar owners showcasing your food menu, your location and allowing for online reservations all the while presented in a slick and spacious layout, powered by custom post types and some additional WooFramework features.
Out of the box WordPress website for Cafe & Restaurant business. With strategic design and expert code, this professional theme includes everything a restaurant website will need! Use this theme to quickly create a professional presence for your culinary business.
Delicious is an elegant premium WordPress theme developed for restaurants, cafés, bars, diners, pizzerias, etc.
Bottega is an attractive and easy to use WordPress theme that you can use for your restaurant. WordPress is perfectly suited for restaurants as it provides allows you to be in complete control of your content. You can easily add your menu and display it in an attractive way. You can add specials, your hours of operation, plus a map to your location. Social media is more important than ever so I've built in Facebook integration so you can connect with your customers.
This theme is a little astray here, but If you need a hotel oriented wp theme this is a nice one.
Ermark Adora is a clean WordPress theme best suited for restaurants, cafes and product showcase sites. It comes with an advanced product manager and reservations system powered by a full featured admin panel. The visitors are able to rate, comment or share products on facebook (facebook integration).
Most of the features are restaurant oriented like: product prices, menu of the day, restaurant prices page, product ingredients.
WordPress Theme for Restaurant or Cafe
This is WordPress version of my Green Delicious Restaurant template with 3 variations color (Blue, Green and Brown). You can use it for anything especially for Restaurant or Cafe. This template only for WordPress 3+.
This theme supports custom menu and 8 widgetized areas (three in the homepage, three in the footer and two in the sidebar) and featured images (thumbnails for post, testimonial, team, review, foods and gallery). This template also have 6 custom post (Testimonial, Gallery, Team, Foods, Review and Gallery).
Monmarthe is a beautifully designed WordPress Template for your cafe or restaurant. It is well organized looking theme for your culinary business, foodies, recipes, etc.
Multiple menu pages, cafe directions, featured items, blog, and so on. Use this theme to quickly create a great presence for your culinary business.
This theme comes with home page jQuery slider. No commercial fonts used in this template means no any additional editing cost.
Redminton is a clean WordPress theme what use a sliding paginator, and is great for restaurant or food related websites, photograph walls, design showcase, magazine or blogs, but not only.
Theme is build like a presentation wall, to be a place where you can showcase your products or services. The category template is created in an original way, using the powerful thumbnail WordPress option. Random thumbnails lead to posts, being great for websites with huge amount of content, where usual the old posts are buried in archives, from where is hard to get them alive.
Easily create a dynamic portrait of your company or project for your customers. You'll bring them inside, before they step in the door. Delicious effortlessly projects the exact image you desire, and allows you to focus on other content as well.
With Genesis Theme framework you can create any kind of website, this framework is a premium template system for WordPress and it provides incredible design flexibility, and lighting-fast loading times. You can customize Genesis theme according to any design requirement.
Templates for Static Restaurant website.
Reference: why you should use WordPress for your restaurant website