Running a multi-author web directory for articles, posts pages, or other content to your wordPress powered site, means you have different people writing on different topics or offering different perspective on the same topic. WordPress  designers and developers have extended the ability to manage the users and Authors by using specific themes and plugins. For example with ArticleDirectory  you can manage your article site with the power of WordPress and it will let your users submit articles, featured articles and do the Advanced Search and do lot more with this advanced theme but still you need to manage authors and co-authors.
And with Article Manager Module for CMS pro plugin! Article Manager is a CMS pro! premium module designed to enable you to create unique Blogs/Articles/News items.
Today we are compiling some WordPress plugins and explaining some tips and tricks for managing a multi-author web site by using WordPress.

How To Create An Authors Page
---
If your theme do not come with authors page, you have to create one for that. In this case WordPress will look for an archives.php template or an index.php template and the summary of an authors posts would be display in the same way that monthly and category archives are displaying.
In the following list of tutorials you will find how to Create a Kickass WordPress Authors Page.
He has written a flexible WordPress page template that will support most themes. You can download the page template and this template lists all authors ordered by author ID. The format of a listing is author name followed by author description and gravatar which is followed by a link to recent post and finally links to social media profiles. The page template supports twitter, facebook, linkedin, digg and flickr.
Kevin Muldoon explain step by step how to create and embed it into your theme. If you have multi authors blog, you will get more detail about creating a dedicated authors page for them in order to give them more exposure.
The authoer's page by default only allows you to put just enough information up. For those who utilize their authors.php page, they can add more things like your Twitter and Facebook profile to their author profile and not have to even alter the core of their site. You can even add more than that.
You want it styles somewhat similar to your other pages, but you can add the following and style it according to your own template. The code contains the gravatar, 3 different social network handles, and a simple listing of the author's posts. You can customize it to display excerpts, display excerpts with thumbnails, full posts, and more.
Whether you're modifying an existing wp theme, or building a new one, this easy to follow tutorial will allow you to add the commonly used Portfolio/Gallery Page to your website. You can also use this same method to create other custom pages & custom categories (category-x.php) to display "WP Custom Post Types" in categories of your choosing.
For the Multi-author sites, WordPress has built-in functionality to display Author Bios to single post, and there are some plugins to help as well. There are three thinks that we need to get to display Author Bios: Detail
Your Gravatar is an image that follows you from site to site appearing beside your name when you do things like comment or post on a blog. Avatars help identify your posts on blogs and web forums. It is a service by Automattic, and stores "avatar" or profile, images link to an email address on its servers. Once you upload an image on Gravatar server, it will display on any site that supports Gravatar across the Internet. Gravatar is a widely supported service used by many social media sites.
Multi-Author Blogs are a popular trend that is spreading rapidly in the blogging industry. It is getting hard to keep up with the fresh content for one man bloggers therefore more and more blogs are now seeking for guest authors, co-authors, and multi-authors.
Luckily there are lots of WordPress plugins and resources out there to help owners and administrators to manage co-authors. If you are planning to turn your blog into a multi-author blog, here's 35 Tips Tricks To Manage and Handle Multi-Author Blogs you might want to check out.
Must have Plugins if You have Multiple Authors in WordPress
Managing a Multi-Author Site
---
There are many tools available to assist you in managing a multi-author site, as well as making your site more interactive by adding some features, By using these tools on your site you can make more rewarding and satisfying experience not only for you and your readers, but for your authors, as well.
Tools that help authors communicate
By Communicating on a multi-author site, co-authors can share information about their articles and thoughts with each others. Use the following tools to help you manage the flow of communication between everyone involved:
WP Status Notifier will send a notification to given email address(es) of posts pending review by contributors. It can also optionally notify the contributors when their post is accepted or rejected. WP Status Notifier is useful for moderation in blogs with multiple contributors.
PMS is a very simple php private messaging system, which can be used for communication. It can be integrated into your existing application.
Using PMS to enhance your application, it enables users on your site to send private messages to each other, which will greatly increase the sociability of your site.
The editorial calendar gives you an overview of your blog and when each post will be published. You can drag and drop to move posts, edit posts right in the calendar, and manage your entire blog.
Try the calendar before you install it. Check out the demo installation at Zack's WordPress Sandbox.
A plugin for WordPress which allows you to send an email to the registered blog users. Users can send personal emails to each other. Power users can email groups of users and even notify group of users of posts.
All the instructions for installation, the support forums, a FAQ, etc. can be found on the plugin home page.
The email newsletter plugin is an advanced bulk emailer designed especially for WordPress 3. It is very easy to use and feature rich. Heaps of features which allow you to quickly send professional newsletters to your existing WordPress user database.
This plugin adds links after the posts for subscribing to the post author's posts feed via RSS. So if there are several authors in the blog, but a visitor wishes to subscribe just an author posts feed, this plugin gives that possibility to do it.
jNotice is the plugin for you, if you like to use some nifty popup's on your websites or applications. This plugin is very customizable because you can select a div that you want to use as popup. In this div you can place whatever content you want.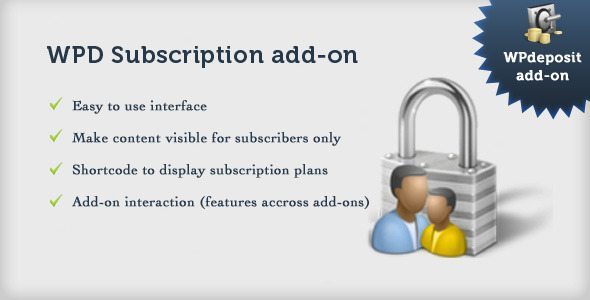 This WPD subscription add-on is for you If you wish to run a premium membership on your blog. You can run unlimited types of subscriptions (silver, gold, sponsors,donators, beta tester,….) and display specific content to them.
KU2D allows you to offer a simple way to inform your clients (subscribers) about updates of one of your releases. You can use it for events, parties, new product, … too.
This dashboard widget provides a simple notepad. The widget settings allow you to choose which roles can edit the notes, and which roles can merely read them. Version 1.30 also adds support for custom roles and integrates with theMembers plugin for role settings.
Tools to promote author profiles
This is very difficult task to promote your blog, One way to operate a successful multi-author blog involves taking every opportunity to promote your authors and their information as much as possible.
This list give you tools to promote authors bios, links, social network feeds, and more:
The WordPress Profile Manager allows you to create custom fields for your users. You can create text fields, text area's and drop down menu's with the drag and drop interface within 5 seconds.
Features
Create custom fields, text area's and drop down menu's.
Beautiful user interface
On the fly validation with jQuery
Written in OOP
Very easy to use
Drag & Drop interface
AJAX Based
Use the native WordPress the_author_meta function to retrieve the custom author profile fields
A widget to display a list of authors in your WordPress blog. Includes widget options to configure the features mentioned below. Completely updated to use the new widget API and is multi-widget enabled. Fully XHTML compliant.
This plugin allows authors to add a picture to their profile and helps automate the process of displaying author profiles.
To display a custom photograph with the Author's Profile please install the User Photo. In absence of this plugin the 'Author Spotlight" widget will fall-back to displaying the Gravatar associated with the user. If your posts have multiple authors you may use the Co-Authors Plus, the widget will display all the author profiles one below another for such posts.
This plugin will allow all authors to have their own tweets shown on in the widget area of their posts, by adding it to their profiles. That way any multi-author blog can let their bloggers promote their own twitter account and not a joint account.
User Messenger provides a simple method of integrating a member system into a new or existing site with the ability for users to send messages to one another. The script features a CMS / admin panel to manage users & site settings as well as all of the scripts needed to let users register with and login to your site.
Tools to manage multi-author blog posts
By using these plugins, you can manage your group of authors, can track users' activity, list their posts, and stay up-to-date and notified when your authors publish new content: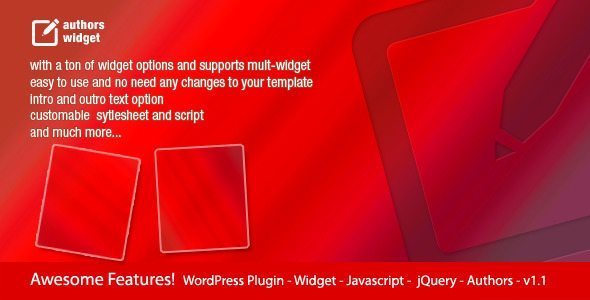 This widget show your site authors with details description and avatar. Widget can be used multiple of times even in one sidebar area.
This plugin is an almost complete rewrite of the Co-Authors plugin originally developed at Shepherd Interactive.
Allows multiple authors to be assigned to a Post, Pages, or Custom Post Types via the search-as-you-type inputs. Co-authored posts appear on a co-author's posts page and feed. New template tags allow listing of co-authors. Editors and Administrators may assign co-authors to a post. Additionally, co-authors may edit the posts they are associated with, and co-authors who are contributors may only edit posts if they have not been published (as is usual).
Provides an easy way to display the complete list of the an author's posts, including the posts where he's also co-author. It solves two problems with the author page:
It displays all the posts from the author despite any pre-definition of the maximum number of posts to be displayed.
It counts the posts where the user is co-author, even if he's not the original poster.
This plugin provides an advanced widget that allows you to display your blog authors in any widgetized sidebar. It includes the abilities to display author gravatars, author URLS , post counts, and bios.
Lots of folks using WordPress sites with multiple authors may run into this problem. You want to attribute correct credit to the writer/author of the article, but not give out access to your WordPress install.

WP Pending Post Notifier will send a notification to given email address of posts pending review by contributors. It can also optionally notify the contributors when their post is accepted or rejected. WP Status Notifier is useful for moderation in blogs with multiple contributors.

Audit Trail is a plugin to keep track of what is going on inside your blog. It does this by recording certain actions (such as who logged in and when) and storing this information in the form of a log. Not only that but it records the full contents of posts (and pages) and allows you to restore a post to a previous version at any time.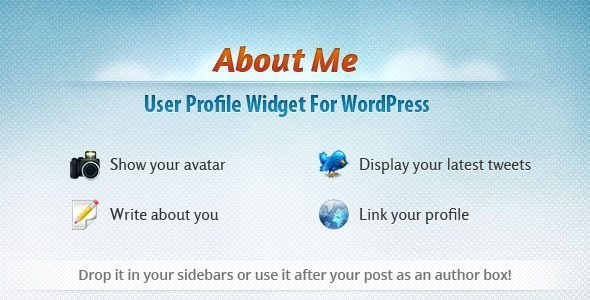 About Me is a plugin for WordPress that creates a new widget to display your user profile and latest tweets. Let your visitors and users know who is behind your site or give a quick explanation about what your site is and what it can do for your users.
Themes With Authors Profile
---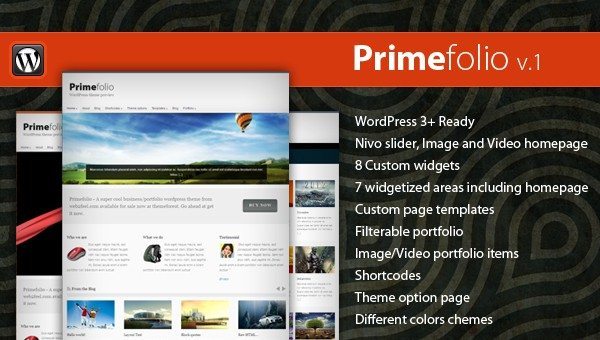 This is a minimalistic yet feature rich WordPress theme. The theme packs in features like custom post types, taxonomies, custom templates, filterable portfolio, built in contact page, shortcodes, theme options etc. More features of the theme are listed below.
Live preview | Detail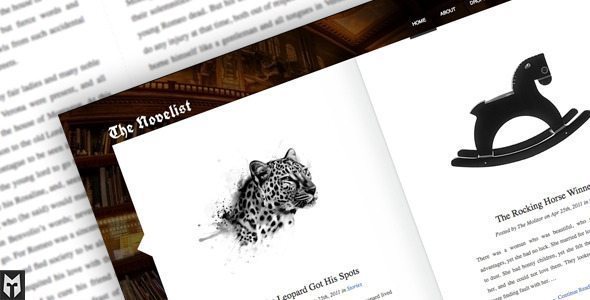 This theme is built for the serious writers looking to showcase their talents. 'The Novelist' is a premier RESPONSIVE portfolio theme for authors and/or copy writers. Content is king people.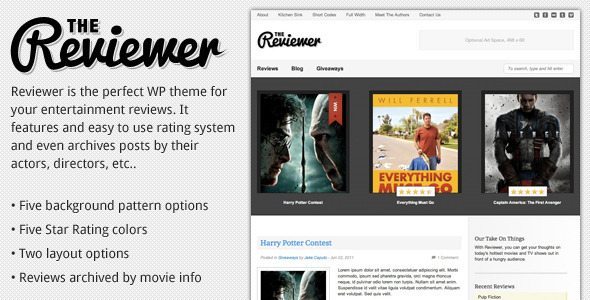 Reviewer is a WordPress theme built for one purpose: writing reviews. Whether it's reviews for movies or TV shows, Reviewer can handle it.