WordPress is now making more than 20% websites on the internet because it provide a list of features and flexibility to create any kind of website from simple blog to full feature CMS platform. Specially Designers are creating mind blowing themes for their Portfolio. Today we are compiling a list of best WordPress Themes specifically created for displaying design portfolio.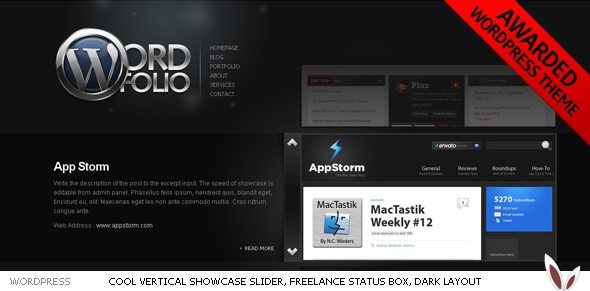 WordPress + Portfolio = Wordfolio, a WordPress theme which is suitable for graphic & web designers. Special thanks to Jon for his Badass WordPress Logo tutorial.
Features
Valid CSS /XHTML Files (1.0 Strict)
Commented and clean CSS /XHTML, and theme files
Full layered PSD Files
Jquery based kickass transparent showcase in homepage
Easy showcase setup with custom fields
Modern look dark style layout
Editable auto cycle and speed from admin panel
Editable freelance status and text from admin panel
Widget ready 2 Colmns
Site5 Free Premium WordPress Theme
---
The Following Themes have designed in-house exclusively for Site5 customers. I hope you enjoy these Free Premium WordPress Themes.
Features
Live Preview | Download | Documentation
Features
Live Preview | Download | Documentation
Especial is a modern, powerful and professional WordPress theme made for your Portfolio, Business, Magazine or almost any other kind of website.
Especial comes with awesome content sliders for your featured images, fully working contact forms, Vimeo and YouTube videos and video thimbnails support.
Theme Features:
11 Color Variations and 5 nice fonts
WordPress 3.0 Ready (Menus & Featured Images)
Theme settings powered by OptionTree
4 sliders (3 content sliders, accordion slider)
Page Templates (2 homepage layouts, portfolio, full-width portfolio, blog, contact)
Vimeo & YouTube thumbnails
Custom Widgets (Twitter, Recent posts, Popular posts, Flickr)
Shortcodes panel
Fully Working Contact form with field validation
Layered PSDs for Customisation

No gimmicks, no "a million themes in one" silliness… just great design, great coding, and a smooth user experience from both sides (yours and the viewers!). Reflex is a dynamic portfolio theme, developed from the ground up to be the easiest, most customizable grid portfolio theme possible. A completely re-built version of the top-selling Flex theme, Reflex brings a host of new features including:
A Powerful New Theme Manager (built on OptionTree)
Filterable dynamic grid layout
9 Page templates.
Over 40 Font Replacement Options, including selections from Google Fonts API and Cufon.
Typekit, FontSquirrel, and Google Fonts support (just in case the 40 included fonts aren't enough!)
The ability to change thumbnail and module sizes on the fly.
Stable in all modern browsers (IE, FF, Safari, Chrome, etc.)
Lightboxes, galleries, slideshows, shortcodes, and more!
A powerful shortcode library for columns, analytics, and more
Optional widget overlay area at the footer
Traditional blog templates included as well!
Video (YouTube, Vimeo, and more) supported in the lightbox and inside page templates.
Lots more (check out the demo)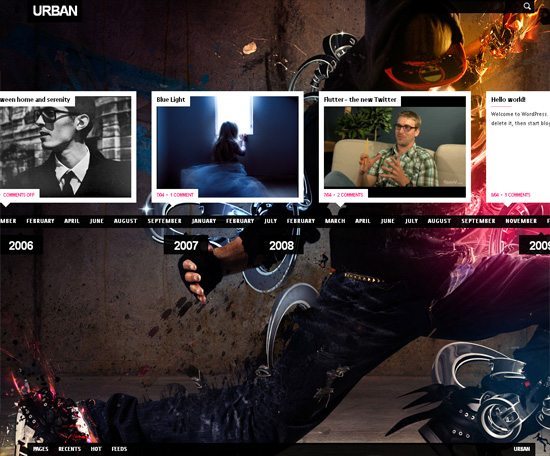 Urban is a free WordPress theme from Paul Bennett, based around the idea of having posts displayed in a timeline. It features a scrolling timeline, inline loading of posts, pages, images and Youtube videos, realtime search that displays results as you type, tracking of your recently viewed pages, and other footer modules including twitter updates and last.fm recently played tracks.
Sabuy is the Premium Portfolio, Photography Template built with latest WordPress features. Custom Post Type, Unlimited Colors and Image Uploader etc.
Live preview | Detail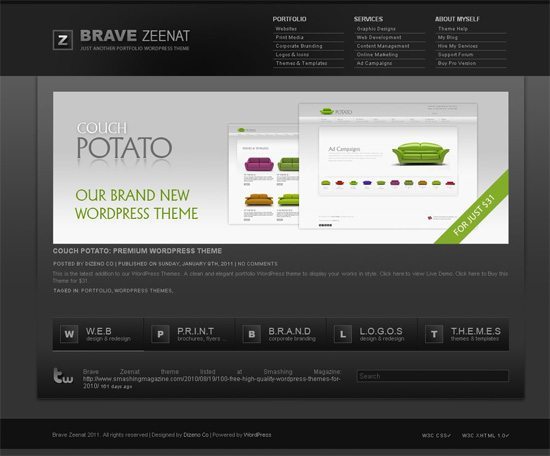 It is a clean, dark themed portfolio website concentrating on displaying your portfolio in a user friendly fashion. It can be used to display work related to print, brand, logos and themes.
Simpro is a uniquely designed WordPress theme packed with features and backed by a powerful framework allowing you to change more than 100 style and content options quickly and easily.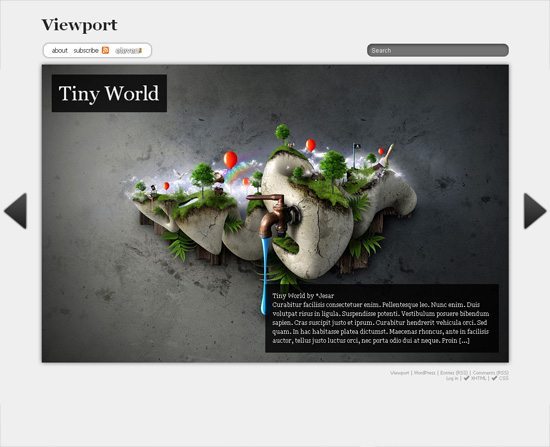 It features a clean and simple layout with sliding 'panels' displaying images to represent posts. It also features a user-changeable background (color or image) and other customizable elements. The best part about this theme is the big slider on the homepage which allows one to concentrate on the content only.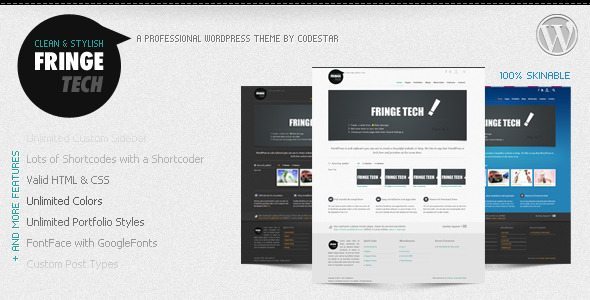 Fringe is a clean, sleek portfolio with a simple slider and a classy feel. It provides all the features of a premium theme like loads of shortcodes, unlimited colour options and portfolio styles and also a vast variety of fonts to choose from.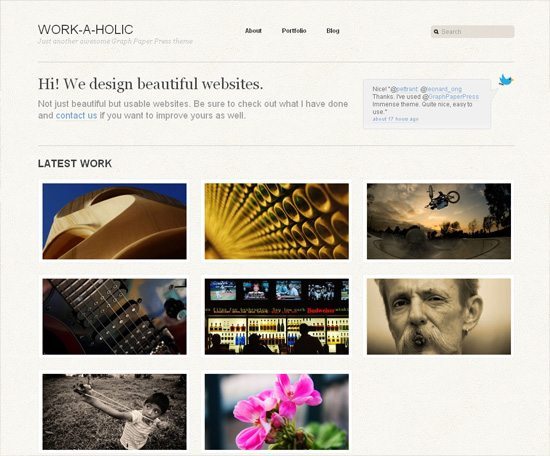 Workaholic Pro is a modern and clean portfolio theme for WordPress created by Graph Paper Press designer Chandra Maharzan. Workaholic Pro allows you to separate your portfolio from your blog, without editing a single line of code. This colorful child theme for Modularity comes with preset three color palettes, variable sidebar content, jQuery-powered image-hover effects, plus much more.
BigBrands is the WordPress version of the popular HTML theme, focused on providing a clean, functional, and unique design with fun presentation techniques to showcase your work.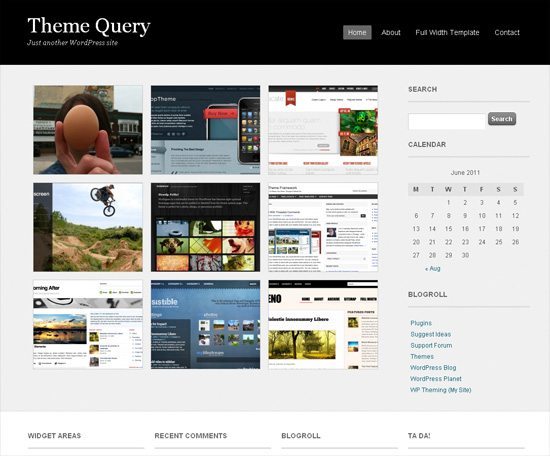 This is a HTML5 theme which uses custom posts and new menu navigation to create a stunning portfolio. It displays the portfolio items in a grid, right on the home page. There is a cool rollover effect on the portfolio items. It also has a full width template option in case you want full concentration on your work only.
Peano Creative is a unique, clean, minimalist theme with some pretty textured backgrounds which bring the site to life. It provides some awesome features like 45 shortcodes, tons of background options, jquery enhanced contact form and more than 14 fonts to choose from. It contains a featured section on the home page and a grid layout of the recent work just below it. It's the perfect portfolio theme for logo designers.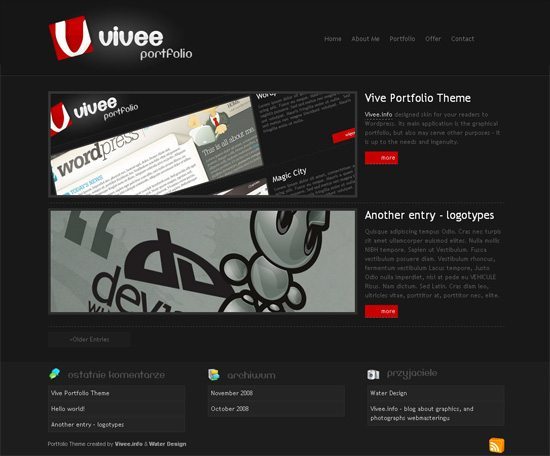 Vivee is a clean, dark portfolio WordPress theme. It concentrates on displaying the work right on the homepage along with a brief description about it. It also contains a widget to display the portfolio item numbers according to their categories. It is free under creative commons license and also provides the source PSD for the theme.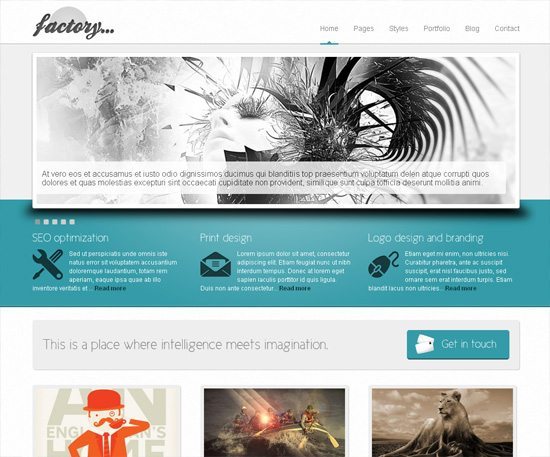 FactoryWP is a clean and professional theme, perfect for all types of business, companies and personal web sites. This template is tested in all common browsers: Firefox, Chrome, Safari, Opera, IE7 and IE8 . HTML /CSS validate.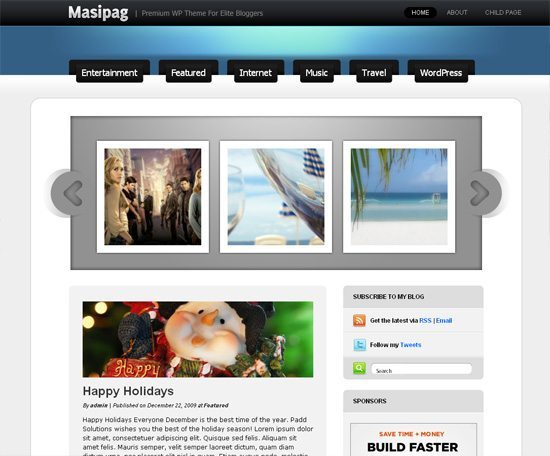 Masinop is a WordPress theme tested on the latest version of WordPress, modern design, two columns, adsense ready with advertising blocks, left sidebar, cross browser compatible with IE, FF, Opera, Flock & Safari, valid XHTML & CSS, Ajax tabbed sidebar and widget ready.
SOON is The Powerful and Elegant Portfolio, Photography Template built with latest WordPress features. Custom Post Type, Unlimited Colors and Image Uploader etc.
Live preview | Detail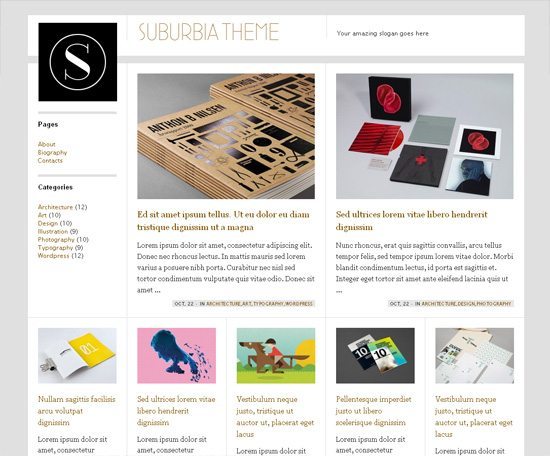 Suburbia is a free premium WordPress theme which comes in a magazine like layout. The layout is very clean and flexible and designed in a modest and minimalistic style. This clean look enables the theme to be used for various purposes from portfolios to even magazine blogs.
Temptation is a single page portfolio template with a minimal and clean design with strong typography, well suited for personal and professional use.
If you're in need for a template with emphasis on content with strong and bold typography, this is the template for you.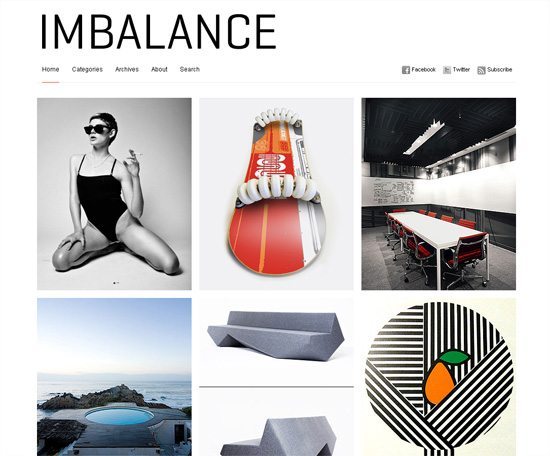 Imbalance is an excellent choice for any online magazine, blog or portfolio websites. This free WordPress theme designed with a contemporary modern vibe in a minimalistic style. By the use of Imbalance theme, you can easily fresh-up your project whether it is a blog or i-magazine. In consideration of additional features and flexible layout it is a very user-friendly theme that can attract new visitors to your web-site.
FolioFlip by foliothemes.com is a Portfolio Blog with an Image Flip / slider for ALL portfolio categories. Display your portfolio in a very cool way. It was created to be VERY easy to maintain and has numerouse php and jquery enhancements. You can Use it as a portfolio and blog or just a portfolio only.

BizzFolio theme will bring you additional customers and handle your portfolio website, so you may relax and concentrate on your own work. High quality website will also highlight your products or services, so don't hesitate to buy.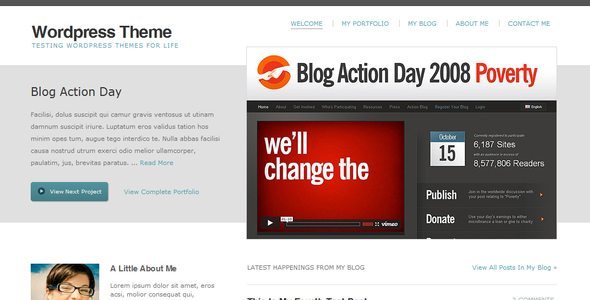 A WordPress portfolio theme designed to be used as a personal online portfolio as well as personal blog. This theme has 5 different stylesheets to choose from, allowing the user different color and font options. The homepage is a dynamic mashup of your recent blog posts as well as your recent portfolio work.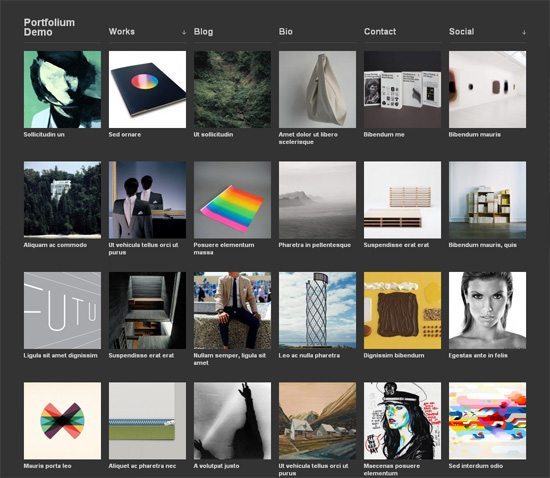 Neat and flexible grid-based theme for WordPress CMS, Portfolium can be used on portfolio web-sites or blogs. If you are designer, artist, photographer, or other creative specialist you can take a full advantage of Portfolium's fresh minimalistic design that is perfect as is or as a foundation for your custom design. If you don't need to showcase any works and just want to share some content, you can switch theme to blog style in a few seconds.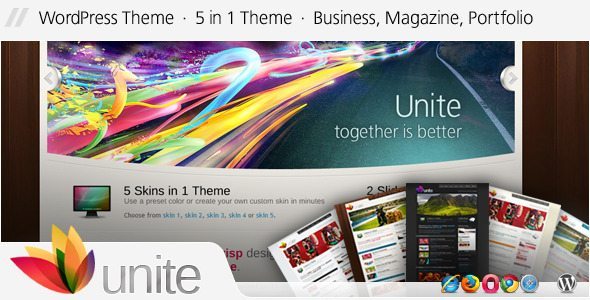 Unite is a merger of crisp design and powerful communication. It takes a clean, organized approach to presenting content so it's easier to find what you want.
This is a premium WordPress theme with 5 pre-made skins including a dark theme and textured background theme. The theme is easy to modify and ready to be up and running out of the box. The PSD files included have been customized to allow fast skinning.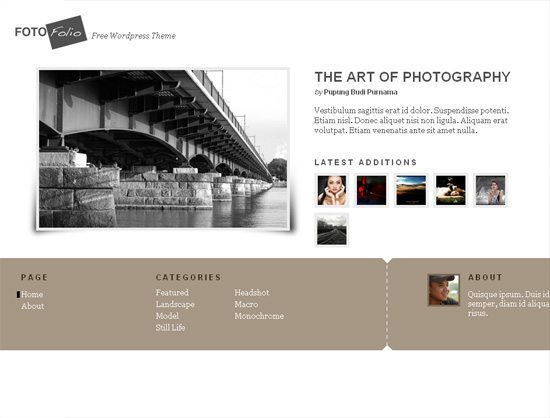 Fotofolio is a minimalistic theme which concentrates on displaying the featured work in a clean yet modern way. It also features zoom on hover feature which enlarges the thumbnails when hovered upon. It's the perfect theme for photographers but is also very useful for designers, specially logo designers.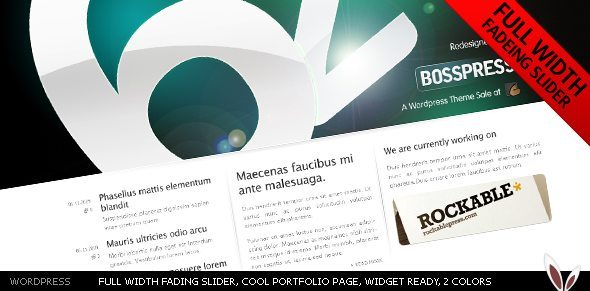 BOSSPRESS , a WordPress theme which is suitable for web developers, designers, photographers and small corporates.
DISPLAY is a WordPress Theme, best suited for Business and Portfolio sites. It comes with a fantastic 3D Image slideshow that can be controlled from your backend with a custom tool. The Theme has a huge WordPress custom backend (8 additional Admin Pages) that make customization of the Theme easy for those who dont know much about coding or wordpress.

BlueBubble is a Free, Clean, Simple Premium Portfolio WordPress Theme for Designers, Photographer or any other creative minds! :-) It's designed for easy showcasing your work and it comes with some very cool features. This theme is released under GPLv3:http://www.opensource.org/licenses/gpl-3.0.html. You can use it for free, change everything you want. There are no sponsored links. Have fun. :)
Synergie is a powerfull WordPress theme that can be use for everything. With a really innovative system, the homepage can be modified to really fit your need. You can turn on/off any of the 5 modules and stack the the way you want in 10 seconds. Give it a try!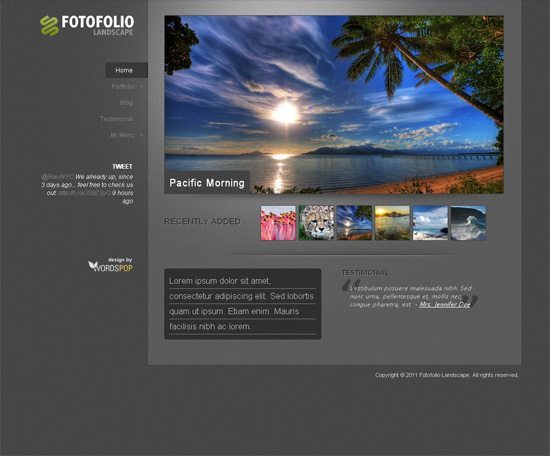 Fotofolio Landscape is a WordPress theme specially designed for Visual Artist, Photographer, or any media designer, to show off their works.
Simple, fast, easy to use, even for beginner, most of all it's free…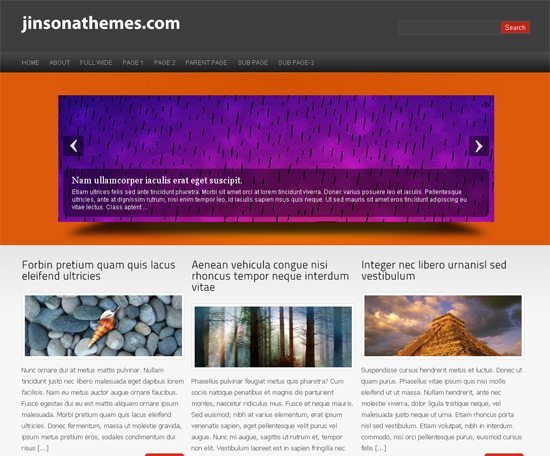 Solarpress is a beautiful portfolio theme for WordPress 2.9 onwards. It has a customizable about us section, a twitter widget. It uses the cu3er slideshow to give awesome transition effects to the featured posts.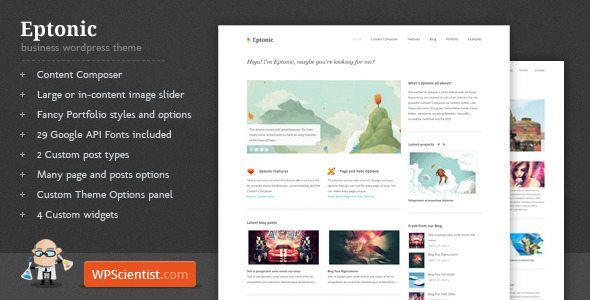 Eptonic – Beyond the Limits is a clean minimalistic theme that brings all the features that you are expecting from us like our other themes. It comes with a bunch of features to make your website incredible flexible so you can make every page unique if you want. All features are optional.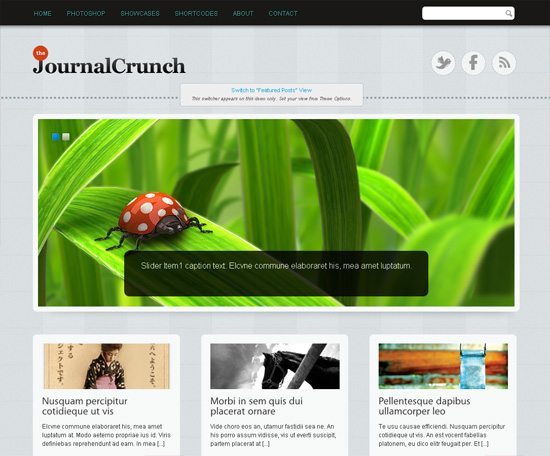 Features
Widget ready ( footer and sidebar )
Easy to setup, Theme Options Page
Custom Homepage with 2 different views ( featured posts or slider )
WordPress Post Thumbnail Enabled
WordPress 3.0+ Menu Management Support
Latest Tweets Built-in Widget
Built-in Pagination
9 shortcodes
Grid and standard posts listing
Ninvo Slider, easy to setup from Admin panel (http://nivo.dev7studios.com/ )
JQuery Drop-down menu
JQuery PrettyPhoto Lightbox ( http://www.no-margin-for-errors.com/projects/prettyphoto-jquery-lightbox-clone/)
JQuery Forms
Ajax based contact form
Live form email validation
Works perfectly with WordPress Hosting!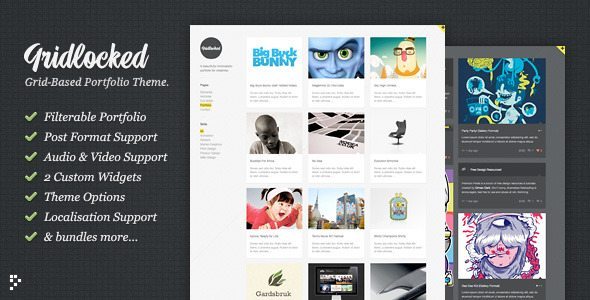 Gridlocked is a grid-based, post-format supporting, layout-shuffling, minimalistic theme for creatives. It is both a classic portfolio for showcasing your work and a modern tumblr-style blogging system.
A truly versatile theme, Gridlocked can be configured to focus on your work, your blogging, or both. Support for post formats means you can jazz up your blog with your own self-hosted video, audio, images, galleries, asides, links, quotes and of course good old standard posts.
Live preview | Detail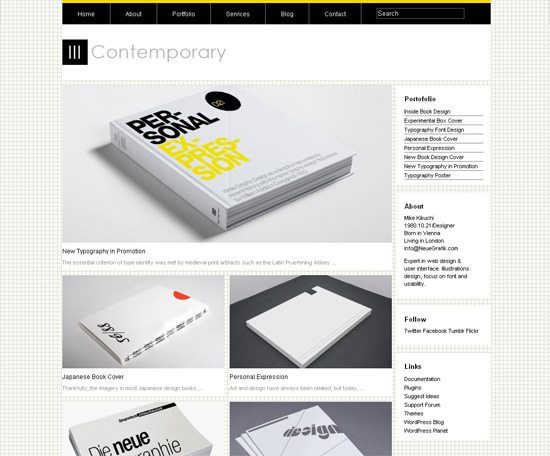 Contemporary is a beautiful minimalistic theme which uses a graph background and a grid layout to bring out the contemporary look of your portfolio. It has a featured image section and a grid layout of the latest work. The portfolio template also features a grid layout of the posts.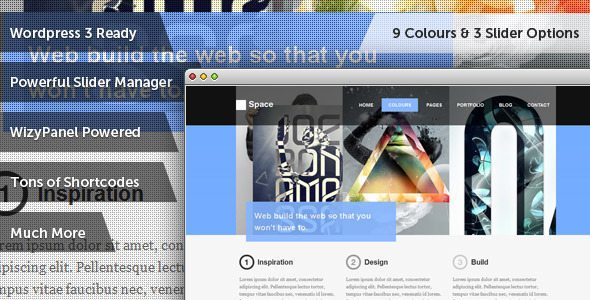 SPACE is a high quality premium theme with a unique layout. It has the flexibility to become a portfolio site, blog and even a showcase website. This theme is unlike any other, it can't get more flexible than this!
Live preview | Detail
Fundamental is a professional WordPress portfolio theme, easily customized, full of goodies, and simply a beautiful way to display your work or show your blog.
Fundamental has 6 blog layout options, 6 unique portfolio layouts, a custom portfolio filter layout that allows for dynamic creation of filters, and 3 cool sliders, including the Anything Slider that supports video, and the awesome Kwicks slider so you can display your latest posts/images in a fashionable, dynamic format.