WordPress is the most popular CMS in the world but the down side is that it attracts a lots of hackers. Make sure your WordPress installation is up to date with the latest release. However, there are a number of other little things you can do, today I'll walk you through several plugins that will help you maintain a secure installation.
1. WordPress Firewall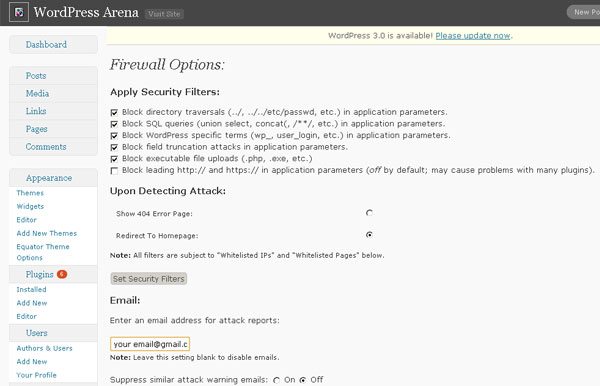 WordPress Firewall monitors HTTP requests for blacklisted phrases and can email you when it finds
something suspicious. This WordPress plugin investigates web requests with simple WordPress-specific heuristics to identify and stop most obvious attacks. There exist a few powerful generic modules that do this; but they're not always installed on web servers, and difficult to configure.
Download WordPress Firewall | Plugin Homepage
2. Exploit Scanner

This plugin searches the files on your website, and the posts and comments tables of your database for anything suspicious. It also examines your list of active plugins for unusual filenames.
It does not remove anything. That is left to the user to do.
Download Exploit Scanner | Plugin Homepage
3. Audit Trail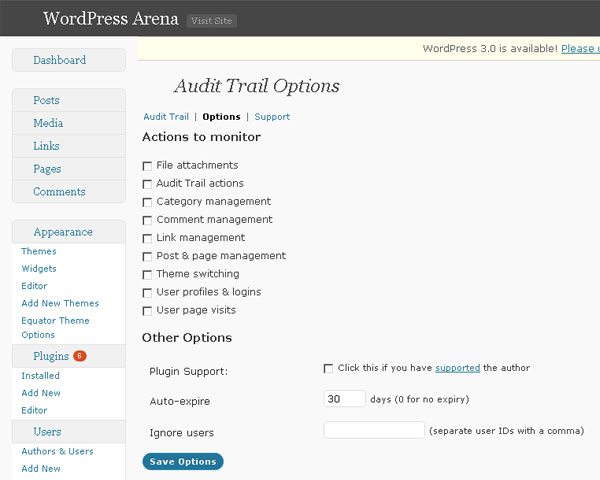 Audit Trail is a plugin to keep track of what is going on inside your blog. It does this by recording certain actions (such as who logged in and when) and storing this information in the form of a log. Not only that but it records the full contents of posts (and pages) and allows you to restore a post to a previous version at any time.
Download Audit Trail | Plugin Homepage
I've shown you a handful of plugins that help you keep an eye on your installation. Now that you know what to look for, these tools should help you maintain a fast, healthy WordPress site.