With WordPress its very easy to create your own powerful online directory website, By using theme like Article Directory Theme from Templatic  or WordPress Directory Plugin. I have compiled a list of Major and Secondary Search Engines and Directories to Submit Website to promote your website, today presenting you a list of WordPress Themes and Plugins so you can run your own Web Directory.
WordPress Directory Themes
---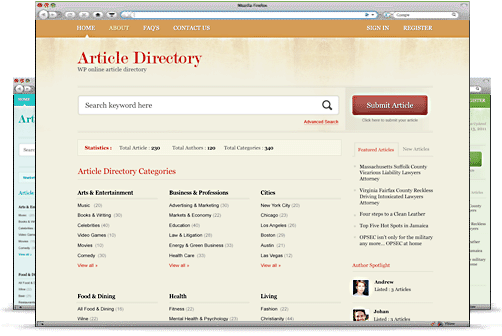 Why buy this ArticleDirectory theme?
Because this is the best WordPress theme so far of its kind. With this theme, now you can create a Article directory, list out the articles yourself or let other users(visitors) add their articles and you can earn from it, and these are just some benefits. We have included the features very thoughtfully, neglecting the not so important stuff and including only the necessary features with the best usability and easy of use.

This theme can be used for more than just one purpose; article submission, yellow pages, classified ads, Q and A, reviews, press releases, file sharing, real estate listing, websites showcase, etc. You can literally build community website that fits to any niche.
Directory Press is a full featured Directory WordPress Theme that will turn your site into a very powerful online link directory. Now you can have the power, security and flexibility you need to create a link directory website that doesn't suck.
This theme has a very professional and modern design unlike some link directories out there, so it is sure to make your site stand out from the rest.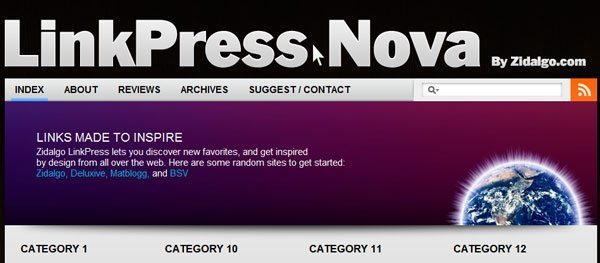 LinkPress Nova is a link-based WordPress theme created for sites that want to become strictly a link blog, similiar to Alltop, and many others. It is a one-column, WordPress 2.x, AD ready theme. LinkPress is extremely unique and has a wide-range of exclusive features such as a ratings system for links/posts, custom fields for screenshots and other custom information about links, and more. Comes with a special 'goodie basket' packed full of awesome extras including new footer, background, and header images! 100% Valid XHTML/CSS, cross-browser tested.
WordPress Directory Plugins
---
A free directory plugin that lets you add a business link registry to any page in your current WP blog. This might be a great way for you to offer free listings to your readers or members if you run a WordPress membership site. Each listing includes a short summary and a website title and link. Users simply fill out the submission form to be included in the business directory, select a category, and add related keywords. Submitted listings are held for moderation by the administrator where they can be edited or deleted. Once a listing is approved, it's added to the AJAX enabled directory list. As listings accumulate they are paged and can easily be searched by any visitor.
For screenshots of Business Directory visit our user manual at User Manual.
This free WordPress plugin lets you transform your WP blog into an article directory where visitors can join to become authors and submit articles to your site. The plugin works in combination with the free Articles Directory theme and the Role Manager plugin. Features include the ability to create article categories and subcategories, author profile pages with listed articles, stats that report the total number of published articles and authors listed on your site. See the demo at Articlesss.com/demo.
A free WordPress directory plugin that you can use to transform your WP blog into a free online link directory. Visitors can add their websites using the submission form, assign categories and subcategories, add a description, and give their link a title. The plugin offers the ability to search the directory, send listings to friends, add listings to your browser's bookmarks, and display the PageRank for each directory listing. Feature requests, bug reports and comments can be submitted here.
Other Resources:
WordPress Trackback Tutorial
Create Your Own Directory Site Powered by WordPress
Major and Secondary Search Engines and Directories to Submit Website
A-Lister Tactics: How to get 200 trackbacks for a single post