Contact Form play a very important role to make connection between Website users and owners. Specially if you are running an e-commerce, social networking or multi user website. Even that if you are running a personal blog, you need a contact form for advertisers to contact you for their advertisement.
There are some great WordPress Contact Form Plugins. By using them you can create contact forms, survey forms and registrations form easily without knowing much about web programming languages.
Today, I decided to gather Best WordPress Contact Form Plugins that will suit everyone needs. The Premium plugins are tested by me and support WordPress latest version. Free WordPress contact form are good to use on personal blog but if you are running business website than I recommend you go for premium one, that give you more flexibility and more features to include in your website.
Premium WordPress Contact Form Plugins:
---
This is an elegant solution that puts a "sliding contact panel" on your WordPress site.
It will put a small "Contact" tab in the top left corner that expands to show a contact form and social media links when clicked.
Features:
jQuery powered sliding contact panel
jQuery email validation
15 Social network icons integrated
5 color schemes
CSS 3 for lightning quick loading—no images harmed in production
Graceful degradation for non-CSS3 browsers
Easy to use admin panel
Custom logo capability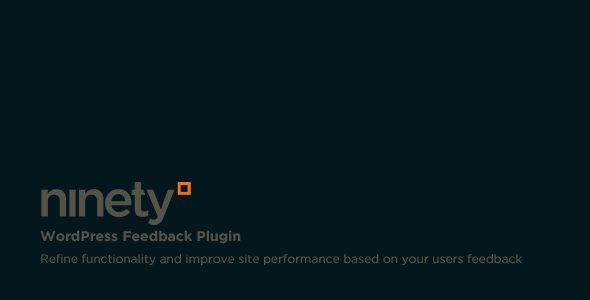 This Modal Feedback Form for WordPress lets you easily add a feedback form to your WordPress blog – letting users submit feedback, and letting you view feedback + user information in your WordPress admin backend.
Its simple to get started – in most cases just activate the theme and your ready!
Features
Adds a 'feedback' button to your WordPress site
Feedback form appears inside a modal window/lightbox (powered by FaceBox)
Users can submit their feedback, email address, and mood
Optionally be alerted by email, and view feedback via the WordPress backend.
Capture the users IP address and user agent along with feedback.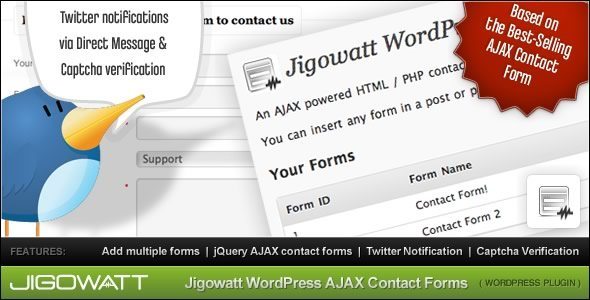 This is a jQuery based AJAX powered HTML / PHP contact form with Twitter Direct Messaging, easily integrated into WordPress via shortcodes and functions.
Features include:
AJAX powered (no page reloads!) Save your bandwidth!
Instantly notifies you via the Twitter Direct Message API as well as via E-Mail.
Very easy to integrate into any existing WordPress page on your website.
All fields have a validation script so you get the * required info you need.
Improved Anti Spam 'Captcha', are you human? verification.
Make as many forms as you like, and customise them, all via the WordPress admin panel.
Integrated Animated Sliding Thank You / Success page.
Integrated AJAX Javascript Sliding Error notification, if fields aren't correct or incomplete.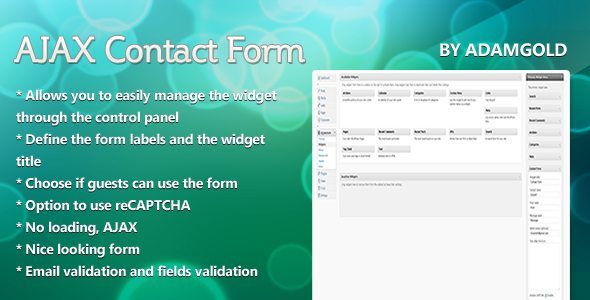 WPContact allows you to add an AJAX contact form to your WordPress blog. The plugin adds a new widget which you can use in the sidebar or footer, and set the options like widget title, form labels, captcha. You can also choose if the guests will be able to use it.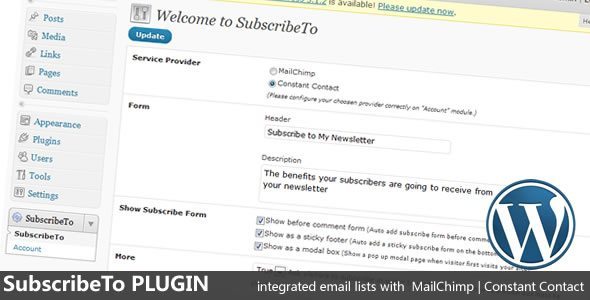 SubscribeTo is a poweful plugin to increase your lead generation. You can place your MailChimp or Constant Contact email subscribe form easily using SubscribeTo. What is more, it enables you to place the subscribe form before comment form of each post, on the bottom of each page as a sticky footer, or even as a modal box. And all these are done by a simple click. You do not need to know any coding.
This is for the Pro bloggers and it give a very high extend of customization flexibility. In addition, you get the complete support once you have purchased the Gravity forms plugin form the website.
Features of gravity forms:
Inline HTML Content
Import/Export Forms
Enhanced Notification Formatting
Conditional Form Fields
Email Notification Routing
Enhanced Post Custom Fields
Enhanced Address Field
Validation for Multiple Forms
Dynamic Field Population
Bulk Add and Predefined Choices
Form Scheduling
Limit Form Entries
Respond To Entries From WordPress
Role Management Integration
Post Image Field
Post Category Field
View And Edit Form Entries
Easily Pass Data To Confirmation Page
Easily Embed a Form into Posts & Pages
Create Autoresponder Emails to Users
Integrate with Other Plugins Using Hooks
View Entry Summaries from the WordPress Dashboard
Visually Create Forms with Our Sleek Editor
Prevent Spam with Built-In reCAPTCHA Protection
Allow Users to Automatically Create a Post
Manage Entries from the WordPress Admin Panel
Easily Export Form Entry Data to CSV Format
Free WordPress Contact Form Plugins
---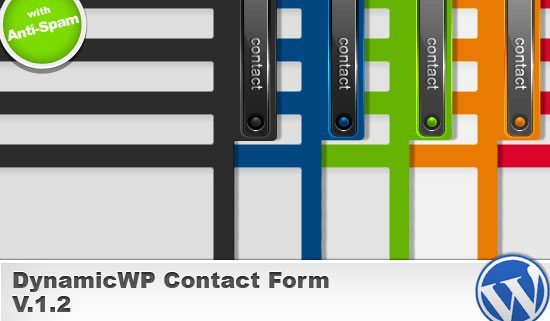 A WordPress contact form plugin with the button contact that will floating on the left of the web page. If the button click, the form will appear with slide effect. The form is using AJAX, so the page wont be reloaded if the massage is succes or failed to deliver.
Dynamic WordPress Contact Form Plugin is provided to user under the open source GPL License, you can use it for all your project or at least use it as a foundation for your next projects for free and without any restrictions.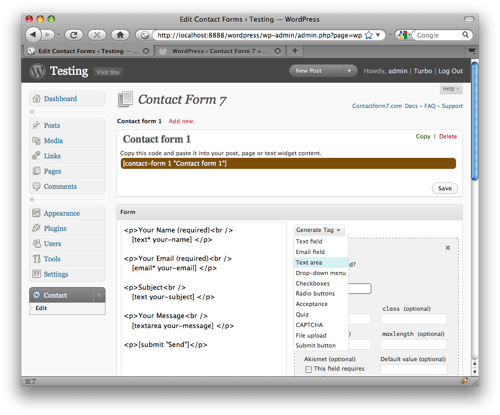 This is an excellent solution for WordPress contact forms, including the one that i have used on my blog as well. Its an ajax enabled contact form that can be easily installed from the control panel and can be activated by pasting a code in any new page on your WordPress blog.
Clean Contact is a simple contact form for WordPress. It requires less to no configuration and able to run out of the box upon installation. You can specify the Thank You Message and also Thank You Url, which is the URL that users would be redirect to after the form is being sent.
Features
A clean and simple contact form that users understand.
Shortcode support.
Spam protection including Akismet filtering.
No clunky Capctha.
Supports multiple recipients and configurable subject and prefix, CC & BCC.
XHTML compliant.
No external javascript libraries required.
Multi-language.
Supports custom styling using CSS.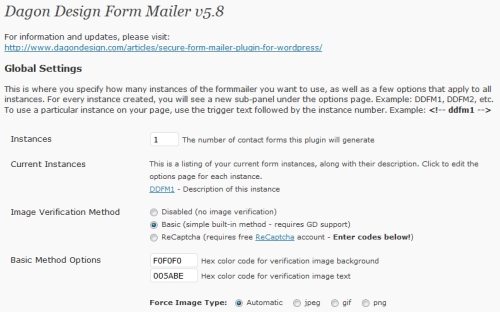 This plugin also known as Secure Form Mailer, offers a lot of features such as multiple forms, multiple recipients, auto reply, multiple attachments, message template system and also numerous security features.
MM Forms Community comes with the power of a tank, but drives like a bike.
Anyone who has the knowledge to connect to the internet will be able to create web forms with MM Forms Community. Sounds easy, right?
MM Forms Community has some basic features like :
field creator
customize form and mail contents with simple markup
html layout possible
Spam filtering with Akismet
captcha prevention
multiple, not to say unlimited contact forms
WP Contact Form is a drop in form for users to contact you. It can be implemented on a page or a post.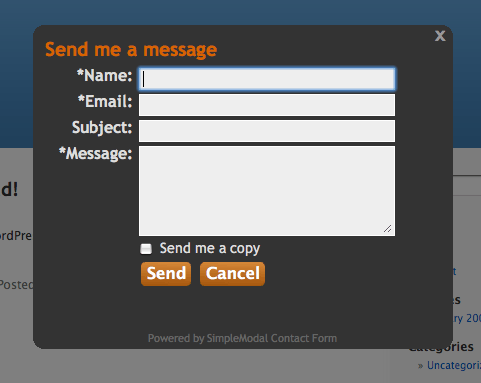 SimpleModal Contact Form (SMCF) is an Ajax powered modal contact form.
It utilizes the jQuery JavaScript library and the SimpleModal jQuery plugin.
SMCF has options to include certain contact form elements, like a Subject field and "Send me a copy" option for the sender.
Translations (check the version number for the correct file)
A very simple contact form, without fancy features but you are allow to add contact form through sidebar widget or template files by calling the correct function name.
Another contact form with very scalable multi-type Fields. Uses Captcha, no Akismet. Can use external SMTP via wp_mail() or other Plugins. AJAX Support.
Features:
Uses Captcha but no Akismet (yet).
Required, non required Fields can be configured.
Five different Field Types: Textfield, Textarea, Select, Radios and Checkboxes.
All labels and buttons can be modified.
You can choose either a regular send formular or AJAX driven
Optional confirmation mail to ser
To use this plugin, you need to create a contact form at www.visitorcontact.com. After that, just fill in your form ID to the plugin page and you are done. There are a lot of cool features, such as Geocoding, Captcha Spam Protection, Contact Manager, Skype Status and much more.
The KEY FEATURES are:
Geocoding – Know the location of people contacting you
Captcha Spam Protection
Auto Responder
Contact Manager
Google Maps
Twitter Follow
Skype Status
This plugin allows a webmaster to easily create and add contact forms to WordPress. The contact form will let the user send emails to a site's admin. An administration panel is present, where the webmaster can create and preview unlimited forms.
Features a super easy admin panel, multi-form feature, autoresponder, no templates to mess with, and an option to redirect visitors to any URL after the message is sent. Includes CAPTCHA and Akismet support to block all common spammer tactics. Spam is no longer a problem. You can add extra fields of any type: text, textarea, checkbox, checkbox-multiple, radio, select, select-multiple, attachment, date, time, hidden, password, and fieldset.
More Free WordPress Contact Form Plugins
ONW Simple Contact Form
WP Flex Contact Form
WP Simple Contact Form With CAPTCHA
Enhanced WordPress contact form plugin
Contact Form 8
Spam-Free Contact Form
Constant contact
How to Add a Contact Form into WordPress Powered Website