HTML 5 is part of the future of the Web. Its new elements enable clearer, simpler markup that makes pages more obvious. Div and span still have their places, but those places are much more restricted than they used to be. Many pages will no longer need to use them.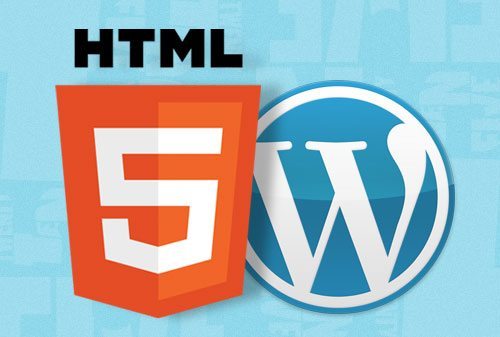 For WordPress theme Designers, HTML5 provides some great new features for them who love to create readable code and semantically-meaningful layouts. TwentyTen Theme is a fine theme that already validates as HTML5, and Now WordPress has just introduced Toolbox, a brand new theme that will let its users take advantage of some nifty HTML5 elements with the Custom CSS upgrade, Lean more about HTML5 Elements.
Toolbox is a blank, HTML5, WordPress starter theme. Out of the box, and has following features:
The latest in plain, old, semantic HTML5 markup.
Ultra-minimal (it looks like there's no CSS at all), fluid, em-based CSS that won't get in your way when you're starting a design.
It's free to use for commercial and public projects.
You can see Toolbox in action on this dummy site. Download it from the WordPress themes directory.
To help  WordPress Theme Designers, I am giving some very useful references to understand the Anatomy of an HTML5 WordPress theme at the end of this compilation.
In today's post, Iwould like to present elegant and high quality  WorsdPress Themes, in WordPress theme designers  embrace the  HTML 5 technology and I am sure these themes would be best for your next project.
1. Visual HTML5 WordPress Theme
Visual is designed for people who love a clean design and functionality. It's built on a solid modular framework and it comes with a custom set of Widgets which allow you to build your own layout.
2. Nitro Modular HTML5 WordPress Theme
Nitro is a Modular HTML5 Theme for WordPress. It's built on a solid Grid System Framework, the modular design gives you a full control on the theme layout. Homepage, Columns, Sidebars and Widget areas are designed to make this product really flexible and easy to use.
Nitro has a modular structure, which means you can customize the whole theme as you wish.
3. Magnifizine – Magazine & Business WordPress Theme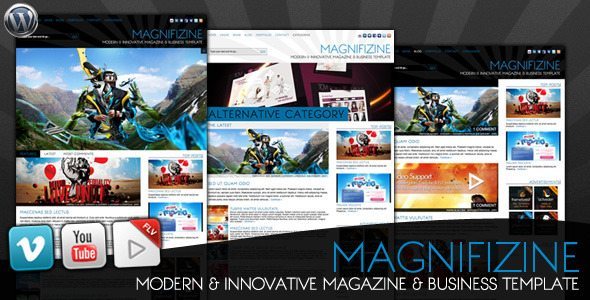 Magnifizine is a stylish and modern looking WordPress theme designed primarily for magazine and business websites. It comes crammed with features including a custom slider that comes in three sizes and plays YouTube, Vimeo, FLV , MP4 , MP3 and HTML5 video files.
4. SuperMassive – A Next Generation WordPress Theme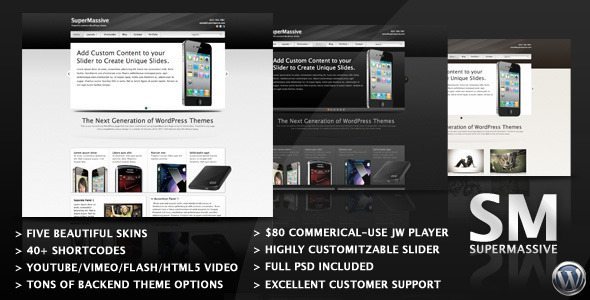 SuperMassive is a powerful professional WordPress theme. The aim from the beginning was to create a great looking theme that would allow you to make your own unique and abstract layouts in minutes. Your theme will not look like a generic "premium" WordPress theme, it will look edgy and different. SuperMassive achieves this by incorporating a ton of easy to use shortcodes, all of which you can view in the live preview. It also comes with excellent support for videos and audio. The slider supports YouTube, Vimeo, FLV , MP4, MP3 and HTML5 video files – one of the few, if not only WordPress themes to offer this. There's also a great video shortcode so you can add your videos to any page with the click of a button. If that isn't enough it comes in five amazing skins, Obsidian, Obsidian Grunge, Chocolate, Arctic Fox and Tiger (Dark) to suit your particular taste. SuperMassive really does live up to its name!
5. Slide – The Wide WordPress Theme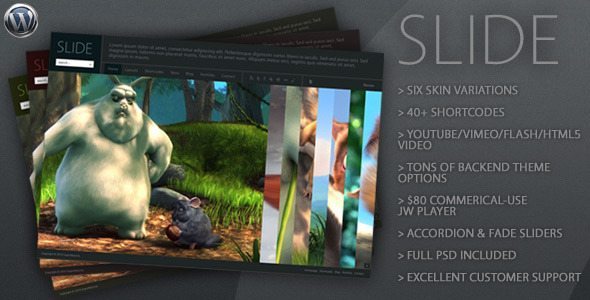 Slide is designed for people who want a wide WordPress template that can showcase their images and videos in an Accordion and/or Fade Slider. It comes with over 40 shortcodes that allow you to customise each page as you want in order to create a unique site to suit your needs. It also supports YouTube, Vimeo, Flash (FLV, MP4 ), MP3 and HTML5 video files in the sliders, shortcodes and lightbox.
6. Tarnished – Modern Grunge WordPress Theme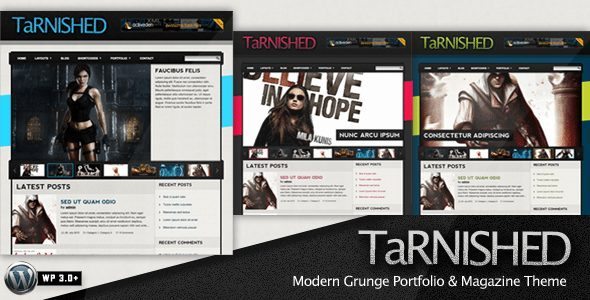 Always wanted a grunge theme but never found one that actually looked good. Tarnished offers you that "grunge" look with a modern twist making it great for all types of sites including magazines, portfolios and general blogging.
7. 1stGiantLeap Mobile Template WordPress Edition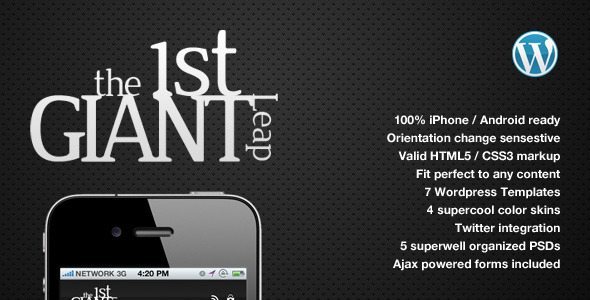 1stGiantLeap Mobile is a HTML5 /CSS3 template tuned to look perfect in mobile browsers. The markup is device orientation (landscape/portrait) sensitive, so when you change device orientation by rotating it 90 degrees CW or CCW this template will look nice.
8. Creation – Minimalist Business WordPress Theme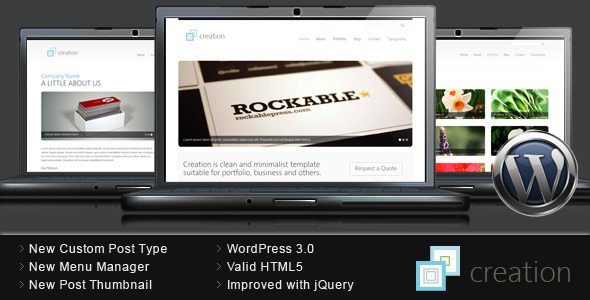 Creation is a simple, clean and minimalist business WordPress theme suitable for company, business, portfolio, photography and corporate sites. Creation WordPress Theme takes advantage with all the amazing new WordPress 3.0 features.
9. Illuminate – WordPress 5 in 1 Theme
Illuminate is a premium WordPress theme. It was created with beauty, elegance, and usability in mind. Illuminate incorporates the latest technology in its sleek interface as well as it's back-end.
10. Stylize – Blog & Portfolio WordPress Theme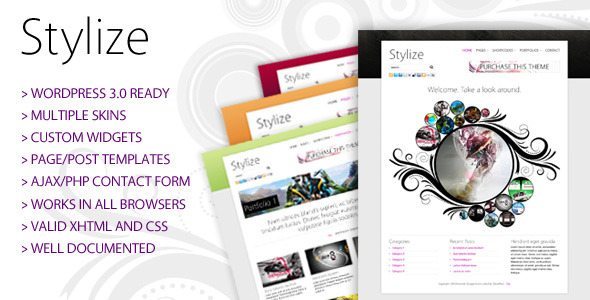 It's a great looking personal blog and portfolio theme. It comes with alternative front pages and if you want to customize it for yourself or a client go ahead. You can easily edit the site colours and dimensions from the theme options page.
11. Sideways Portfolio Website WordPress Theme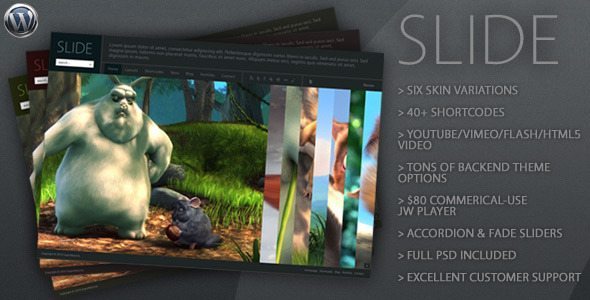 Sideways is a portfolio theme that offers both horizontal and grid layouts. It incorporates eye catching full screen background images that scale to fit all resolutions and window sizes as well as strong and elegant typography and design.
Free WordPress Themes and Templates
12 Elegant, Free & High Quality HTML5+CSS3 Templates
Free HTML 5 WordPress Theme
Resources for WordPress Theme Designers:
New elements in HTML 5
Anatomy of an HTML5 WordPress theme
Using HTML5 To Transform WordPress' TwentyTen Theme
WordPress Rolls Out New HTML5-Friendly Theme
Toolbox: An HTML5 WordPress Starter Theme
Grid Focus HTML5 WordPress Theme
We are the pioneers in providing microsoft certification and 646-230 tutorials with 100% exam pass guarantee. Download our latest A00-211 dumps questions to pass real exam on time.