You must have seen a website with premium content, for that you have to become a paid member. You can create your own Membership Site using WordPress and increase your blogging revenue. In this article, I will share a Free and Premium WordPress Plugins that will allow you to create your own Membership site, Like a Tuts+.
With Membership sites you can build blog community which will help you to increase your revenue.  You can have more interaction with your members by creating selective group of users. You can provide them instant support, reply to each comments, and much more.
If you are creating quality content, then you must be compensated for that.  With Membership sites both you and members are a win-win situation because it guarantees quality content to users, and bloggers are guaranteed a regular income which encourages them to keep blogging. If you havea design blog, you can provide a tutorial for free, and give source file downloads to premium members ONLY. So Step forward to download Free or Premium Plugin for your own choice and create a Membership site.
Premium WordPress Plugins For Membership site:
---
WordPress Premium Content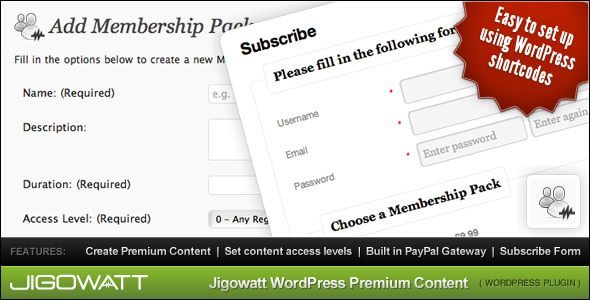 Jigowatt's WordPress Premium Content plugin allows you to easily set up a web site with content which is only accessible to users registered with an active PayPal subscription. You can easily manage your subscribers, change subscription prices and set up custom membership renewal options (annual, bi-annual or just month by month).
Your premium content can be split into as many tiers as you like, allowing for easy creation of "Gold", "Silver" and "Bronze" memberships, each of which given access to different levels of your premium content.
The plugin includes a front-end subscription page with built in registration and there is IP based security to prevent subscription sharing.
Take payments via PayPal (optionally makes use of the PayPal IPN )
Auto-renew subscriptions or just one-off payments
Give posts premium status and a content level (for tiered access to content)
Hide entire posts via an easy to use write panel
Hide parts of posts using a [premium] shortcode
Front-end Subscription page with user registration built in – easily customisable with a new template page in your theme
IP Based security to prevent users logging in at the same time and sharing a subscription
Admin section for managing subscribers, membership packs, and plugin settings.
Magic Members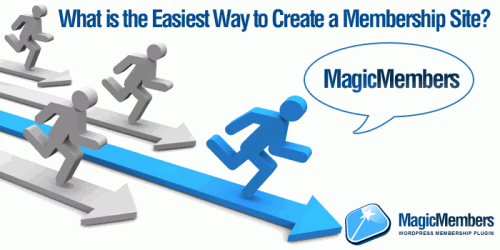 Once you activate the plugin, you will see a new menu option added to your wp-admin panel called Magic Members. Once you click on that button, you will see that Magic Members has it's own version of configuration panel.
Magic Members Main Options
You can see that there are bunch of features starting from adding member types, to controlling your content, payment options and more. So many features can be very confusing for beginner level users, which is why there is a support video attached to each section. These videos are step by step tutorials on how to configure that specific section. If you are still having problems with something, then there is FREE unlimited support.
Features
Multiple Membership Levels
You can offer different membership access to different areas (such as downloads, tutorials etc). You can charge separate for each area and increase your revenue stream.
Easy to integrate with Existing or New WordPress Blogs
It is a WordPress plugin that is compatible with all themes. All you have to do is follow few easy steps and let it work it's magic.
Flexible Membership Options
Aside from multiple levels, you can set different membership billing options (weekly, yearly, trimester etc).
Payment Integration Modules
You can allow your members to pay with Paypal, Authorize.net, ClickBank, and WorldPay. You can pick one of them, or you can pick all of them, it is entirely up to you.
Control Subscription Length
You can control how long memberships are valid with membership expiration. Set different expiration for different user type. This feature works great for trial memberships.
Unlimited Coupon Creation
You can create a coupon to offer a fixed price or a percentage discount on current or new subscription payments.
Login Redirection
If you have multiple membership levels, you might want to redirect them to different landing pages. This features comes in handy when you are trying to send different member updates, news, and/or welcome messages.
Sequential Course Delivery System
If you are a building a course system with your membership site, then this feature is extremely useful. You can control when the content becomes available for users to see. For example, you can have a new lesson / day for 30 days.
Controlled Content Access
You can control which content is visible to each membership level. For example, standard members can only see the basic tutorials whereas Gold members can download source files.
Partial Content Display
You can use the shortcode [ private ] [ /private ] to hide exclusive content within the post. For example a download link to the PSD source file or something else. This feature is particularly useful in providing "teaser" articles that give just enough information that will make non-members want to become members.
Pay Per Post Access
There are times when users don't want to pay a monthly fee when they only want to see a few articles. This option allows you to charge per post access. User will pay for the access of a specific post.
Entire Blog Protection
You can completely prevent non-members from accessing any information. Anytime a user tries to access a page, they will be redirected to the login page.
Custom Error Pages
Maintain a consistent look and feel across your entire membership site by easily creating custom error pages.
Secure RSS Tokens
This feature allows you to send content via RSS feeds without worrying about non-members accessing it.
Download Manager
This feature allows you to protect downloads from being accessed by unauthorized members and guests. Only users with a specific permission level can access the file.
Simple Member Management
Magic Members allows you to see all of your members, their status, level and other information in one easy to read location. You can easily upgrade, pause, deactivate or delete a member with a single click.
WP Premium Members + Pre Advertisements admin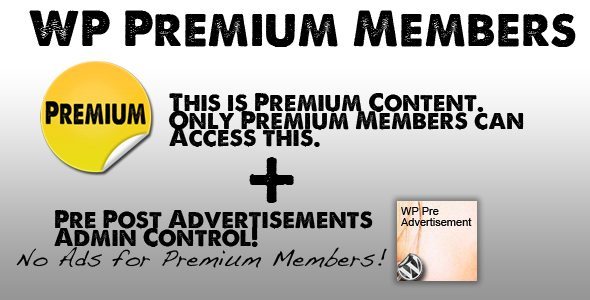 This plugin is more than just a normal Membership plugin. Beside displaying Premium content to your paying members only, this plugin also manages Pre Post Advertisements. This plugin is designed to work both as a standalone premium membership plugin and it work's together and extends the possibilities of the WP Pre Advertisement plugin.
Subscription payments are made using the Paypal IPN . The users can choose either to subscribe for recurring payments so there Premium membership will be updated every month automatically or to buy a single Premium membership which will expire.
This plugin is super easy to install. You just upload it to WordPress, add your Paypal email address and your ready to go!
Plugin Options
Manage Premium content
Only show Premium content to paying members
Manage pre post advertisements
Set permissions on who does and who doesn't see pre post advertisements
Automatically remove all advertisements from every post
Automatically add advertisements to all your posts
Manage your Premium members
Paypal IPN to handle user subscriptions
Paypal Recurring Payments
Live Preview | Detail
There is a tutorial Creating a Subscription Site Using WordPress, He will walk you through creating a subscription site using WordPress and PayPal Subscriptions. By the end of this tutorial, you will be able to create and personalize the WordPress registration page and login page, create custom registration fields tailored to your site, and restrict content based on category and if the user is logged in. Along the way, He provide insights to WordPress fundamentals, and help point the way to further learning. This is a great WordPress tutorial for intermediate to advanced users who want to learn how to easily and effectively create subscription sites and use WordPress as a content-management-system.
WishList Member Script for WordPress
WishList Member is a powerful membership script that can turn any WordPress blog into a full blown membership site.
The best part is, it's easy to use*. Just unzip, upload and within minutes you can have your own membership site up and running.
Features;
Unlimited Membership Levels
Simple Installation With New or Existing WordPress Blog
Flexible Membership Options
Sequential Content Delivery
Control Viewed Content
Shopping Cart Integration
Easy Member Management
Total Content Protection
Secure RSS Feeds
Subscription Length Control
Login Redirection
"Sneak Peak" Content Display
Custom Error Pages
Partial Content Display
Detail | 21 Membership Questions
Free WordPress Plugins For Membership site:
---
Membership
Membership allows you to transform your WordPress site into a fully functional membership site – where you can provide access to downloads, online content, videos, forums, support and more through flexible membership levels and options. Simple to use and massively flexible – this will meet all of your membership sites needs. So if you'd like to create a site like GigaOm, Izzy Video, PSD Tuts, now you can do that with ease!
More Instructions on setup
More instructions and screenshots on how to configure the Membership plugin can be found on the WPMU DEV site.
Download
References and Other Useful Resources:
The Furniture Store – WordPress eCommerce Shop
The Clothes Shop -WordPress eCommerce
3 Ways to Speed Up the WordPress Membership Site Creation Process
Building A Membership Site with WordPress
WordPress As A Membership Site
How to Use WordPress as a Membership Directory
FX Star – WordPress Theme
Chow WordPress Restaurant Theme
Digitalis – Business and Portfolio WordPress Theme
ReviewIt – Review & Community WordPress Theme
DynamiX – Premium WordPress Theme