WordPress makes it easy to turn any kind of website into a money making, e-commerce store. Once you start using WordPress, you will find it very handy and user friendly CMS and  you must want to create more stores. After WordPress installation, all  you need to select theme related to your store requirement or  install some plugins like PHPurchase to run an eCommerce store which provide great support to run an eCommerce site. If you plan to use WordPress to run a Furniture Store & Home Products, than in a first list we have complied a list of online Furniture stores build by using The Furniture Store – WordPress eCommerce Shop and by other CMS  like Magento  for your inspirationn and at the end there is a list WordPress e-Commerce Themes for Furniture Store & Home Products.

WordPress e-Commerce Theme for Furniture Store
---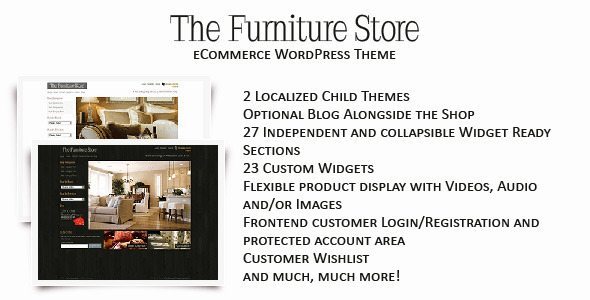 This is a new e-commerce theme for WordPress from sarah neuber (author of  The Cloth Shop) is one of the best success on ThemeForest. This is very simple to install, easy to use e-commerce solution for your products. Look no further than WordPress. Where professional solutions like Magento are indeed much more robust and feature packed, WordPress paired with the right theme is just what a small shop needs.
Designed especially for online shops The Furniture Store features a plugin free localized ecommerce system, a membership area, creating and saving wishlists, an informative customer service area, unique "Shop by…" widgets, lots of  independent widget ready areas and sooo much more!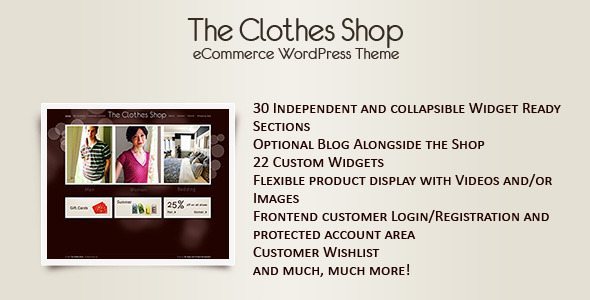 WordPress theme designed for online clothing shop, The Clothes Shop is a nice looking template. Bringing e-commerce functionalities to WordPress this is ideal for someone wanting to start a small e-commerce site without the learning curve of a fully featured store software.
The styling is crisp and clean with a nice cosy background and uses a lot of javascript effects to give it a modern feeling.
The Furniture Store – WordPress eCommerce Theme Showcase
This is a showcase of selected websites that were created based on WordPress eCommerce themes.



















Furniture Store & Home Products
---
WordPress e-Commerce Theme for Furniture Store
---
Parquet is mainly designed for furniture and home products online stores from Tokokoo. Parquet is Premium WordPress E-commerce Theme that adds any widgets you want, link your online store account on Twitter/Facebook page/etc into your site, choose one from five stunning skin colors, there's plenty more to do with this theme.
Boutiques give you the power to open your own online storefront. The theme has been built to integrate with some of the most popular eCommerce plugins available, allowing people to use their favorite system without any conflicts.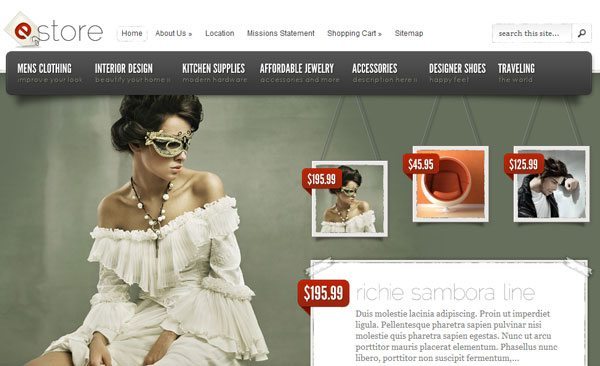 eStore provides an elegant solution for those looking to sell products online. The theme is easy to configure, and offers integration options with some of the most popular (and free) ecommerce plugins, including eShop and Simple PayPal Shopping cart. Also, due to the open-ended nature of the design, adding support for additional shopping carts won't cause a headache. If you are ready to bring your business online, then get started today with eStore!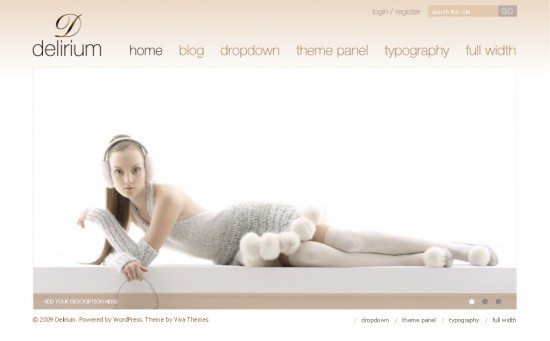 Delirium is a latest Premium WordPress Theme from Viva Themes. The Delirium theme is a fully customizable Business / CMS style theme. Delirium Theme is a very elegant and sophisticated WordPress theme. It is very clean and fresh and can be used for company websites, fashion, designers and e-commerce stores. The theme includes a large featured content slider on the homepage, advanced typography, custom login panel, extended backend options panel and more.
WordPress Themes for Perfectionist
Creative WordPress Powered eCommerce Web Sites
OpenCart as a favourite E-Commerce Application and Its Templates