This shopping cart mainly design for Facebook but you can use it any other Flash template. I found it very easiy to implement in Facebok  and you can easily customize it through xml file which contain almost almost 40 configuration
parameters. It has has a powerful catalog to display any kind of media content, images, swfs and videos. Also several layered photoshop files with the thumbnail and image design of the preview are included in the pack.
You can get some errors when testing this template on your local PC/Laptop but everything will be just fine as soon as you upload all the files on your online server. If you still wanna test it locally – add the folder location to trusted location in the Adobe Global Settings.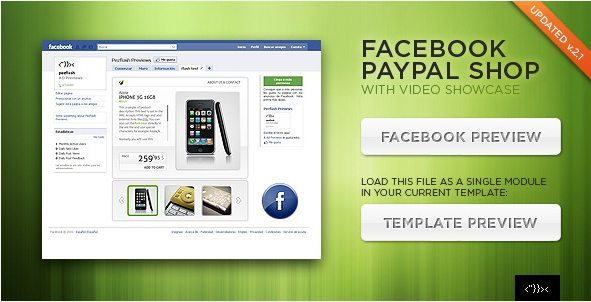 ---
POWERFUL GALLERY WITH UNLIMITED ITEMS
You can set any number of items inside your catalog, you can even change the thumbnail navigation on bottom to allow more number of items on screen, all from XML. Also inside the gallery you can set unlimited media files, including images, swf or videos, in any aspect ratio.
PAYPAL SYSTEM
Using the powerful Paypal Payment System, this file allows you to create your own Online Shopping Cart within minutes, without needing any kind of server script (except PHP needed for sending the contact form), for an awesome price.
EMAIL CART PROCESS & DISCOUNT SYSTEM
Since version 3.5 a new payment option has been included. Now users can select to pay the cart through default paypal system, or pre-order the cart by Email. A form will appears and all the data will be processed and received in the Admin Email account. Also, a new discount option for the whole cart has been added.
FACEBOOK OPTIMIZED
The size and proportions of this file has been optimized for a clean and smooth Facebook viewing. You can change that size, of course, editing the fla, as this file can be also used as an standalone flash application for your site or your current template.
USEFUL CONTACT MODULE WITH FORM AND SHARING NETWORKS
You can include your company contact info, as well as google map link, all through html tags inside just one xml node. Also includes a powerful and flexible icon submenu with unlimited sharing networks links. A useful contact form is also included. It uses PHP to send the filled information.
2. FILE MANAGEMENT
---
HOW TO MANAGE AND CUSTOMIZE YOUR FILES
The system to use this file on Facebook it's easy.
1. Firstable, edit and customize your deploy folder with your own products images, prices and info.
2. Create your Paypal account (if you don't own one yet) and setup the Paypal settings inside the main config node in the xml.
3. Once you have everything correctly running on local, then OPEN THE FLA, go to first frame, layer codes, open "action" panel and set there the final pàth on your server where all the files will be located (create a folder especifically for this): _global.serverPath = "http://www.yourdomain/fb/";
4. Publish the file, upload everything to that server folder and follow the steps on next page.
HOW TO CREATE YOUR BUSINESS FACEBOOK PAGE AND ADD THE SHOPPING CART TAB
If you want to use this file inside Facebook (remember that you can also use it inside any template as an external SWF Module), all you need to do is create an official Facebook Page and then setup a Facebook Static FBML application that will allow you to add FLASH contents to one new TAB in your FB Page.
Follow these links to learn how to manage you Flash Shopping Cart inside Facebook.
STEP 1. CREATE A FB ACCOUNT
Almost sure you already have one : ) But just in case:
http://www.facebook.com/pages/create.php
http://www.facebook.com/help/?page=1067
STEP 2. CREATE AN OFFICIAL (BUSINESS) FB PAGE
Once logged in your FB account, you need to create an official page (also called FAN PAGE) to add there your flash content. With one FB user account you can manage different Business Pages, with independent contents.
To create one, be sure you are logged in FB, and visit again this link:
http://www.facebook.com/pages/create.php
Now you are going to create an Official Page using the provided form. You can choose the page to be a local business page, a product page or a fan (artist, music group…) page. I normally recommend to create a local business page, to avoid future copyright problems with the name. Follow the form steps and at the end you are ready to integrate
the flash content inside your business page.
ADD FLASH CONTENT USING FBML APPLICATION
---
Follow the steps in the link below to add your flash tab to your business page. It's required to install a FB Apllication called FBML (Facebook Markup Language), basically an apllication to add any kind of HTML content to a TAB in teh FB page. You will use that application to add the SWF Cart to your page.
Facebook Pages: Introduction to FBML
Once you gave add the contents inside the FBML Application, then copy & paste the following lines, changing the URL path to the swf file and the image with your own URLs (the path where put uploaded the files):
<fb:swf
swfbgcolor='ffffff'
swfsrc='http://www.yourdomain/fb/paypalshop.swf'
imgsrc='http://www.yourdomain/fb/init_image.jpg' width='520′ height='550′
/>
CHECK IF EVERYTHING WORKS CORRECTLY
---
Once everything installed just go back to your Business page and click on the new tab that will appear within the next normal tabs. The initial image will appear, and clicking on it, the SWF with the shopping cart will load.
IMPORTANT: FB requires the initial image to activate the flash content to be displayed on the FBML application. Don't try to load the swf directly skipping the imgsrc variable, it will not work.
All Other and very important information about  How to Configure XML, Reference to PAYPAL setting, SITE MODULES: Shopping cart Title, Text and Shipping combo setting, Catalog/ Product entries, Info and Contact MODULE Settings, Flash IDE Customization, Contact Form Configuration(PHP) All these You will get in  help file.
Other Useful Links:
Facebook FBML – embed SWF on Facebook pages
Resume of accepted variables for Paypal API
List of Paypal API Currency Codes
List of Paypal API Country/Language codes
General Information about XML language
Information about CDATA object
Information about PHP and PHPMailer
Free Online Photo Editors
www.pixlr.com
www.picresize.com (just for resizing)
Install all fonts in your font directory before editing the FLA. You will need to install it before opening the FLA file. If you need help about installing fonts in Windows follow this link: Installing Fonts in Windows
AS2 Tweener is used for tweening. It's free and available for download.
We offer guaranteed success for juniper certification exams with help of latest 000-153 dumps and 1Y0-A15 dumps practice questions.