Responsive design mean, Templates that can automatically adjust according to the screen size, resolution and device on which they are being viewed and your website will look great whatever the screen size or device the visitor uses to visit your site. With the growing numbers of Website visitors on tablets and smart-phones, WordPress themes developers and designers are designing and developing adaptive and beautiful design so your Website can adjust and look nice on any kind of device and fit for all screen resolutions, no matter if it is a Kindle, netbook, TV, iPad or smartphone.
Previously you have to use WordPress Plugins such as WPTouch Pro and WPTap, to change  the screen resolution size for smart phones, tablets and computers, but now all functionality you can get from Responsive themes, Although WPTouch is the best solution for the mobile version of your site. Templates build on "Responsive" technology not only removes the need for mobile versions of your site, it provides a clean framework from which to future-proof your site since many of the most popular Responsive WordPress Themes of 2012 will be HTML5 compliant. If you are looking for the best of the best in Responsive WP Themes, here are our favorites.
Best Premium Responsive WordPress Themes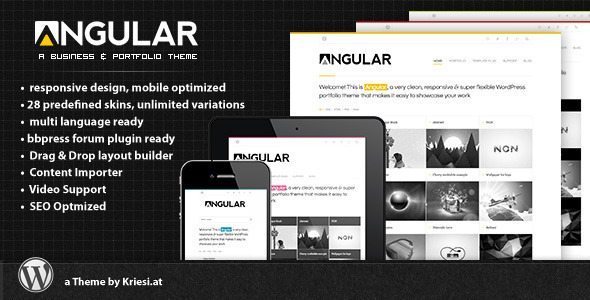 Angular is a responsive WordPress Theme (try resizing your browser), suited for users who want to showcase their work on a neat portfolio site. The Theme is built on top of the fabulous Avia Framework and comes with support for the bbPress Forum plugin, just in case you need it.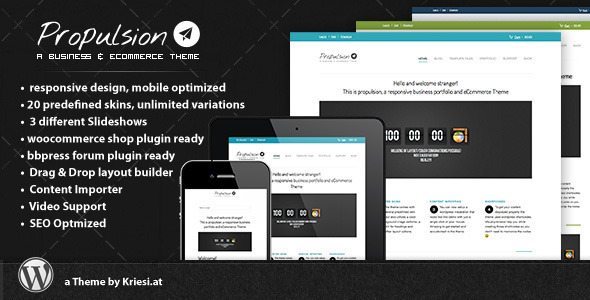 Propulsion is a responsive WordPress Theme (try resizing your browser), suited for users who want to create a business, portfolio or eCommerce site. The Theme is built on top of the fabulous woocommerce shop plugin as well as the bbPress Forum plugin. It comes with a plethora of options so you can modify layout, styling, colors and fonts directly from within the backend. 3 Slideshows, 21 predefined skins (which are easy to modify from your backend), font and color options as well as dynamic template builder will help you create the Website you need in no time.
Evolution is our first fully responsive design. What makes the theme so special is its ability to adapt to various screen sizes. Evolution come with 4 distinct layouts, each meant to improve your user's experience when browsing on mobile phones and tablets. No longer will they need to zoom and scroll to view your site, as the theme's layout will adapt to the small screen and serve your content in an intuitive way automatically. Just try reducing your browser's window size when preview the theme to see the magic in action!
Responsive Portfolio is a Premium WordPress Theme from Templatic that is great for showcasing artistic, photography, or any type of creative work. This dynamic theme helps you create a responsive portfolio site that displays beautifully on all devices, be it a smartphone or a tablet or monitors with different resolutions.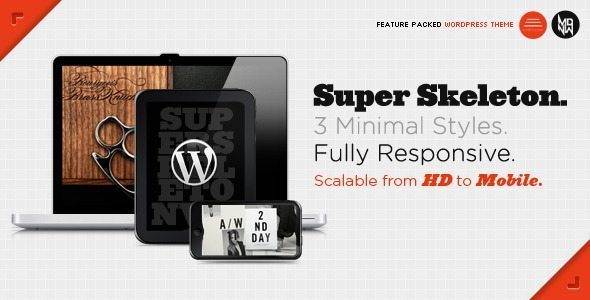 SuperSkeleton is more than a WordPress theme, it's a comprehensive HTML5 framework and it includes a full templating system as well; A collection of several incredibly powerful scripts and CSS structures that's been tied together into a kit that's perfect as a jumping off point of your next project.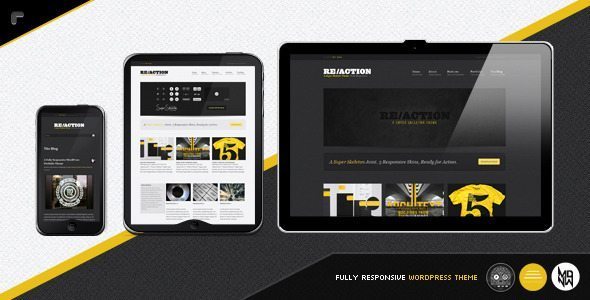 Reaction is the second of "Super Skeleton" themes, which feature an incredibly powerful responsive framework, capable of doing layout gymnastics without the need for you to think hard about it. Add your content the way you normally would to a kick-ass WordPress theme, the theme will do the rest for you.
Reaction is more than a WordPress theme, it's a comprehensive HTML5 framework and it includes a full templating system as well; A collection of several incredibly powerful scripts and CSS structures that's been tied together into a kit that's perfect as a jumping off point of your next project.
ShapeShifter 2 is the third of  "Super Skeleton" themes, which feature an incredibly powerful responsive framework, capable of doing layout gymnastics without the need for you to think hard about it. Add your content the way you normally would to a kick-ass WordPress theme, the theme will do the rest for you.
If you're looking for a sleek, sexy and modern WordPress theme for your growing business, WP-Responsive is for you. As its name suggests, WP-Responsive automatically adjusts to your visitor's screen size. So, your site will look great on all sorts of devices – from laptops and desktop computers to tablet computers (e.g. iPads) and smartphones (e.g. iPhones).
Elemin has great sense of typography, good white space balance, and minimal graphics. It is a piece of art crafted with modern technology — Google font, CSS3, Javascript and HTML5. WordPress post formats was incorporated which allows you to write about various post types such as photo, gallery, video, quote, etc. (very much like Tumblr). The design is completely fluid and responive. This means the layout automatically adapts based on the user's viewport. The layout never breaks no matter of what screen resolution it is being viewed on. It works on all desktop and most mobile devices such as iPhone, iPad, Android, and Blackberry.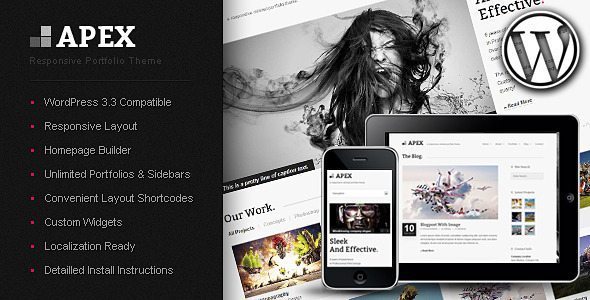 Apex is a fully-responsive minimal portfolio theme which will blow your clients minds with its modern, professional design and thoughtful options.
The options include various custom post formats to spice up your posts and portfolio items as well asindividual background images for every post and page.
If you don't like the default column layout of the site you can change all elements (header line, content, footer, subfooter) to a full-width layout as well!
The responsive layout will ensure that the theme displays in a readable way on iPhones, iPads and other smartphones like Android.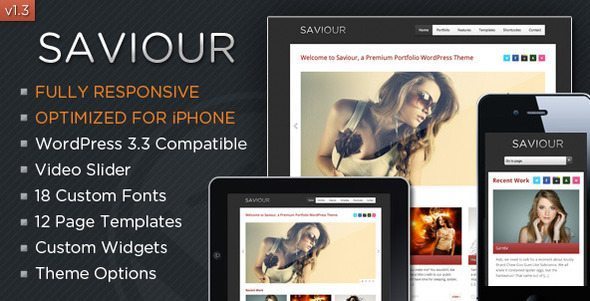 Saviour is a stunning responsive portfolio theme, perfect for displaying your best work with pride. It's clean, slick and customisable – allowing you to showcase your creative flair with maximal prominence. Saviour is a responsive theme that resizes & restyles to match your browser window size, and even includes an iPhone optimised version built-in!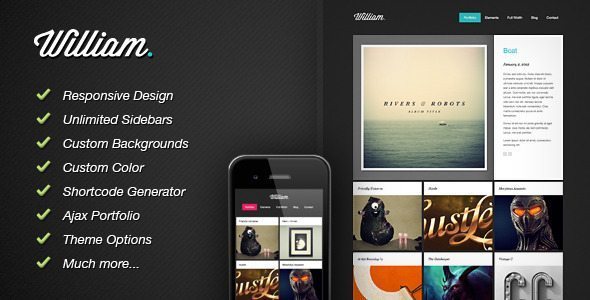 William is a grid-based, responsive, minimalistic, ajax powered portfolio theme for creatives. The theme comes with a well thought out responsive layout, unlimited sidebar management, 5 post formats, simple theme options and much more.
Live preview | Detail
The Generate theme aims all the power and flexibility of Genesis at your most important asset. It's designed to elegantly lead your site traffic to one action – join the email list.
A professional blogging WordPress theme from StudioPress with a mobile responsive design. The premium theme runs on the Genesis Framework and is specifically designed to help you build your email list with a prominent email capture section. Other features include 6 layout options, 4 colour schemes, custom menus and background, responsive layout and all the other great Genesis features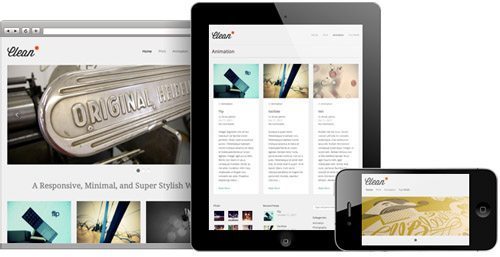 A responsive, minimal, and extremely stylish theme that looks amazing across multiple devices and screen resolutions. This versatile theme can be used as a blog or a portfolio to show off your work. It features infinite scrolling and a touch swipe slideshow.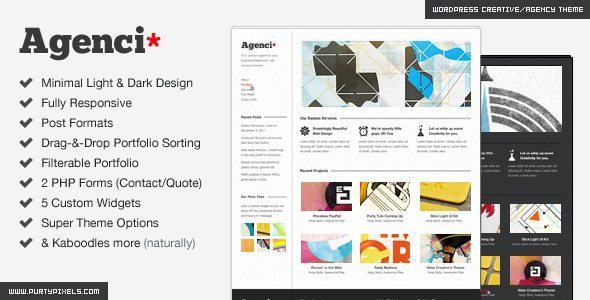 Agenci is a full-featured WordPress template built for creatives, agencies, freelancers, graphic designers and the like, who just want a professional, jazzy and ultimately kickass website.
A unique premium WordPress theme from Organized Themes designed for fashion sites, restaurants, cafes or other business websites. The stylish theme features full image backgrounds which can be customised to be a slideshow (with 7 transition effects), a specific image, or a random image with every page load. Other features include optional staff, menu and services section, responsive design, colour style editor and easy to use theme options.
Reach is a business portfolio / showcase WordPress theme that offers clean styling with easy use and flexible layouts though shortcodes and template options.
This is a clean, modern, powerful WordPress tumblog-style theme designed for a wide variety of uses from bloggers to design portfolios. The responsive web design adapts from large to mobile screens, just resize the browser window to test it out, no additional setup required!
The theme also includes a handy custom bio widget to quickly tell your visitors about yourself with photo, link, bio and social media links.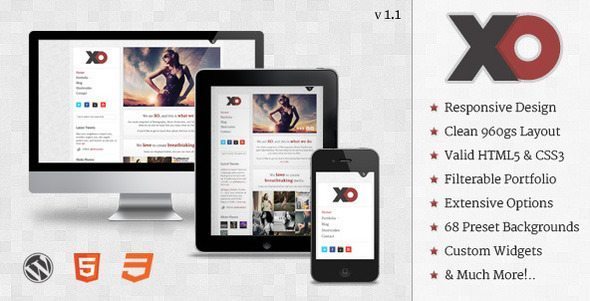 XO is a SUPER responsive WordPress theme, that boasts an awesome clean look and beautiful media support.
Features
SUPER responsive design
Works beautifully on iPhone & iPad
Handmade clean pixel perfect design
960 Grid System layout
Semantic, clean, valid HTML5 & CSS3
WordPress 3.3 Compatible
SEO optimized
Responsive slider, video, and audio player
Unlimited colour schemes
Extensive unbranded theme options
Superb customer support, always on hand to help out
Filterable portfolio
68 preset repeatable background patterns
18 Google fonts included
20+ Shortcodes
5 Widget areas
2 Custom widgets – Flickr & Twitter
Dynamic contact form
Complete documentation
Layered PSDs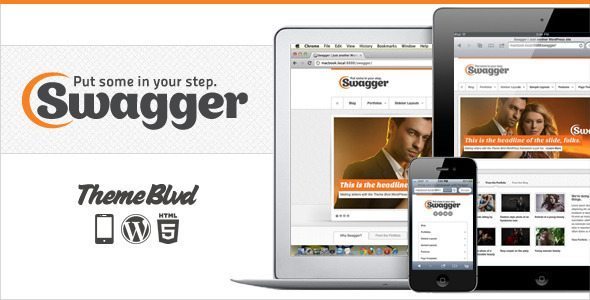 Swagger is built on top of the all-new version 2 of the Theme Blvd framework. Use the layout builder to accomplish just about anything you could ever think of. Use the slider manager to create as many sliders as you want. Use the widget area manager to create as many widget areas and sidebars as you want. With just the right amount of theme options and flexibility, the power is all in your hands. And with a sleek, responsive HTML5 design, you'll be sure no one will miss out on your new website built with Swagger.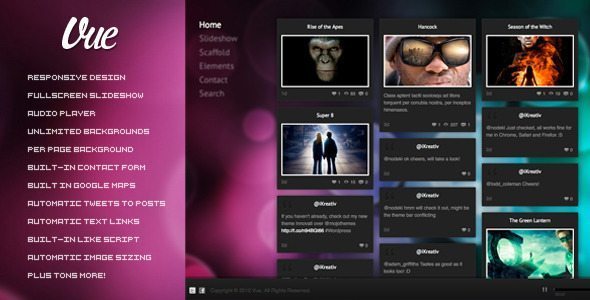 Vue is a super-awesome Premium WordPress Theme with oodles of features. Vue comes packed with an easy-to-use un-branded Options Panel and great documentation. Ever wanted to create an inpiration gallery like Creattica? Or maybe a freebie site? Or even a portfolio, this theme can do them all!
Elegance. Flexibility. Awesomeness. These are the words that instantly come to mind when trying describe this amazing WordPress theme. This is the theme that's going to get you or your client's site up and running in no time. With all of the possible combinations of layout options, you're sure to end up with a unique, elegant website that you can be proud of. Nothing has been held back with this one. It has all the professional touches you'd require in a WordPress theme along all the personal ones, as well – I've even named this theme after the mountain I grew up shredding as a kid in Alaska. It's professional. It's personal It's the best. This is Alyeska.

Features:
All pages are W3C Valid
Responsive (tested on iPad 2 & Android smartphone)
Fully tableless design
3 styles X 11 colors X 11 patterns (try out panel with all these options on Live Preview)
Streched background image
Several Pages templates (also on separate page from v1.1):

Home page (one pager)
Blog layout
Portfolio layout (only one section per page)
Contact Page layout
Default layout (with lots of shortcodes)

jQuery Effect:

Simple slider
Jquery Dropdown menu
Toggle effect
Tab effect
Filterable effect on portfolio page
Paginate effect on portfolio page
Image view with PrettyPhoto
Fully working PHP contact form

Shortcodes panel
Admin panel
Menu created from pages (no WP Menu and no submenus)
Documentation file: HTML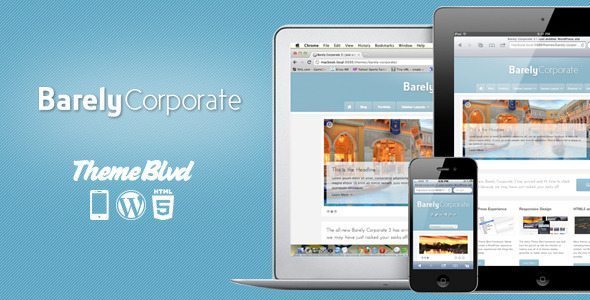 Barely Corporate is a clean WordPress theme that couldn't be more easy to use. With a beautiful exterior and a backend that gives you ultimate versatility and freedom, Barely Corporate will have your website up and running in no time.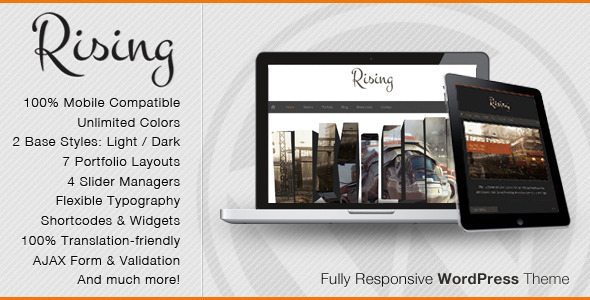 Rising is a WordPress theme built from the ground up to be sexy and compatible with mobile devices. It is Fully Responsive, which means that the layout will adapt depending on the device's viewport or screen size.
Mobile Swipe Gestures fully supported on Sliders & Scrollable sections.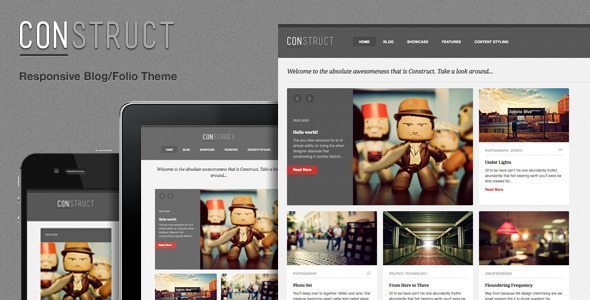 Construct is a smart, professional and responsive theme designed to show off your (or someone else's) work. It can be used as a personal portfolio or as great place to link to anything you think deserves it. It utilises a column based layout and some funky animation effects to keep your users entertained. Construct also takes advantage of AJAX which allows the user to load more corresponding posts on the fly without reloading the page or hindering SEO . It also degrades gracefully if JavaScript is disabled.
Tisa is the latest addition to our responsive theme collection. What is responsive? Responsive means the design is adaptive to the browser's viewport. The layout is completely fluid. No matter what device and resolution that your visitor is using, the theme automatically resizes and flow with the viewport. It works on most desktop browsers (Chrome, Firefox, Safari, IE, etc.) and mobile devices such as iPhone, iPad, Blackberry, and Android. To see this in action, view the demo and resize the browser window. If you like responsive layout, you may also like: Elemin, Funki, Minblr,Wumblr, and iTheme2.
Gratitude is a responsive BuddyPress and a WordPress Theme, which can adapt to any screen resolution, whether you are viewing it from your smartphone or 27" screen, carefully handcrafted to suit your needs. Never heard of BuddyPress? BuddyPress is a WordPress plugin which allows your website to become a social network, a full-fledged community website. BuddyPress enables your users to interact with each other through status updates, groups, forums, friend system, internal messaging system, and a whole lot more.
An ecommerce WordPress theme with a responsive design from Tokokoo designed for online stores to sell sports equipment or any other products. The theme has a responsive layout for desktop, tablet, and smart phone views. Other features include a product slider on the homepage, 6 colour schemes, Facebook fan page integration, theme options panel and a range of other ecommerce features.
On the live demo, you will see a section on the main menu called Sample Layouts. Within this theme framework, sample layouts are not anything that require any kind of XML import file. When you go to the Layout Builder to build your custom layouts, you have the option to choose from any of these sample layouts as your starting point.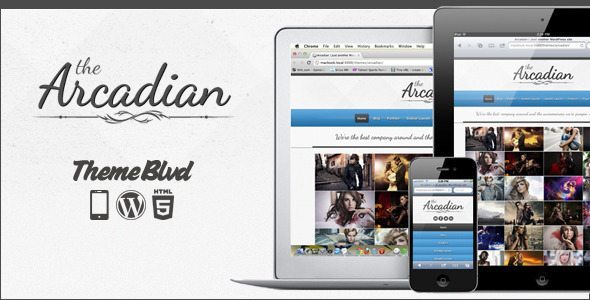 The Arcadian is our new portfolio theme designed to look beyond the typical corporate mold and give you the ultimate in WordPress creativity.
Lulu is a fully responsive, minimalist, awesome WordPress theme, with 4 custom post types, responsive flex slider, filterable portfolio/gallery, built-in contact form, and on and on. If you're looking for a classy responsive theme, Lulu is patiently awaiting your arrival.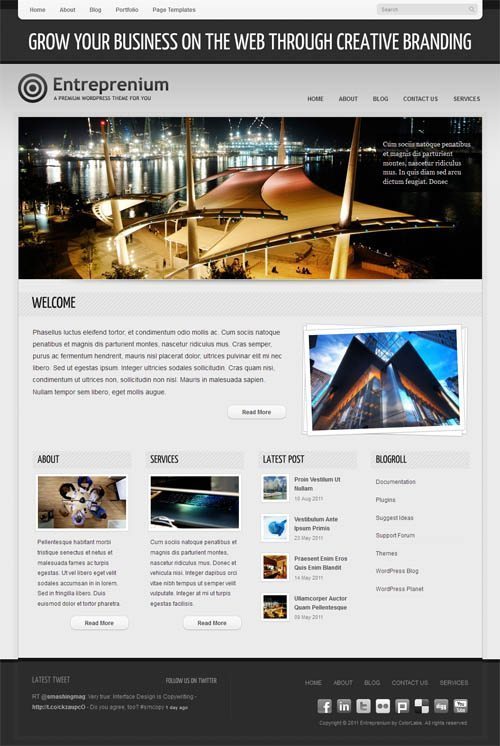 Entreprenium is all about promoting you. You are a brand, and your name is a brand name. No one is going to know about your brand unless you get it out there. And if you're a web designer, developer, company, business owner or any other type of creative, then it's essential that you have Entreprenium as your WordPress theme.
Entreprenium is designed to have responsive layout. That means your website will look great no matter the device or screen size on which it's being viewed. Entreprenium also has a special portfolio page template, which lists all your portfolios. Entreprenium comes with three widget positions: post sidebar, page sidebar and front-page footer.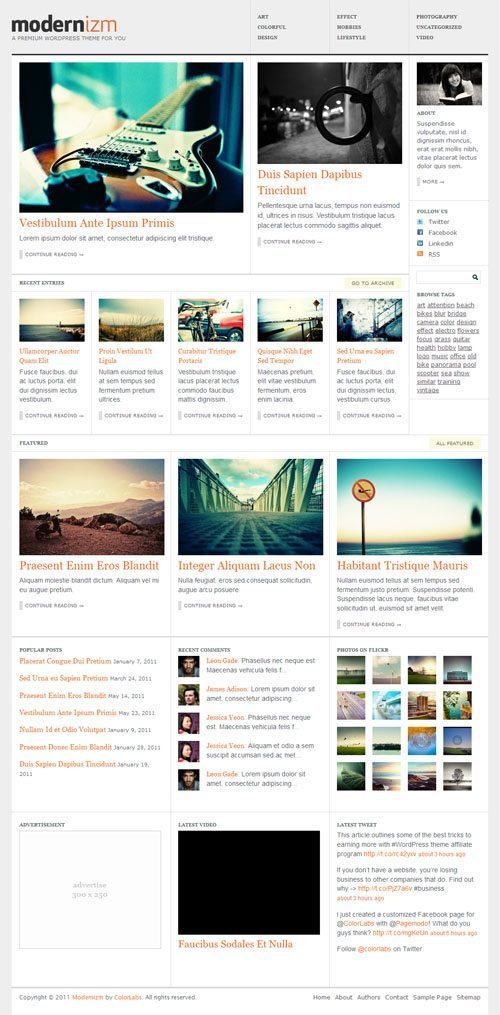 Modernizm is a modern-looking premium WordPress theme suited for online magazine, news portal or even personal web site. Its simple and clean layout make reading content easy and comfortable.
Modernizm is designed to have responsive layout. That means your website will look great no matter the device or screen size on which it's being viewed. Modernizm also has a special author page template, which lists all your site authors. Modernizm comes with two widget positions: sidebar and footer.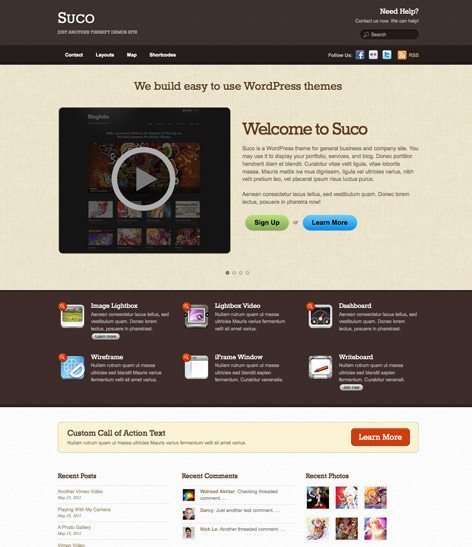 Suco offers a stunning homepage design with a customizable slider, highlighted services/products, call-to-action text, and optional widgets. It is our first business theme that offers custom WordPress post formats and responsive layout (see demo and resize browser window). If you are not familiar with post formats, it allows you to associate a post type to each post such as: image, video, gallery, quote, etc. (pretty much like Tumblr). Designed with a great attention to details, Suco is a perfect theme that can be used as a business site, Tumblr-like blog, or just a static general site.
Musicians need websites. People around the world have found WordPress to be an easy way to publish their thoughts and ideas. So, why not Musicians? Maybe you already have a WordPress blog. Maybe you just need a new, flexible website, but you don't want to reinvent the wheel. Maybe you're tired of paying someone else to update your website every time you have a bit of news. Whatever the case, this theme was created for bands or individuals who are looking to create a blog or portfolio for their band or team members.
Minuet is designed to have responsive layout. That means your website will look great no matter the device or screen size on which it's being viewed. Minuet comes with one sidebar positions and four custom post type: Music, Event Lists, Artists and Agents. These custom post type are designed to easily create, edit and manage your website.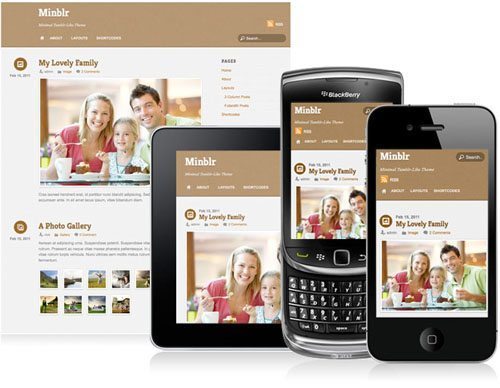 Minblr is a minimal Tumblr-like theme for WordPress. The layout design is liquid and responsive. This means the layout flows nicely across any display resolution. Minblr is promised to deliver your content nicely in all major browsers (Chrome, Firefox, Safari, Internet Explorer, etc.) and most modern mobile devices. It has 3 layout options (default with sidebar, 2-column layout, and fullwidth with no sidebar). On top of all great features, there are 10 colorful skins. Minblr utilizes the brand new post formats, if you're running WordPress 3.1 or greater, but we've made sure to add a fallback for older installs. Read related post.
Are you planning a trip around the world? Or perhaps you're already living overseas and considering starting a travel blog? Maybe you used to be stuck in an office somewhere, but now, after saving enough money, you can finally have a trip backpacking around the world? If you fall into one of these categories and you like to share your experiences with your friends, family, and past co-workers through your travel blog, then Travelous will be the perfect WordPress theme for you.
Travelous help bloggers build a travel blog quickly and with ease. You can use Travelous to develop a personal blog, share trips, photos, reviews, and more. With all the features that we suited it up with, Travelous will not only be an option for all kinds of travelers, backpackers, or soon-to-be travelers or backpackers, but also it will be your first choice.
A premium WordPress e-commerce theme from Storefront Themes with a modern, elegant and responsive design. The theme utilises the WP E-Commerce plugin allowing you to create a beautiful and fully functional e-commerce website. The Echo theme features a fully responsive design, custom homepage with slider and product carousel, custom product pages, unified search feature, grid layout with 2,3,4 or 6 columns, heaps of theme options and more.
A responsive WordPress real estate theme from Colorlabs that lets agents, brokers and real estate agents build a WordPress based real estate website. The theme has a responsive layout meaning the site will automatically adjust to accommodate any screen size or device it's viewed on. The theme includes a range of real estate specific features including a property type listing, dsIDXpress plugin and MLS/IDX search integration, advanced multi category property search, optional video tour section and more.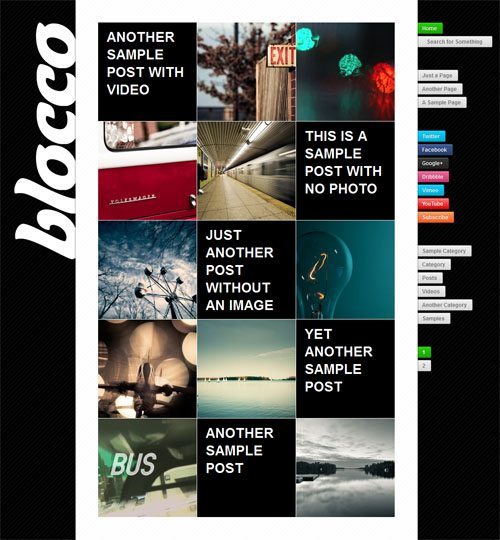 Blocco is a very unique "block" style theme including a responsive design which could be used for blogs, portfolios, media and much more. The responsive design provides a unique and tailored layout depending on which device (desktop, laptop, tablet or mobile) you are using, and really stands out on iPhone and iPad. Other features include custom menus, simple video embedding, theme options panel and more.
The Business Theme features a clean, corporate and responsive design perfect for companies wishing to increase the profile of their web presence. In addition to many of our standard page templates, the Business Theme also includes a page template for posting jobs, and an RSS news page template. The theme also contains multiple color change options — the background colors, link colors and highlight colors can all be changed without touching a single line of code. The Business Theme is a versatile solution for any company.
Hybrid is a clean and simple news, magazine, or blog theme from Theme Fit that presents users with the content they want to see. In mobile view, Hybrid will hide your article summaries to minimize scrolling. Users will see a list of article titles that can be easily scanned on a small screen. To view the summary, users can simply tap the toggle view button beside each article to unfold/fold the summary content.
Additionally, Hybrid is bundled with an array of options that make it easy to customize the theme to suit your needs.
An elegant, minimal portfolio WordPress theme from Theme Fit with a flexible foundation and a responsive layout. The theme features some beautiful responsive elements including jQuery-based slideshows and galleries which automatically resize to fit their container. Other features include responsive widget support, mobile-optimized toggle menu, show/hide support for blog post summaries, gallery filters, customizable colours, and more.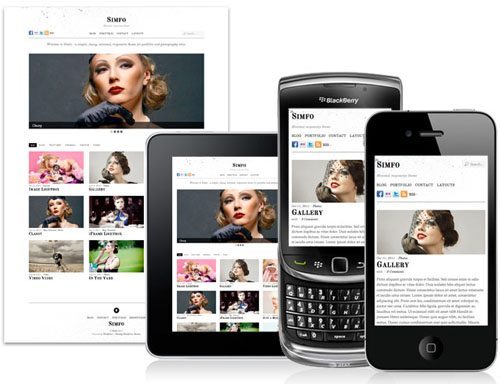 Simfo is a minimal responsive theme with a subtle touch of grungy texture. Design-wise, it has great attention to details — great balance of white space and beautiful typography. Functionality-wise, it works on all screen resolution and most browsers including the mobile devices such as iPad, iPhone, Android, and Blackberry. The template includes optional lightbox and post sorting navigation. Simfo is a perfect theme for portfolio and general blog sites. If you like Simfo, you may also like ThemeMin and Elemin.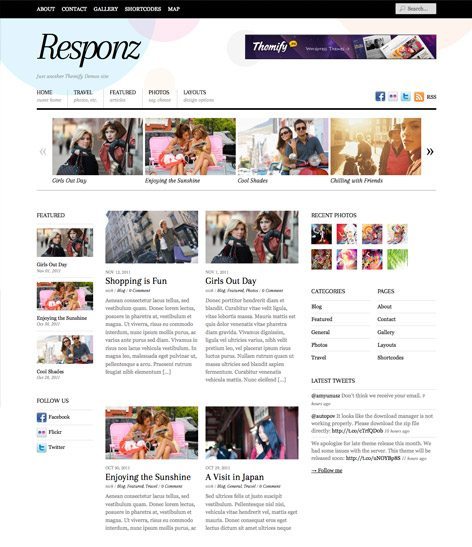 Responz is a 3-column responsive theme for news and editorial sites. The design is minimal and elegant with great typography. It looks great on any resolution on desktop and mobile devices such as iPad, iPhone, Android, and Blackberry. There are many layout options built-in Responz. You can choose from 2 sidebars, 1 sidebar, or full width along with various listview and gridview post layouts. The sidebars can be on the right side or left side. It is very flexible and highly customizable.
A drag & drop website framework for WordPress that allows both beginners and professionals to easily build a professional website. Features include a responsive / mobile design, drag and drop layout control, section cloning, detailed colour and background controls, page-by-page settings, custom typography with over 50 fonts, special page handling with controls for every type of page, a PageLines marketplace to buy and sell drag-and-drop apps and much more.
Free Responsive WordPress Themes
Yoko WordPress Theme

Yoko is a modern three-column blog theme. A responsive layout optimizes the theme for mobile devices like tablet pcs and modern smartphones (the layout switches to a two- or one-column layout depending on the screen size the theme is viewed on). To make your blog post more flexible you can use different kinds of post formats such as gallery, image, video, aside, link or quotes. To customize the theme you can choose your own background, link color, logo and header image. Yoko also comes with a custom social links widget and shortcodes for text columns, info boxes and highlighted text.
Responsive child theme for default Twenty Ten. Provides fluid layout for many browsers including mobile support for iPhone, iPad and Android. Being a child theme, it is dependent on the Twenty Ten theme as a parent.
The 320 and up project page explains it like this "Inspired by Using Media Queries in the Real World by Peter Gasston, '320 and Up' is a device agnostic,one web boilerplate."
320 and up was developed by Andy Clarke, and is a great starting point for building websites that utilize the latest technologies in modern web browsers. It can be used as is, or as an extension of the HTML5 Boilerplate. I don't think I can really do it justice or explain it any better than the project page does, so head over to http://stuffandnonsense.co.uk/projects/320andup/ resize your browser a few times and view the page source.
A clean, readable theme. Boasts a responsive design, which means it displays perfectly on all devices, including mobile phones (not just iPhones), tablets and desktops.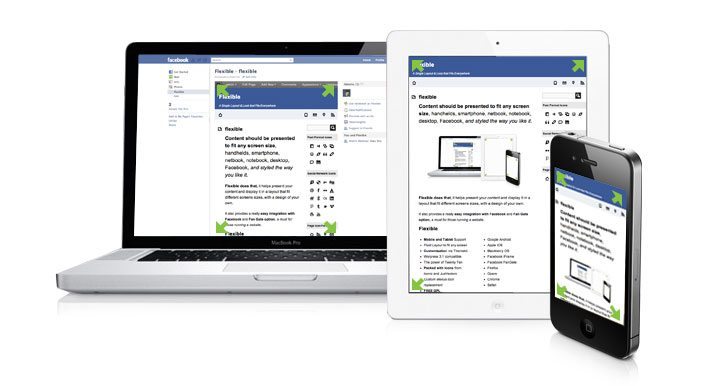 Flexible is a WordPress child theme of the robust twenty ten. Flexible optimizes and presents content in different screen sizes. It gives readers a seamless experience regardless device or platform.
Ari is a lightweight, minimalistic blog theme that is optimized for viewing on different screen sizes as well as mobile devices such as tablet PCs and smartphones. The background, text and link colors you can put in the theme options to adjust itself, and also to insert your own logo is available via the theme options. So you no longer have to make a lot of settings to quickly go to blogging and your readers can read your blog from the comfort of traveling on their Tablet PC or smartphone.
Whiteboard framework for WordPress was developed to speed up the development of WordPress themes. Whiteboard does so by eliminating the time spent on code common to all WordPress themes and includes non-intrusive code that improves the overall WordPress theme in many ways – including SEO, speed, usability, mobile support, and multi-lingual support.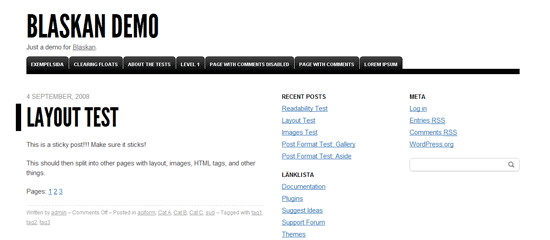 Blaskan is a forever free high quality theme focused on what WordPress does best: blogging. It's fully responsive and built for smartphones, tablets, netbooks, laptops and desktops. Accessibility is highly prioritized, following the WAI-ARIA specfication as well as possible. There are a number of available options to customize how it looks and works in the theme options. You can add your own header image, background image/color, custom menus choose between two different fonts for the titles and more. Blaskan is developed with child theming in mind and is very easy and flexible to override to make it work the way you want.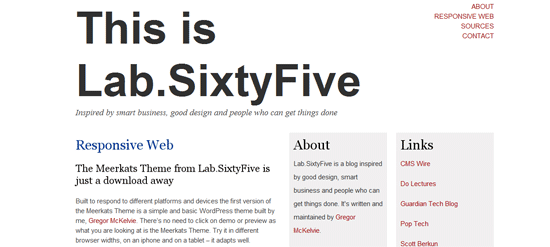 The Meerkats Theme is built to respond to different platforms and devices. It is a simple and basic WordPress theme built by Gregor McKelvie. There's no need to click on demo or preview as what you are looking at is the Meerkats Theme. Try it in different browser widths, on an iPhone and on a tablet – it adapts well.
From Themes Forge!
The Constellation Theme is an assemblage of awesome resources, put together to form an extremely flexible WordPress foundation. We've crammed quite a lot into Constellation in an effort to create the ultimate WordPress theme starting point.
HTML5 Boiler Plate – we all know what it does, we all love it, it's in there. A detailed list of the HTML5 Boiler Plates features can be seen here
Highly optimised WordPress framework rewritten from the ground up using HTML5
Mixfolio is a free responsive, HTML5 portfolio WordPress Theme by Graph Paper Press. It is a great portfolio theme to showcase your projects or images because of a filterable Portfolio with jQuery integrated with WordPress.  Assign Posts to specific Post Formats, such as Image, Gallery, Video, Standard, Quote and Link. Mixfolio changes post designs based on the Post Format.
Demo | Download (Register to get Free Version)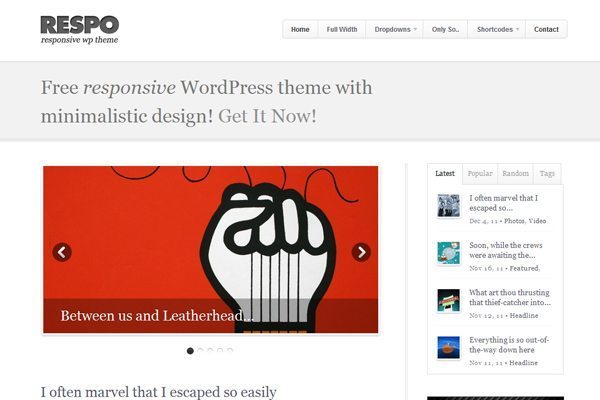 Respo is amazing WordPress theme with clean, sleek and customizable design. The theme is suitable for personal blogs and/or online magazines. This is a responsive theme, able to adapt its layout to the screen size of your visitors. The sliders for this theme is responsive too, which means it works super sleek on mobile device like iPad or iPhone.
This beautiful fully responsive theme is ideal for design agency website, designer portfolio etc. Theme has a light, clear, minimalistic design and complementing typography. The homepage features a jQuery slider for featured posts. Theme supports WordPress 3 features like custom menu, featured thumbnail etc. Theme also comes with a theme option page.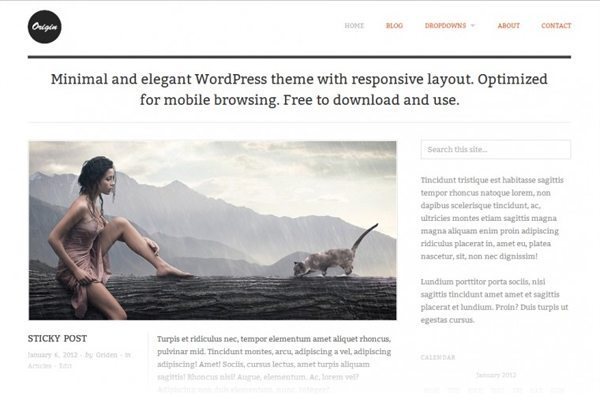 Origin is a simple and elegant theme with responsive layout for better viewing on mobile devices – smartphones and tablets. It's built on the Hybrid Core framework and inherits its professional and well-organized coding practices, making it an excellent starting point for further customization and development.
SimpleMarket is a theme designed to work for the MarketPress plugin but also to work without it just like any other theme. It comes with responsive design that easily adapts to a variety of screen sizes and devices. The theme comes with many of the WordPress 3.0x features – custom header, custom menus, custom background and post formats to name a few.
A mobile first, responsive theme for WordPress. Scherzo is a clean, readable theme that boasts a mobile first design, which means it displays perfectly on all mobile phones as well as desktop monitors. It requires version 3 or higher of WordPress and makes use of HTML5 structural tags, the hatom microformat and ARIA landmark roles.
In plain language that means search engines will be able to interpret your content easily while screen readers will be able to navigate it with no problems.
Foundation, for WordPress, is a blank starter theme with the exceptional capabilities of ZURB's Foundation Framework and HTML5 Boilerplate.
As a neat-freak designer, it's sometimes intimidating and frustrating looking at a WordPress theme framework that's jam-packed with unnecessary extras and bloated code. That's why I created Foundation, for WordPress, which offers only the necessary essentials to get your site running, with all the jazz of responsive web-design.
BonPress is the perfect personal blog theme. Packed with Post Formats (audio, video) feature and multiple Custom Widgets, like Twitter, Flickr, will offer you a unique experience from blogging. This theme supports "Post Formats" feature, which allows you to create easily different types of posts, like Audio, Video, Image.
Get one of the most popular photography WordPress themes in the world, now used by over
11,000 photographers. Plus it's the only WordPress photography theme with built-in e-commerce!
Other Resources: