Security should always be a primary concern when using the WordPress as CSM. If someone gets a hold of your information or breaks into one of your admin accounts, then you are at risk of identity theft and hijacking of your WordPress Powered blog. Anyone who breaks into your account could steal your private content, post spam, steal your WordPress account or use it to gather email addresses to send spam to. You can increase your WordPress security by the following instruction on this page: How to improve the safety of WordPress.
Let's see what is is Bruteforce and how to protect your WordPress powered site from it:
Brute force login attempts: Common technique that aims to log in on the WordPress platform to take possession of data and administration capabilities. It is not easy to create an attack, but now the possibility to use low-cost resources has increased the possibility that the brute force is the one chosen to gain access to our blog.
1. Limit Login Attempts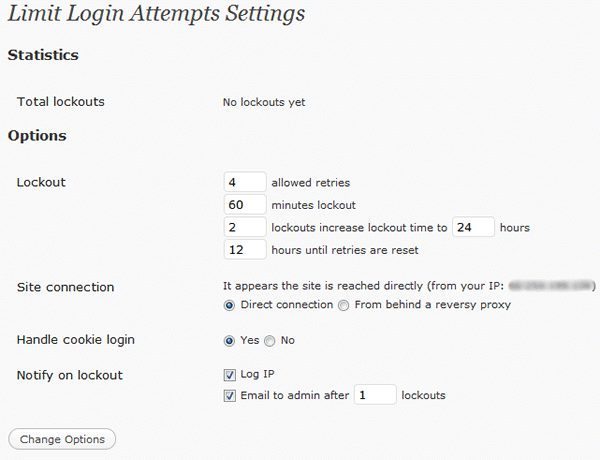 Download and Upload Limit Login Attempts plugins in your Plugin Directory. Limit Login Attempts doesn't require any additional setup or configuration beyond just installing and activating the plugin. However, if you want to tweak the default settings, head over to Settings | Limit Login Attempts.
Lockout:
Allowed Retries—The total number of incorrect login attempts before the user is locked out.
Minute's lockout—The number of minutes the user will be banned from trying to log in again after N number of failed login attempts.
Handle cookie login—Determines if the lockout should be based on the user's IP address or cookies; it's recommended to stick with cookies, as IP addresses might be shared between multiple users.
Notify on lockout—Can be configured to log the IP address of the offending attempts and send an e-mail to the admin of your blog, notifying that a user has been locked out.
2. Security Ninja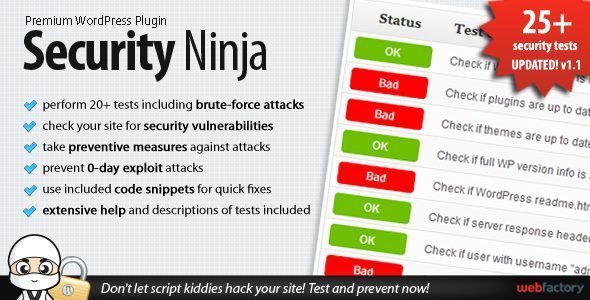 Years of industry's best practices on security combined into one plugin!
Perform 25+ security tests including brute-force attacks
check your site for security vulnerabilities and holes
take preventive measures against attacks
don't let script kiddies hack your site
prevent 0-day exploit attacks
use included code snippets for quick fixes
extensive help and descriptions of tests included
Tests include
Brute Force attack on user accounts to test password strength
numerous installation parameters tests
file permissions
version hiding
leftover files posing a threat
0-day exploits tests
debug mode tests
database configuration tests
Apache and PHP related tests
WP options test
3. S3Vault
Ultimate video player, monetization, and file security plugin for WordPress & Amazon S3. If you share Amazon S3 files on your WordPress site (s), then you must get S3Vault.
Following are the other possible ways by which you can secure WordPress blog from hackers.
Update, Update!!!
Hide Plugins Folder
Protect wp-admin Folder
Remove WordPress Version Generator
Use Strong Passwords
Encrypt Login
Change Table Prefix
Take regular backups
Make use of secret keys
How to achieve these goals you must read these tips and tricks: