A lot of people use coupons to get discounts on different websites and stores. Some of you may have wondered how can you build your own coupon website? Well, at first it may seem like a big project to work on which could require a lot of investment and time. But luckily, WordPress has a lot of themes built with the sole purpose of letting you make your own stylish and elegant coupon site in just a few minutes.
This first step in creating a coupon site is obviously getting your domain and web hosting. After you get your web hosting, install WordPress on it. Installing WordPress is also very simple as majority of the web hosting services like  or BlueHost offer Cpanel which lets you install WordPress on your domain with just a few clicks, and also offers a live tutorial which guides you step by step and gives you a good introduction to cpanel. We can help you with our Free WordPress installation service including FTP support and database setting up for your easiness.
WordPress themes for making a coupon site:
[divider]
Couponize – Responsive Coupons and Promo Theme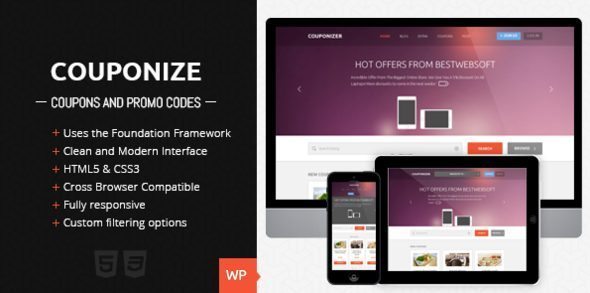 Couponize is yet another WordPress coupon website theme. It was one the first coupon themes for WordPress and is feature rich too. Main features of this themes are: HTML5 and CSS3 tableless, advanced theme options panel, integration with GD star rating and wysija newsletters, modern user interface, built on foundation framework with clean code, custom designs for coupons, flexslider. This theme basically utilizes all the features required to make an awesome coupon site.
Main features:
HTML5 and CSS3 Tableless (Latest Technologies used)
Advanced theme options panel
Integrated with GD Star Rating and Wysija newsletters
Clean and Modern Interface
Clean Code
Built on Foundation Framework
Cross browser Compatbile (This works on every modern browser!)
Filtering options
Custom designs for coupons discounts(buttons, text, text with border)
FlexSlider
Responsive Coupon WordPress Theme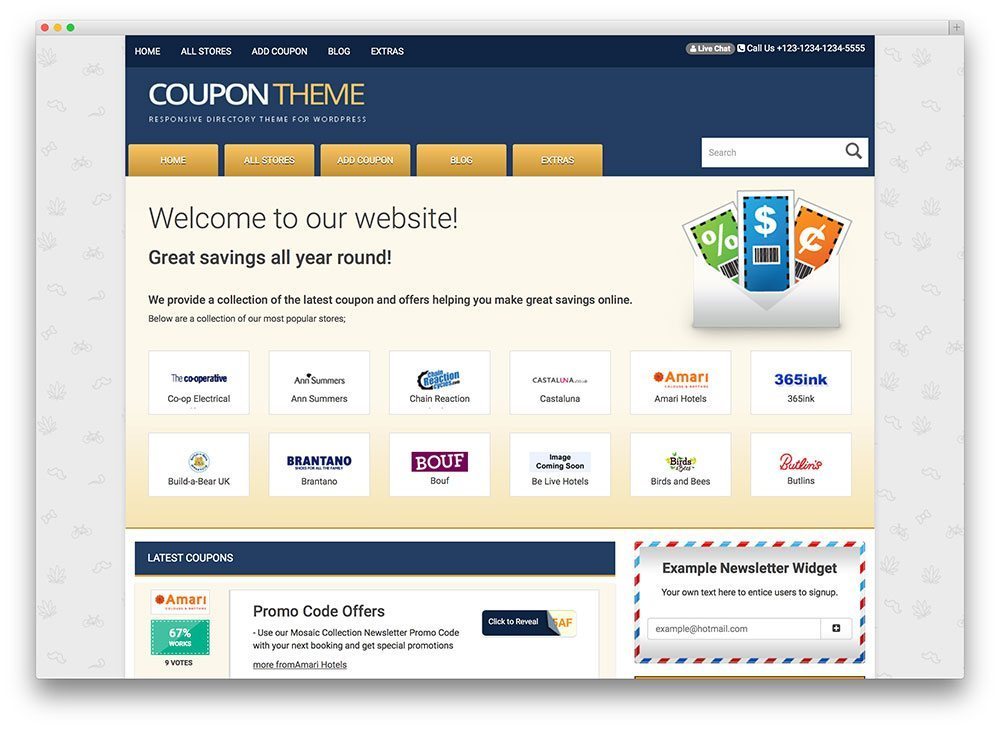 Responsive Coupon Theme for WordPress by premium press is a fully responsive and search engine optimised WordPress themes. It has a pretty neat and professional look, which is great to make your visitors stay on the site. It offers some of the best feature a coupon site requires like drag drop homepage layouts, print option of coupons, coupon expiry, easy admin panel, members management tools.
DailyDeal Theme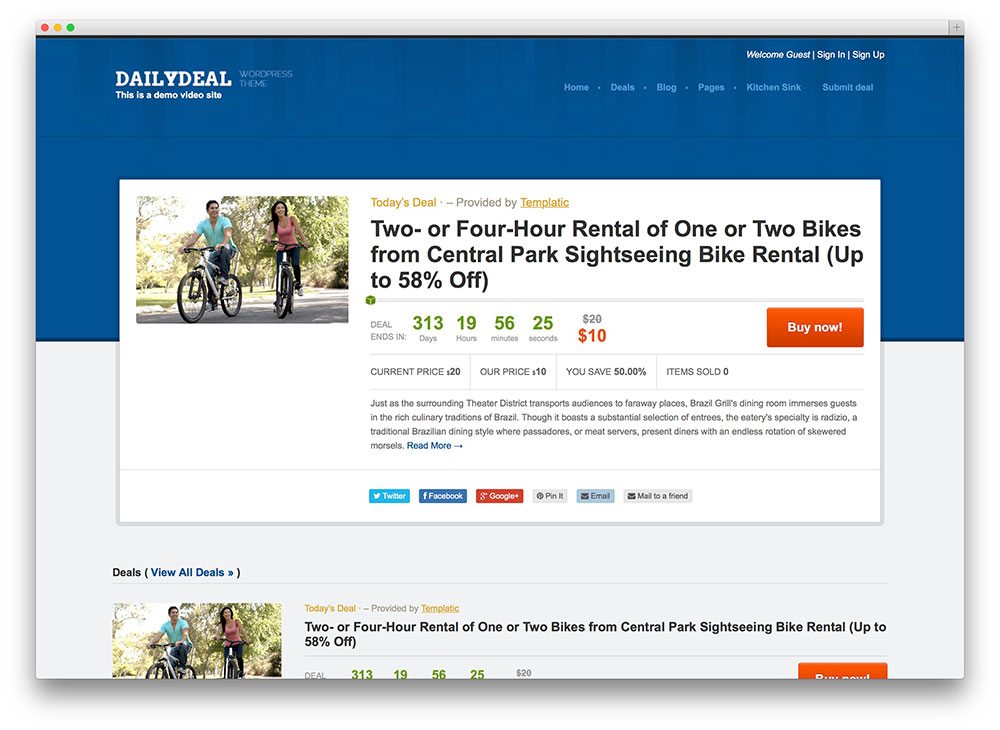 DailyDeal is another awesome WordPress coupon site theme, having a clean and responsive design. It lets you sell your own deals as well as user submission of coupons or deals. It is optimized for both phone and desktop. It offers many payments gateways and secured payments for customers.
Clipper: WordPress Coupon Theme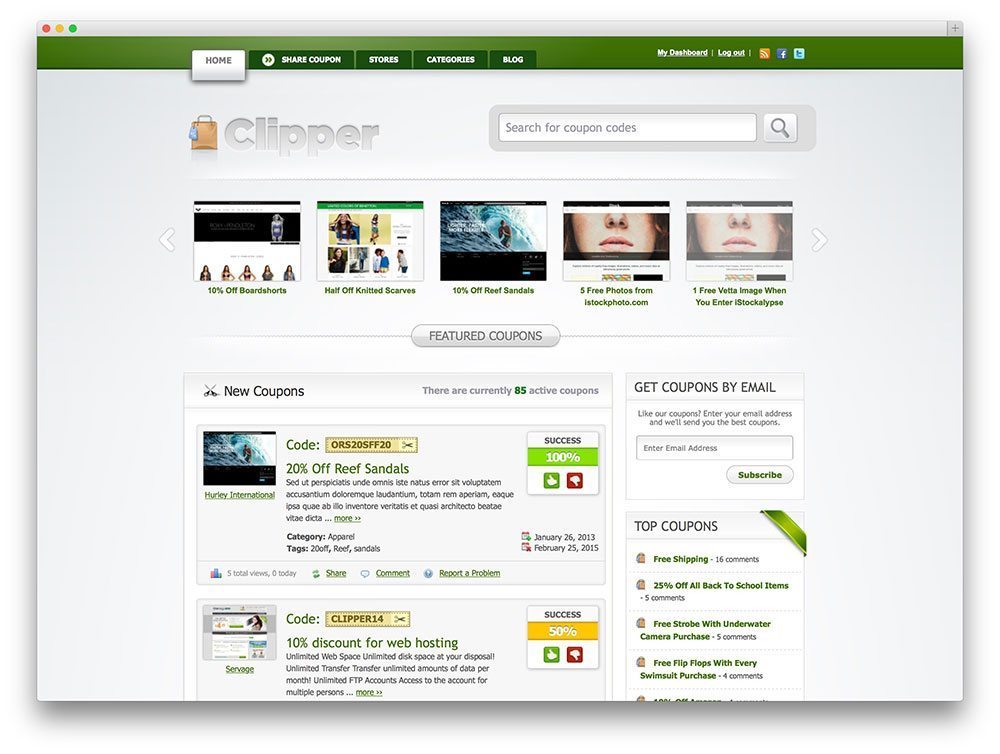 Clipper is a theme full of advanced features yet simple to use, even for a newbie of wordpress. It offers multiple color layouts, to outfit your choice and needs. It has an advanced link cloaking and tracking feature, user submission of coupons, advertising option, subscription, custom post types like dedicated category and store pages, modifiable mail templates, customer coupon management, report a problem system, child themes and plugins and numerous other features.
Couponer – Coupons & Discounts WP Theme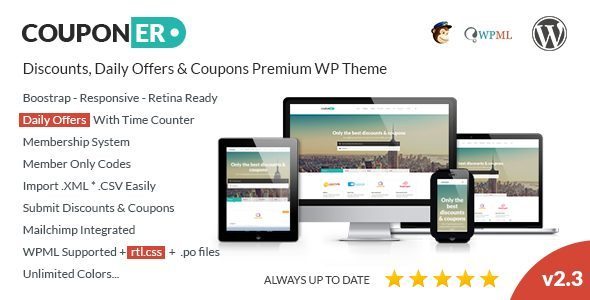 Couponer WP v2.3 – Coupons & Discounts premium WordPress theme. Perfect for coupons and discounts websites or business. It's highly customisable with unlimited color options (from typo colors to boxes and overall backgrounds). It is based on Bootstrap v3.1.1 and latest WP version, beside that it is retina ready and fully responsive.
Couponer – Coupons & Discounts Features
Retina Ready
Full Membership System
Submit Coupons & Discounts
Mailchimp Integrated
Advanced Search
Ajax Based Shop Search
Daily Offers
Profile Pages
Members Only Coupons & Discounts
Search by Category
SEO Optimized
WPML Supported
Unlimited Colors
Adding Coupon Features on WordPress based Website[divider]
WooCommerce Volume Discount Coupons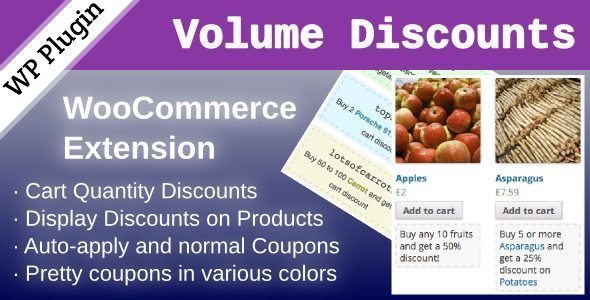 This extension allows to apply discounts to products in a customer's cart based on the quantities that are purchased. The discounts can be shown directly on the products when they apply, a free-form description can be used for that purpose as well as an automated note.
The discount information can be rendered automatically for applicable products in the shop, in product category displays, product sets based on tags, product archives and individual product pages. Options allow to choose where the information should be rendered automatically.
Coupon creator

Well, you can easily transform you existing website in to a professional coupons theme with using the Coupon Creator plugin. After installing this plugin, go to coupons tab in your WordPress dashboard's options panel and in the 'add new' tab add details for your first coupon like terms, coupon background and text color to match your website's theme and the expiration date. Then the coupon short code inserter in your posts enables you to easily publish your new coupon to your WordPress site.
JC coupon WordPress Plugin
JC coupon is also a simpleand free coupon creating plugin converting your WordPress site into a fully functional coupon offering site. Create coupons using JC coupon's admin panel in WordPress dashboard and add it to your post or pages using shortcode provided you by the plugin.
WooCommerce Coupons Countdown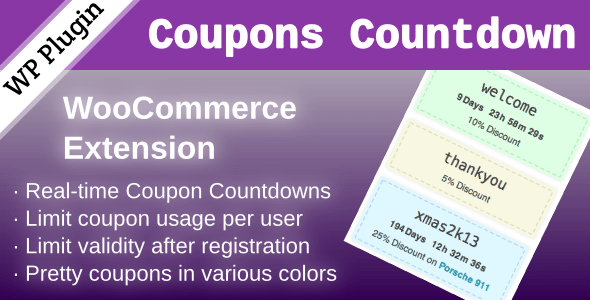 Coupons can be rendered using built-in attractive styles or using custom styles provided by your own stylesheet.
Coupons that expire automatically show a countdown. This works with coupons that have a fixed expiration date as well as with coupons that have their expiration set for a period after user registration. Normal coupons will only show the coupon code.
WooCommerce After Sales Coupon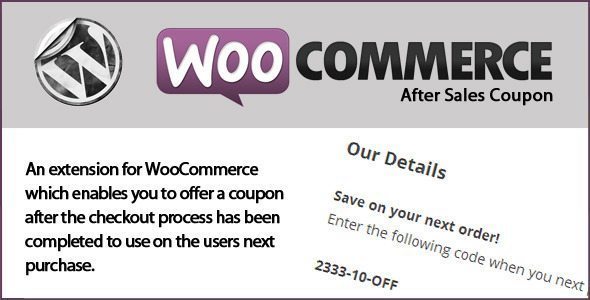 An extension for WooCommerce which enables you to offer a coupon after the checkout process has been completed to use on the users next purchase. An options page will be added to WooCommerce which allows you to set the options for the coupon that is created.
WooCommerce Gift Coupons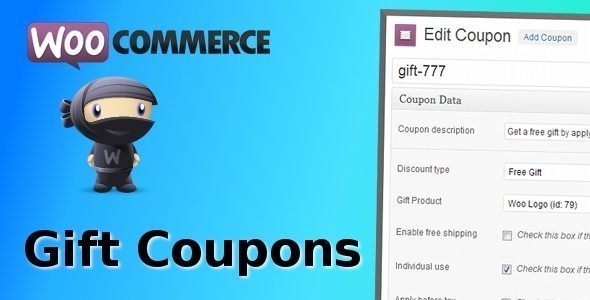 Create and manage gift coupons in the same way you would manage standard discount coupons. WooCommerce Gift Coupons allows for creating gift coupons to reward customers with a free gift after applying the coupon code. There is little to configure since the extension builds on the powerful WooCommerce coupons functionality. Simply install the extension and create gift coupons straight away.
WooCommerce Coupon Message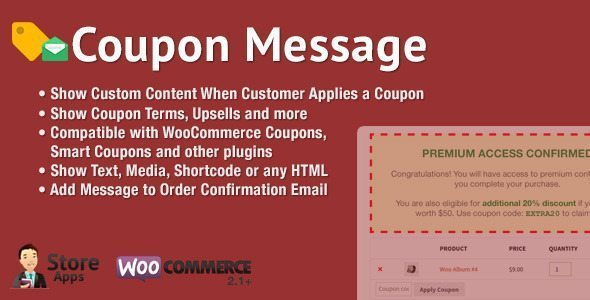 Features
Show a custom message after applying a coupon
Send this message in order complete email if you need
Coupon message can show any content, and even support shortcodes
WooCommerce Apply Coupons Automatically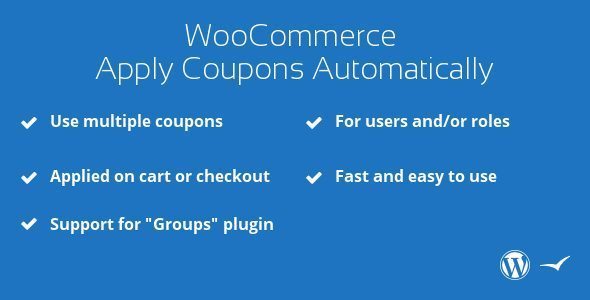 WooCommerce Apply Coupons Automatically allows you to link your coupons to users, roles and/or groups. They will then get the coupon automatically applied on the cart or at checkout.
Woocommerce Autoload Coupons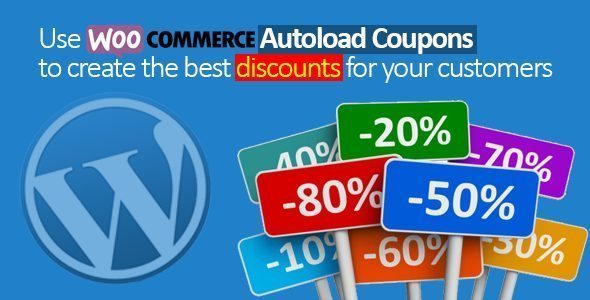 Woocommerce autoload coupons is a great tool for making discounts in your online shop. Install this plugin and start creating native Woocommerce coupons that will autoload on the client's cart when its restrictions are met.
Like 2 Discount – Coupons for Likes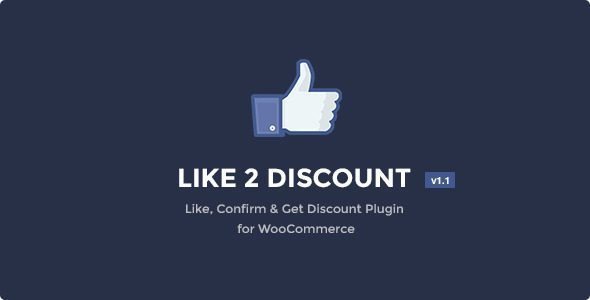 Like2Discount is a WordPress – WooCommerce plugin that generates discount coupons to all of them who like your Facebook Page. It includes email verification for each coupon, so you will get 1 like + 1 customer email in return.
WordPress Coupon Code Generator
This WordPress plugin generates a random string of characters, via a simple shortcode, on a page which would be great as a coupon code, promotional code, voucher code or API key.
WooCommerce Coupon Scratch Discount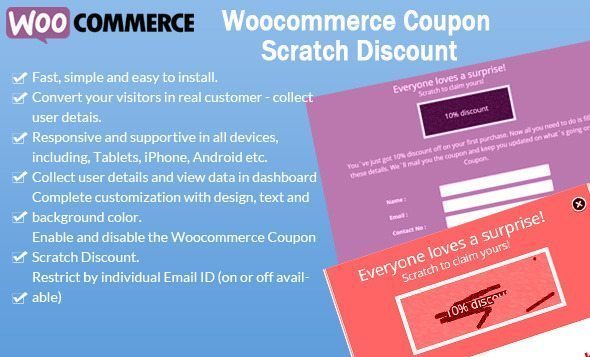 WooCommerce Coupon Scratch Discount is very flexible and can be attached to any existing Woocomerce Website. Its bring real customers to your shop where they redeem and buy. In this way, you can collect Data and send the newsletter whenever needed and increase brand awareness.User account get automated created and hence become a member as well.
WooCommerce Coupon Exclusions
This WordPress plugin allows to restrict the validity of a coupon based on other coupons applied. It also allows to remove specific coupons when a coupon is applied.
It provides a new Exclusions section for coupons. This new section features the following restriction facilities when a coupon is edited:
Exclude : One or more coupons can be chosen, the coupon is invalid if any of the chosen coupons are applied to the cart.
Remove coupons : The coupons chosen here are removed if the coupon is applied to the cart.
Viral Coupon – Like, Tweet or G+ to get a Discount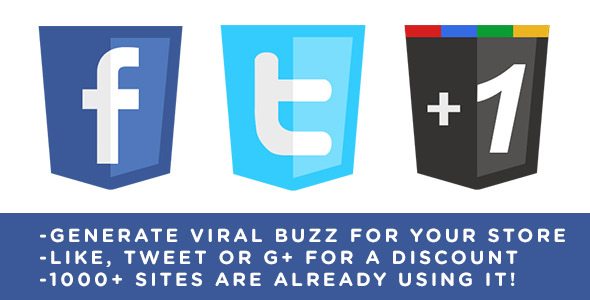 Make your e-commerce site go viral by offering your customers a discount if they Facebook Like, Google+1 or Tweet about your site. Viral Coupon integrates with WooCommerce to automatically apply a coupon if the user Likes or Shares your link. Viral Coupon is the first of its kind to combine the power of Facebook, Google+ and Twitter with the incentive of a discount. More likes and tweets = More sales $$$!
Viral Coupon WP e-Commerce – Share/Tweet=Discount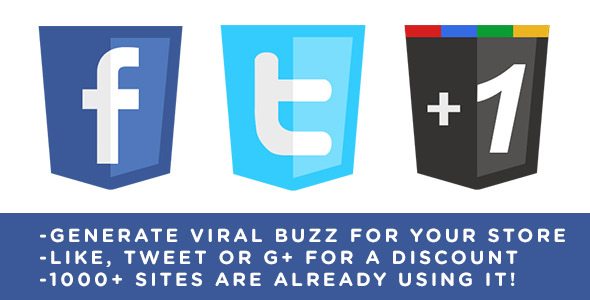 Make your e-commerce site go viral by offering your customers a discount if they Facebook Like, Google+1 or Tweet about your site. Viral Coupon integrates with WP e-Commerce to automatically apply a coupon if the user Likes or Shares your link. Viral Coupon is the first of its kind to combine the power of Facebook, Google+ and Twitter with the incentive of a discount. More likes and tweets = More sales $$$!
Exchange – Subscribe and Get Coupon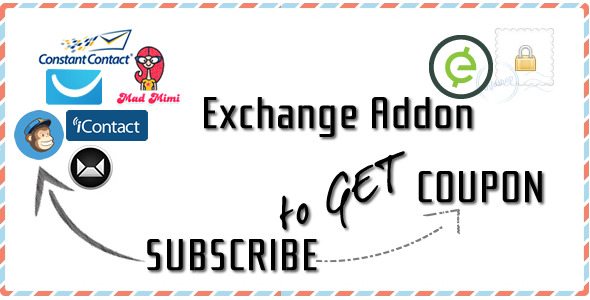 Exchange – Subscribe and Get Coupon allow you offer Exchange coupon by subscription
Exchange – Subscribe and Get Coupon easy you to gain mailinglist by offer coupon with subscription
Key Feature
Easy to use and setup
Working with iThemes Exchange 1.14 and higher
Auto forwarded to Mailchimp, Getresponse, Sandy, iContact and more
Including with social share for every product description
Including with mailinglist manager
Work for multiple cart
Coupon send by email or apply directly
Coupon Locker – WooCommerce
Features
Lock your WooCommerce coupon after printing it on physical marketing materials or announcing online
Specify locking reasons
Search by locking reason – standard search functionality enriched
Works with WordPress MultiSite
Translation ready
Compatible with WooCommerce Smart Coupons extension
Documentation with screenshots