You've seen how to setup Professional domain mapping for your network users by using Plugins on this link: "How to do Domain Mapping in WordPress Multiste Network". It is possible to do  setup domain mapping without using any plugin if  are using latest version of  WordPress, all you need to follow these steps as below.
1. Upload you wp-config.php file to convert  your single user WordPress to make it MultiSite blog and add following line of code above  the line"/* That's all, stop editing! Happy blogging. */". (You can find detail about How to add Multi Site feature in WordPress 3.0.)
define('WP_ALLOW_MULTISITE', true);
Now login to your admin and you can see "Network" under tool option.
2. Clicking on the Network link in the Tools menu loads the network setup/installation page. It should look like this: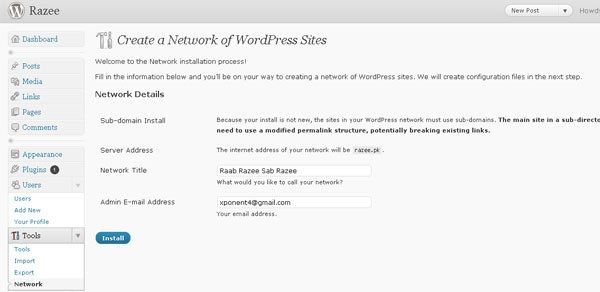 After adding required information in "Create a Network", install and update your wp-config.php file and.htaccess. Before updating never forget to backup your both file.
Now you will see a New feature in admin panel as "Super Admin" in Dashboard.
3. Login to you cPanel and create thewildcard subdomain for your main domain.

Don't put any name under Subdomain instead of name put * (asterisk) and select your domain name and Document Root must be  your WordPress path.
4. Go to the Super Admin panel and select on All Sites, add New Site, write the Subdomain, Site Title and email address and click on Add site.
5. After adding your new site, now Edit from the subdomain. Change the value of Domain, Siteurl, Home, and Fileupload Url to suit to your new domain.
6. The most important par now. Edit your wp-config.php file again and change the value as follow:
define( 'DOMAIN_CURRENT_SITE', 'domain name.com' );
Into
define( 'DOMAIN_CURRENT_SITE', ". $_SERVER['HTTP_HOST']." );
If you can successfully set up a multi-site install to begin with, you can probably do this as well. If still you need any help,  consult Professional Domain Mapping which give you ebook with full documentation and screenshots to help you set up whatever kind of server you have.
Useful Resources:
WordPress Premium Content
How to Managing Your WordPress Multi Sites
Domain Mapping
How to enable Multi Site feature in WordPress 3.0?