One of my friends run a Sports blog (www.facebook.com/fcmanu) since last two years but no success, Now he is asking me what to do? Here are the steps he should take to run a Successful blog.
Why choose a WordPress?
First of all, you no longer need to worry about knowing the code, because the WordPress blogging software does the code part for you. When you log into your WordPress blog, you have to do only two simple things to publish your thoughts, reviews, and ideas about sports:
Write your post.
Click a button to publish your post.
You can not say a blog is a website because There are three key differences between a traditional website (homepage) and blog:-
Blog is extremely easy to add information to it. A blog is like an online journal, so you just log in, type what happened today, post it, and it is done.
You can add a simple little feature that automatically tells a whole bunch of another website that you have made an update to your blog – every time you make a change.
There is a "comments" system like others blog systems that allows bloggers to have "conversations" with their readers by allowing visitors to post their comments or views on the topic of discussion.

Blogging is now an important tool for YOU to earn online
Following are the reason to run an online blog with WordPress to make money:
It can provide a wider audience
Boost your revenue
Generate better search engine ranking
Develop relationships with your audience through open communication.
Build a community of enthusiastic followers.
Establish yourself as a leading expert in your industry.
Blogs offer easy-to-use, cost-effective web publishing, and content management tools.
Why Purchase own  Domain Name and Avoid "free" Domains?
Blog's address on the Internet would be your identity, so it is crucial that you choose the right one. A domain gives the public a hint of what they will find at your site. If the domain name relates to your or your company's name or brand, it makes your site that much is easier to find.That is why you MUST get your unique domain name, like www.[YourName].com. If you get it free from a web hosting company, your domain name will include the company's name. I don't encourage you to use "Free" domain unless your objective of creating a blog is just to create a platform to share your journal with your offline friends.
Theses are reasons to avoid "Free" domain and started with your domain are:-
Your domain name is easy to remember.
Your customers always know how to get to your site.
It can entice people surfing the Web to visit your site before someone else's. You can easily move your site to another host while keeping your domain name.
No web host company's advertisement on your website.
You can easily customize your look and web template at your wish.
You can get a Free domain name from these hosting website with the purchase of web hosting:
How to Create Your Personal Blog:
Choose And Register A Domain Name One of the first steps of designing and building a website/blog; you have to check if your domain name is still available before you can register it. You can check here: HostGator, BlueHost and HostMonster.
After selecting your domain name now select your hosting plan.
Choose the Web Hosting Services Plan
There are many companies provide web hosting service. When you choose a web host provider, the service is always the key factor you should look at. I had done a lot of internet research before I selected these web hosting sites to provide the best hosting services from beginners to advanced users: HostGator, BlueHost, Host Monster and Lunarpages.
The reason I choose them because of their reliable services, they have excellent customer service available 24 hours a day. Their uptime is 99.98%, and they had super fast connectivity and made my web pages were loaded quickly. Secondly, their price is also compatible.
Install the WordPress3.2+
WordPress is recognized as one of the most popular and powerful blogging tools.It is an "open source" application that anyone can download for free. But the best way to install the WordPress follow these guidelines;
Login to Web hosting  control panel by using your username and password
Go to "Control Panel" > "Go to cPanel" > "Fantastico."
Select auto – install software and choose WordPress
It will create a MySQL database and will provide your username and password to login to your WordPress admin panel.
After login, go to the setting page and change according to your requirements.
Choose a WordPress Theme to Design your Blog
WordPress Theme is a way to "skin" your blog. After you installed your WordPress, you can login to your WordPress at www.[YourName].com/wp-admin, Select the Presentation subpanel. You can find the default WordPress theme. Free theme you can get from Free Themes Directory, Free Sports Themes, 20 Specialty WordPress Themes, World Cup Free WordPress Theme and Sports Themes.
For the unique design of your blog, I recommend these premium themes.
Premium WordPress Themes for Sports Blog:
Premium Football – 32 in 1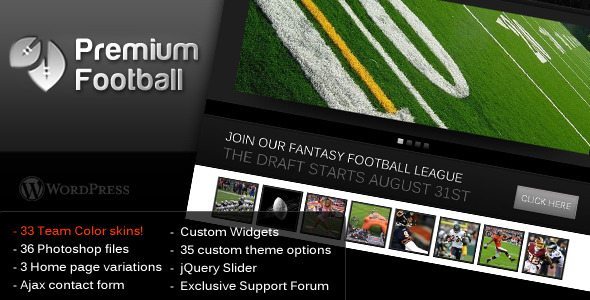 Premium Football is for sports fans, online magazines, affiliate marketers and everything in between. This theme features alternate color skins for all 32 NFL Football teams (American football). Even though the color schemes were specifically chosen to match those teams, the theme can easily be used for non-sports related websites too.
SOCCER2010 – 33 countries in 1 theme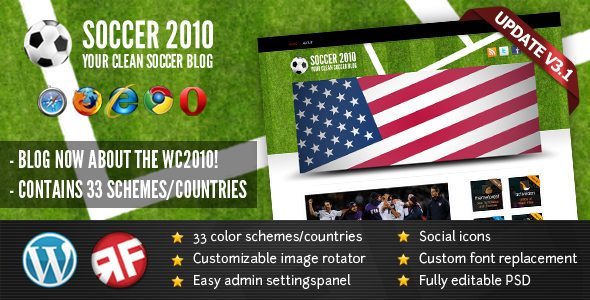 This soccer blog is a clean and elegant solution to blog about the World Championship 2010. This theme contains thirty-three different color schemes/countries.
MediaFlux Magazine WordPress Theme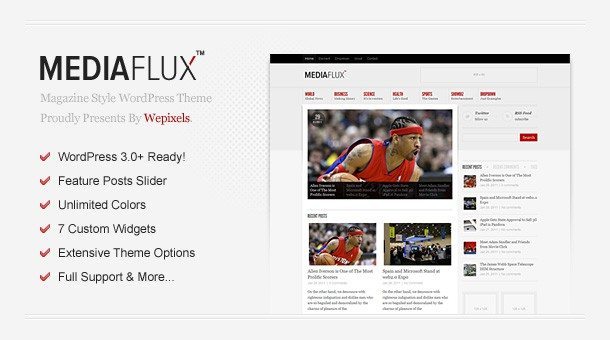 MediaFlux is a great magazine WordPress theme for news, community or personal blogger with clean designed and neat coded. The beautiful theme admin panel and widgets enable you to control over your content, manage your advertisement, show your latest tweet, video, photos and much more.
Sports Weblog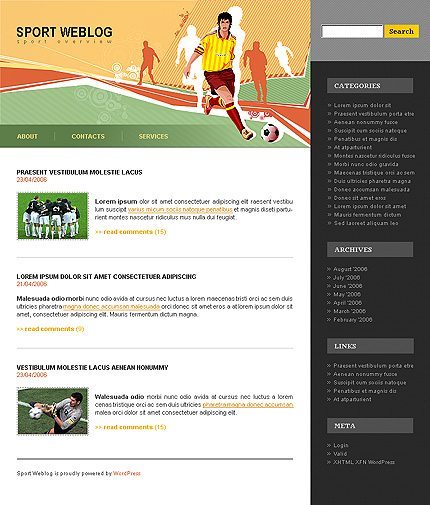 WordPress theme Ticket Online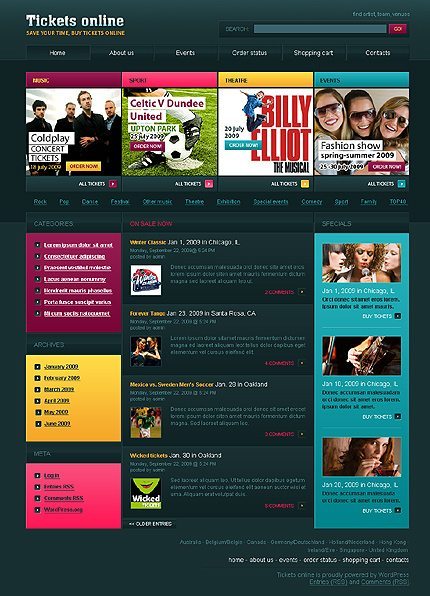 Sports Web Templates and Sports Flash Templates
Here you can find designs for different sport clubs and organizations: golf courses, regattas, yacht clubs, soccer teams, sporting goods stores, online sports equipment, sporting instruction and bulletin boards, fitness centers, tennis courts, polo clubs, martial arts, running clubs, biking, ballooning, skateboarding, race tracks, auto racing, basketball, horse riding stables or racing, water sports, diving, weightlifting, aerobics, bodybuilding, skiing, surfing, paintball, yoga, football, baseball and many others. Each template is themed to feature a particular kind of sport.
WordPress plugins for Sports Blogs
---
Smart SEO – WordPress Plugin
The easiest way to optimize your WordPress website for search engines!
Settings – Here you have:
Autocheck current post
Autocheck timing – in seconds
Title separator (default – )
Seo title position – in admin post listing
Show smartSeo score
On plugin deactivate – remove all current settings on plugin deactivate. Reset to default.
Event Espresso – Plugin for Event Registration
Now:
Eventor – Event Management WordPress Theme
Event Espresso is the premier events registration and management plugin for WordPress. This premium plugin for WordPress allows you to turn your existing blog or website into a fully featured event management website.
Eventor allows easily adding event program schedule, speakers lineup and profiles, sponsors, event gallery and many more!
England World Cup Countdown
This widget shows a countdown to the next England World Cup game. It automatically switches to the next game after the previous game has started. Show your support for the England team with this widget!
wp-football
Administer football (soccer) championships.
Features
Complete table of the World Cup 2010. Built to activate the plugin – in Portuguese or English according to the language defined in WP;
The League table or part may be published through widgets or posts/pages. See how in the item "Frequently Asked Questions";
In the Templates submenu, you can configure the fields to be displayed so you can fit the layout of your theme. Currently are available the templates of the Cup and two widgets – compact and extended versions. The templates are created in the activation of the plugin;
Has uninstaller, developed based on WP-Email plugin of Lester 'GaMerZ' Chan;
Automatically calculates, from the classification criteria, classification of teams per group when is informed the result of a match.
World Cup Predictor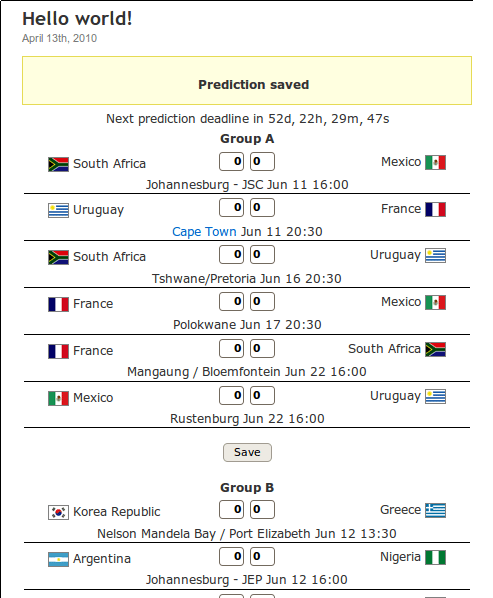 This plugin is designed to collect users predictions for each of the matches in the 2010 FIFA World Cup.
Users predict the score for each World Cup match in the group and knockout stages and are awarded points based on the accuracy of their prediction.
Match results may also be displayed using this plugin.
Sports News RSS Feed
Adds a customizable widget which displays the latest sports related news from all over the world. It can be integrated anywhere on the blog. This newsticker shows up the last five or more Sport related news posts from some of the world's most popular sports sites. This is a very excellent solution for all those wanting to share breaking sports related news and for all the sports blogs out there.
Cricket Scoreboard Widgets Plugin
Get the latest cricket scoreboard for your website.
Top Sports Blog on WordPress