Increasing online customer service giving small and large companies to promote their product and services in a very efficient way by using state of art technology software like WordPress. WordPress being an open web platform provide the opportunity to enhance the websites or blog's features with the help of adding WordPress plugins. As well WordPress powered websites enable companies to reach many potential customers to grow their online business.
There are plenty of WordPress plugins to provide the live chat feature to your WordPress based online store, everyone tried to make it easy to start your own live chat support from your website. You can select free plugins, if you are running a blog or have freelance service on your website ( the list of free WordPress chat plugins given bellow), but for eCommerce or online stores companies, following free chat softwares will not sufficient, so they require live chat support with advance solutions to satisfy their online customers.  WordPress plugins like WP – Quack Chat Live Chat System offer native support plus more features dedicated to attract online customers to maximize the online sales for the companies.
Furthermore, these plugins have the ability to integrate with Social Media  networking websites, such as Facebook or Twitter,  that empowered the customers to get involved as active online users. If you are running online blog, providing freelance service or have a Online store (eCommerce website), this is the best opportunity to increase the number of online customers by implementing  the online customer support servive through WordPress live chat Plugins.
Szymon Klimczak said about online shopping:
When online customers want to make a purchase, it's a sin to ask them to pick up the phone and spend money on a call or to have them wait hours for an email reply.
How to Integrate live chat with WordPress Plugin
---
WordPress is becoming the top most CMS software, majority of the eCommerce websites are based on WordPress like Magento, OpenCart, osCommerce. If you want to use WordPress for your eCommerce website, then shopify is a powerful ecommerce website solution that allows you to sell online by providing everything you need to create an online store based on WordPress.  WordPress powered eCommerce websites are cheap, easy to use and on top of that quick to optimize for Search Engines to get traffic.
If you have already an  eCommerce website in WordPress, to run a Live chat follow the steps bellow:
Get one of the WordPress Plugins from the list bellow
Extract and upload the plugin under Plugin folder(/wp-content/plugins)
Activate the Plugins under Admin > Plugins
After activating the Plugins, go to the Plugins setting page and provide the required information
Do the Setting according to your own requirements
Live Chat WordPress Plugins
---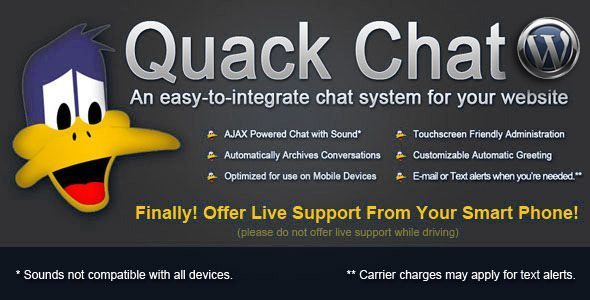 This WordPress plugin packs all of the features available in version 1.0.2 of the PHP script. It is the only live support plugin that texts your phone when you are needed.
Quack Chat integrates easily into your website and provides a mobile-friendly way to interface with your customers. Quack Chat is web based and can be used from almost any computer or mobile device.
With the option to receive an email or text when you're needed, you are notified immediately when a customer on your website is ready to chat. Set it to send a text your mobile phone and get alerts wherever you go.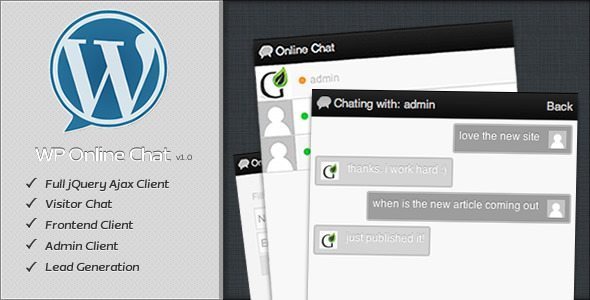 The WP Online Chat plugin is a full jQuery AJAX chat client for your WordPress site. You will be able to chat with other users and also visitors if enabled. It's a great way to keep in touch with your sites visitors… real time!
Features
User Statuses
View old chats
Country to IP for visitors
Easy to navigate client
Admin Client

Comm100 Live Chat is the enterprise-grade live chat software for website. Comm100 Live Chat enables you to have a 360 degree view of your website visitors and provide them with live support.
Besides being the fastest live chat service, ClickDesk also allows visitors to call your business directly from browser or by dialing our local access numbers in 40+ countries. Manage your emails & offline chats with the new integrated lite help desk.
Monitor in real time your website visitors. Know how many visitors are in the website, who referred, where are from, what keywords we reused to find the website and the visitors navigation history. Know decisive information of your website visitors patterns, conversations and agents service.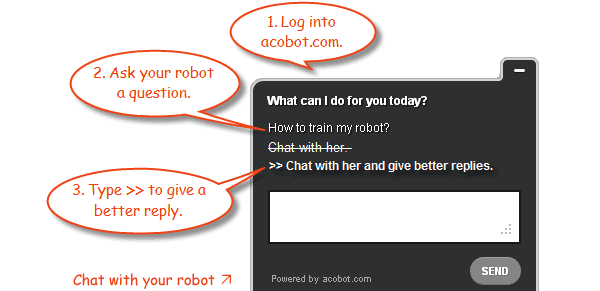 Go to the beach without worrying about your online business. This happy, chatty and clever robot will say Hello to the website visitors, answer their questions and turn them into paying customers 24 hours a day, seven days a week.
Conversion Support offers live chat for website owners and online businesses; lets you chat with website visitors from web and mobile. With built in chat transcripts, automatic notifications, canned responses and personal branding, Conversion Support is surely the best app for capturing leads and providing support to customers.
VeriShow is the world's first multimedia platform for delivering live help and real-time sales support to website visitors. The WordPress plugin enables you to interact with site visitors in real time using live chat, voice and video and access a host of collaborative tools, such as document, image and product-video sharing, a second-camera input and many others. You and your visitors can annotate those in real-time, for example to point out a feature on a product document or image.
For more information visit: www.verishow.com/?from=wordpress
Interact directly with website visitors and increase sales with OggChat Live Chat. Chat with visitors from your IM or mobile phone. Just upload the plugin, enter your OggChat Chat Key, and immediately start offering live chat and live support on your website.
WP Mibew is a WordPress plugin that will help you include the Mibew chat on your WordPress installation. Just paste [wp-mibew] short code anywhere in the post or your theme files. It will be found and replaced. Additionally, you can include HTML comments around [wp-mibew] they will be replaced too. WP Mibew will generate the chat code for you.
WordPress chat plugin supporting private chat, chat rooms, avatars, user list, words filtering, smilies, caching plugins and more. Quick Chat is self hosted chat solution. This means that your chat messages are stored inside your local WordPress database and are totally under your control. Because of that there are no limits or monthly fees for number of chat users or messages, these are limited only by your web server capabilities.
Live Chat is the easy way to have a live chat in your your WordPress blog. For more information, check out Live Chat.
WordPress LiveAgent free plugin integrates full featured help desk and live chat software LiveAgent into any WordPress installation. It can provide complete customer support platform with hybrid chat and email tickets. You will have 50 chats/tickets per month for free – read more.
Live Customer Service
Chat with your visitors, boost your sales!
Embed a chatroom on WordPress pages and posts with an easy to use shortcode. Host your own chatroom on your blog for a fun interactive experience with your audience. Easy to use interface allows users to Video chat, chat by sending instant messages, and share all types of media, including pictures, youtube videos, and whiteboard drawings. Requires Chatblazer account, free or paid.
Along with providing live support to your customers it also keeps you updated about your website visitor tracking and activity. You can view the technical and demographical information of your visitors. Get collaborative and social with your customers and make sure that they get the best customer service through Banckle Live Chat for WordPress Plugin.
Being Free: Banckle Live Chat for WordPress Plugin is easy to integrate and configure, fun to use and comes at best possible price…i.e. FREE.
Being Administrative: Its administration is done through Banckle Admin Console that works as the power-house of innovation and creativity
LiveChat is a fast and intuitive live chat software to enable your sales representatives contact customers on the website. Help online visitors find what they need before they leave your site. Try LiveChat free for 30 days! Sign up here: www.livechatinc.com/signu. Take a tour to see why you need LiveChat on your website: www.livechatinc.com/tour
Ever wondered how to chat with visitors to your website? With Zopim Live Chat, they are just a click away! Using their award-winning tool to respond instantly to visitors and engage them proactively. Live chat can't be simpler with Zopim.

Detail
Best WordPress Themes providers for eCommerce
---
Other Useful Resources
---
Get Banckle Chat to float on your WordPress website
How to properly set up the chat
 Learn the rules of courtesy and polite chatting
Good manners for a visitor and an agent
How to be outstanding at chatting
How much and where data from chat can be used
Quora's question about live chat best practices
Live chat online customer service best practices
Best Magento Themes for Your Online Store
How to Integrate WordPress blog into e-Commerce Magento Website
How to integrate Magento into WordPress e-Commerce site
WordPress e-Commerce Theme for Furniture Store & Home Products
WordPress Theme for photographers with BUILT-IN ECOMMERCE galleries!
Best WordPress Ecommerce Themes & Shopping Cart plugin
Best WordPress Themes for eCommerce Shopping Cart
10 Essential Things Your E-Commerce Site Should Have
Ultimate Guide To Setting Up Your First Online Shop
Creating an E-commerce Web Site: A Do-It-Yourself Guide
Essential E-Commerce Website Features: Tips and Examples
Identifying De-Facto Standards for E-Commerce Web Sites
Fastest growing WordPress live chat plugin zopim