This WordPress Plugin allows you to manage your advertisements on your WordPress site. It has many powerfull features to put advertisements on your website, manage advertisers, campaigns, banners & adzones, track clicks, impressions & CTR all in just a few seconds.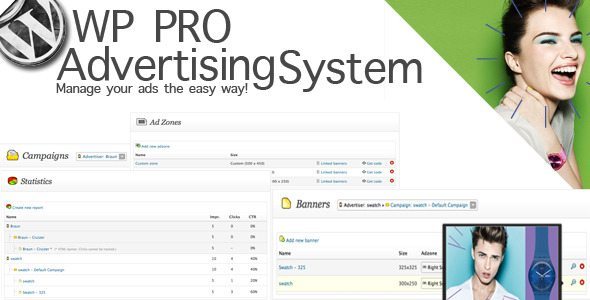 List of Features
Manage Advertisers create a profile for each advertiser.
Manage Campaigns create multiple advertising campaigns for each advertiser. this way you keep a clean overview over all of your banners.
Manage Banners You can choose between 3 options to add banners.

Upload a banner from your computer
Link an external banner
Paste HTML Code (adSense, iframes, …)

Manage Adzones you can place adzones anywhere you want on your websit. As soon as you link a banner to an adzone it will be visible on your site. Adzones can be any size. There are 2 ways to add adzones to your website.

Template tag: this is a function you can include into your template.
Shortcode: this is a shortcode you can use inside your posts/pages.

Track statistics keep an overview of how many impressions/clicks your ads get and calculate the CTR for every banner, campaign and advertiser.
Customize using Add-Ons Add-ons allow you to extend the possibilities of the WP Pro Advertising System. This way you can build an advertising manager just the way you like. No need to worry about stuff you'll never use. Only add the plugins you really need.

PRO Ad Region Data

This plugin allows you to show specific banners to users from sprecific countries.