Mobile technology growing rapidly. Almost every 3rd. user view website from their iPhone or from other smart phones. So it become necessary for website owners to create a mobile friendly version of their WordPress Site. Most of the big and top sites and blogs already have mobile friendly version. If you are not have one yet, I am sharing with you WordPress Mobile Framework, WordPress Themes and Plugin so you can create a mobile friendly version of your WordPress site.
Obox Mobile is a Mobile Framework that will seamlessly convert your WordPress site into a mobile friendly experience when people visit it via their phones.
A new mobile framework by Obox on ThemeForest. Obox Mobile is a WordPress Mobile Theme Framework that converts your site into a gorgeous layout which is compatible for mobile devices. Stunning design, attention to detail and unique features make your site stand out when visitors hit your site with their phones.
Other ways to create a mobile friendly version of WordPress Site
---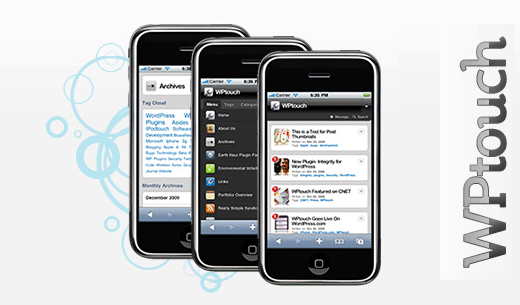 WPTouch is a mobile plugin/theme for your WordPress website. It automatically transforms your WordPress blog into a web-application experience when viewed from an iPhoneTM, iPod touchTM, AndroidTM, or BlackBerry StormTM touch mobile device. WPTouch has a very good admin options panel. Make sure you check out their gallery for screenshots.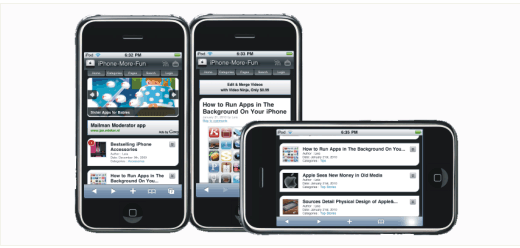 WPtap is a WordPress specialist in developing mobile themes/plugins that can instantly convert your WordPress site into web-application experience when viewed from iPhone, iPod Touch, touch-based Blackberry, and Android smartphones.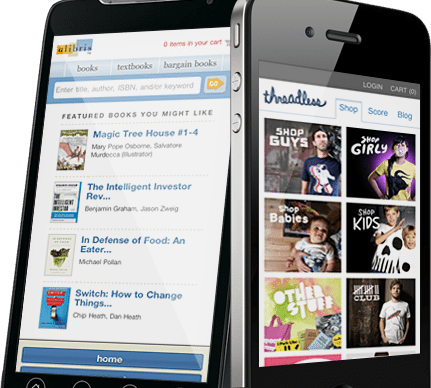 Mobify is a free service that makes WordPress, Drupal and other websites mobile-friendly. Supports iPhone, Android, BlackBerry and 5000+ other devices. Many top brands including, MTV, Sitepoint, Boingboing, Smashingmagazine, Discover Magazine and others are using Mobify.
They have a  free option to make your blog mobile friendly for various devices including, iPhone, Android, Blackberry and others. Their free option does not give you enough freedom which is why we did not use their service, but it is very easy to setup. They also have a WordPress Mofuse Plugin.
WordPress Mobile Edition is a plugin that shows an interface designed for a mobile device when visitors come to your site on a mobile device. You can see the mobile theme in action here: http://mobile.carringtontheme.com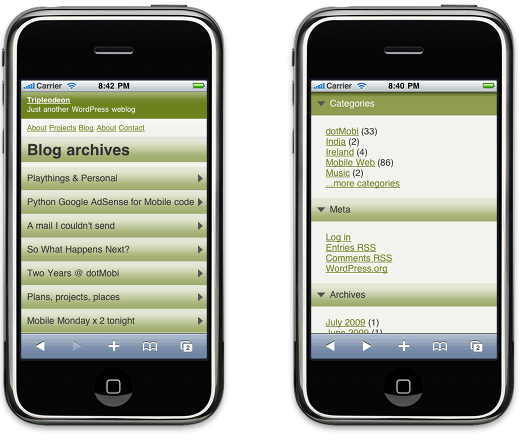 The WordPress Mobile Pack is a complete toolkit to help mobilize your WordPress site and blog.
It includes a mobile switcher to select themes based on the type of user that is visiting the site, a selection of mobile themes, extra widgets, device adaptation and a mobile administration panel to allow users to edit the site or write new posts when out and about.

MobilePress is a free WordPress plugin which turns your WordPress blog into a mobile friendly blog when viewed on a cell phone. MobilePress also allows you to create custom mobile themes for different handheld devices and mobile browsers such as the iPhone, Opera Mini and Windows Mobile.
For Mobile Site Administrators
---
These are a mobile friendly WordPress Admin Panel for administration. This will allow you to manage comments and create new posts using your mobile device.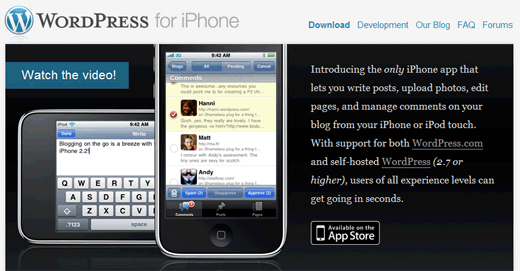 It's a whole new WordPress for a whole new platform. WordPress for iOS is now optimized to take advantage of the iPad's new user interface, making blogging even easier than ever before. Download it from the App Store today.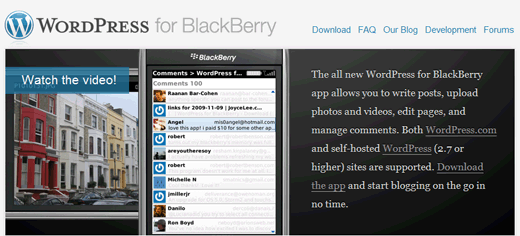 Official WordPress for BlackBerry app allows you to write posts, upload photos and videos, edit pages, and manage comments. Both WordPress.com and self-hosted WordPress (2.7 or higher) sites are supported.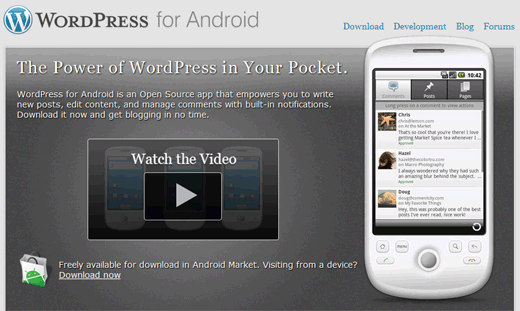 WordPress for Android is an Open Source app that empowers you to write new posts, edit content, and manage comments with built-in notifications. Download it now and get blogging in no time.
WordPress Moblie Themes:
---

Coupled with On Demand mobile theme, WPtap On Demand iPad provides a fully featured video solution on mobile platforms.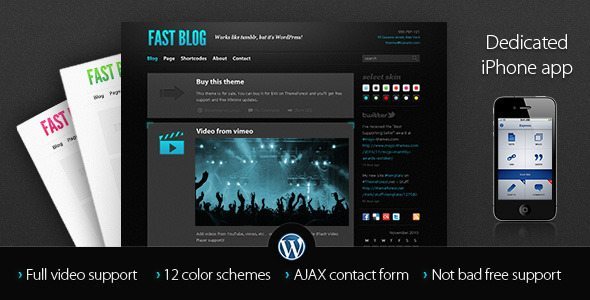 Fast Blog is a WordPress theme with some extra tumblr-like features. It's perfect for easy blogging and thanks to the WooTumblog plugin (included) you can add posts quickly even from a mobile phone.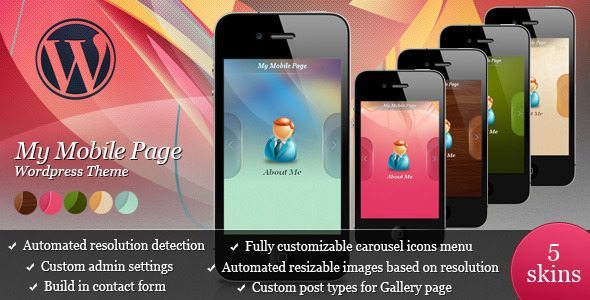 My Mobile Page WordPress Theme is a minimal mobile wordpress theme. With a modern look and a lot of cool features this can be the perfect pesonal mobile website for you. This theme can be used for personal mobile pages, web designers mobile pages, artists mobile pages and many other.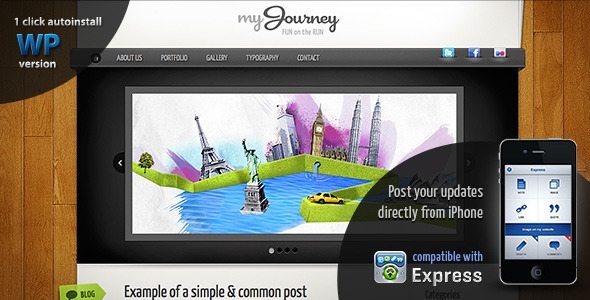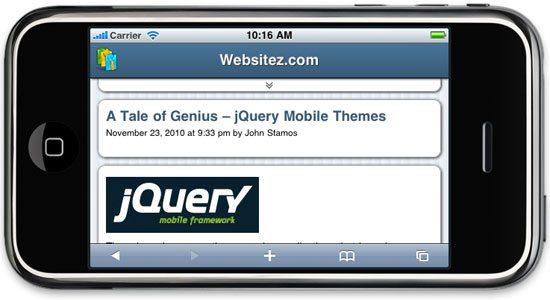 The WP Mobile Detector allows you to display a mobile theme on WordPress sites to mobile devices in minutes. Simply install the WordPress plugin and activate it. WP Mobile Detector is a WordPress plugin that detects mobile devices and displays a mobile optimized theme specifically for each mobile device.
Stereotype is a clean and simple one page portfolio built on the 960 Grid System, HTML5 DOCTYPE and CSS3.
The theme utilizes Cufon text replacement, an easy to customize Nivo-Slider with optional caption bar, dynamic menu highlighting and a custom PHP contact form with exceptional style.
How to Transforms WordPress blog into an iPhone application-style theme
WordPress for iPhone/iPad v2.6 Finally Released