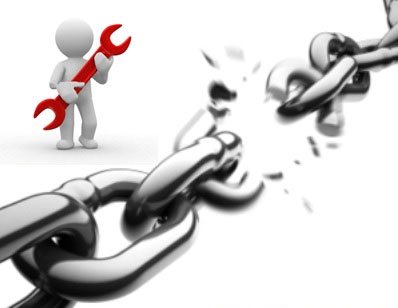 According to Search Engine Optimization (SEO), broken links are very important, because search engine do not like landing pages which give 404 error page. Search engine treated them as a dead end. Just like human, search engine don't like to waste time on broken links.
There are different online tools available to check broken, after detection you can manage those broken links manually and if you are using WordPress than there are plugins which helps you to manage error pages.
There are many broken link checks on line, here we are compiling few of them and a list of WordPress pluging to manage  broken links which make your  life easy to handle them.
What are broken links?
Broken links are like stop signs to search engine robots. They use the links on the pages of your site to follow to other pages at your site. The more pages they crawl, the more content they gather.  The more content they gather, the more valuable your site appears to them, and your ranking will be higher! (Not to mention how irritating broken links are to your visitors.)  – Broken Link checker
Online Broken Link Checkers
---
This Link Checker looks for issues in links, anchors and referenced objects in a Web page, CSS style sheet, or recursively on a whole Web site. For best results, it is recommended to first ensure that the documents checked use Valid (X)HTML Markup and CSS. The Link Checker is part of the W3C's validators and Quality Web tools.
This free online broken link checker will quickly scan your web page and verify that your hyperlinks are working appropriately.
LinkTiger will hunt your websites for broken links every day and notify you with rich reports.
This tool isn't for finding reciprocal links or making sure your reciprocal links partners are still linking back to you (Although I guess you could use it for that) it's just going to make sure all the links on your web page are linking to somthing that exists.
WordPress plugin to fix broken links
---
This plugin will monitor your blog looking for broken links and let you know if any are found.
Features
Monitors links in your posts, pages, comments, the blogroll, and custom fields (optional).
Detects links that don't work, missing images and redirects.
Notifies you either via the Dashboard or by email.
Makes broken links display differently in posts (optional).
Prevents search engines from following broken links (optional).
You can search and filter links by URL, anchor text and so on.
Links can be edited directly from the plugin's page, without manually updating each post.
Highly configurable.
Broken links found. What next?
After getting all broken links you can redirect visitors on specific page by using following plugin.
stop hardcoding your 404 page in 404.php
select any page to be used as the 404 page
use 5 provided shortcodes (recent, popular, similar posts; search form, Google search widget) to make better, more useful 404 pages
eliminate broken links and backlinks with a detailed 404 log